blog.categories.trip-and-advice
Area guide
Casey Makovich
Getting Around LA - How to Get Around Los Angeles for Tourists
Heading to the City of Angels? We put together a go-to guide packed with information for getting around the city and beyond, including getting to and from the airport.
Los Angeles is a sprawling metropolis with attractions spread out around the city. Although the Metro system is relatively easy to use, a car is the most convenient way to explore Los Angeles and its surrounding areas. When you're visiting this sunny Californian paradise, we're sure you'll want to see as much as humanly possible.
We've got all the best tips and tricks below for completing your Los Angeles Bucket List quickly and easily. Planning to see lots of Los Angeles attractions? Check out Los Angeles with Go City® – the more you see, the more you save.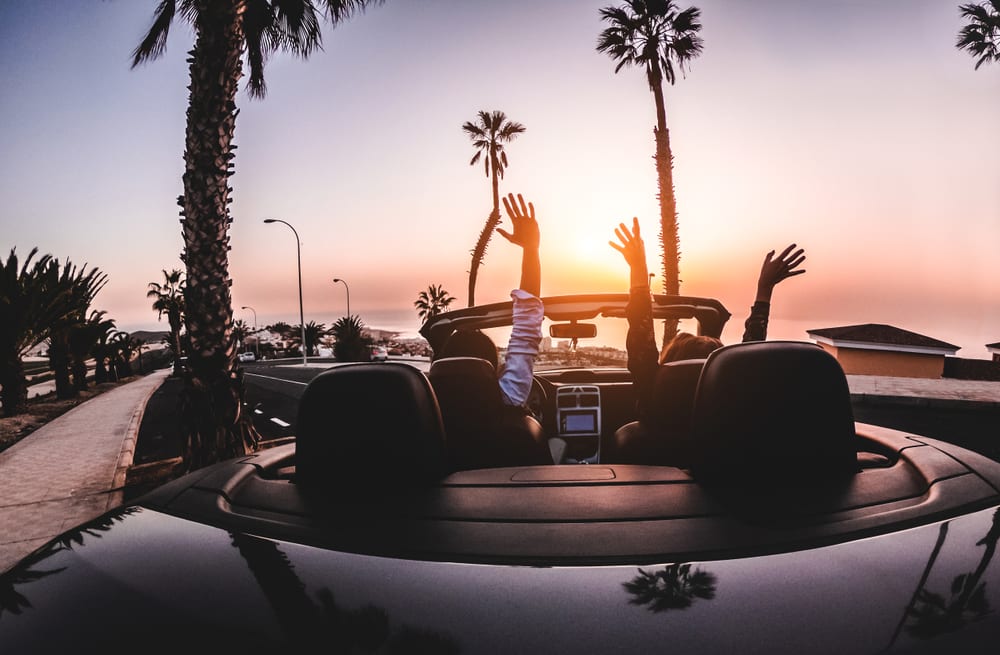 By Car (Recommended)
Fortunately, car rentals are relatively cheap in Los Angeles and all major car rental companies have offices at the airports and at popular hotels. Be sure to reserve ahead of time to get a good rate. Los Angeles has a system of toll-free freeways that connect the area's spread out communities. Be prepared for bumper-to-bumper rush hour traffic from 7-9 AM and 3-7 PM.
To make the most of your time, it's best to spend each day in a specific area to minimize travel time. Check out our Los Angeles by neighborhood guide.
Insider tip: A GPS is a big time-saver when navigating L.A. so be sure to bring one with you or if you're using your smartphone, consider packing a car charger.
By Public Transportation
The Los Angeles Metro is affordable, relatively easy to use, and services most of Los Angeles County and its top attractions. The public transit system consists of Metro Buses, DASH Buses, and Metro Rail Trains.
To ride these buses, trains, and subways, we recommend purchasing a reusable TAP Card. These are easily available at TAP machines located within the bus or subway stations. You can load a preset cash value onto the card and travel across all three systems as needed. It's also super easy to add extra cash to your TAP Card.
Use the MTA's Trip Planner tool to plan your trip routes and get estimated travel times.
Metro Buses
The bus system offers 200 different lines that cross the entire city and beyond. There are three types of bus services to be aware of while navigating on the Metro Buses.
Metro Local Buses are painted orange and make frequent stops along major districts and tourist attractions around the city.
Metro Rapid Buses are painted red stop less frequently but allow for an express ride. These buses have special sensors that keep the lights green in order to avoid traffic. Check schedules and routes ahead of time and see if the Rapid Bus is right for you - it'll definitely save you time!
Metro Express Buses are painted blue and are typically utilized by LA commuters. This route connects Downtown Los Angeles with other business districts and travels on a few of the city's freeways.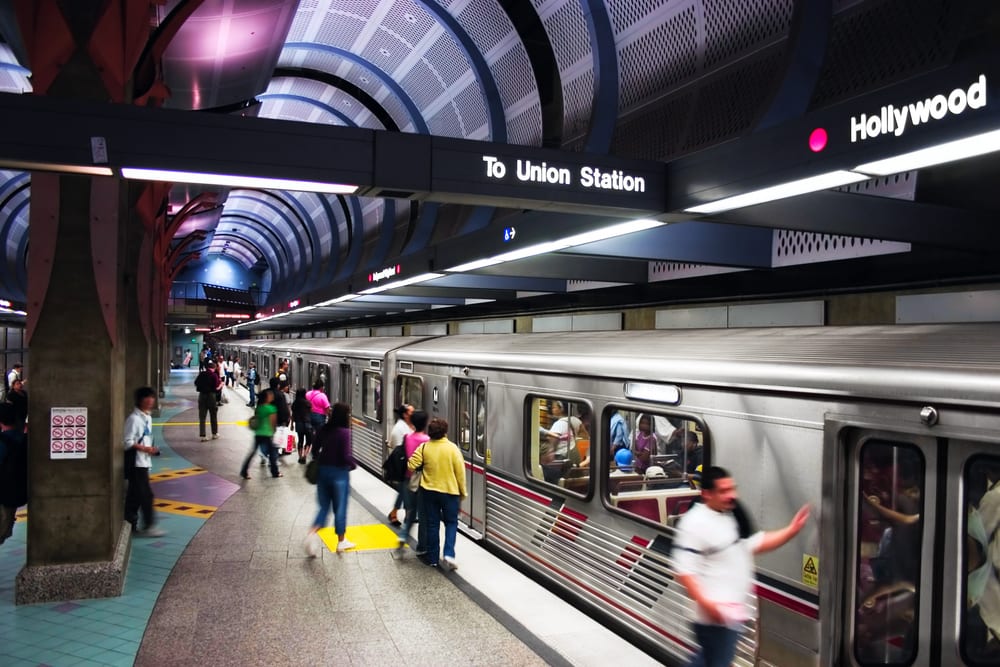 Metro Rail
The railway system consists of two subway lines, four light-rail lines, and two express bus lines that connect to Downtown Los Angeles.
Red Line is the most useful for tourists and visitors. This line links Downtown Union Station to North Hollywood via Hollywood and Universal City. It also connects with the Blue, Expo and Orange lines.
Purple Line connects Downtown Los Angeles to Westlake and Koreatown.
Expo Line is a light-rail that links USC and Exposition Park with Culver City, Santa Monica, and Downtown LA.
Blue Line is a light-rail line that runs from Downtown LA to Long Beach, connecting with the Green, Red, and Expo lines along the way.
Gold Line is a light-rail line that connects East LA to Little Tokyo, China Town and Pasadena via Union Station, where it connects with the Red Line.
Green Line is a light-rail line that services Norwalk and Redondo Beach.
Orange Line express buses connect the San Fernando Valley to North Hollywood.
Silver Line express buses connect the El Monte regional bus station to Harbor Gateway Transit Center in Gardena.
DASH Buses
These small shuttle buses are run by the LA Department of Transportation and operate along 33 different routes around the city. Many of the Metro Rail and Bus lines connect with the DASH buses. Upon boarding, pay the exact fee (typically 25-50 cents USD).
Beachwood Canyon Route: this route runs Monday - Saturday and takes you right to the Hollywood Sign. It runs from Hollywood Blvd and Vine Street up to Beachwood Drive.
Downtown Routes: these five routes run daily and service all the hot spots in Los Angeles. Get to Little Tokyo, Chinatown, the Financial District, Union Station and more.
Fairfax Route: this route runs Monday - Saturday and makes a loop around Beverly Hills Central Mall, the Pacific Design Center, Melrose Avenue, the Grove, and Museum Row.
Hollywood Route: this route runs daily and services the east side of Highland Ave and Hollywood.
By Taxi or Ride-Share
Outside of major attractions, hailing a cab in Los Angeles can be difficult. Call a taxi company or download the app called "curb", formerly "Taxi Magic", to schedule a pick up in advance. Taxis in Los Angeles are typically metered and charge by the mile. You can also use popular ride-sharing services, like Uber or Lyft, to get around.
They are easily available and relatively cheap (depending on the time you are traveling and where), so make sure to download your preferred service to your phone before your trip. Please remember, Los Angeles traffic can get pretty jammed during rush hour so give yourself some extra travel time when getting to and from attractions at peak hours.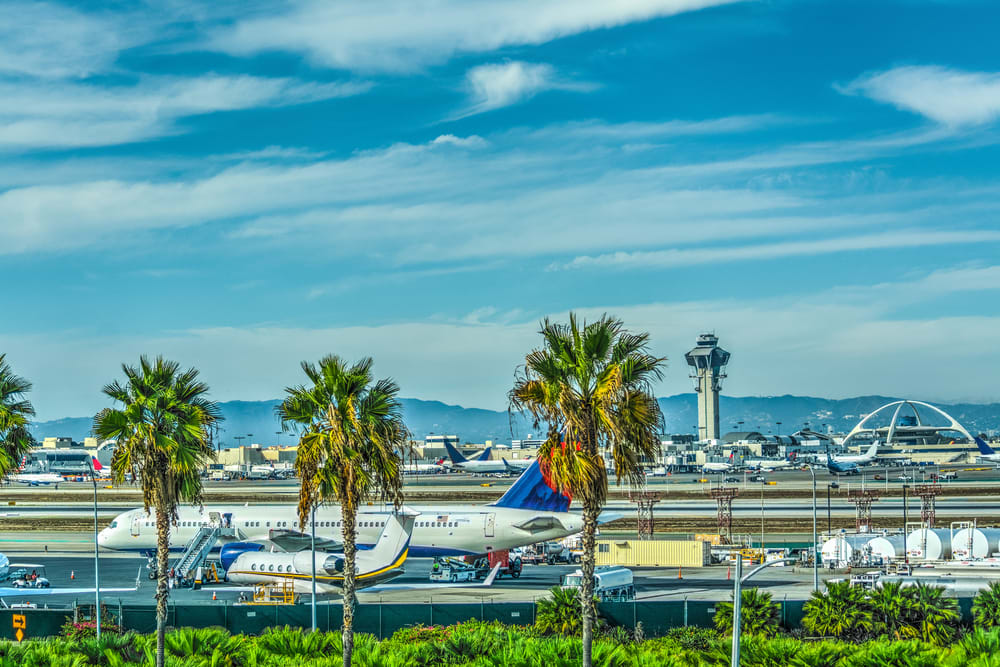 Traveling to Los Angeles
By Plane
Most visitors to Los Angeles will arrive at the Los Angeles International Airport, known as LAX. This enormous airport is surprisingly easy to navigate and the terminals are connected with free shuttle buses. LAX is conveniently located just minutes from Santa Monica and the beaches are only a half hour (traffic-permitting) from Hollywood and the Westside. In the neighborhood surrounding LAX, you'll find every popular car rental agency in the area. Conveniently, each of these rental companies offers a complimentary shuttle to and from the airport. For more information about LAX, visit their website.
It will be extremely easy to get to and from the airport - whether you hail a taxi cab waiting outside, arrange for a ride-sharing service, or hop on a public bus. Other, smaller airports are more favorable than LAX for some travelers.
The Bob Hope Airport in Burbank is located closer to Hollywood and downtown L.A. If you want to avoid L.A. city proper, you may want to fly into the Long Beach Municipal Airport, south of LAX on Long Beach and close to Orange County.
Finally, if your destination is Disneyland, you may want to book a flight to John Wayne Airport in Santa Ana.
By Car
Los Angeles is a car-centric city and is connected to several major highways. From the north you will likely take I-5 or U.S. 101 (called the Hollywood Freeway). From the east, you'll be coming in on I-10, which continues through downtown and ends at the beach. From the South, you'll drive north on I-5, merging onto I-405 if the beach communities are your destination.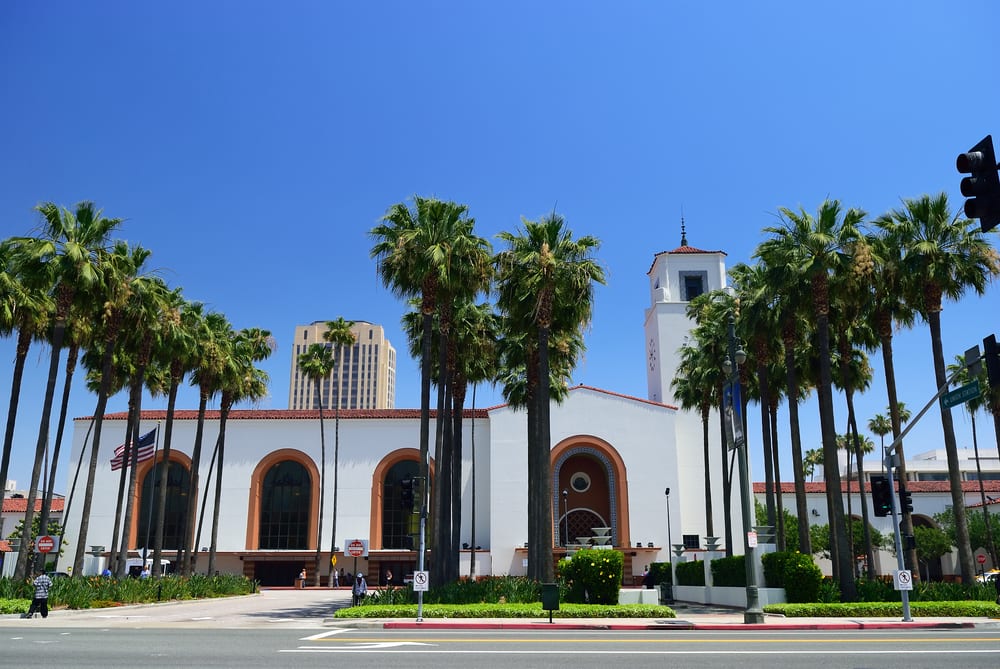 By Train
Amtrak services Los Angeles from roughly 500 U.S. cities. The L.A. train terminal is called Union Station (pictured) and is located on the northern edge of Downtown. From the station, you can either take one of the many taxis that line up outside, board the Metro Red Line to Hollywood or Universal City, or hop on a Metrolink commuter train to San Fernando Valley.
For cross country travel, you'll likely have to switch trains in Chicago or New Orleans. For Pacific coast travel, the Amtrak Coast Starlight runs from Seattle to Los Angeles. Additionally, Amtrak runs a train only along the California coast, connecting to San Diego, Los Angeles, and San Francisco.