blog.categories.trip-and-advice
Katie Sagal
The Metropolitan Museum of Art vs The Museum of Modern Art
New York City is home to some of the greatest art museums in the entire world. Period. But if you only have time and space in your NYC vacation to visit one, how do you choose between the two biggies – the Metropolitan Museum of Art vs the Museum of Modern Art? To help you compare these two prestigious art museums, we've put together a post that showcases their similarities and differences in the following areas:
What's Included with General Admission
Location
Popular Exhibits
Temporary Exhibitions
Tips for Visiting
Thinking About Visiting the Met vs the MoMA?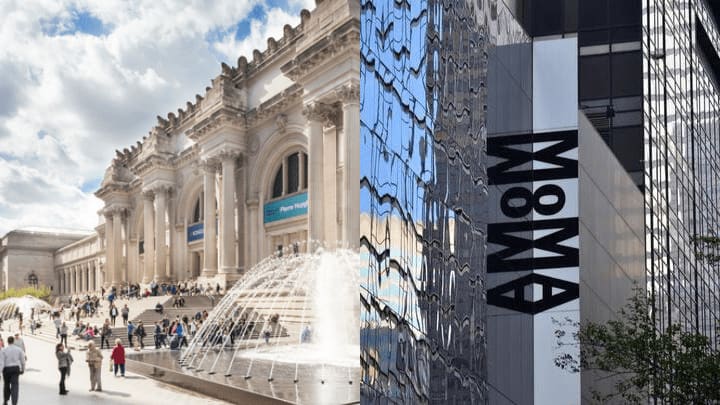 Fortunately for you, Metropolitan Museum of Art tickets and Museum of Modern Art tickets are both options on the New York City Explorer Pass®. Save on these and other top NYC attractions vs. paying at the gate. If you're a big art buff, other great art museums in New York include the Whitney Museum of American Art, the Guggenheim Museum, the two sister museums of the Met (Met Breuer and the Cloisters), and more. Get admission to some or all of these top museums with the New York City Explorer Pass!
What's Included with General Admission
Both museums offer access to their permanent exhibits, gift shops, and dining facilities with general admission. Some specifics to each museum are included below.
The Met General Admission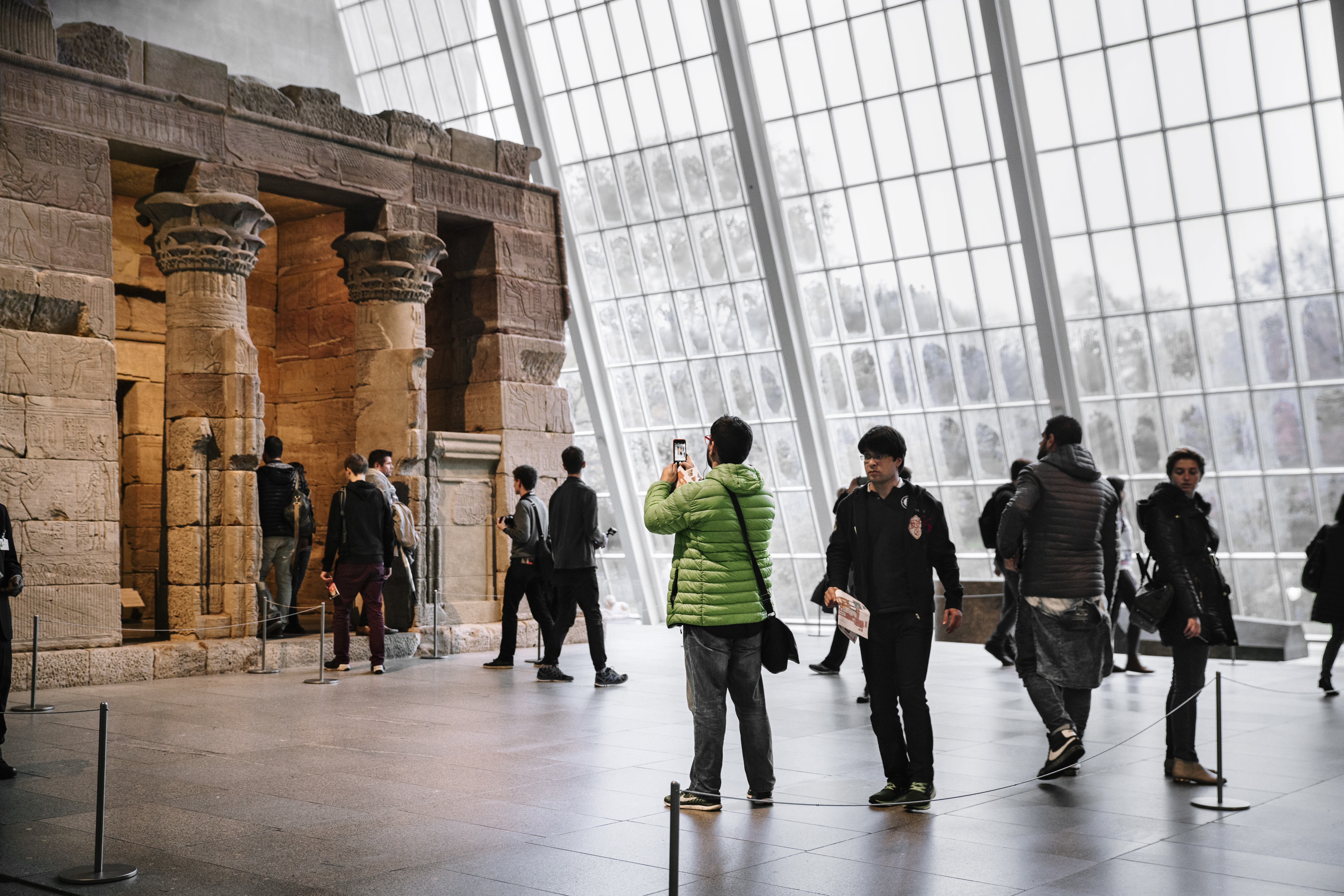 All regular exhibitions including Egyptian Art, Arms & Armor, European Paintings, and much more.
Admission to the Met Breuer and Met Cloisters for three consecutive days.
All temporary and special exhibitions, unless otherwise indicated.
Access to the dining and shopping options.
Children age 12 and under get free admission.
The MoMA General Admission
All regular exhibitions including their famed collections of photographs and paintings.
All temporary and special exhibitions, unless otherwise indicated.
Access to the dining and shopping venues.
Children age 16 and under get free admission.
Timed tickets are now required - MoMA will issue a ticket for the next available time slot.
Location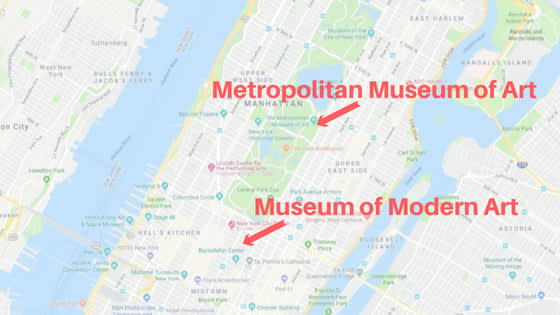 Both museums are located in Manhattan, within easy transit distance of many centrally located hotels, or walkable depending upon where you are coming from.
The Metropolitan Museum of Art
The Met is located at 1000 Fifth Avenue, on the east side of Central Park. It's in the neighborhood known as the Upper East Side (UES) and is across the park from the American Museum of Natural History (another popular cultural option in the city). It is also only a couple of blocks south of the Guggenheim Museum, for you art lovers out there. This area is also known as Manhattan's Museum Mile.
The Museum of Modern Art
The main branch of the MoMA is located at 11 West 53rd Street, in Midtown Manhattan. It's south of Central Park, right near the bustling neighborhood of Times Square. It's very close to other popular attractions like the Top of the Rock, Radio City Music Hall, Madame Tussauds, and the exhibits at Discovery Times Square.
Popular Exhibits
The Met and the MoMA both have plenty of exciting exhibits to offer visitors. Generally speaking, the MoMA's collections rotate more than the Met's collections do, as they have less gallery space at their main location.
Popular Exhibits at the Met
The Met is the largest museum in the United States, with more than 2 million works in its permanent collections. It's hard to pull out a few highlights of individual pieces, so this comparison will focus on their exhibit galleries and their most famous collections.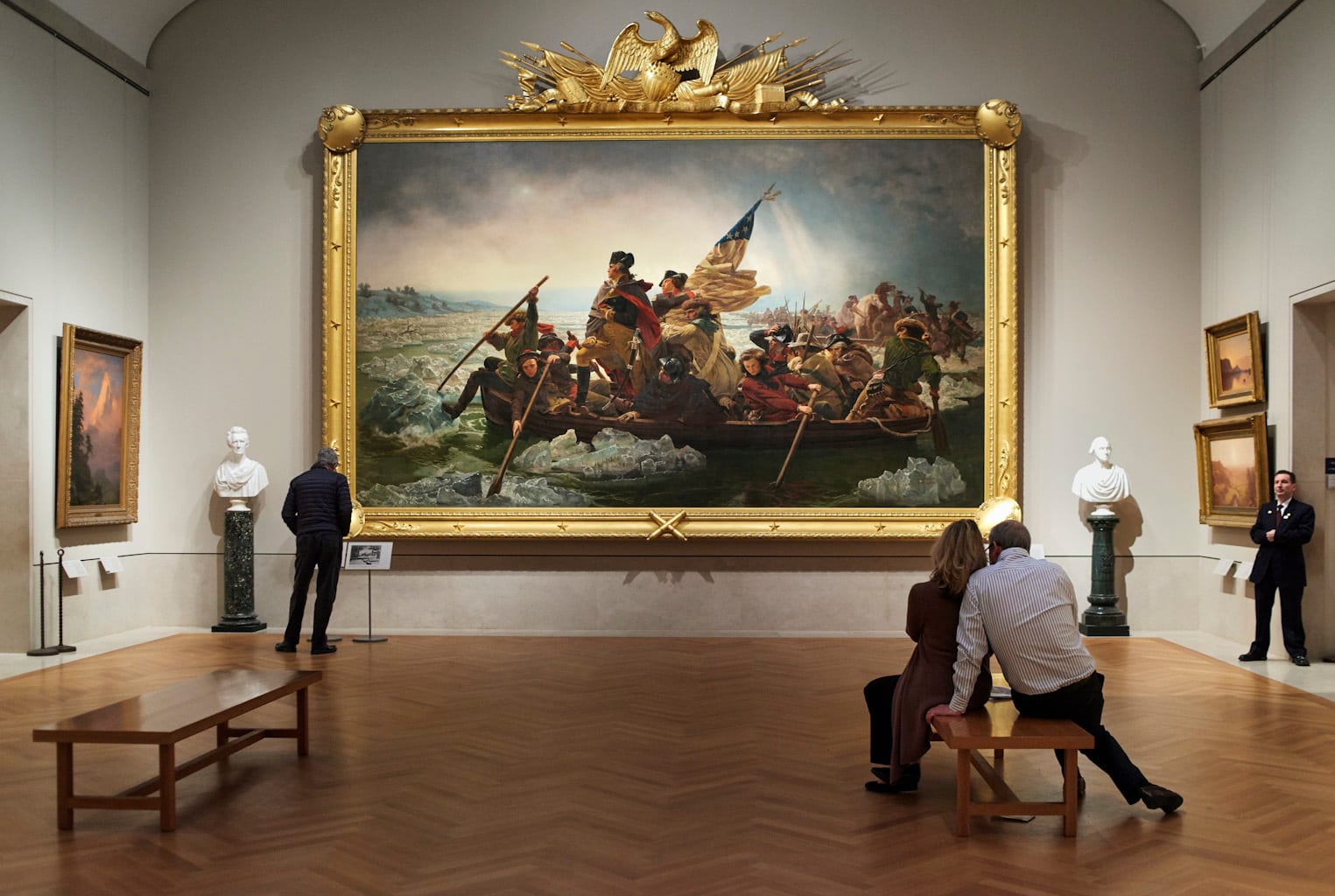 Egyptian Art: Features everything from jewelry to mummies to a real tomb.
Arts of Africa, Oceania, and the Americas: Includes 40,000-year-old indigenous rock paintings from Australia.
Asian Art: Chinese calligraphy and painting, Indian sculptures, and a Ming Dynasty garden court replica are standouts of this collection.
European Paintings: These galleries are among the most visited, and include artists such as Vermeer, Peter Paul Rubens, Jan van Eyck, Paul Cézanne, El Greco, and more.
Arms & Armor: This is a perennial favorite, featuring full suits of armor and swords.
The American Wing: From decorative arts to sculpture to paintings, this is a large section of the museum.
Greek and Roman Art: An excellent collection of sculpture, domestic pieces like vases or jewelry, and funerary pieces, among many others.
Other important areas of acquisition for the Met include Islamic Art, photographs, textiles, drawings and prints, musical instruments, and more. And while their sister institutions host most of the modern art and medieval art, there are some representations of those fields here, too.
Popular Exhibits at the MoMA
The MoMA has more than 200,000 works of contemporary art in their collections, although only a portion of those are on display at any given time. They also offer frequent special exhibitions that showcase specific elements of the collection, or items on loan from other places.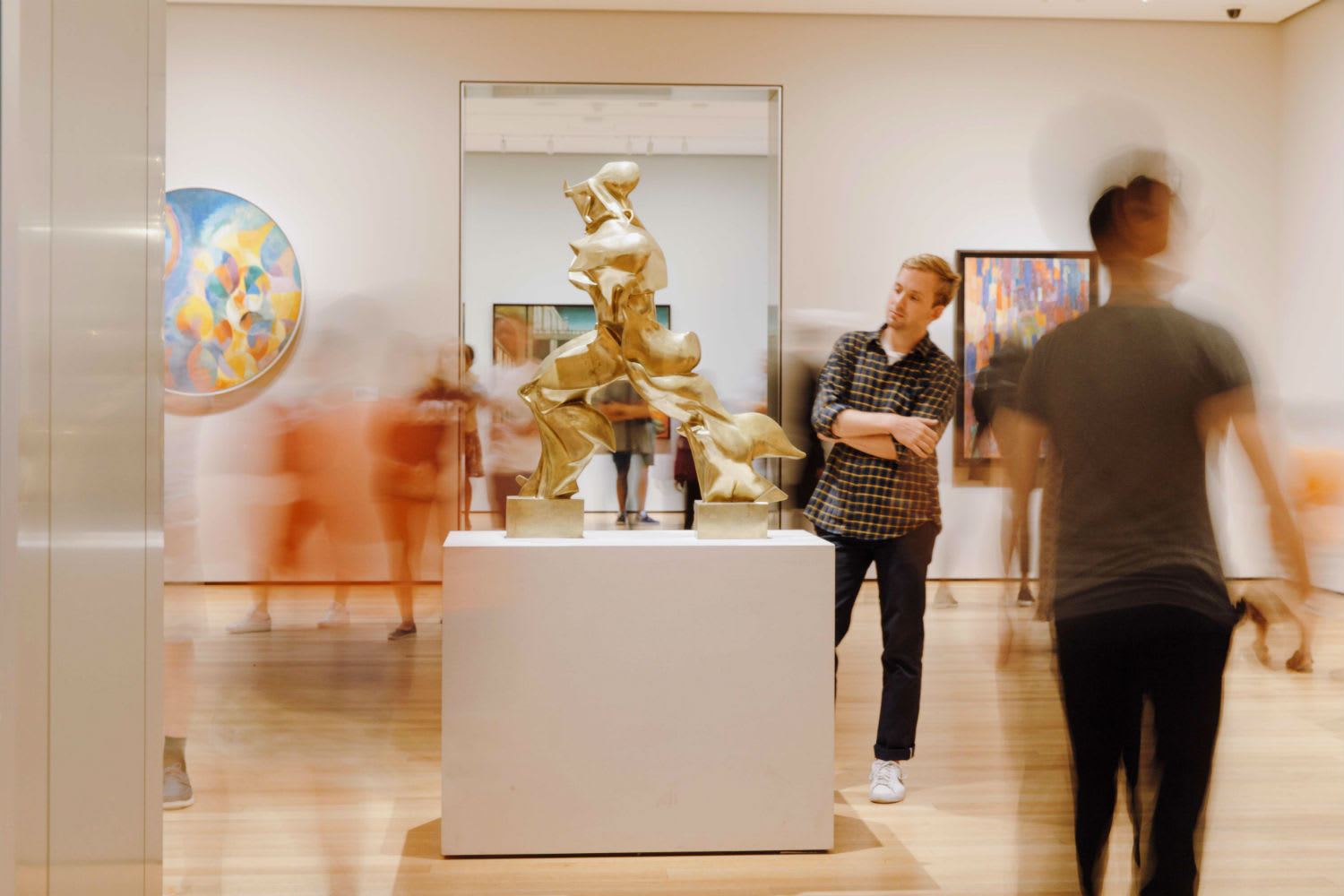 Some of the highlights of their collection include:
Vincent van Gogh, The Starry Night (1889)
Pablo Picasso, Les Demoiselles d'Avignon (1907)
Salvador Dali, The Persistence of Memory (1931)
Frida Kahlo, Self-Portrait with Cropped Hair (1940)
Roy Lichtenstein, Drowning Girl (1963)
Claude Monet, Water Lilies
Andy Warhol, Campbell's Soup Cans (1962)
Henri Matisse, The Dance I (1909)
Umberto Boccioni, The Dynamism of a Soccer Player (1913)
Other strengths of the collection include work by Andrew Wyeth, Jackson Pollock, René Magritte, Jasper Johns, Paul Gauguin, and many others.
Temporary Exhibits
As two of the most celebrated museums in the world, you can expect their rotas of temporary exhibitions to seriously impress.
MoMA's temporary exhibits never fail to debut world-renowned talent or the best of the up-and-coming. They also present sensational and ever-evolving performance programs.
At The Met, you can expect the finest classics from all over the world, curated in the most sensitive and thoughtful ways.
Tips for Visiting
While you can certainly pop into both museums and have an inspiring, enjoyable time, there are a few tips that can help you make the most of your visit. See below for our insider tips on visiting the Met and the MoMA.
Tips for Visiting the Met
While the Met did previously offer admission by suggested donation, this has now shifted to a concrete admission fee. Pick up a New York Explorer Pass and your Met tickets will be included.
The Met is the busiest around lunchtime and afterward, so plan to visit as early in the day as possible. Budget in 2-3 hours to explore (more if you're a dedicated art lover).
Be sure to plan ahead! Consult the museum map and plan out what you want to see in advance. It's a massive space and you'll really need at least a rough idea of what you're hoping to see.
The Met also offers late nights on Fridays and Saturdays, if your travel plans leave you some extra time in the evening.
Periodic events, specialized tours, and kid's activities are also a popular part of the full Met experience! Look over the events calendar before your visit to see what's on. Events may incur an additional cost.
Photography is permitted in some galleries but prohibited in others, so be sure to check before snapping a photo. Never use flash.
If you liked something in the gift shop, keep in mind that it may not be available online.
Head to the Met's hidden gem of a rooftop, The Cantor Roof Garden Bar, for sweeping views of the New York City skyline and an afternoon refreshment.
Check out our detailed visitor's guide to the Metropolitan Museum of Art for more information.
Tips for the Visiting the MoMA
The admissions line is actually the longest first thing in the morning at the MoMA, so consider coming around 11:30 am.
Save on admission to the MoMA with a New York City Explorer Pass, and get your MoMA tickets included.
Download the MoMA audio app to make the most of your visit.
Photography is permitted in some galleries, but the use of flash is never allowed. Check for signs or ask to see if you can photograph a specific exhibit.
The MoMA also offers family tours and workshops, as well as activity stations in select galleries and short films. Most kid-friendly activities are included with general admission.
Consider dining at the museum if you have time in your itinerary. In addition to the more casual museum-style dining options Café 2 and Terrace 5, the MoMA also boasts The Modern, a two Michelin star restaurant.
Because of their free admission offer on Friday evenings, Fridays between 4 and 8 are some of the busiest times to visit. Consider visiting another time to avoid the crowds.
Their gift shop does have an online storefront, but they do not sell all of the same things online as they do in person. Keep this in mind when souvenir hunting!
Check out our detailed visitor's guide to the MoMA for more information.
In Summary (The Biggest Differences between the Metropolitan Museum of Art vs Museum of Modern Art)
Both institutions are world-class museums that any art or culture lover should definitely visit at least once in their lives, but they have important differences, too. The Met is larger by far, with more gallery space and larger collections. Both offer access to special exhibitions with general admission, although both also host special events that may incur additional costs. The Met has a wide focus, featuring everything from the art of the ancient world to contemporary photography (although the bulk of their contemporary collections can be found at the Met Breuer). The MoMA specializes in modern and contemporary art. The Met offers more dining options, including a high-end restaurant and multiple cafés. The MoMA also boasts a highly rated restaurant, with only two casual options.
Visit the Met and/or the MoMA and Save on Admission
Interested in either museum or both? Pick up a New York City Explorer Pass® and save on combined admission fees when you visit your choice of the city's top attractions. Other attraction options on the pass include the Top of the Rock, the Empire State Building, Madame Tussauds New York, the 9/11 Memorial and Museum, the American Museum of Natural History, and more. Art lovers may also be interested in the Guggenheim Museum, the Whitney Museum of American Art, and the Brooklyn Museum & Botanical Gardens, all of which are included as options with the New York City Explorer Pass.