Area guide
Trip inspiration
Katie Sagal
10 Best Beaches Near Orlando
Orlando is one of our favorite vacation destinations for many reasons. It's the theme park capital of the world, it has an abundance of great food, and the arts and culture scene is vibrant and ever-expanding. Of course, that's not to leave out one of the best things about being in Central Florida—the proximity to so many amazing Florida beaches. Because of Orlando's central location, you'll find that it's nearly equidistant from the East Coast and the Gulf Coast beaches, with plenty of the best beaches in Florida within easy driving distance of this urban hotspot. East Coast beaches are approximately an hour's drive from Orlando, while Gulf Coast beaches are around two hours. Exact distances vary, of course, but this gives you a general idea of how easy it is to explore Orlando beaches. If your next Florida vacation is a beach destination, consider one of these top beach road trips. In alphabetical order:
Canaveral National Seashore
Clearwater Beach
Cocoa Beach
Daytona Beach
Fort de Soto Park
and more!
Canaveral National Seashore
This is the perfect East Coast locale from which to observe a launch from the Kennedy Space Center (which you can easily visit from this Orlando beach). It's also a preserved stretch of coastline that functions in part as a wildlife sanctuary, with manatees, sea turtles, and plenty of other marine life to be found at this beach. People love to swim, stroll, hike, and even ride horses along this vast expanse of sand and shore.
Clearwater Beach
A Gulf Coast Beach, Clearwater is justifiably famous among the Orlando beaches. Water activities abound here, with opportunities for everything from swimming to windsurfing. Take a cruise around Clearwater Harbor, visit the Clearwater Marine Aquarium, or just snap photos of the sunset from Pier 60. There's a great downtown area for shopping, dining, and entertainment, too.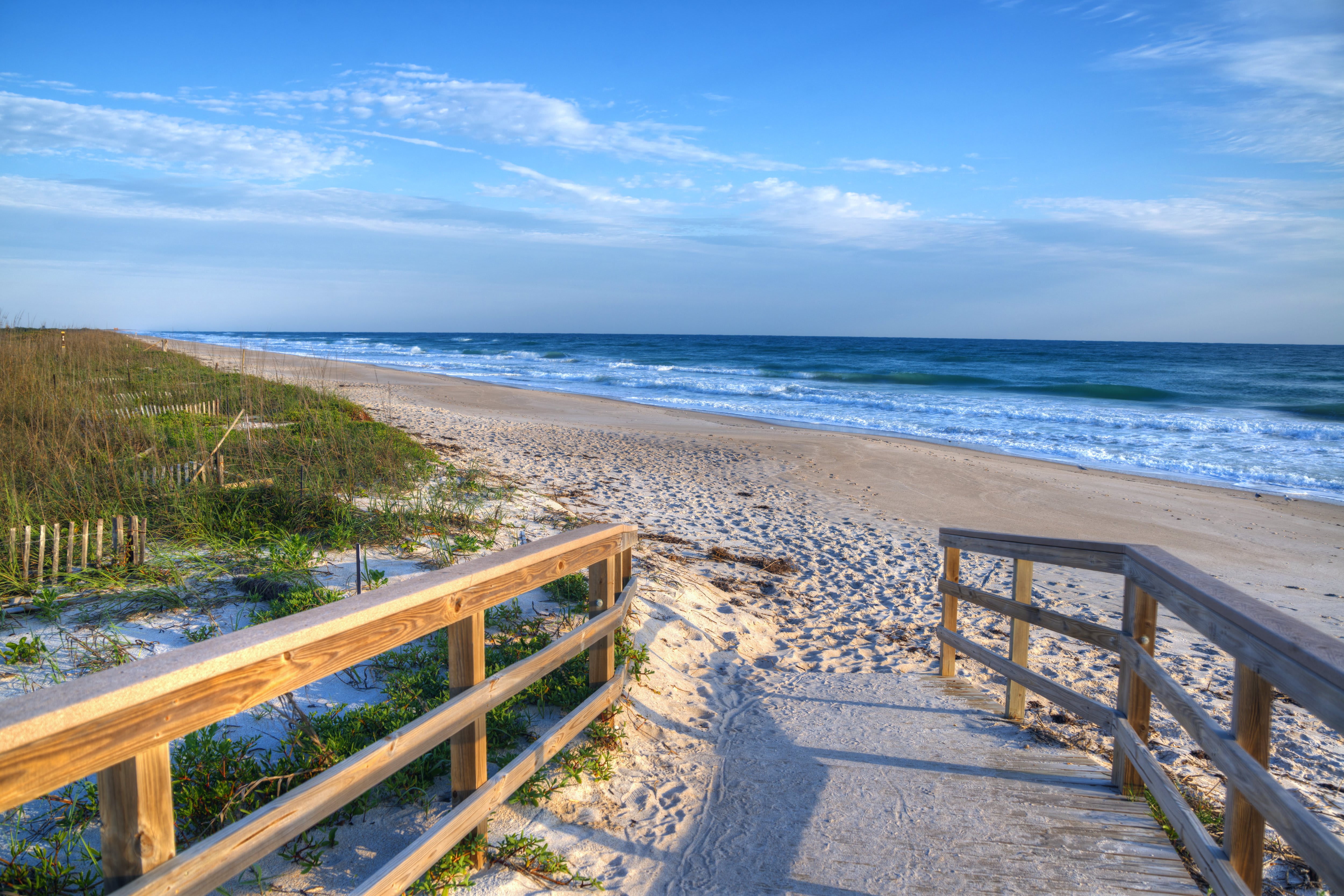 Cocoa Beach
One of the best East Coast Orlando beaches around, Cocoa Beach is a destination unto itself. You can enjoy all the class favorites like parasailing, windsurfing, swimming, and so much more. Spend a few hours lounging in the sun, then devote the rest of your time to shopping, eating, and relishing the live entertainment. It's even home to a massive Ron Jon Surf Shop!
Daytona Beach
Arguably the most famous of the East Coast Florida beaches, Daytona Beach is also a historic spot for fishing, boardwalk shopping, and general lounging about. You can opt to tour the famous Daytona Speedway, partake of the free summer programming like concerts and fireworks, or just sit back and relax amidst the sunshine and sand. It's a very popular beach with visitors, so keep that in mind when making your plans.
Fort De Soto Park
This expansive beach park is spread over multiple, interconnected islands, making it one of the more unique among the best beaches in Florida. It's found on the Gulf Coast side of the state and features a wide array of outdoor activities like hiking, camping, fishing, swimming, and more. You can also visit the historic Fort Desoto, which is a great spot for unique photos.
Indian Shores
This family-friendly beach is less crowded than many of the others on this list. It's a nice spot to get away from the press of people on your beach excursion. There are convenient showers at most of the beaches and easy access to bathrooms. Plus, there are plenty of shops and tasty restaurants to enjoy post-sun and sand. There's a great little mini-golf spot, too, plus the Seaside Seabird Sanctuary.
New Smyrna Beach
An ideal spot for surfing and sunbathing, NSB is an East Coast beach beloved by locals for its low-key vibe and easy access from Orlando. Visitors enjoy paddle-boarding and other water sports at NSB, as well as the nearby dog beach. You'll find a bunch of quirky shops, too, making this is a great place to spend the afternoon after you're exhausted from all the sun.
Port Canaveral
Here is where many cruise ships bound for the Caribbean depart from. Even if you're not headed out on a voyage yourself, it's fun to watch the ships sail away into the distance. Spend some time at Jetty Park (which is found right near the port) swimming, sunbathing, and hanging out. There are also loads of restaurants and shops to explore here, with many great waterfront options for that perfect seaside dinner on this East Coast beach.
St. Pete Beach
St. Pete Beach is a Gulf Coast beach with killer sunset views. This part of Florida is also known for its concentration of the famed Art Deco architecture. It's also got cultural attractions like the Dali Museum and the Gulf Beaches Historical Museum. Enjoy the many bars and restaurants that dot the island, as well as the bevy of water sports options.
Treasure Island
A small but mighty beach, Treasure Island encompasses three miles of sand and surf along the Gulf Coast of Florida. You can snorkel, swim, surf, kayak, or just sunbathe along this beautiful expanse of a beach. It's also famous for being home to the self-proclaimed longest waterfront bar in the world—Gators Café and Saloon. It's just a bit north of St. Pete Beach if you'd like to try to visit both in one swing.
Save on Orlando Attractions
Visiting a beach near Orlando on your vacation must-list? Snag a Go Orlando pass and save on cruises, tours, and more in a few of these top Orlando beach destinations. You'll pay 50% less on tickets than you would by buying admission individually. Therefore, you can save your money for those fruity drinks everyone loves to sip on the beach.
Share Your Adventure with Us
Tag @GoCity in your vacation photos and we'll feature you on our page. Follow the Go City Instagram and Facebook pages for competitions, special offers, and events and inspiration for your chosen destination, too!