San Diego Zoo - Tips for Visiting
The world-famous San Diego Zoo is a must-see when traveling to Southern California. The large, 100-acre park is home to over 4,000 rare and endangered animals from around the world, including pandas, koalas, tigers, polar bears, and more. The park also boasts a botanical collection of more than 700,000 exotic plants.
The zoo is rated the #2 zoo in the World by TripAdvisor and is consistently a Travelers Choice Award winner -- which includes a list of the top zoos in the world based on millions of traveler reviews. Check out our helpful guide before you visit, which includes ways to save on admission, San Diego Zoo tips, must-see exhibits, other nearby attractions, and much more.
San Diego Zoo Tips for Visiting
If you visit with Go City, you can skip the ticket booth and go straight to the turnstiles for park entry. Your San Diego Zoo 1-Day Pass ticket includes unlimited use of the Guided Bus Tour, Kangaroo Express Bus, Skyfari aerial tram, and all regularly scheduled shows.
Wear comfortable footwear. The San Diego Zoo consists of 100 acres of hilly terrain.
Take advantage of the guided double decker bus tour and go in the morning to scope out your must-see exhibits. Follow the bus route along with your map to get a lay of the land.
It may also be helpful to use the hop-on hop-off Kangaroo Bus. The bus makes 4 stops throughout the park and arrives at each stop every 15 minutes.
The zoo allows outside food so pack snacks and a picnic lunch if you want to avoid paying for food in the zoo.
Hydrate. Bring a water bottle or purchase a souvenir fountain drink cup with a straw and lid for discounted re-fills all day.
Spend some time in the shadier terrain in the Lost Forest exhibit when temperatures are at their peak. This area of the park features the most shade so it tends to be cooler and gives you a break from the sun.
Parking is free, so no need to worry about budgeting in some extra space for those parking fees.
What is the Best Time to Go to the San Diego Zoo?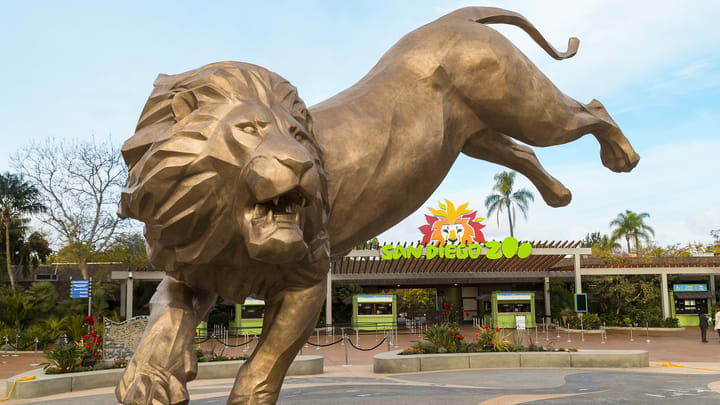 Plan to spend a full day at the zoo. Go early to avoid the busiest times and to increase your chances of seeing the animals when they're most active during the day before the temperature rises. This will also maximize the number of feedings and keeper talks you can enjoy. These special events take place at regularly scheduled intervals throughout the day. If you are interested in any of these, be sure to consult the operating calendar before your visit.
What to Bring
Water: You'll be walking around and out in the sun all day so bring a water bottle to fill up at various fountains throughout the park.
Sunscreen: Bring sunscreen, because most of the exhibits are outdoors.
Camera: There will be lots of photo opportunities and plenty of adorable critters -- be sure to bring a cellphone or camera.
Picnic: The park allows outside food, which can be a smart way to save on dining.
What to Do at the Zoo
See below for a list of our recommended exhibits to check out during your visit.
Africa Rocks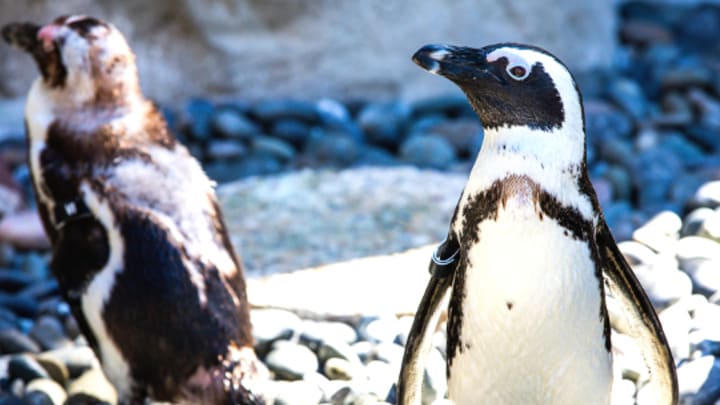 The San Diego Zoo's Conrad Prebys Africa Rocks spotlights the amazing biodiversity found on the African continent. With six new habitats that span 8 acres dedicated to African plants and animal species, including including African penguins, baboons, lemurs, and more. These habitats are all unique, and are organized under the following concepts:
Cape Fynbos
Madagascar Forest
Ethiopian Highlands
West African Forest
Acacia Woodland
Kopje Woodland
Guided Bus Tour
Enjoy a ride on the double-decker bus for a narrated tour of the zoo. You'll see lots of the zoo's highlights and popular exhibits along the way. This is especially helpful as the zoo is quite expansive and walking its entire expanse can get tiring. Go on the tour early in the day and follow along on your map to get a feel for the zoo's layout as you go.
Northern Frontier
Home of the zoo's polar bears, this exhibit is a must-see for any Arctic enthusiasts out there. Watch a snow white fox frolic, caribou meander, and polar bears swimming or playing in the underwater viewing area. Stay for a Keeper Talk, during which you'll learn about the unique maned wolf species and see the animals do enrichment exercises.
Elephant Odyssey
See lots of elephants and check out the Elephant Care Center facility. This exhibit also features other California-native animals of the past and present, including large birds, cheetahs, lions, meerkats, and more. Stay for a Keeper Talk to watch lions or jaguars enjoy enrichment programs -- and if you've never seen either of these big cat species being playful, then you're in for a real treat.
Lost Forest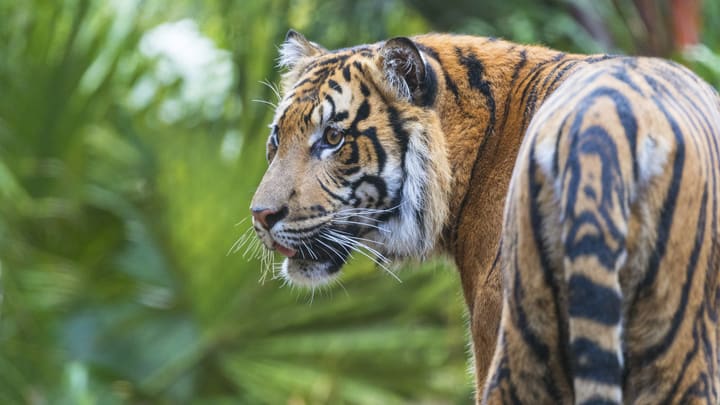 Take a stroll through Lost Forest to see tigers, hippos, monkeys, gorillas, and more. Be sure to walk through Scripps Aviary and Owens Aviary to see the rare and exotic bird species. You'l also find the Tiger Trail here, which is a great opportunity to see these majestic great cats if you can't get to the San Diego Zoo Safari Park. This section also features a number of botanical exhibits and gardens, including the Bog Garden, the Fern Canyon, and the Hawaiian Native Plant Garden. It's a must-visit for fans of flora and fauna alike!
Urban Jungle
Head to the Urban Jungle exhibit to see giraffes, kangaroos, flamingos, rhinos, sleepy koalas, and more. This distinctive exhibit combines many of the zoo's animal ambassadors together in one exhibit, so there are plenty of critters to meet and engage with during specialty demonstrations.
Discovery Outpost
This exhibit features lots of reptiles, insects, and birds. Kids can run around in the playground and get up-close to the animals in the petting zoo where visitors can pet the wooly coat of a sheep or comb a gentle pygmy goat's hair. Stay for the Keeper Talk, during which you can meet Baba the pangolin and learn about this rare animal.
Skyfari® Aerial Tram
Take an airborne shortcut over the treetops to the other end of the zoo and enjoy spectacular views of the zoo, the animal and plant collection, and surrounding Balboa Park.
Best Time to Visit the Zoo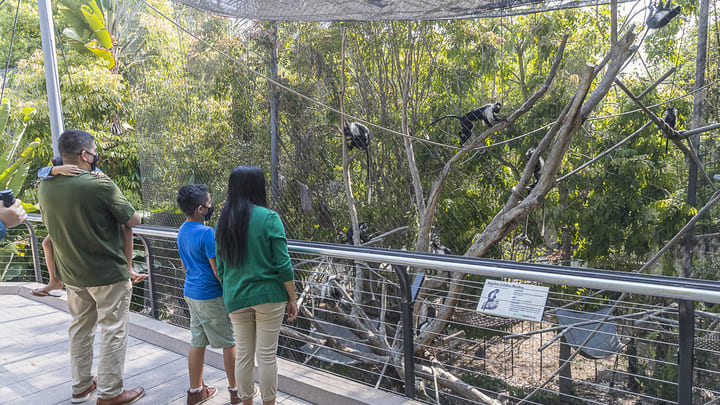 The best time to visit the San Diego Zoo is when it opens, you'll be able to enjoy exhibits with thinner crowds as the zoo tends to get busier as the day goes on and weekdays are less crowded than weekends. Most of the park is outdoors so it's best to save the zoo for a fair weather day.
Things to Do Nearby - Attractions & Activities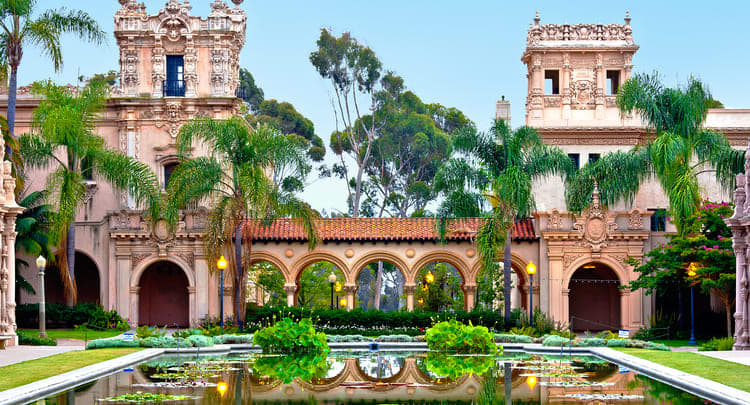 The San Diego Zoo is right in the middle of beautiful and historic Balboa Park, which has a bunch of great museums for the entire family to enjoy. Make the most of your day and walk down Park Boulevard to check out some of the attractions right in Balboa Park.
San Diego Natural History Museum - Explore the diversity of plant and animal life at the San Diego Natural History Museum (the NAT).
Fleet Science Center plus IMAX - Play scientist for the day by building skyscrapers, interpreting images from the Hubble Space Telescope, and comparing medical tissue samples. See what's playing in the world's largest IMAX dome for even more science-themed fun.
San Diego Model Railroad Museum - Check out the world's largest model railroad display and learn all about the prominent role railroads played in the westward expansion in the United States.
San Diego Museum of Art - Take a stroll through the region's most visited art institute nationally renowned for its collections of Spanish and Italian Old Masters, South Asian paintings, and 19th and 20th century American paintings and sculptures.
Japanese Friendship Garden, San-Kei-En - Take a stroll through three tiers of beauty and serenity in the Japanese Friendship Garden, created as a gesture of friendship between the U.S. and Japan when San Diego and Yokohama, Japan became sister cities in 1950.
San Diego Automotive Museum - This is a must-see for any automotive buffs or car enthusiasts. Cars on display are restored and preserved by a dedicated team of volunteer technicians who work hard to make this museum special.
Air and Space Museum - Designed to celebrate aviation and space flight and inspire students to excel in technology, mathematics, and the sciences, the Air and Space Museum is a fascinating exploration of all things air and space.
Save on Tickets with Go City®
Remember, Go City is the best choice for maximum savings and flexibility, which includes San Diego Zoo tickets, plus admission to your choice of other top attractions. Save on top museums, tours, and activities vs. paying at the gate. Visit multiple San Diego attractions for one low price.