Famous San Diego Landmarks & the Most Instagrammable Places to Take Pictures in San Diego
A good vacation can be the experience of a lifetime, and that's definitely a set of memories you don't want to forget. Of course, you want to make sure to take some photos to help preserve those memories - ones that will tell the story of San Diego and your time spent in this lovely city. Do yourself a favor and take our expert advice on the best places to take pictures in San Diego.
Best Ways to See Famous San Diego Landmarks
There's plenty of great places to snap the perfect instagram photo of famous San Diego landmarks during your trip. Here are a few fun ways to help you get around while sightseeing...
San Diego Harbor Cruises
GoCar San Diego Tours
Bike Rentals in Coronado
Many of the photo opps we listed below are located near some of the top attractions in the San Diego – so you can combine the best sights with the best things to do. See all available passes, attractions & prices – Learn more.
Best Places to Take Pictures in San Diego 1. Japanese Friendship Garden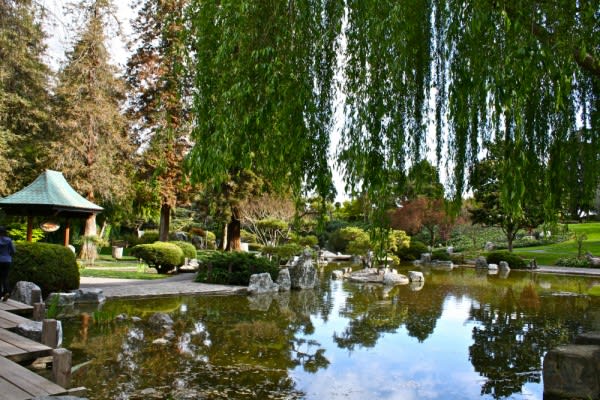 Probably the closest you'll get to an authentic Zen garden outside of Japan, it's a soothing and peaceful oasis in the middle of Balboa Park – which is itself no small fry when it comes to beautiful gardens. In fact, the Japanese Friendship Garden is just one of many gardens located in Balboa Park – there's also a cactus garden, an educational children's ethnobotany garden, and the ever-popular rose garden. In my opinion, you'll find the widest variety of flora in all of California right here in Balboa Park.
2. Giant Pandas at the San Diego Zoo
Beloved and known around the world as the emblem of endangered animals everywhere, it's no surprise that first-person encounters with Giant Pandas are hard to come by. The San Diego Zoo, in addition to being quite possibly the best zoo in the country, is only one of 4 places in the nation to house these precious bears. While Giant Pandas tend to sleep a lot, that does make for some pretty cute pictures of snoozing bears. Due to their unprecedented success with their breeding program, the San Diego Zoo also often has a baby panda, which are very rare outside of China.
3. Gaslamp Quarter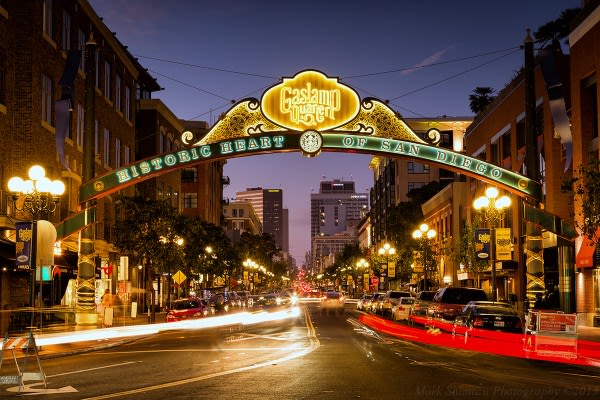 This right here is one of the more popular San Diego landmarks to take a photo of. Although a lot of the area has now been modernized – you'll probably recognize the Gaslamp Quarter from tourism brochures as a trendy shopping and dining area – it's also one of the most historic sections of a very old city. The architecture is predominantly Victorian, although recent modernizing efforts have given it a charming eclecticism. The name is a reference to the type of street lamps that were popular in the original 19th century construction – some of which can still be seen on street corners today. A number of important San Diego attractions are also located here, including the popular Mardi Gras festival and a number of music festivals. Take a Gaslamp Quarter Walking Tour for the full historical rundown.
4. Coronado Island
The charming Hotel Del Coronado
Coronado Island is one of those areas of San Diego that encapsulates the mixture of fascinating history and impressive contemporary institutions that San Diego is known for. Coronado is mostly regarded as a resort town now, with a full of a wide range of shopping, dining, and other attractions, but it's been around since the late 19th century so Coronado has a rich history, too. Like much of the area along the coast, it also boasts beautiful beaches. The Hotel Del Coronado is a beautiful historic San Diego landmark that attracts a lot of visitors, too, as one of the earliest resort hotels in the country. It's pricey to stay at, but free to take pictures of! Take the Coronado Ferry to avoid driving.
5. The Pond in Balboa Park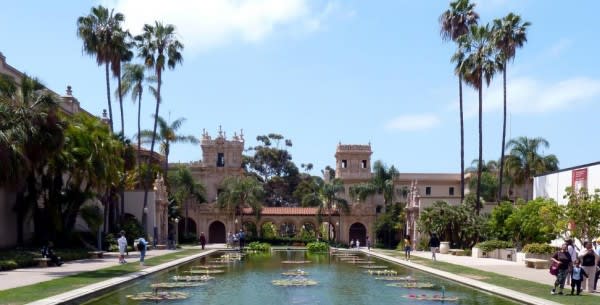 Image Credit: balboapark.org
As the nation's largest urban cultural park, Balboa Park is absolutely bursting with natural and architectural beauty. From gardens and galleries to museums and music halls, the best of San Diego culture and wildlife are conveniently located right here in Balboa Park. While there will be no shortage of picture-perfect scenes for you to explore in the park, there are some highlights you have to at least stroll by. One of the most photographed locations in the entire Park is the Pond, with its gorgeous architectural backdrop – especially stunning against the SoCal sunset.
6. The Prado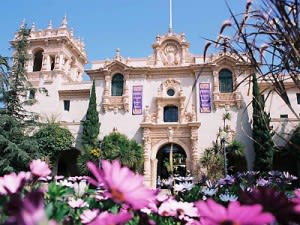 A view of the Prado - just gorgeous, isn't it?
Also located in Balboa Park, it's an historic Spanish-Renaissance style building that now serves as an upscale restaurant. Previously used as the House of Hospitality for the 1915-16 Panama-California Exhibition (an important even in San Diego history also responsible for the construction of the Japanese Friendship Garden), it's now a National Historic Landmark and one of the most distinctive buildings in Balboa Park. The surrounding Casa del Rey Moro Garden is also quite lovely. In fact,
the Prado
building and the Garden are so beautiful that this is a popular site for weddings. Visit and you'll see why!
7. La Jolla Beach and Cove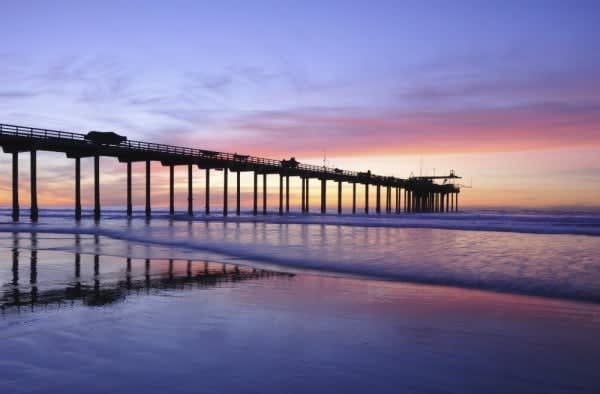 While you may be tempted to spend more time in the sand and surf than stand around with your camera, it's well worth bringing along something relatively waterproof to get a series of photographs of the coastline in La Jolla Beach. It's the epitome of the Southern California fantasy – blue green waters, endless skies, and burning white sands. La Jolla Cove is another popular spot that's full of stunning tropical fish and plenty of seals, sea lions, and rare seabirds. It's ideal for children, with its gentle waters and colorful variety of wildlife. Rent a kayak to travel to La Jolla Cove without the hassle and expense of parking.
8. Cabrillo National Monument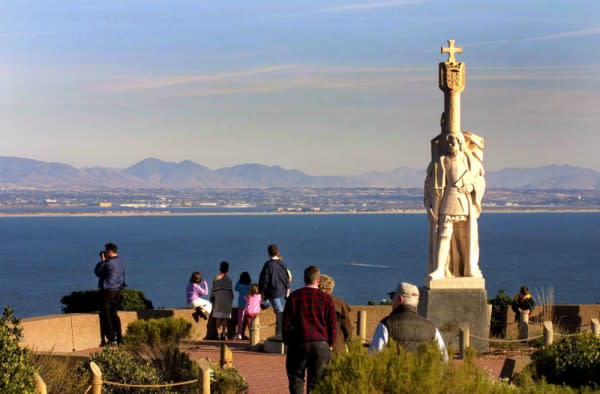 Image Credit: http://sandiegan.com/v
This San Diego monument is one of the most important in the San Diego, as it honors Juan Rodríguez Cabrillo, who is considered to have been the first European to set foot on the West Coast of what would later become the United States in the early sixteenth century. The statute's location on the Point Loma Peninsula also provides you with a stunning distant perspective on the San Diego coastline – a great way to get skyline shots and pictures of the lush Pacific. There's also a beautiful historic lighthouse nearby – the Old Point Loma Lighthouse – for those of you who enjoy the beachy photographs.
9. Torrey Pines State Reserve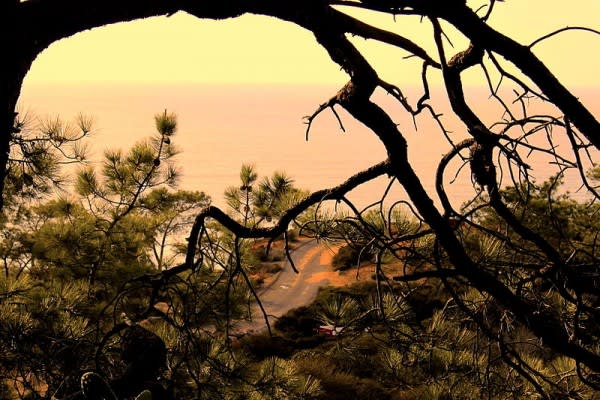 "
The Pacific Ocean seen from Torrey Pines Park Road
" by
Lo2013
- Own work. Licensed under
CC BY-SA 3.0
via
Wikimedia Commons
.
Torrey Pines is 2000 acres of preserved Southern California wilderness – the largest stretch of nearly pristine land in the area. Full of hiking trails, gorgeous forestland, and unparalleled vistas from several different overlooks, it's the perfect location for the outdoor photographer. In addition a rare chance to capture various perspectives of the urban cityscape from afar, you'll also be able to snap detailed shots of rare plants, unspoiled beaches, and even a lagoon. Torrey Pines State Reserve is also just a great time for adults and kids, the perfect chance to explore the incredible natural world – all within San Diego city limits, believe it or not!
10. "Unconditional Surrender" Statue
Perhaps better known as the "The Kiss," this full-color statue on the San Diego waterfront brings to life the famous photograph of a returning sailor sweeping a girl off her feet. Located near the USS Midway Museum, this statue commemorates the end of World War II and the joy of returning soldiers and sailors from the conflict. It's an instantly recognizable moment in time, and although the actual kiss took place in Times Square in New York City, San Diego's strong maritime heritage makes it the perfect setting to honor the men and women who served in WWII.
Let's Recap
While this list is by no means exhaustive, it does contain a bunch of our favorite places to take pictures in San Diego. From the most popular attractions to skyline views and scenic parks, there's something to suit every taste when it comes to San Diego photo opportunities. Remember, a number of these famous San Diego landmarks and attractions are available with the Go San Diego Card, where you can save on combined admission prices vs. paying at the gate.