There are so many famous sights and sounds all around London that it can be hard to single out the locations you should be paying the most attention to. While we love some freedom and flexibility when it comes to taking photos, it can also be really useful to know where the most important London landmarks are. Here's a rundown of popular London landmarks that are some of the best places to take pictures in London.
Best Ways to See Famous London Landmarks
There are numerous fun ways to see and snap photos of famous London landmarks during your trip. Here are a few sightseeing tours available on the London Explorer Pass that we would recommend...
Hop On Hop Off Big Bus London Tour
London Eye River Cruise
Royal London Bike Tour
Guided Walking Tours
See all available passes, attractions & prices – Learn more. Many of the photo opps we listed below are located near some of the top attractions in the London – so you can combine the best sights with the best things to do.
Best Places to Take Pictures in London
Big Ben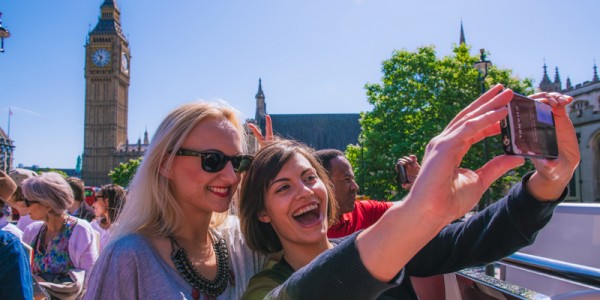 Actually the name of the bell, the epithet Big Ben has also come to refer to the iconic clock tower as a whole, officially known as Elizabeth Tower. This world famous London landmark was built in the mid-nineteenth century and is today one of the world's most famous tourist destination. You'll often see this landmark in films.
Parliament Square
This is another one of the popular places to visit in London. It's situated at the northwest edge of the Palace of Westminster, and is a place where locals and visitors alike come to appreciate the scenery. Enjoy a beautiful green space with scattered statues of famous Brits and world leaders like Churchill, Disraeli, Lincoln, and Mandela.
The Coca-Cola London Eye
Built just before the Millennium, the Coca-Cola London Eye was the world's largest observation wheel at the time of its construction. It's a giant observation wheel that offers the highest vantage point in all of London. It's one of the best places to take pictures from in London, too, so be sure to devote a bit of time to taking a ride up on the London Eye. You won't be disappointed. Getting In: Coca-Cola London Eye tickets are available on the London Explorer Pass.
St. Paul's Cathedral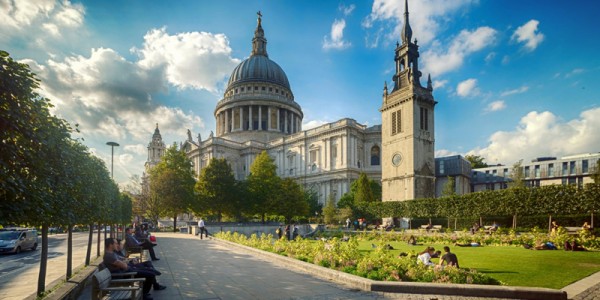 This Anglican Cathedral was designed by Sir Christopher Wren, one of the most famous architects of the late seventeenth and early eighteenth centuries. St. Paul's Cathedral is today the seat of the Anglican Church in England. It was the tallest building in London until the 1960s, and is still one of the most recognizable sites in the entire city due to its dome and surrounding spires. Getting In: St. Paul's Cathedral tickets are available on the London Explorer Pass.
Wembley Stadium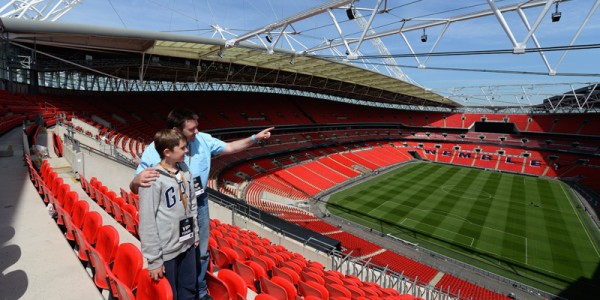 This is one for the football fans (sorry, Americans, soccer). Today what you'll see is actually newer construction from 2007, although the original Wembley Stadium was constructed in 1923! The newer Wembley is a marvel of modern sports architecture, and has been the site of many famed matches, including the FA Cup Final and England National Team matches every year. It was also used in the 2012 London Olympics. Getting In: Wembley Stadium Tour tickets are available on the London Explorer Pass.
Tower Bridge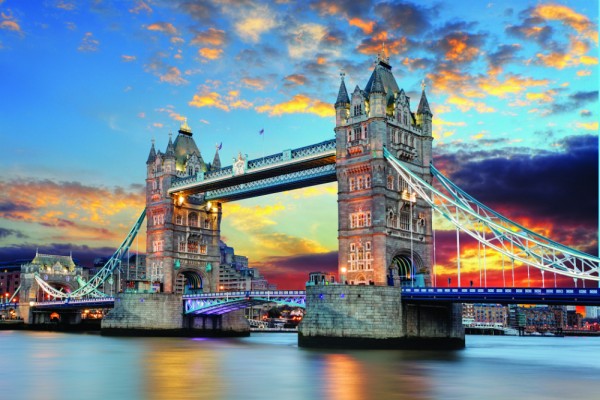 One of the most famous suspension bridges in the world, the Tower Bridge crosses the Thames right near the Tower of London. The bridge is comprised of two towers, connected near the top by two walkways and near the bottom by the roadway itself. It's actually possible to walk up into those two towers for unbeatable sightseeing views!
Tower of London
This historic North Bank castle is a large complex of buildings that have served a variety of purposes over its long and storied history. Most famously, it served as a prison for notorious prisoners in English history. Today, it's a World Heritage Site and is one of the most popular attractions in all of London.
Westminster Abbey 
A large, striking Gothic church located in the City of Westminster, London, Westminster Abbey has played a major role in English and British history for centuries. Since the coronation of William the Conqueror in the 11
th
century, monarchs have been officially crowned at Westminster. It's also been host to a number of Royal weddings, including that of William and Kate.
Kensington Palace & Gardens
An official royal residence, Kensington Palace is situated on the lush, gorgeous gardens that share its name. The historic State Rooms are open for public viewing, and visitors can see plenty of famous artwork from the Royal Collection alongside the fascinating architecture of the building itself. Be sure to visit the gardens for those perfect botanical photographs!
Trafalgar Square
One of London's most famous public spaces, Trafalgar Square is the heart of Central London. It's named in honor of the famed Battle of Trafalgar, an important British naval victory in the Napoleonic Wars. It's also home to a number of historic statues, delightful fountains, and amazing people watching. You'll also find that Londoners gather here on many special occasions, both to celebrate and to protest. If you come in the wintertime, don't forget a photo of their Christmas tree!
Buckingham Palace
That's right -- the place where the queen lives. Buckingham Palace is just as much of a must-photograph as the White House (and is frankly much more impressive!). Expanded from an original building that dates to the eighteenth century, Buckingham is today one of the most beautiful structures in the city. If you get a chance to take a tour, be sure to pay attention to the artwork and interior design. Room decor is absolutely stunning (all 770+ rooms!) and the gardens are the largest private gardens in the entire city.
The Royal Parks
There are obviously too many different choices for you to visit them all on one standard vacation, but the Royal Parks scattered throughout the city are main stops on many sightseeing tours and provide a great respite from the hustle and bustle of a thoroughly urban modern London. Try St. James's Park and Hyde Park for a chance to stroll around massive amount of open space, or Richmond Park to explore a National Nature Reserve. There are eight Royal Parks altogether, so you're sure to never run out of fresh air and flowers when roaming these wonders!
King's Cross Railway Station
Although most people tend not to think of transit stations when they think of photographable places, there are so many historic stations in London that it would be a shame to overlook them. King's Cross is among the most beautiful, being both tremendously historic as the central station in London and quite modern due to very recent renovations and upgrades. Be sure to get photos of the ceilings!
Let's Recap
While this list is by no means exhaustive, it does contain a bunch of our favorite places to take pictures in London. From the most popular attractions like Big Ben to botanical gardens and grand train stations, there's something to suit every taste when it comes to London photo opportunities. Remember, a number of these famous London landmarks and attractions are available with the London Explorer Pass, where you can save up to 35% on combined admission vs. paying at the gate. Be sure to keep those batteries charged, as you'll be snapping photos all day!