If you're wondering about the things to do in Shoreditch London, know this first. Shoreditch is many things, but probably not the things you think it is. Technically part of east London, it feels more like an area of central London, lying just north of the Square Mile and its financial institutions.
Likewise, Shoreditch is often described as being edgy and creative, but this shouldn't be mistaken for dirty or seedy. By day the neighborhood throngs with young professionals working in the office blocks around the Silicon Roundabout – the UK's answer to Silicon Valley.
By night, its triangle of main streets is alive with bars and restaurants, as well as spots to dance the night away and seek out a comfy hotel bed. Surprised? You shouldn't be. Shoreditch has been an entertainment district since Shakespeare's time. It was here – rather than the Globe – where his earliest and best-known plays were first performed – Romeo and Juliet, Henry V and Hamlet amongst them.
Rub shoulders with market traders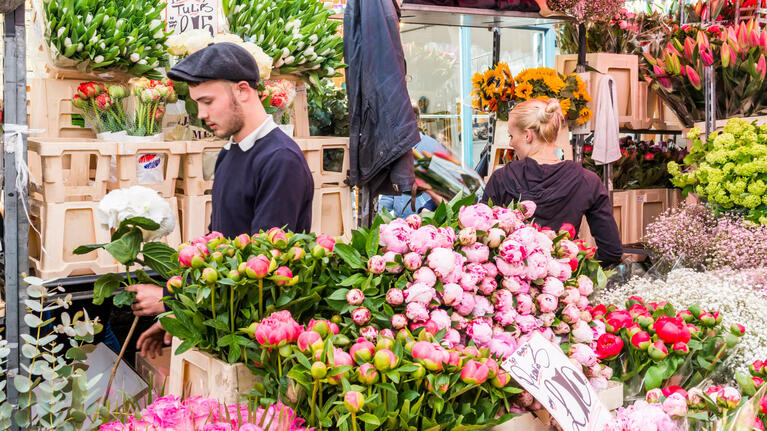 A couple of hundred meters south of Shoreditch, Old Spitalfields Market has been in operation since around 1666 – the year fire devastated much of central London. For centuries a wholesale market open only to traders, the early 2000s saw its redevelopment into a hub for the public.
It's Victorian era structures provide an atmospheric backdrop for seeking out everything from the latest fashions to street food. Open daily, the complex has a pop up vintage market every Thursday, a vinyl fair on Fridays and a mix of arts and crafts throughout the week.
The backdrop of an otherwise ordinary terraced east London street is not necessarily where you'd expect the explosion of color that is Columbia Road Flower Market either. Each Sunday the narrow street becomes a jungle of plants, with connecting roads seeing a spillover of plants and café tables.
Explore the Shoreditch of yesteryear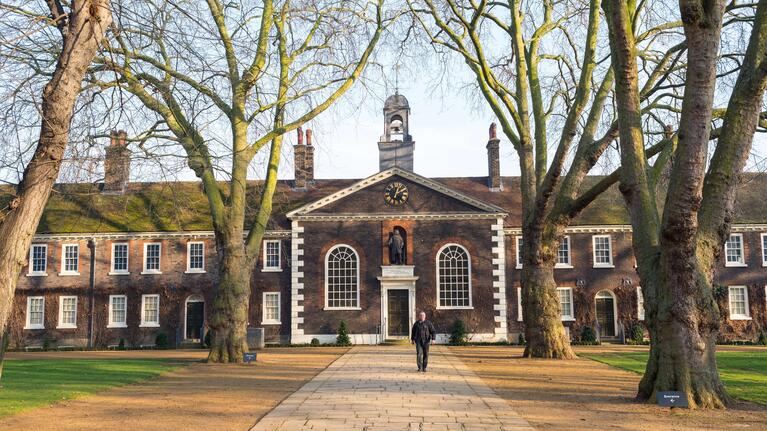 Old Spitalfields Market isn't the only attraction in Shoreditch to have undergone regeneration. Still known to many as the Geffryre Museum, but rebranded the Museum of the Home, this former almshouse on Kingsland Road explores home life from the year 1600 to the present day.
Visitors are able to pass through rooms from multiple ages, including a drawing room from 1870 and a loft apartment from the late 1990s. The period gardens are a nice spot to escape the hubbub of Shoreditch High Street.
Operating in a similar vein, Dennis Severs' House has been dressed up into an approximation of a home of Huguenots in the 1700s. Protestants from France, the Huguenots are just one of a series of groups who have sought refuge in London's cheaper neighborhoods alongside Jews and Bengali immigrants, creating one of the world's most diverse cities in the process!
Satisfy your hunger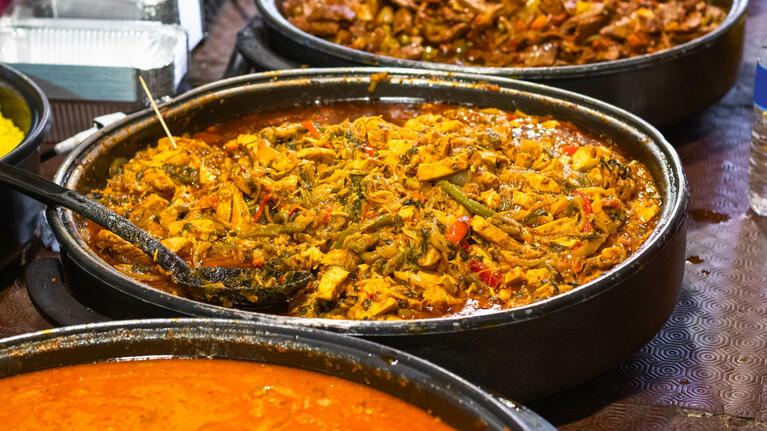 You only need to head as far as Brick Lane to experience this diversity in all of its aromatic glory. The heart of London's Bangladeshi community, it has bilingual street signs and some of the best curry you'll find in the capital. It has also become one of the top areas of the capital when it comes to street art, with works of graffiti spanning many buildings and side streets.
For a whistle-stop tour of world cuisine, and a dose of fashion from independent stores with their finger on the pulse, make the short journey from Brick Lane across to Boxpark. Named after its formation out of converted shipping containers, its kitchens serve up everything from doughnuts to vegan-friendly dishes and Jamaican to South American cuisine.
Take your pick of the bars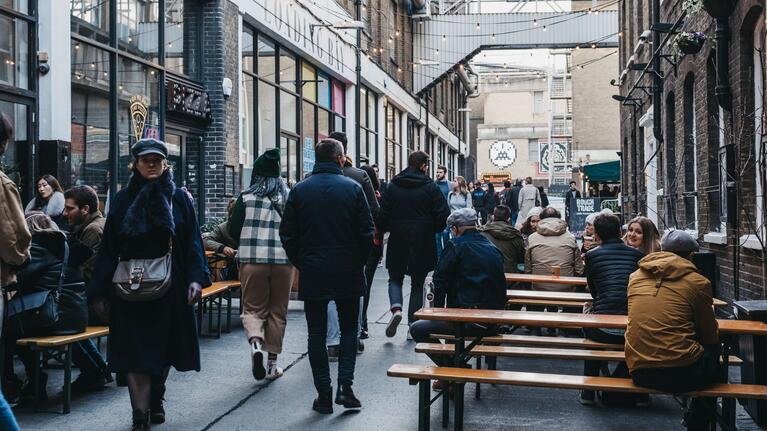 Ask most people who know about the things to do in Shoreditch and they're bound to tell you to hit the bars and nightspots of Shoreditch High Street and Old Street, where there is something for everyone. Traditional-style pubs line up alongside trendy cocktail bars and more than a few themed locales that will either have you jumping for joy or weeping into your craft brewed IPA.
Hoxton Square is another destination to be aware of when it comes to all things wining and dining. Believed to be one of London's oldest squares, it was laid out in 1683. Today most of its Victorian buildings contain a bar or restaurant whilst its lawns frequently host live events in the warmer months.
Another Shoreditch structure that has reinvented itself over recent years is the Old Truman Brewery, which has become a home for creatives including fashion designers, DJs and artists. Its 10 acres of once derelict warehouse space has been put to good use with plenty of small shops and exhibition spaces in which to while away a pleasant hour or two.
Delve into the art scene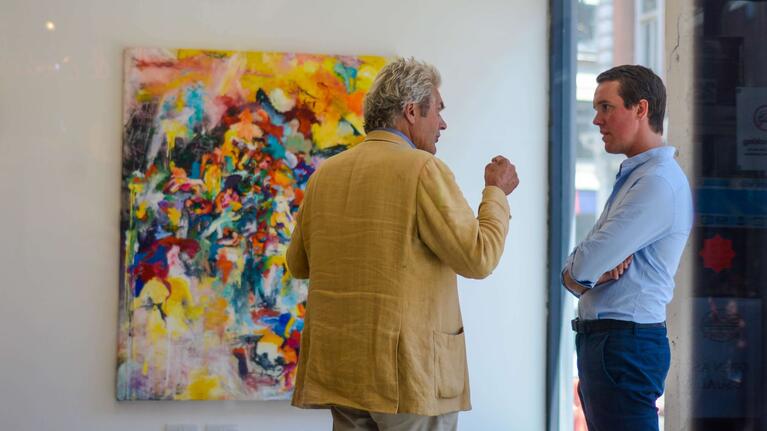 Spanning two stories of a former furniture warehouse, the Victoria Miro Gallery is one of the largest spaces in the neighborhood dedicated to contemporary art. With its back facing a canal basin, the gallery has represented two Turner Prize winners – Chris Ofili and Grayson Perry – amongst many other established and up-and-coming artists.
Perhaps better known, the Whitechapel Gallery has been a public arts space since its unveiling in 1901. Nonetheless, its focus remains on contemporary art, having displayed Picasso's Guernica in 1938 and hosting the first UK hanging of Rothko's work in 1961.
A further space to consider is the Flowers Gallery, whose 50 year history has led to the showing of over 900 exhibitions of painting, sculpture and photography.
Discover London's Shoreditch with Go City
Shoreditch has always been known primarily as an entertainment district. The sheer volume of bars and restaurants means it continues to attract revelers from across London. But don't think that there aren't additional things to do in Shoreditch London.
Visit London with Go City and you can get incredible savings on admission to many of the capital's top attractions. Outside of Shoreditch this means savings on entering everywhere from the Tower of London to St Paul's Cathedral.