What are the differences between Disneyland® vs Universal Studios Hollywood™ in California? Both are amusement parks with themes from popular movies; movies which each theme park owns exclusive rights to represent. We've put together a list of the key similarities and differences between the two attractions broken down by:
General Admission Price
Skip the Line Options
Park Themes
Location of the Parks
Attractions and Rides
Conclusion: an At-a-Glance Comparison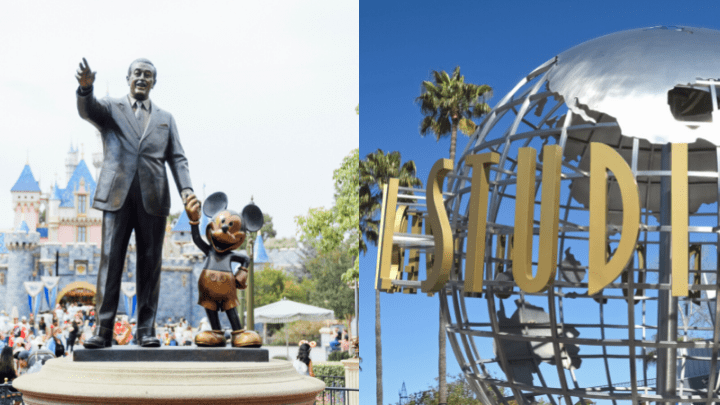 Should I visit Disneyland or Universal Studios Hollywood?
You'll save on admission to Universal Studios Hollywood plus dozens of other top LA area attractions with a pass for Los Angeles! General admission tickets are included on our All-Inclusive 3, 4, 5, or 7-Day Passes.
Please note, tickets to Disneyland are separately ticketed and not included on the Go Los Angeles pass.
If you're a fan of rollercoasters and theme parks, check out our guide to the best LA attractions for thrill-seekers. You may want to visit Six Flags Magic Mountain or Knott's Berry Farm.
What is the price of General Admission at Universal Studios Hollywood and Disneyland?
Universal Studios Hollywood: General Admission ranges from $105-$116, depending on the day.
Disneyland: General Admission ranges from $97-$124, depending on the day.
How do you skip the line at Universal Studios Hollywood and Disneyland?
Both parks offer ways to 'Skip the Line' at popular attractions and rides and minimize waiting time in lines.
Universal Studios Hollywood: Front of Line upgrades are available for around $70-$150, depending on the day. This is in addition to general admission. Front of Line lets visitors skip to the front of the line at each ride or attraction once.
Disneyland: select rides and attractions feature FASTPASS on a first-come, first-serve basis at no additional cost. However, quantities are limited. FASTPASS kiosks are located near the main entrances of major attractions. They dispense timed tickets tied to your admission ticket that let you come back at an assigned time for an expedited wait in a shorter line.
What are the park themes of Universal Studios Hollywood and Disneyland?
Both parks cater to the whole family with attractions specifically designed for young kids, teens, and adults. But which is better? Depending on the main purpose of your trip, one park might be better suited to your travel group than the other.
Universal Studios Hollywood features attractions inspired by popular films. Plus, it has tours of the working studio included with the park's general admission. Families with kids ranging from toddler age to young adult. While there are rides and attractions geared towards younger kids, the majority of the park's attractions are suitable for a slightly more mature audience than Disneyland. Most rides have a minimum height requirement of 40" or more. If you are visiting SoCal with young kids, we highly recommend a trip to LEGOLAND California.
Disneyland themes exclusively revolve around characters and setting from the Disney movie franchise with a large emphasis on their animated films, Mickey, and Minnie Mouse. Families with kids ranging from toddler age to young adult and nostalgic millennials. While there are rides and attractions geared towards all ages, the majority of the park's attractions are suitable for ages 2-10. Disneyland also targets loyal Disney fans, particularly 'budding princes and princesses.'
Where is Universal Studios Hollywood? Where is Disneyland?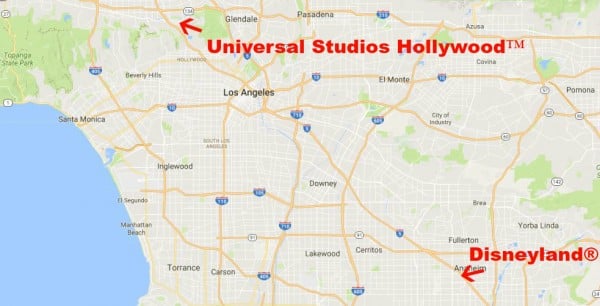 Both parks are located in California. Universal Studios Hollywood is located right in Hollywood, outside of Los Angeles and Disneyland is located in Anaheim, CA which is about a 50-minute drive south of Los Angeles. How big is each park? Disneyland is a larger park with a greater number of attractions and rides, but Universal Studios Hollywood is expanding at a faster pace.
How long does it take to visit Universal Studios Hollywood and Disneyland?
Both parks require about a full day to experience all of the attractions. Universal Studios Hollywood a little less, Disneyland at least a full day, especially if visiting during a peak time or on the weekend. If visiting with younger kids, you may want to break up the day and visit over a two or three day period, especially at Disneyland as there are more attractions geared towards younger kids.
What attractions & rides are at Universal Studios Hollywood and Disneyland?
Universal Studios Hollywood: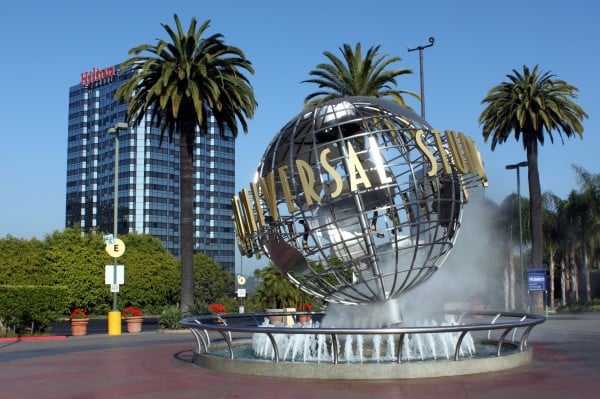 Universal Studios Hollywood is arranged around its major attractions, which can be themed areas, rides, or activities.
Jurassic World – The Ride
Jurassic World has just opened in Universal Studios Hollywood. Based on the popular movie franchise, this area includes lots of new rides, dining options and shops, including...
Raptor encounter: meet Blue the velociraptor and a triceratops
DinoPlay: DinoPlay is a fun, interactive play area for smaller children
Jurassic Cafe: A Costa Rican inspired lunch spot.
Jurassic Outfitters: Clothing and jewellery store – perfect for gifts or souvenirs
Isla Nu-Bar: A tropical tiki cocktail bar.
WaterWorld®: inspired by the hit movie, this 20-minute stunt show features water-packed fun with explosions, surprises, and more
Shrek 4-D™: enter Lord Farquaad's dungeon and make your way to the 4-D theater for an exclusive Shrek experience. It features moving seats, water, wind, mist, and other special effects that will make you feel like you're fully immersed in the story
The Walking Dead Attraction: prepare to fight for your survival in a post-apocalyptic world based on the popular TV show. (Parental advisory).
Despicable Me Minion Mayhem: transform yourself into a Minion and help Gru and his daughters in their latest scheme.
Super Silly Fun Land: this outdoor family play zone features a wacky, Minion-inspired playground. It has water play features, climbing structures, slides, and more.
Universal Plaza: central area in the park featuring shops, cafés, and dining and seating areas.
The Wizarding World of Harry Potter™:
Harry Potter and the Forbidden Journey™: follow Harry, Ron, and Hermione on a journey through the castle grounds as you dodge obstacles and surprises along the way.
Flight of the Hippogriff™: hop on the back of a Hippogriff on this family-friendly coaster and soar around Hagrid's hut and through the pumpkin patch.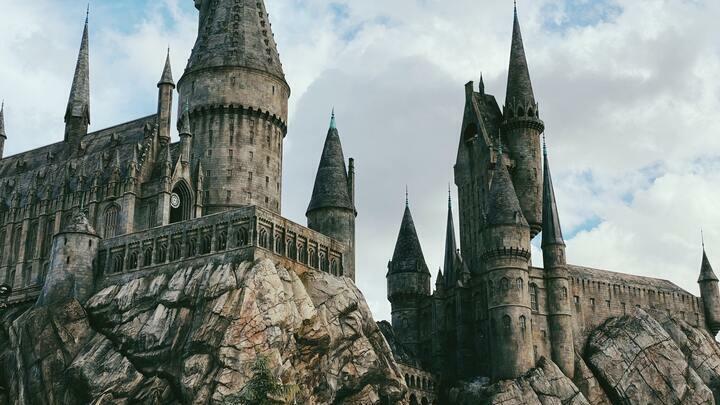 The Simpsons Ride™: a cinematic experience featuring Homer, Marge, Bart, Lisa, and Maggie and a hilarious visit to Krustyland.
Special Effects Show: learn all about what really goes on to create 'Hollywood Magic' in your favorite movies with a behind-the-scenes look at special effect technology and some of the best stunt performers in the business.
Universal's Animal Actors: watch real animals in this live show re-enact some of your favorite scenes from The Secret Life of Pets.
Jurassic Park®--The Ride: this water ride travels through terrain inspired by the hit movie, Jurassic World, where you'll narrowly miss dinosaurs, including a 50-foot T-Rex.
Revenge of the Mummy℠ - The Ride: this fast moving coaster ride travels through scenes from Revenge of the Mummy with hair-raising special effects and unexpected surprises along the way.
Transformers™: The Ride-3D: combining 3D theater technology with motion simulation, you'll be fully immersed in a battle of epic proportions as you fight alongside Optimus to save the human race.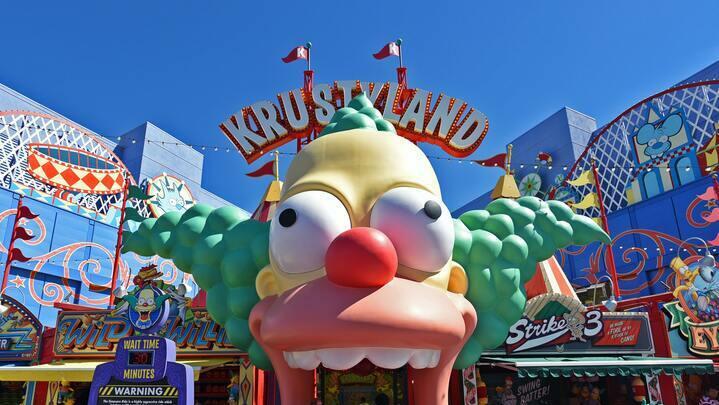 Studio Tour:
Go behind-the-scenes of many of your favorite TV shows and movies on this real, working studio backlot tour in an open-air tour bus.
King Kong 360 3-D: the world's largest 3-D experience takes you on a heart-pounding struggle between King Kong and a massive T-Rex.
Fast & Furious - Supercharged: at the end of the tour, your bus will get involved in a high-speed chase in the world of fast cars and international crime cartels.
Disneyland:
Tuxyso / Wikimedia Commons, via Wikimedia Commons
Disneyland features a central 'kingdom' that the park revolves around with 8 themed areas: Main Street, U.S.A.: Main Street ushers visitors into the park and features a variety of shops, cafés, theaters, and more. Adventureland:
Enchanted Tiki Room: presented by Dole®, the Enchanted Tiki Room is a 15-minute musical celebration featuring tropical birds, tiki gods, and colorful flowers
Indiana Jones™ Adventure: fast-paced thrill ride that navigates rough terrain through a cursed temple starring Indiana Jones
Jungle Cruise: a gentle, guided water cruise through some of the world's most remote rivers
Tarzan's Treehouse™: a tour of Tarzan's jungle home that requires navigating suspense bridges and stairs up in Tarzan's larger-than-life tree
New Orleans Square:
Haunted Mansion: one of Disney's most iconic attractions. This hair-raising ride features a slow moving coaster that takes you on a tour of a haunted mansion full of paranormal activity, ghosts, ghouls, and more frightening surprises
Pirates of the Caribbean: embark on a treacherous voyage on the seas on a 15-minute water ride with small drops
Critter Country:
The Many Adventures of Winnie the Pooh: this slow moving coaster travels through Hundred Acre Wood through scenes from Pooh's adventures
Splash Mountain: follow the adventures of Br'er Rabbit as he tries to escape Br'er Bear and Br'er Fox. Enjoy a 5 story drop ending in a big splash
Frontierland:
Big Thunder Mountain Railroad: a high-speed coaster that travels through cursed southwestern mines in search for gold
Frontierland Shootin' Exposition:
 Practice your target shooting skills at this rustic shooting range. It features replica .54-caliber Hawkins buffalo rifles set amid a southwestern landscape.
Fantasyland:
Alice in Wonderland: follow the White Rabbit to his 'very important date' into the nonsensical world of Alice in Wonderland. You'll hop aboard a slow-moving caterpillar themed coaster.
Casey Jr. Circus Train: a kid-centric colorful train ride through Storybook Land.
Dumbo the Flying Elephant: take flight with Dumbo on this spinny, high-flying ride geared towards younger kids.
It's a Small World: one of the most famous rides. This water-based ride travels through various parts of the world exploring different cultures and customs through animatronic dolls and catchy tunes.
King Arthur Carrousel: a classic theme park ride inspired by Knights of the Round Table.
Mad Tea Party: an Alice in Wonderland Unbirthday themed of the spinning tea cups ride.
Mr. Toad's Wild Ride: buckle up and get behind the wheel of an open-air, 2-seater buggy for a wild ride.
Peter Pan's Flight: fly to Never Land by way of London aboard a flying ship.
Pinocchio's Daring Journey: follow Pinocchio as he makes it back to Gepetto to become a real boy and avoid the evil puppet master, Stromboli.
Sleeping Beauty Castle Walkthrough: explore Princess Aurora's castle and re-live scenes of Sleeping Beauty.
Snow White's Scary Adventures: follow Snow White as she ventures into the dark forest to avoid the evil Queen.
Storybookland Canal Boats: float along a mini tour of fairytale settings on a slow canal cruise
Mickey's Toontown:
Chip 'n Dale Treehouse: climb up the nutty treehouse home of Chip 'n Dale for an unbeatable view of Mickey's Toontown
Donald's Boat: take a tour of Donald Duck's "quacky" boat home
Gadget's Go Coaster: this small-scale thrill ride features small drops
Goofy's Playhouse: walk through Goofy's goofy house, featuring a loony layout and fun design elements
Mickey's House and Meet Mickey: head to Mickey's House for a chance to get a photo with Mickey Mouse
Minnie's House: go on a walk-through of Minnie's living room, kitchen, and bedroom
Roger Rabbit's Car Toon Spin: hop behind the wheel of a runaway taxi and navigate the loony streets of Toontown in pursuit of Roger Rabbit
Tomorrowland:
Astro Orbiter: a high-flying, spinny, space rocket-themed ride geared towards younger kids.
Autopia: buckle in and get ready to race on the Tomorrowland Speedway behind the wheel of a racecar.
Buzz Lightyear Astro Blasters: practice your target shooting skills on this slow moving ride. It features glow lights in a dark, space-themed setting.
Disneyland Monorail: for a smooth ride with incredible views of the park, board the high-speed monorail.
Finding Nemo Submarine Voyage: climb aboard a submarine for an undersea expedition following Marlin and Dory on their journey to find Nemo.
Star Tours - The Adventures Continue: this motion-simulated 3D experience explores a galaxy far, far away aboard a Starspeeder 1000.
Hyperspace Mountain: this high-speed thrill ride darts around in outer space dodging dangerous extraterrestrial elements.
Star Wars Launch Bay: go behind the scenes of Rogue One and see your favorite characters from the Star Wars universe, including film props, video clips, and more in this exhibition.
Star Wars: Path of the Jedi: watch a video compilation of all the highlights of the Star Wars films and re-live Luke Skywalker's heroic tale.
Each area in Disneyland caters towards a diverse crowd with rides geared towards younger kids and rides geared towards older kids (and adults).
Conclusion & Comparison At-a-Glance:
https://www.instagram.com/p/B0Gr4eDBu_y/ Both parks are similar in that they offer entertainment for the whole family. But the experience at each park can be quite different. If you're trying to decide between the Universal Vs. Disney parks, do both. If you have to choose one, narrow your choice down to the following deciding factors:
Price: Universal Studios Hollywood is more affordable. Plus you can save on combined admission with a Go Los Angeles pass.
Age: Disneyland has more activities geared towards ages 2-10. Many of Universal Studios Hollywood's attractions require a minimum height of 40" or more.
Location: Universal Studios Hollywood is significantly closer to Los Angeles.
Time: Universal Studios Hollywood can be done in less than a day. Disneyland requires at least a full day, but is more manageable in two or more days.
Experience: If you've visited each respective park's sister park in Orlando or another location, they're arguably very similar. Perhaps you prefer a new theme park experience.
Theme: Disneyland features Disney's beloved characters, like Mickey Mouse and popular Disney Princesses, and stories. Universal Studios Hollywood features a variety of attractions inspired by various blockbuster movies, including The Wizarding World of Harry Potter™.
If you choose Universal Studios Hollywood, be sure to check out our helpful guide for top tips. Plus, check out the attractions near Universal Studios Hollywood.

Save on Admission at Universal Studios Hollywood™
Save on combined admission to dozens of popular attractions in Los Angeles. Your pass will include Universal Studios Hollywood tickets, when you buy a All-Inclusive Pass for Los Angeles of 3 days or more.
The All-Inclusive Pass includes admission to your choice of as many other included Los Angeles attractions as you want. These include Universal Studios Hollywood, Madame Tussauds Hollywood, Warner Bros. Studio Tour Hollywood, Knott's Berry Farm, Pacific Park - Santa Monica, Aquarium of the Pacific, and lots more.