Studios seem to be opening up all over the country these days, but the hub of the entertainment industry is still Los Angeles. No trip to LA is complete without experiencing the major film and television Hollywood studio tours and spending some time soaking up the film industry culture. Get a behind-the-scenes look, literally, at the magic behind the big screen on a studio tour. You can visit the same studios where your favorite movies and TV shows are filmed for an exciting way to experience the star-studded city of Los Angeles. Back-lots, sound stages, and antique sets are just the beginning. Keep your eyes open--you might see a studio filming in action! Not sure which studio tour is best for your visit? We put together a go-to list of the best studio tours with a rundown of what to expect at each of the major studios, including some popular shoes or movies filmed at each, age requirements and other need-to-know information. Planning to see more than studios while you're in LA? Save up to 55% on over 30 top Los Angeles attractions with a 3, 5, or 7-Day Go Los Angeles® Card. Or, check out the best Hollywood Studio Tours Pass for a discount on 3 of the most popular studio tours.
Universal Studios Hollywood Tour
Universal Studios Hollywood often tops many must-see lists when in the Los Angeles area - it's part theme park, part working studio tour (you might even see some movie stars on set!), so a visit to Universal Studios Hollywood is a visit to both the studio and entertainment destination. The 45-minute tram tour of the Universal Studios studio is included with 
admission to the Universal Studios Hollywood Theme Park
, making it a great option for those who want to experience both. The action-packed live studio tour is narrated by video-host and famed comedian Jimmy Fallon. On this tour, you'll board an open-air tram and ride through the largest movie set street expansion in Hollywood history built with creative consultation from Steven Spielberg. Past highlights of the tour included a bit of Wisteria Lane from ABC's "Desperate Housewives," the site of the plane crash from the movie "War of the Worlds," the Bates Motel from the still-scary movie "Psycho," and a murky-looking body of water where a fearsome star from "JAWS" might lurk. Plus, hold on tight for the Studio Tour's all-new grand finale, Fast & Furious – Supercharged.
Things to Know Before You Go
We recommend setting aside the whole day to visit Universal Studios Hollywood in order to make the most of your experience. Arrive early!
Like most working studios, there are a few restrictions on what you can bring into the park: you can't bring large bulky items like coolers, luggage, etc. Universal does offer some lockers for a small fee, which might be a good idea if you pick up a few items during the course of the day that you can't carry on rides or bring to dinner.
Photography is prohibited in a few areas; please pay attention to your tour guide's instructions on the subject.
Before you go, check out our tips for visiting Universal Studios Hollywood for even more info.
Extras
Don't forget to save some time for the CityWalk, numerous blocks of entertainment, dining, and shopping inside Universal Studios Hollywood. Please Note: Universal Studios Hollywood admission is included with 3, 5, and 7 day Go Los Angeles Cards. Restrictions & Requirements: Although there are no specific restrictions for the Universal Studios Hollywood Tour, visitors should be aware that the tram tour passes through several attractions that may include loud explosions and special effects. This should be taken into account when deciding if the tour is right for your group. Hours: Universal Studios Hollywood hours of operation vary. Be sure to check the website for up-to-date info. (The studio tour is included in regular park admission). Location: 100 Universal City Plaza Universal City, CA 91608
Check out more about Universal Studios vs Disneyland, both are must visits, but if you want more detailed information, we've got you covered!
Warner Bros. Studio Tour Hollywood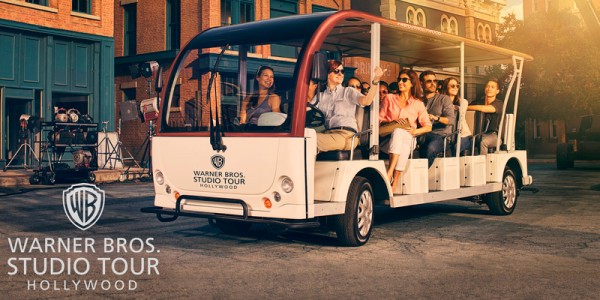 Ever wanted to see the Batmobile? Sit on the couch at Central Perk? Peruse an entire floor of authentic Harry Potter props? Now's your chance! The Warner Bros. Studio Tour Hollywood is a must visit for TV and movie fans. The highlights of this 2.25 hour tour of Warner Bros. Studios are endless, you'll be immersed in the world of contemporary television and film with in-depth looks at the major components of film production. You'll visit a number of exterior sets and some sound stages, special departments that focus on areas like props, set construction and costuming, and the Studio Tour museum. (If you happen to visit on a rainy day, the tour will still run but will show you more of the indoor sights instead.) Because no two days on a Hollywood production set are the same, no two Warner Bros. Studio Tours are the same! Tip: make sure you tell your tour guide what you want to see most, as every tour is geared towards visitors' interests. You may even get a chance to spot stars on set popular shows such as The Big Bang Theory, The Ellen Degeneres Show, Conan, Pretty Little Liars, The Mentalist, Chuck, Mike & Molly, and many more.
Things to Know Before You Go
Because Warner Bros. Studios is always working on new and exciting projects, it's a safety concern for young children to be on set. Consequently, children under 8 are not permitted on the tour.
This tour is available by reservation, so don't forget to make one, especially during the busy summer months. Plan to arrive 30 minutes in advance of your scheduled tour. Sundays have limited availability, and we actually recommend trying to go on a weekday if it fits your schedule.
Remember, this tour includes a lot of walking! Wear appropriate footwear and comfortable clothing.
Photography is only allowed in some areas, so pay attention to your tour guide's instructions on that topic. Large bags and video cameras are not permitted.
Check out our tips for visiting Warner Bros. Studio Tour for even more info.
Extras
Keep an eye out for celebrities! As one of the largest working studios in the world, there's no end to the people you might run into! Don't forget to stop by the WB store to pick up some souvenirs from your favorite show. There are also a few places to pick up refreshments, like the Studio Plaza Café, although you should plan to find dinner elsewhere. Restrictions & Requirements: Warner Bros. Studio Tour Hollywood offers admission to guests ages 8 and up. Although flash cameras are allowed in some areas, video cameras are prohibited. Over-size bags are also prohibited. Adults must bring a photo identification card, and it is suggested you arrive 30 minutes before your tour is scheduled to depart. Hours: Monday through Friday, 8:20 a.m. to 4 p.m. Location: 3400 Riverside Drive Burbank, CA 91505
Sony Pictures StudioTour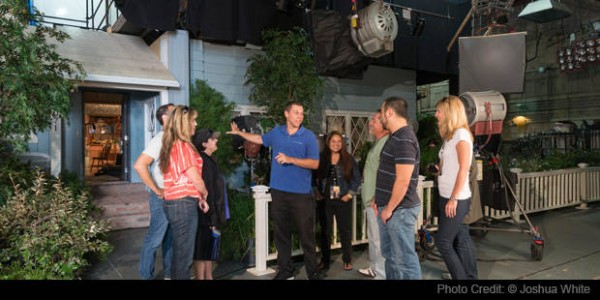 A tour of the famed Sony Pictures Studio, once the home of MGM, will shed light on the film industry from its historic beginnings to the present. The Sony Pictures Studio Tour is ideal for the classic film buff, the blockbuster fan, and the cinephile. You'll take a 2-hour walking tour of the place where The Wizard of Oz, Men in Black, and Spider-Man were filmed (along with several other big hits!). Your tour will be led by a knowledgeable guide who will take you through Hollywood's glory days and behind the scenes of the state-of-the-art motion picture studio. Sony Pictures features a whopping 16 sound stages, and you'll get to walk on the sets of various shows currently being filmed (pending availability). As you'll be at one of the busiest studio lots in the world, it's quite possible you'll glimpse some of the stars who work at Sony. Each tour is designed as a behind-the-scenes look at some of the industry's most influential and iconic programs and films. You'll see a mixture of contemporary and classic sets, backstage production spaces. Some other big films that call Sony Pictures home? Ghostbusters, Karate Kid, Smurfs, Spiderman, and more! Be sure to check out one of the newer exhibits - a lot featuring famous vehicles and cars from television and film, like the RV from Breaking Bad!
Things to Know Before You Go
Like Warner Bros. Studios, Sony Pictures Studio is an active, working studio. Due to safety concerns, children under 12 years of age are not permitted on this tour. This tour may not be the best choice for you if you have young children.
We highly recommend reservations because these tours have a limited capacity and only run 4x per day on weekdays – keep this in mind when planning! Plan to arrive 30 minutes in advance of your designated tour time.
Large bags, video cameras, and backpacks are not allowed on this tour.
Extras
Pay a visit to the Studio Emporium before you leave the studio lot – you'll find an awesome selection of souvenirs and memorabilia from all your favorite classic movies. Restrictions & Requirements: To go on the Sony Pictures Studio Tour, you must be 13 years of age or older. Reservations are not required, but they are highly recommended. All adults must carry a photo identification card. Video recording devices are not allowed on the tour. Hours: Monday through Friday tours depart at 9:30 am, 10:30 am, 1:30 pm, and 2:30 p.m. Location: 10000 West Washington Boulevard Culver City, CA 90232
Paramount Pictures Studio Tour
As the only classic studio still located in Hollywood, the Paramount Pictures Studio Tour offers a unique look into the historic past of the film industry, far different than the modern studios in Burbank. Of course, the Studio is also home to working movie and television facilities, and you'll get to see the day-to-day operations of the big Hollywood executives and popular movie stars. One of the most impressive parts of the 2-hour tour is the re-creation of streets designed to look like New York and Chicago for numerous film shoots. For example, the New York City backlot is a 5-acre site that recreates 8 distinct areas of New York City, including Brooklyn, SoHo, and the Lower East Side. Although we won't go as far as to say you should expect a celebrity sighting, it is a common occurrence, so keep your eyes peeled! You will be strolling along the workplaces of the top celebrities in the industry after all.
Restrictions & Requirements:
You must be 12 years of age or older to participate in the Paramount Pictures Studio Tour. Advanced reservations are required and all cameras and recording devices are prohibited.
Hours:
Monday through Friday tours depart at 10 a.m., 11 a.m., 1 p.m., and 2 p.m.
Location:
5555 Melrose Avenue Hollywood, CA 90038 Please Note: The Paramount Pictures Studio Tour is not included with the Go Los Angeles Card.
So Remember...
See the film industry in action when you go on the best Hollywood studio tours and save with a Go Los Angeles® Card. Or, check out the Los Angeles Studio Tours value package for a discount on 3 of these 4 studios, and save off combined admission vs paying at the gate.