Miami is an incredibly romantic city. Warm weather, breezy beaches, great nightclubs, delicious food – you name it, Miami's got the perfect date night in store. If you're going to be spending Valentine's Day in sunny South Beach, or on another romantic occasion, then you're probably searching for a few ideas.
Fortunately for you, we've got a few suggestions in mind:
Enjoy a day trip to Key West
Tour the city's Art Deco district
Peruse the Pérez Art Museum
Tour Florida's Everglades
Dine on world-class cuisine
And more!
Embark on a Day Trip to Key West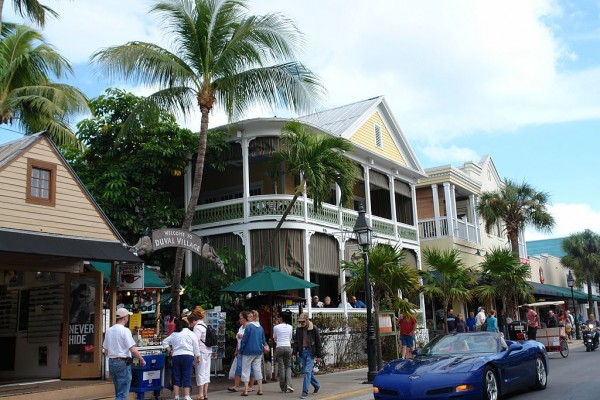 Got a whole day to kill? Take a day trip to Key West for an unforgettable adventure on the open ocean. Once you arrive, this remarkable little island has plenty of fun and excitement to offer the adventurous couple. Literary and culture lovers won't want to miss out on the Ernest Hemingway Home and Museum, where the iconic author once lived and wrote.
Fans of wildlife should also pay a visit to the Florida Keys National Marine Sanctuary, which includes a wide variety of natural attractions from real shipwrecks to a large barrier reef. And of course, there are also some charming dining and shopping options available in the Mallory Square area.
Explore the City's Architecture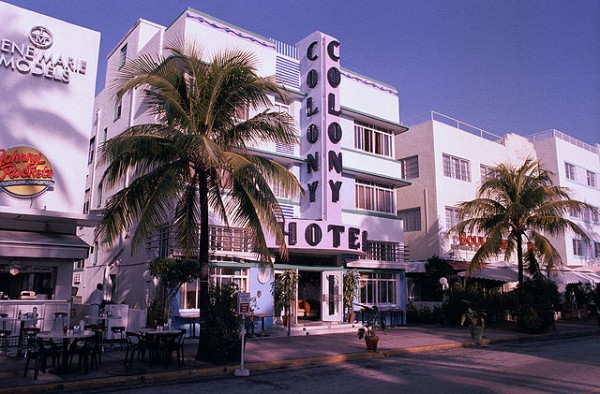 If you and your partner love arts and culture, you've come to the right city. From architecture to fine art and everything in between, Miami oozes creativity and beauty.
Love old buildings? Take a walking tour of Miami's famous Art Deco district to see amazing sites like historic homes, hotels, office buildings, and more. The tour itself takes about 90 minutes, so it's a nice complement to a larger itinerary.
Miami is actually home to one of the largest collections of Art Deco architecture in the country, so a visit here is a nice opportunity to fully explore the nuances of this distinctive architectural style.
Soak Up Artistic Inspiration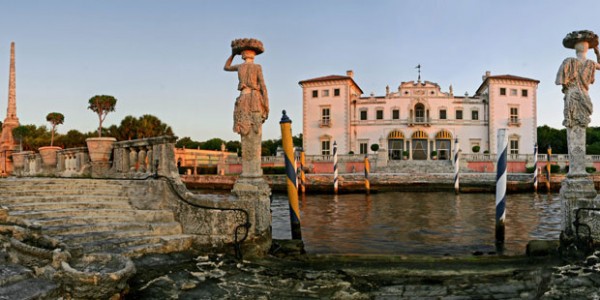 Prefer paintings and sculptures? The Pérez Art Museum is a must-see for you. It's filled with amazing, internationally and internationally-inspired artwork from predominantly modern and contemporary styles. They often have rotating special exhibits, too, like this year's "On the Horizon," featuring contemporary Cuban art.
Or, if you love architecture and artwork, then you will not want to miss out on a visit to the Vizcaya Museum and Gardens, one of the most magnificent buildings in the entire state and truly the most beautiful estate as a whole. Depending on when you take your romantic vacation to Miami, there are also likely to be a number of film or art festivals floating around – like the Coconut Grove Arts Festival that happens annually in February.
Indulge Your Love of the Animal Kingdom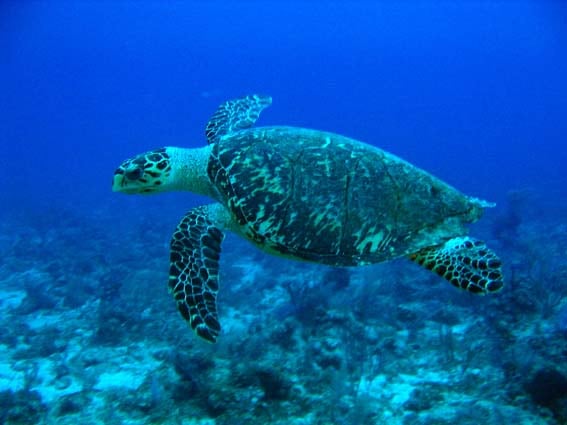 Is your loved one a huge fan of animals? There's hardly a better place to indulge your love for all things furry and scaly than Miami. From the lush wilderness of the Everglades to the expanses of a Saharan-like safari, you can find just about everything for the animal lover in your life.
For those who love aquatic animals, a visit to the Miami Seaquarium is both a great way to show them their favorite critters and to help support their conservation efforts. If you're looking for something particularly special, pay an upgrade fee to enjoy the once-in-a-lifetime opportunity to swim with their dolphins!
If you prefer dy land, then Lion Country Safari is another great option for those who've always dreamed of encountering the animals of Africa in a natural habitat outside of conventional zoo boundaries and enclosures. You're sure to get truly amazing photos of the animals here, as they often get quite close to the vehicles.
Enjoy the Beauties of Nature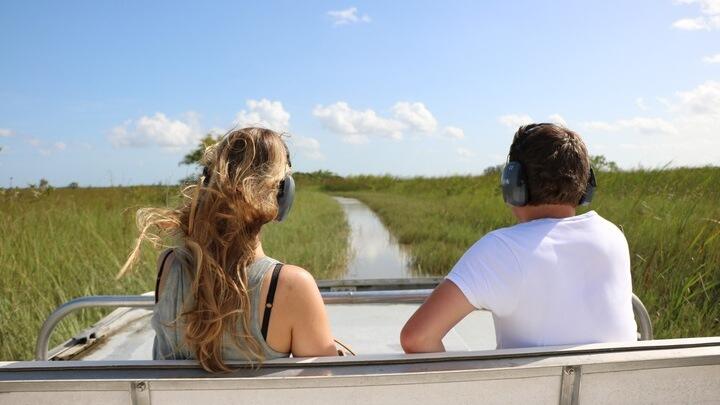 Florida is full of natural beauty. From the vast expanses of the exotic Everglades to the warm sandy shores of South Beach, there is a lovely scenic vista to enjoy practically wherever you are. Whatever you do, don't forget to keep your camera or cell phone charged!
Of course, if you just came to Florida to get a taste of gator country, then an Everglades tour is probably your best bet. You'll get to visit South Florida's oldest alligator farm and explore the amazing world of these fascinating creatures. This is also a very family-friendly attraction, so if you're trying to celebrate this romantic holiday with kids in tow, then this is a great option to make everyone happy.
Roam the Beaches
It may seem like a no-brainer, but spend some time outside while you're in Miami this February! The weather is going to be lovely (and possibly much warmer than where you're used to), so take advantage of its temperate climate and enjoy a little beach time.
South Pointe Beach and Key Biscayne are typically recommended as having the best views, but there are a ton of other options, too. If you want to be out but the beaches sound too touristy for you, try a walk along the very romantic pedestrian walkway on Lincoln Road. Or, opt for something more active with a bike ride around South Beach.
Hop Aboard a Cruise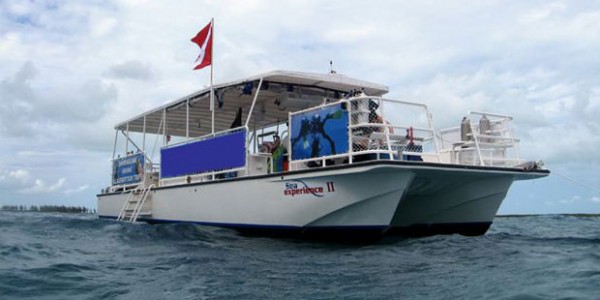 Hand-in-hand with Miami's fabulous beaches come Miami's fantastic waterways. With weather this nice, you have no excuse not to embark on a relaxing (or exciting!) maritime adventure during your trip.
Try a glass-bottom boat cruise to get a glimpse of the luxurious wildlife of the Pennekamp Coral Reef State Park. Or, opt for a leisurely sightseeing cruise through Biscayne Bay. Whichever style of cruise you prefer, you'll be able to get a taste for the beauty of the natural world in Miami, plus the fun and exciting architecture you can see from the ocean.
There are also a number of private cruise options that offer the ultimate in romance. One of our favorites is the Island Queen Millionaire's Row Sightseeing Cruise which combines city skyline views with celeb-spotting.
Take a Nighttime Tour of the City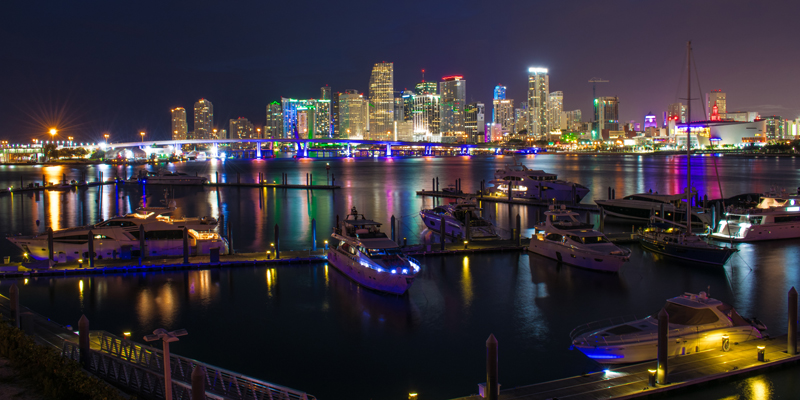 If you're new to Miami and want to see a bit of the city, but hope to do so in a more romantic way, then a night tour seems like a good fit. This option from Big Bus will highlight the sexy and sultry aspects of Miami at night - including the evening illuminations that distinguish Miami's skyline.
Of course, it's also a smart sightseeing opportunity, too, because the tour will showcase Miami's best landmarks and hotspots. It will give you some ideas for what to do the next day, too!
Enjoy World-Class Dining
With its decidedly international flair and cosmopolitan vibes, Miami is known for delicious cuisine that's anything but boring. So while you're in town, be sure to sit down and enjoy a romantic meal at any of the city's sumptuous restaurants, whether you're looking for fresh-caught seafood or some tasty Cuban street food.
If you're in town nearer to the end of February, check out the South Beach Wine & Food Festival, hosted each year by the Food Network and the Cooking Channel. It's a fun opportunity to try new things.
 
Remember to Save on Attraction Admission
So there you have it. Our list of some romantic things to do in Miami, just in time for Valentine's Day. Remember, some of these great options are included on the pass for Miami by Go City®, where you can save on combined admission vs paying at the gate. Please note, the special events taking place at some of these attractions may be separately ticketed and not included with your pass.