Even with all of the diverse New York City attractions and events, shopping remains at the top of visitors' lists for must-do NYC activities. After all, NYC is at the center of the world's fashion and retail industry and is home to some of the best-known stores in the country.
So, unless you absolutely loathe shopping, you'll want to do at least a little of it while you're in New York. And while you'll definitely want to check out the high-end stores (just to say you did), you'll be glad to know there are also lots of places to find cheap shopping in New York.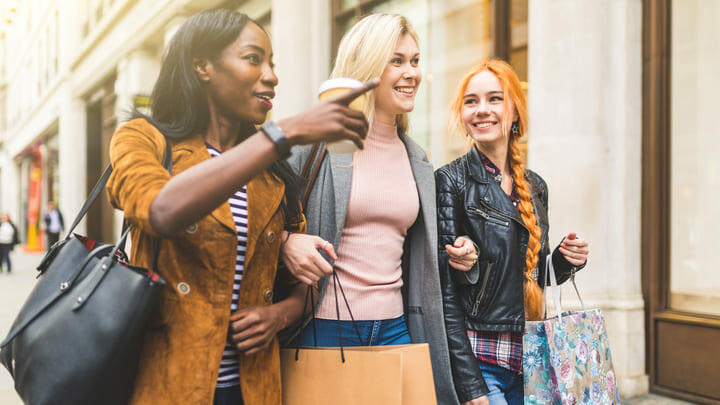 Fun Ways to Spend Your Days in Between Shopping:
Looking to fit in some fun activities and sightseeing alongside your shopping crusade? The below suggestions are a great way for newcomers to familiarize themselves with the city, all while saving a bunch of money on top attractions, tours, and more.
Anyways, here are 6 places to find discount shopping in New York...
Woodbury Common Premium Outlets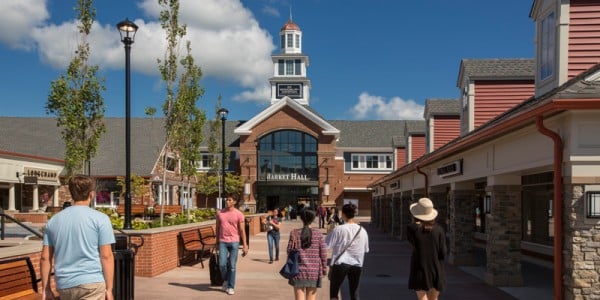 The Woodbury Common Premium Outlets encompasses 220 outlet stores, including one of the few Chanel outlets in the world. The outlets are set up almost like a village, making for an enjoyable atmosphere. The Outlets feature famous brands that offer 25% – 65% off (talk about some cheap shopping!), including...
Adidas
Arc'teryx
Barney's New York Warehouse
Burberry
Coach
Dolce & Gabbana
Fendi
Giorgio Armani
Givenchy
Jimmy Choo
Kate Spade New York
Lululemon Athletica
and many more!
Located in the Central Valley, about an hour north of Manhattan, you could easily fit a trip to the Outlets into your New York vacation itinerary. Trust us,  it's definitely worth your time. Insider tip: Bring a couple of large reusable bags to make carrying your shopping haul a bit easier. Location: Red Apple Court, Central Valley, NY 10917
Ways to Save: Round trip Woodbury Common Outlet bus tour are available on the New York City Explorer Pass. Plus, you will get a VIP coupon with even more savings.
Bloomingdales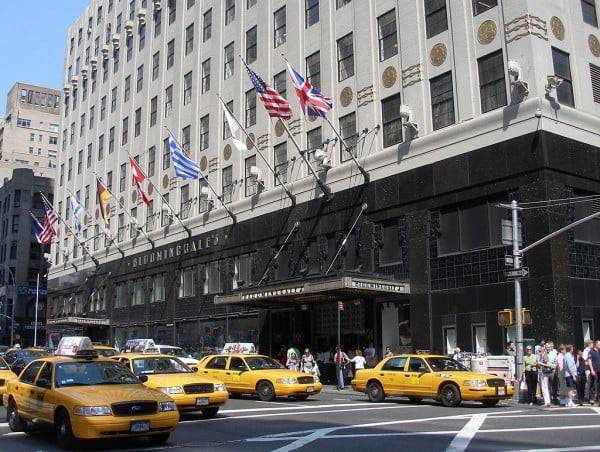 Coolcaesar at the English language Wikipedia [GFDL or CC-BY-SA-3.0], via Wikimedia Commons
To many, Bloomingdale's (also known as "Bloomies") is considered Manhattan's most fashionable department store, with its flagship location being in NYC. Bloomingdale's features a 2,100 square foot Visitors Center that enables vacationers to feel at home right in the heart of New York City.
Some popular shopping items include designer handbags, classic men's and women's collections, fine housewares, and more. There are also multi-lingual receptionists that are happy to help with any information, in-store services, and package delivery to your hotel.
Macy's Herald Square
Macy's is not only a fashion institution-it's an American icon. Visit the famed Macy's Herald Square, the world's largest department store. Whether you need the latest fashions for you or your home, you are sure to find it at Macy's. Stop into the Visitor Center on the 34th Street balcony where a multilingual staff is eager to welcome you.
Loehmann's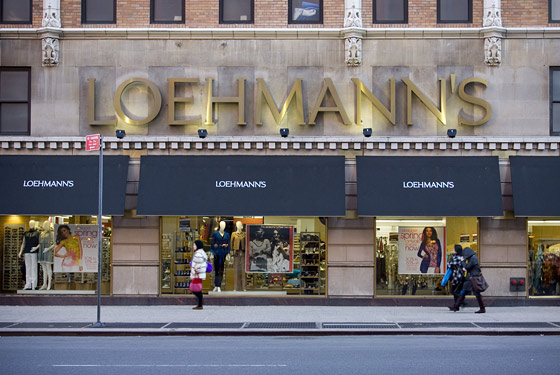 Loehmann's discount designer store[/caption] Loehmann's is a favorite among both tourists and locals, offering 30-65% off of designer clothing. Plus, they buy nationally, expanding the extensive list of brands that they sell. Some names you can expect to see are Juicy Couture, Michael Kors, Theory, Marc Jacobs, French Connection, Kate Spade, Betsey Johnson, and so much more.
For a cost comparison, the prices are similar to department store clearance items but are available during the current season. As with any discount designer store, your shopping experience will be a bit chaotic as these stores are equally stuffed with people and garments. But chalk it up to the NYC experience and find some great deals!
Location: 2101 Broadway (between 73rd St & 74th St.) 
Century 21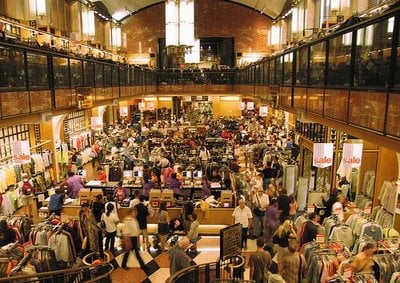 It may no longer be New York's "best-kept secret," but this bargain designer store is still a gem. Located in the Financial District, they work directly with garment district representatives to only stock locally. This means they have the ultimate in high-end names, like Armani, Pucci, Prada, and Missoni—and you'll find savings up to 75% on these top brands.
They have a huge men's and women's shoe department (located in a separate store) and great prices on kid's clothing. That being said, Century 21 is not for the faint of heart. You'll have to fight your way through throngs of shoppers and racks of clothing, but you'll definitely be able to find a gem of a souvenir.
Location: 22 Cortlandt St. (between Broadway & Church) 
Cosmetic Market
Good cosmetics can be expensive…but not at Cosmetic Market! Ever wonder what happens to extra make-up and perfume samples when promotions end? Or where excess Clinique, Sephora, and Chanel products end up? The answer to both of those questions: they go to Cosmetic Market. Cosmetic Market is a beauty bargain hunter's dream.
This treasure of a store has everything from $5.50 Chanel nail polish to $1 L'Oreal hair color. In addition to makeup, they have an assortment of other products, like snacks (European chocolate in the back), candles and picture frames, jewelry, and other miscellaneous things (tip: you can find great gifty souvenir things here). You'll need to do a little sfiting and browsing through the massive selection, but it's hard to leave this store without finding a steal.
Location: 15 East 37th St. (between 5th Ave and Madison Ave)
Fishs Eddy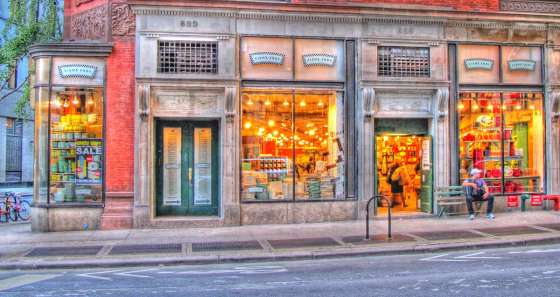 At Fishs Eddy, you'll find the highest-quality kitchenware and flatware for reasonable prices. Whether you're a culinary wiz or just thinking about adding some flare to your kitchen, Fishs Eddy is a really unique place to shop. They have everything you can imagine, ranging in style from retro to contemporary. Plus, they change their inventory seasonally. Look for weekly sales or clearance items to save even more. Just be warned, it's a tight space—not convenient for strollers and the like.
Location: 889 Broadway (between 19th St. & 20th St.)
Leekan Designs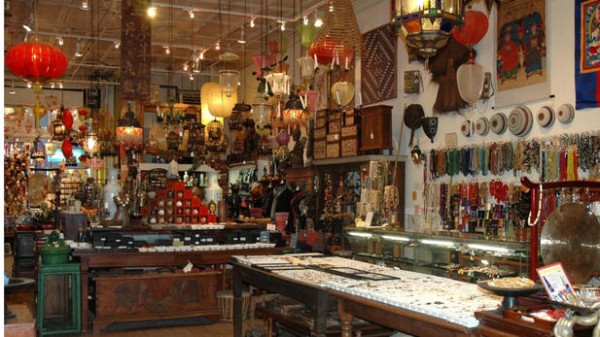 This unique showroom in the Lower East Side offers a varied collection of ethnic arts imported directly from China, Indonesia, India, Morocco, Afghanistan, Papua New Guinea, and other Asian countries.
Their store features affordable décor and housewares, African trading beads that can be made into a necklace or bracelet on the spot, and ready-made jewelry, among lots of other things! If you're the kind of person who wants one-of-a-kind items or has an affinity for exotic accessories, you can't miss this place.
Location: 4 Rivington St. (between Bowery & Freeman Alley)
Let's Recap on Our 'Cheap' New York Shopping
So there are a handful of spots to check out if you're looking for some of the best shopping in New York, including popular cheap options, outlet malls, and other hotspots. Remember, often times you can enjoy extra discounts on shopping centers, outlet malls & more with a New York City Explorer Pass. So when you are planning your trip, consider including some of these options to your vacation itinerary.