One of our top must-see places in Oahu is the Polynesian Cultural Center. It's a totally immersive experience that allows you and your family to encounter the living history of the more than 1,000 distinct islands that make up Polynesia. This expansive family attraction is about an hour drive from Waikiki, and promises a full day of entertainment. Check out our helpful guide for visiting the Polynesian Cultural Center. It's packed full of tips for visiting, ways to save on admission, other nearby attractions, and much more.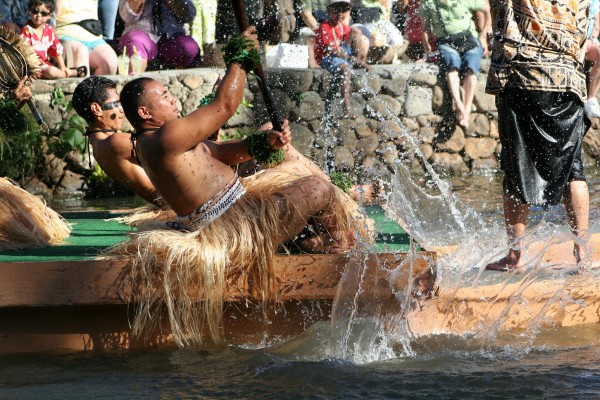 How to get Polynesian Cultural Center discount tickets?
We've got you covered – Polynesian Cultural Center admission is available with the below money saving options, so you can choose the attraction pass that's right for you: 1. All-Inclusive Pass – All you can do. Includes admission to dozens of attractions. 2. Build Your Own Pass – Select the attractions you want to visit prior to visiting. See all available passes, attractions & prices – Learn more.
Tips for Visiting the Polynesian Cultural Center
Consult the PCC map before visiting to help you save time and plan an itinerary – after all, it does span 42 acres!
Feel free to talk to any of the villagers to ask more questions about the exhibits, for help and information, or even just to chat! They're very friendly and more than happy to be of assistance. That said, the PCC discourages tipping its employees.
Buy your tickets in advance to save on admission prices and skip ticket lines.
Photography and videography is more than welcome at the PCC, but flash photography during any of the evening performances is prohibited.
For those of you with small children or people needing assistance, the PCC has a number of strollers, wheelchairs, and scooters available for a minimal rental fee. Be sure to call ahead to reserve wheelchairs in particular.
When is the best time to visit the Polynesian Cultural Center?
Since the PCC has so many different fascinating areas and performances to entertain guests, it's easy to spend an entire day here. Plan to arrive around 11:30 to be there when the box office opens to maximize your time. However, if you're planning on staying for their award-winning "HA: Breath of Life" show (which lasts until after 9 pm), you may want to consider coming later in the afternoon.
What to bring to the Polynesian Cultural Center?
Sunscreen and a hat – you'll be outside all day.
A camera or phone for pictures.
Bottled water and snacks if you want to avoid purchasing them on site.
Comfortable shoes (preferably not sandals), because you'll be walking around a lot.
Money for souvenirs, snacks, or meals.
What is there to do and see at the Polynesian Cultural Center?
Explore Polynesia
Visit the six  recreated villages that make up the heart of the Polynesian Cultural Center. Featuring historically accurate as well as contemporary facets of Polynesian life, these villages are as authentic as it gets! The villages include Aotearoa (New Zealand), Hawaii, Tahiti, Fiji, Samoa, and Tonga. Each is filled with different demonstrations and reconstructed artifacts, and you won't want to miss any of them. Each location is populated with natives from these Pacific cultures, who will introduce you to different arts and activities particular to their home during designated presentation times. Here's a sample of some of the fun and activities you can expect in each village!
Aotearoa: Learn about Maori tattoos and watch their haka warrior dance.
Hawaii: Try your hand at basic hula moves and sample cooked taro root, or "poi."
Tahiti: Practice swaying to their dance beats, and see how leis are made.
Fiji: Marvel at their extensive collection of weapons, and listen to log drum beats.
Samoa: Learn to make fire, crack open coconuts, and help prepare Samoan food.
Tonga: Enjoy out of this world ta nafa drumming, and play some shuffleboard.
HA: Breath of Life Show
The "HA: Breath of Life" show is a must-see, and we can't recommend it enough. It's a music and dance extravaganza that combines a compelling storyline with dazzling performances – all while you enjoy a tasty authentic meal. It's an additional cost on top of your admission, but it's well worth the price.
Ali'i Luau Buffet
The Center also offers luau and buffet dining options in the evening; the most popular is the Ali'i Luau, which has been described as Hawaii's most authentic luau. You'll see traditional hula dancing, receive leis, and have a great time. In ancient Hawaii, it was customary to celebrate special occasions with ohana (family) and friends. Held in a covered outdoor venue against a background of waterfalls and lush gardens, the Ali'i Luau is a royal celebration of their cultural heritage which includes the Royal Court procession, presentation of the imu (underground oven) and delicious traditional food and lively Hawaiian entertainment. Menu highlights include steamed tropical fish, shoyu glazed chicken, teriyaki marinated strip loin, poi, lomilomi salmon, poke, and more. Insider Tip: Ali'i Luau tickets are available as a premium attraction option with the Go Oahu Cards.
Activities, Demonstrations, and Exhibits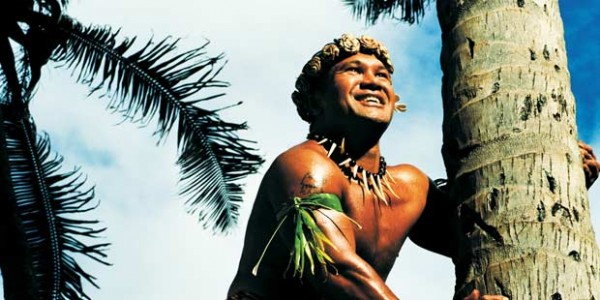 The PCC also offers a plethora of activities, demonstrations, and exhibits that fascinate kids of all ages. The activities are spread across the six villages of the Center, so they each showcase a different aspect of Polynesian culture.
Maori Poi
Test your strength, flexibility, and coordination. It looks very easy but is far from it.   The intricate movement allowed women to keep their hands flexible for weaving and helped the men with their strength and coordination.
Canoe Race
Fun for the whole family, this activity gets everyone involved in a native-style canoe race. These canoes are replicas of those used by island natives in the past. Divide into teams and see who has the best canoe skills. So go ahead and take that family photo for the holiday card now – your friends will all be jealous.
Tahitian Spear Throw
Why throw a bocce ball when you can learn to throw a spear? A spear, as in a long, pointy stick to vanquish your enemies; well, in this case, a coconut. A coconut on top of a pole 20 feet away, to be precise. Tahitian natives will coach you on the best combination of skill and luck required to show that coconut who's boss.
Samoan Cooking
For culinary masters, amateurs, and those who just like to eat a good meal, this is a great way to get involved in native cuisine. Stop by early in the day to help prepare classic Samoan dishes using ingredients like coconut, taro, and fish, with dishes and utensils made of leaves, husks, sticks, and stones. You won't see this on a cooking show! Be sure to come back later in the day to try your tasty creation.
Fire Making
The Samoan villagers make starting a fire look easy and effortless. Don't be fooled. It takes a lot of muscle, practice and skill. In the family hut in Samoa, you can try your hand at starting your own fire by rubbing two sticks together. Here's a hint, you must use two pieces of wood from the same tree.
Canoe Tours
Give your feet and legs a well-deserved break. Hop on a canoe and allow a paddling guide to lead you through our lagoon. You'll pass native villages, the famous "Elvis Presley" coconut tree and several other highlights as you leisurely ride from one end of the Center to the other.
Wood & Tiki Carving
Artisans in Aotearoa also showcase their traditional woodcarving abilities with immersive demonstrations and a collection of some of the finest contemporary carvings in all of Polynesia.
Rainbows of Paradise Canoe Pageant
The "Rainbows of Paradise" canoe pageant, celebrated at 2:30 pm daily, is actually "Hawaii's only waterborne show." It feature natives Polynesians in festive traditional garb who offer historic dances and musical performances from within the confines of a canoe!
IOSEPA "Voyage of Discovery"
The IOSEPA "Voyage of Discovery" presentation explains the brave voyages of early Polynesia settlers who took their modest canoes out into the deep ocean for purposes of exploration, hunting, and migration. Performances occur twice daily at 1 and 4 pm.
Souvenir Shops
The Polynesian Cultural Center is a shopper's paradise. The expansive Hukilau Marketplace is host to most of the shops, and is an excellent place to find gifts, souvenirs, and something special for yourself, too. There you'll find the old-school Hawaiian craft and culture that you may recall from the 1950s. Think classic, vibrant Hawaiian couture, hand-crafted artisan pieces, jewelry, decor, and much more. The shops are all organized around a theme. They include Hapa Home, Nona's Tropical Threads, Amusement Ink, Hukilau Salon, and several others.
Polynesian Football Hall of Fame
Honoring Polynesia's greatest athletes and coaches who participated in the sports of American football, this lovely gallery includes photographs, objects, jerseys, and other fascinating memorabilia. Featured athletes include Super Bowl Champions Jesse Sapolu and Ma'a Tanuvasa (who won rings with the San Francisco 49ers and the Denver Broncos, respectively). It's a fun addition to all the other amazing stuff at the Polynesian Cultural Center if you're a fan of the sport.
What attractions are near the Polynesian Cultural Center?
While it's located on the opposite side of the island from Waikiki, the Polynesian Cultural Center is within easy to moderate driving distance of a number of other great attractions.
Where is there to eat near the Polynesian Cultural Center?
Since the Polynesian Cultural Center is located in the small, relatively remote village of Laie, there aren't a lot of dining options other than the Center itself. Fortunately, the PCC offers a stellar selection of meals and menus that will appeal to even the pickiest of eaters. Lunch options include:
The Banyan Tree Snack Bar
Carver's Workshop
Hoku Pa'a
And several others!
For dinner, you have your choice of:
Prime Rib Buffet
Island Buffet
or Luau Dining.
Save on Admission
Remember, with the Go Oahu® Card you can save up to 55% on combined admission to the Polynesian Cultural Center, plus many other top Hawaiian attractions.