Gatorland: The Alligator Capital of the World. The name kind of says it all! For more than 60 years, Gatorland Florida, located in Orlando, has been creating amazing memories for the millions of visitors who have entered through its world-famous gator mouth entrance. With literally thousands of specimens living on the premises, there's certainly no better place around to get your gator fix. This 110-acre combination theme park and wildlife preserve showcases alligators and crocodiles in new and exciting ways, and is a unique alternative to the larger theme parks in the area. Of course, there are more than just alligators and crocodiles at Gatorland – there are plenty of other Everglades inhabitants and activties, too. Enjoy a petting zoo, a nature walk, a series of educational and informative wildlife programs, and a fun slate of reptilian performances. Come and spend the whole day with the family at this great kid-friendly attraction! Check out our helpful guide for visiting Gatorland Florida, packed full of ways to save on admission, tips for visiting, other nearby attractions, and much more.
How to get Gatorland Florida discount tickets?
We've got you covered - Gatorland Orlando ticket admission is available with the below money saving options, so you can choose the attraction pass that's right for you: 1. All-Inclusive Pass - All you can do. Includes admission to dozens of attractions. 2. Explorer Pass - Choose as you go. Includes admission of up to 5 attractions. 3. Build Your Own Pass - Select the attractions you want to visit prior to visiting. See all available passes, attractions & prices – Learn more.
Tips for Visiting the Gatorland
View the show schedule to decide which performances you want to see on your visit.
Because Gatorland emphasizes live animal interactions, exhibits, and performances, very small children (especially those afraid of animals) may not enjoy this attraction.
Since you'll be outside the whole time, wear extra sunscreen or bring a hat to keep yourself from burning in the hot Florida sun.
Be sure to check their calendar of events for any special events or promotions that may be coming up during your visit.
There are often discounts or other promotions specifically for Florida residents, so check that out if it applies to you.
Even if you aren't a Florida resident, you can still save on admission with the all-inclusive Go Orlando pass!
Be aware that many of the special experiences within the park require additional fees.
Gatorland also offers a number of group tours and the availability to host special events like birthday parties, business meetings, and more! Contact them if you're interested.
When is the best time to visit Gatorland?
Morning is a good time to visit, both to avoid the bulk of the crowds and to avoid the hottest part of the day. Shows begin at 10:30 am and go until 5:30 pm, so you'll be able to enjoy live gator performances regardless of when you arrive.
What should I bring to Gatorland?
Comfortable, waterproof shoes.
A hat and plenty of sunscreen.
Money for souvenirs and professional photographs.
Cool, loose clothing that still provides protection from bugs.
Bottled water.
What is there to do at Gatorland?
Gatorland is full of wonders – from live animal performances and informative exhibits to personal encounters and even a gator wrestling opportunity, there are simply too many options to list them all here. However, here is a selection of a few exhibits you've got to experience. (checkout the Gatorland Park map here)
Gator Jumparoo Show
Ever wondered how high an alligator can jump? You'll find out at this show as you watch seemingly slow reptiles show off their surprising agility. Watch as gators of all sizes leap 4 or 5 feet into the air to grab treats from their trainer's hand – a pretty intimidating sight!
Up Close Encounters
Take the rare opportunity to actually interact with some of Florida's most iconic and most frightening critters. From venomous snakes to the iconic alligators and crocodiles, you never know what you'll meet at this show.
Screamin' Gator Zip Line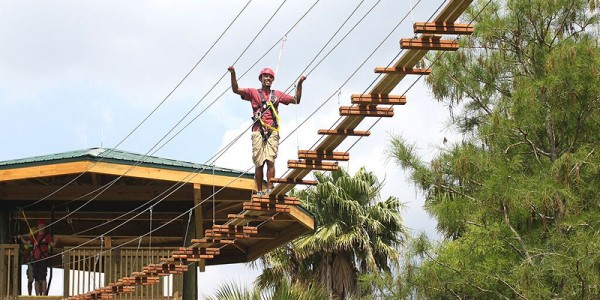 The Screamin' Gator Zip Line is one heck of a ride. Race down 1,200 feet of cord in a heart-pounding, exhilarating journey through stretches of the gorgeous Florida Everglades. Zip right over some of the park's most famous attractions, including the rarely seen Alligator Breeding Marsh.
Gator Night Shine
If you thought your previous experience with Florida nightlife was something to write home about, you haven't seen anything! This guided nighttime tour is an after-hours treat, bringing visitors through the stretches of the Alligator Breeding Marsh armed with nothing but a flashlight and some gator food. Not for the faint of heart!
Trainer-for-a-Day
This immersive program is the perfect activity for anyone looking forward to a career in working with animals – whether as an expert or a volunteer. Get a glimpse into the life of an animal trainer at Gatorland; see what their duties are, the risks, and the great rewards. A must-see backstage experience.
What attractions are near Gatorland?
Nestled in the heart of Central Florida, Gatorland is in within a reasonable driving distance of a number of other great Orlando attractions. From theme parks to tours and more, you'll be able to slot a visit to Gatorland into a vacation full of excitement and adventure.
Fun Spot America -  just a short jaunt west if you're looking for more excitement.
Congo River Adventure Golf - If you're trying to relax after an exhilarating series of gator shows, try out a fun evening playing golf .
SeaWorld Orlando - Devote the next day of your vacation to this magnificent park.
Outta Control Magic Dinner Show -  Searching for dinner options? Make a night of it and head to this dinner show.
Green Meadows Petting Farm - Got big animal fans in the family and looking for still more critter encounters? Head to the petting farm.
For more information about the area and nearby attractions, check out our guide to Orlando neighborhoods.
Where is there to eat near Gatorland?
In addition to featuring a delicious restaurant (yes, they serve a few specialty gator dishes; no, of course they don't use their own gators), plus a number of snack stops within the park itself, Gatorland is within a quick drive of Orlando's famed I-Drive corridor, where you'll find tons of great family dining options. Here's a selection of our favorites.
Maggiano's Little Italy - serves up sumptuous authentic fare at a popular chain location.
Cuba Libre Restaurant & Rum Bar - is a favorite among adults looking for that little taste of Southern Florida culture.
Everglades Restaurant -  is a perfect option for those searching for that truly unique Florida experience: they've got everything from fried gator to life-sized animal sculptures.
Brick House Tavern & Tap - is a great sports bar option with tasty food and tons of taps.
Seito Sushi -  offers traditional and innovative Japanese fare with a Florida twist.
Bar Louie -  features upscale grill fare at modest prices, including a robust drink selection and fun appetizers.
Save on Admission with a Go Orlando Card
Remember, the Go Orlando Card is the best choice for maximum savings and flexibility, which includes Gatorland Orlando tickets, plus admission to dozens more top attractions. Save up to 55% on top museums, tours, and activities vs. paying at the gate. Visit multiple attractions for one low price.