LEGOLAND® Florida Resort in Winter Haven, just 45 minutes from Orlando and Tampa, is a multi-day vacation destination designed for children 2-12 years old. This super popular resort includes an interactive, 150-acre theme park with more than 50 rides, shows and attractions, a world-famous botanical garden and the 5-acre LEGOLAND Water Park.
You'll also find the LEGOLAND Hotel, located just steps from the theme park entrance. This unique lodging option features 152 rooms and suites, each with its own LEGO® theme and some with beautiful views of nearby Lake Eloise. Check out our helpful guide for visiting the LEGOLAND® Florida Resort, packed full of tips for visiting, ways to save on admission, other nearby attractions, and much more.
How to get LEGOLAND® Florida Resort Discount Tickets?
We've got you covered – LEGOLAND® Florida Resort admission is available with the below money-saving options, so you can choose the attraction pass that's right for you:
1. All-Inclusive Pass – All you can do. Includes admission to dozens of attractions.
2. Explorer Pass – Choose as you go. Includes admission of up to 5 attractions. 
See all available Orlando passes, attractions & prices. Families with kids won't want to miss out on a chance to explore all that LEGOLAND Florida Resort has to offer.
Tips for Visiting LEGOLAND Florida Resort
Be sure to download the Quest to LEGOLAND® app, the brand new GPS adventure game from LEGOLAND Florida Resort. It offers games and trivia for kids as you travel towards the park.

If you are visiting with older teens, be aware that this theme park is geared more towards kids between the ages of 3 – 10 (although anyone with a passion for LEGOs will get a kick out of the building activities).

Parking at LEGOLAND Florida Resort is $17, but you can save $2 if you purchase parking in advance online.
Scope out the park map before you visit to plan your itinerary.
Save money on admission to LEGOLAND Florida Resort with your pass!
If you're traveling with large bags or other items, lockers are available for rental.
Because the park is geared towards children, there are a number of height requirements you should take into consideration before deciding what rides to see.
Given that scattered thunderstorms are common in Central Florida, save some indoor attractions or shopping time for the inevitable afternoon rain.
If you have really small children, bring your own stroller to avoid paying the rental fee.
Small snacks and water can be brought into the park; other food items can be easily purchased once inside.
When is the best time to visit LEGOLAND Florida Resort?
Like most theme parks, LEGOLAND Florida Resort will be busiest in the heart of the afternoon. Arrive early in the morning and miss out on the longest lines for the first part of your day.
What to bring to LEGOLAND Florida Resort?
Comfortable shoes. You'll be walking quite a bit around this sizable park.
Sunblock and a hat. Florida is notorious for giving people sunburn even on cloudy days.
A bathing suit, for the water park. Trust us -- you'll end up getting soaked even if you don't go on rides with the kids.
A camera or phone. You'll want to capture the looks of complete and utter joy on your kids' faces.
Money for souvenirs and lunch. There are plenty of places in the park to shop and dine.
Minifigures! You can exchange them at the park for a new and exciting minifigure.
What is there to do at LEGOLAND Florida Resort?
The wonders are endless at LEGOLAND Florida Resort, but here is a selection of our favorite rides and attractions in the park. Be sure to check out LEGO NINJAGO World and LEGOLAND Beach Retreat too.
LEGO® NINJAGO® World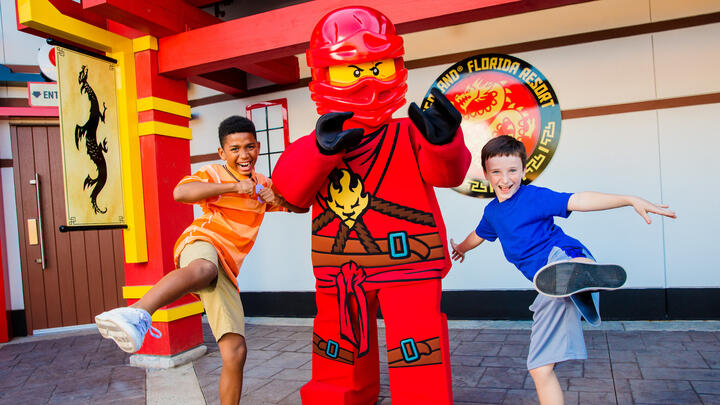 LEGO NINJAGO World is a hot new component of LEGOLAND. Kids are invited to enter a magical martial arts kingdom where you become the ninja in your very own LEGO®NINJAGO® [NIN-JAH-GO] adventure.
LEGO NINJAGO World is an immersive area filled with several hands-on, outdoor activities where kids can sharpen their ninja skills before the ultimate showdown on LEGO NINJAGO The Ride, a dazzling new attraction that blends 3D computer animation, "4D" effects and groundbreaking technology never seen outside a LEGOLAND theme park.
 LEGOLAND Beach Retreat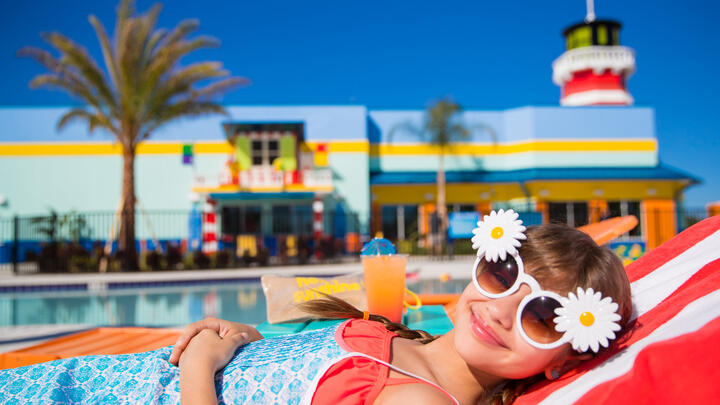 Designed with the same attention to detail and kid-centric features that made LEGOLAND Hotel an immediate hit, LEGOLAND Beach Retreat is a village-style vacation resort with 83 beach-themed bungalows offering 166 separate rooms, each with whimsical LEGO décor inside and out.
The brightly colored bungalows are grouped into 13 "coves" named after popular LEGO Minifigures. Each includes an outdoor play area with fun and challenging elements, all within view of the bungalows' shaded patios, where mom and dad can relax while kids play.
Located about a half-mile from the theme park entrance, the site also features a central swimming pool and sandy play area, a buffet restaurant, pool bar, a giant LEGO-inspired lighthouse with a real rotating beacon and picturesque views of Lake Dexter.
LEGO World of Chima
Based upon the immensely popular line of toys presented by Cartoon Network, the World of Chima is filled with tons of great rides and experiences. Splash through an interactive water ride with the whole family, undertake the monumental Quest for CHI, race through Speedzorz™ Arena, roam through Cragger's Swamp, and immerse yourself in a 4-D movie experience.
Miniland USA
Adults and kids alike will get a kick out of this exhibit, which contains scale replicas of famous cities, buildings, and monuments from around the country. Featured local attractions in this Miniland include Daytona International Speedway and the Kennedy Space Center, as well as an homage to the state of Florida. You'll also see Miniland construction imitating New York City, California, Las Vegas, and more. Here is also where you'll find the LEGO Star Wars exhibits!
DUPLO® Valley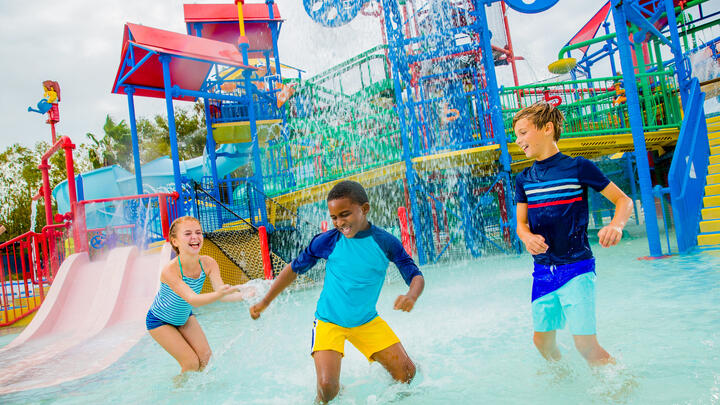 This area is specially designed for the littlest of guests, featuring a train, a mini tractor ride, and a water play area. Toddlers will also enjoy a DUPLO Farm and the DUPLO Tot Spot. There's even a snack center and daycare in here.
LEGO Kingdoms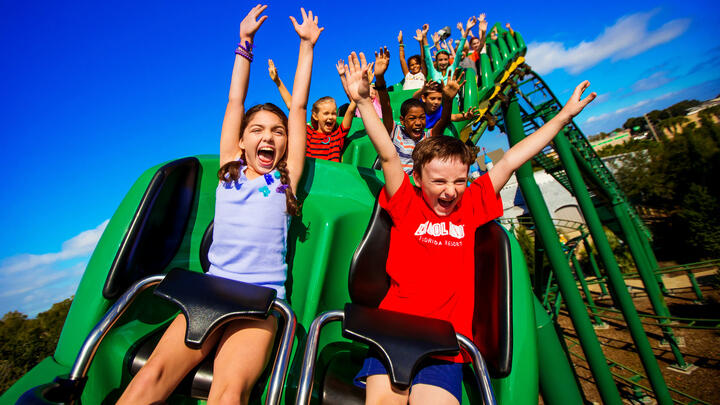 LEGO Kingdoms will bring you back in time to the medieval era when knights roamed the earth fighting dragons and saving damsels in distress. Explore the LEGOLAND castle, engage in the Royal Joust, crawl into the Forestman's Hideout, be thrilled on the Dragon Coaster, and climb aboard the Merlin's Challenge train.
Land of Adventure
Explore long-lost tombs and search for treasure in the Land of Adventure. Then, hop aboard the Safari Trek for a tour of life-size LEGO animals. Roam the maze in Pharaoh's Revenge, and launch high into the air on the Beetle Bounce. There's no end to the excitement in this part of the park.
LEGO City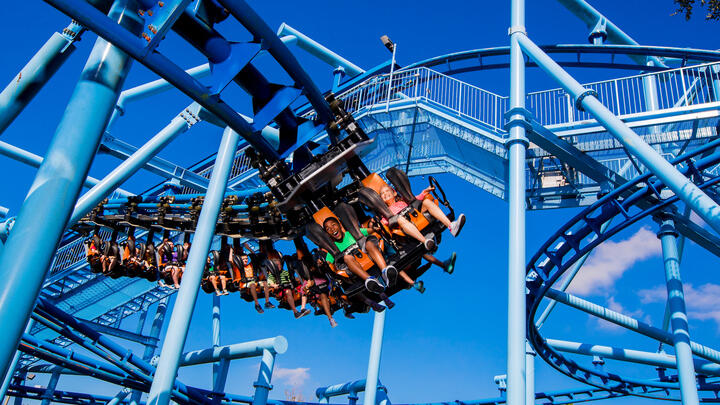 Kids can play at being an adult in the LEGO City, without any of the downsides! Be a firefighter or policeman and save the day at the Rescue Academy. Hop aboard a small-scale driving course, fly through the air on a steel coaster in the Flying School, and captain your own ship in the Boating School.
Imagination Zone
This region of the park really brings out the creativity and ingenuity in kids. Kids can build their own LEGO cars, construct and program LEGO Mindstorms™ robots, and immerse themselves in the world of LEGO's Hero Factory line. Plus, you can see some of the best LEGO sculptures in the world here!
Pirate's Cove
Who doesn't love a good splash fight? LEGOLAND's Pirate's Cove features a one-of-a-kind water ski and stunt show in which LEGO-clad pirates have taken over Lake Eloise.
Heartlake City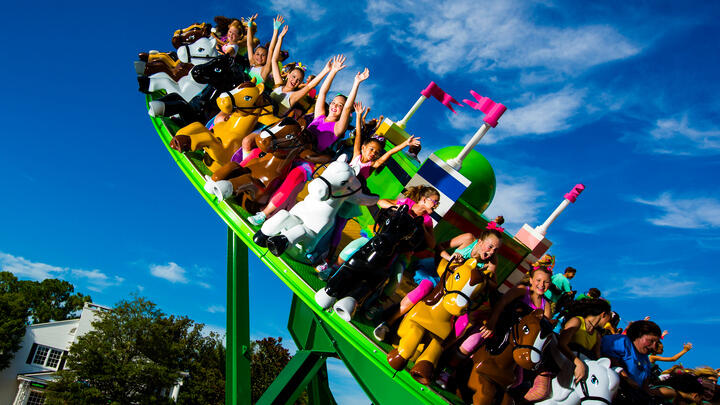 One of the newer regions of the park, Heartlake City is an area designed especially for the female LEGO fans in the family. Based on the popular LEGO Friends line, this destination is filled with fun adventures for kids of all ages.
Enjoy a horse-themed disc coaster on Mia's Riding Adventure, take a photo at Stephanie's Heartlake News Desk, and explore specialty shops.
Botanical Gardens
One of my personal favorite areas of LEGOLAND is the Botanical Gardens. Here you'll find a historical garden filled with cypress trees and other native plants. It's been restored to its original glory and re-imagined as a resource for curious kids looking to learn about the environment around them in Florida. You'll also find lush flowers like camellias, azaleas, and more. There's even a tree that was planted in 1939, a Banyan tree that still watches over the garden.
What attractions are near LEGOLAND Florida Resort?
Because LEGOLAND Florida Resort is centrally located between Orlando and Tampa, there are a number of attractions within driving distance if you want to fit a morning at LEGOLAND Florida Resort into a larger itinerary. Here are a few of the closest.
Little kids will love a visit to the charming Green Meadows Petting Farm, a great interactive zoo-like experience.
Nature-lovers won't want to miss out on a scenic nature tour by Boggy Creek Airboats.
Looking for more theme park rides? Check out Fun Spot America for some great attractions and rides.
How much more Florida can you get than the famous Gatorland? Pay a visit to this unique adventure park for the experience of a lifetime.
Looking for more information about the area? Check out our Orlando neighborhoods guide.
What is there to eat near LEGOLAND Florida Resort?
Given the scope of the park and the fact that you'll probably spend an entire day there, it makes the most sense to eat in the park. Here's a selection of the kinds of dining options available at LEGOLAND Florida Resort.
The Market Restaurant is open the entire time the park is, and serves healthy options for breakfast, lunch, and dinner, including gluten free and vegetarian fare.
If you're in the mood for a treat, check out Granny's Apple Fries for delicious things.
Trying to please picky eaters? Then head to the Pizza and Pasta Buffet for some good old-fashioned carbs. There's even a salad bar for the health-conscious.
Another dessert option is Sunny's Ice Cream Shop – perfect for hot summer afternoons.
If the kids loved the Land of Adventure, treat them to a dinner at Castle Burger.
Who says no to fried chicken? No one at Fried Chicken Co.
Looking for a sandwich option? Try I-Zone Paninis or Lakeside Sandwich Co.
Need to Know
Hours
Hours vary seasonally; check the operating calendar for the dates of your visit.
Address & Directions
One LEGOLAND Way Winter Haven, FL 33884
Driving Directions: From Orlando, take I-4 WEST to exit 55 (US Highway 27 South). Turn right off U.S. Highway 27 at State Road 540/Cypress Gardens Boulevard. Park is four miles on the left.
Public Transportation: Round trip transportation from the I-Drive 360 at 8350 Universal Blvd, Orlando 32819.
Note: Shuttle service is by reservation only and reservations must be made at least 24 hours in advance. Call (877) 350-5346 and hit * to make a reservation.
Save on Admission with Go City®
Remember, a pass for Orlando with Go City® is one of the best choices for maximum savings and flexibility, which includes LEGOLAND® Florida Resort tickets, plus admission to dozens more top attractions.
You'll make great savings on top sightseeing tours, and popular activities vs. paying at the gate. Visit multiple attractions for one low price. Families with kids won't want to miss out on a chance to explore all that LEGOLAND Florida Resort has to offer.