While most people probably think of Orlando as a family destination due to the concentration of theme parks, it can also be a great place for a couple's getaway. If you're looking for romantic things to do in Orlando, whether that's for Valentine's Day, or maybe for just a romantic evening, check out a few of our suggested activities.
Our list of things to do in Orlando for couples includes...
The Wheel at ICON Park
Lake Eola
Everglades Airboat 
The Wheel at ICON Park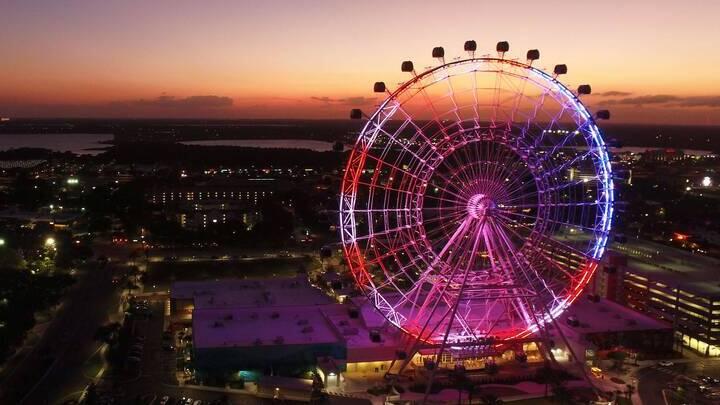 It's both fun and romantic to scope out the city skyline from above. Take a ride aboard The Wheel at ICON Park, 400 feet up in the sky.
Enjoy breathtaking views of the city below, nearby theme parks, and even all the way to Cape Canaveral. Plus, the ICON Orlando is located on the popular I-Drive, a neighborhood with many great attractions and tasty restaurants so you can easily make a visit to this observation wheel part of a larger itinerary. 
Commune with Nature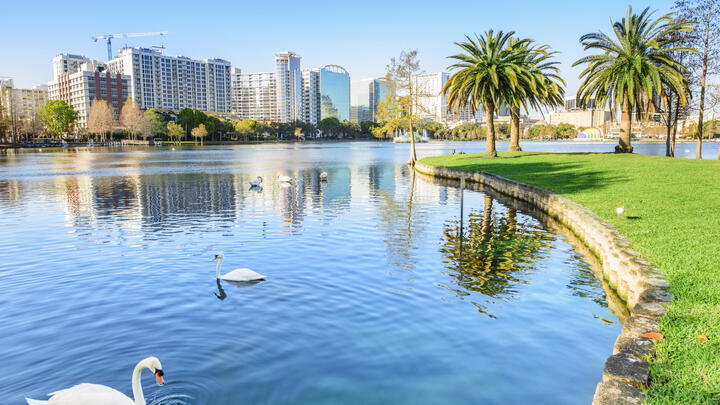 One of the great things about being in Central Florida is how lovely and wild the natural world really is. While you're just a moderate drive away from the heart of the Everglades, there are also a number of charming parks and lakes in Orlando proper if you don't feel like venturing too far afield.
A popular spot for strolls and picnics is the lovely Lake Eola, a favorite among locals for its peaceful waters. They've even got some charming swan boats, which you can take for a relaxing spin for a small fee.
Another romantic locale is the Leu Botanical Gardens. Take a stroll through the beautiful botanical oasis and learn all about the plants  the gardens host a number of events throughout the year, such as movie nights, so check out the calendar to see if there's anything to get those sparks flying. Pack a picnic and cosy up with your partner in the
If you really want to see some classic Florida wilderness, take a ride through the Forever Florida Wildlife Conservation Area, a 4,700-acre expanse including seven distinct ecosystems. 
Indulge Your Love of Animals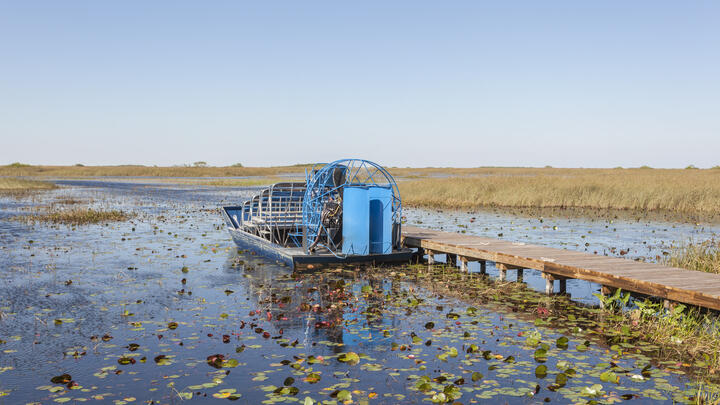 If you or your partner are big animal lovers, then you won't want to skip a visit to the lush Everglades. An airboat ride into the swamps and wetlands of the Everglades is a great opportunity to glimpse the famous gators, as well as the many other critters that call the Everglades home, including a variety of swamp birds, turtles, and more.
You'll also get to see the beautiful landscape itself, from the seas of grasses to cypress trees and beyond.
Stroll Through Historic Winter Park
While there's a lot of history scattered throughout Orlando (if you recall, Florida was an early Spanish settlement), Winter Park might be our most recommended neighborhood to explore due the concentration of cute buildings, quirky shops, and tasty restaurants. If you prefer to emphasize the beautiful waterways of Winter Park, then a scenic boat tour would also be another good sightseeing option. This charming, relaxing tour takes you past beautiful sites like the Kraft Azalea Garden and the Isle of Sicily. 
Hop Aboard a Cruise
Since you're in Florida, one of the must-do romantic activities on your list is a cruise. There are all sorts of sightseeing cruises available, from those that focus on wildlife to simple ocean views. One of our favorites is an enchanting cruise of Clearwater Harbor in nearby Tampa. They offer delicious dining options in a climate-controlled room (a big deal in Florida), plus unbeatable ocean views from the open-air deck. This narrated tour is also a fun way to explore the area, especially if you're a new visitor to the city.
Explore the Art World
Do you live for culture? Then you and your partner are probably searching for a museum or two to visit while you're in town. There are plenty of small but robust art institutions to choose from, such as the Orlando Museum of Art. This museum, in particular, has a number of special programs to enjoy, including specialty tours of the collections. One of our favorites is the Dali Museum, which features the work of this famed Spanish surrealist and his contemporaries. Although it's located a decent drive away from Orlando in St. Petersburg, the architecture of the building itself is incredibly striking and worth the trip. You might also be interested in the Cornell Fine Arts Museum if you're looking for something more traditional. Searching for a sculpture garden to conduct that romantic walk in? Look no further than the Mennello Museum of American Art right on Lake Formosa. If you're in town before Valentine's Day, be sure to check out their Indie-Folkfest on February 16, a free annual event that everyone will love. 
Enjoy a Delicious Meal
You have to eat while you're in town, so why not make a romantic dinner out of it? There are plenty of tasty restaurants in and around Orlando for you to choose from, many with international flair and spice. Some of our favorite neighborhoods to explore for new dining experiences include Winter Park, Lake Buena Vista, and Downtown Orlando. If you're looking to dine on Valentine's Day itself, be sure to make reservations in advance as the tables will fill up fast! Use a free service like Open Table to make easy reservations.
Remember to Save on Attraction Admission
So there you have it. Our list of some romantic things to do in Orlando, just in time for Valentine's Day. Remember, some of these great options are included on the Go Orlando pass, where you can save up to 50% on combined admission vs paying at the gate. Please note, the special events taking place at some of these attractions may be separately ticketed and not included with the Go Orlando pass.