SEA Life Aquarium Orlando is one of the most popular attractions in the International Drive Resort Area, known as I-Drive. SEA LIFE Aquarium Orlando is not your average aquarium. You'll be immersed in an aquatic adventure as you explore the world's oceans. This is an attraction that offers an exceptional experience for families, as there are numerous interactive displays, kid-level viewing and a hands-on rock pool.
This state-of-the-art aquarium is located in the heart of the I-Drive 360 complex which includes The Wheel at ICON Park and Madame Tussauds Wax Museum. Check out our helpful guide for visiting the SEA LIFE Orlando Aquarium. It's packed full of ways to save on admission, tips for visiting, other nearby attractions, and much more.
How to get SEA LIFE Aquarium Orlando discount tickets?
We've got you covered – SEA LIFE Aquarium Orlando admission is available with the below money-saving options, so you can choose the attraction pass that's right for you:
1. All-Inclusive Pass – All you can do. Includes admission to dozens of attractions.
2. Explorer Pass – Choose as you go. Includes admission of up to 5 attractions.
Tips for Visiting SEA LIFE Orlando Aquarium
Wear comfortable shoes. There is a temptation to wear sandals and flip-flops but those may not be the best choice when lots of walking is involved.
Depending on when you visit, a light jacket may be in order. Florida can be extremely hot and humid outside, making interior air conditioning feel chilly.
Make sure your phone is charged and ready to take lots of pictures. A renewable energy-source device charger is available near the food court.
If you are taking young ones, make sure you get a free "Dive Log Book" at the entrance. The book encourages you to visit the 9 Dive Stations throughout your visit, answer a question and then stamp your book upon completion. This is a great way to keep children involved and a completed book can be shown at the Sea Treasures Gift Shop at the end of your visit for a reward.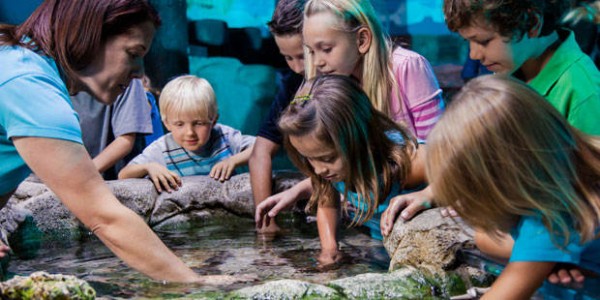 When is the best time to visit SEA LIFE Aquarium Orlando?
There are some very brief "off seasons" in Central Florida when crowds are lower. These include January and February and September through early December. If you want to avoid the biggest crowds at SEA LIFE Aquarium Orlando visit during the week and during the mornings.
What is there to see and do at SEA LIFE Aquarium Orlando?
Take some time to enjoy the area just outside of the Aquarium. Enjoy the Florida weather, take advantage of photo opportunities or grab some ice cream. There are plenty of shops and eateries surrounding the I-Drive 360 complex. Once inside, the complex has a food court and dining area that offers a selection of foods. The food court is a convenient place to stop before or after visit the SEA LIFE Aquarium.
Aquarium highlights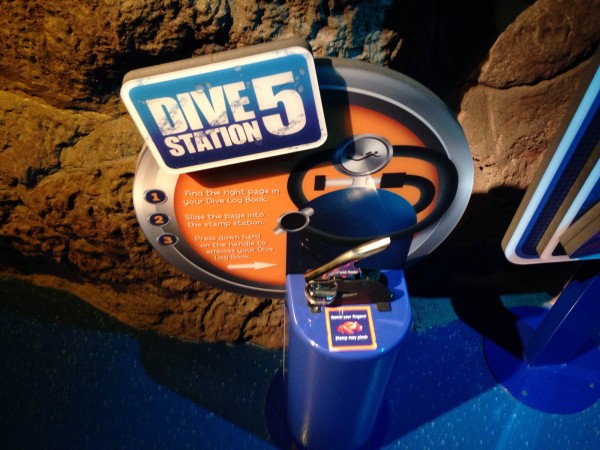 Tours, although self-guided, are timed to control crowd flow through the aquarium.
Visitors first enter a 360-degree holding area surrounded by video screens around and above. Here, you get an idea of what lies ahead as narrated by animated sea creatures. The attraction makes interesting use of technology, color and music to enhance your experience.
Many of the 5,000 sea creatures can be seen from the unique perspective of bubble tanks. Visitors can duck under exhibits and lift their heads into clear, plexiglass bubbles with a diving perspective. Kid-level viewing portals make looking at sea life easy for young visitors.
If he's feeling sociable, you just may get an up-close visit from a giant octopus in the shipwreck display.
The aquarium makes interesting use of curved and formed plexiglass to provide a view of aquatic life you may not see elsewhere. Stunning views are provided by the 360 tunnel where sea life swim above, around, and under you while you pass through.
Don't forget to get your Dive Log Book stamped along the way. Remember, a completed book earns a reward at the gift shop following your visit.
 The hands-on rock pool area exhibit is popular with kids and adults alike.
What attractions are near SEA LIFE Aquarium Orlando?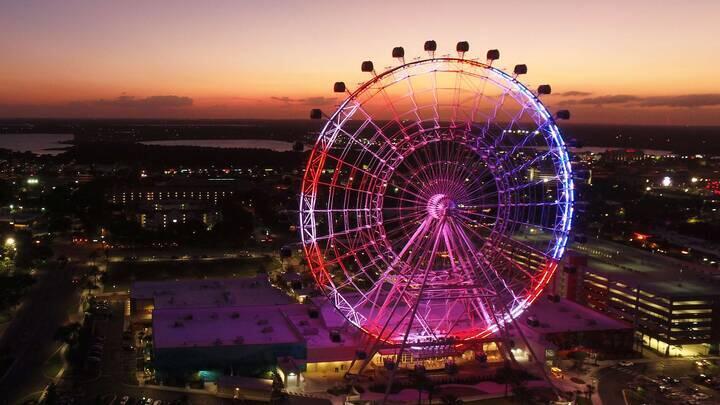 Located in the I-Drive 360 complex, you'll find the aquarium in the heart of International Drive. I-Drive includes a variety of hotels, restaurants, shopping and entertainment options. There are plenty of other great attractions located nearby. 
Here are a few we suggest adding to your itinerary: The Wheel at ICON Park is a 400-foot Ferris wheel that offers exceptional views of Central Florida. The Wheel at ICON Park, like SEA LIFE Aquarium, is a part of the I-Drive 360 complex.
Beside The Wheel, you'll find Madame Tussauds Wax Museum. The museum features extraordinarily life-like figures of some of the world's most famous stars, past and present. Pose with Marilyn Monroe, "meet" Steven Spielberg, get up close to Brad Pitt, chat with Jimmy Fallon and more.
Just a block north of SEA LIFE Aquarium is Ripley's Believe It or Not! Orlando. Ripley's offers a diverse collection of the odd, bizarre, and unique. Inside you'll see such oddities as a life size dog created of black licorice, a real shrunken head, a pool table that rolls uphill and more.
Where is there to eat nearby?
The I-Drive area is loaded with dining options ranging from hot dogs and fast food to gourmet. Here are a few of the selections close to SEA LIFE Aquarium.
The World's Largest McDonalds –The world's largest McDonalds Restaurant is located at I-Drive and Sand Lake Road. You'll be surprised at wide menu selections and entertainment options.
Fogo De Chao Brazillian Steak House – If you are looking for something a bit different, this is an upscale Brazilian chain. It offers all-you-can-eat meat that is carved table side. It also features an elaborate salad bar.
Buffalo Wild Wings – This chain specializes in a wide selection of flavored buffalo chicken wings, beer and wide-screen TVs – a great choice when your favorite team is playing. They do offer more than wings, by the way.
The I-Drive 360 Food Court – If convenience is at the top of your list, there is a selection of foods available right in the I-Drive 360 complex at its own food court. This is in the concourse area between SEA LIFE Aquarium, The Wheel at ICON Park and Madame Tussauds.
It is easy to explore more I-Drive dining options with a short walk in either direction or by hopping aboard the I-Drive Trolley. When taking the trolley, make sure you have the exact fare and to remember your stop number.
Need to Know
Hours
10AM – 9PM everyday.
Seasonal dates vary. Please reference the website for most up to date hours of operation.
Directions & Address
8449 International Drive Orlando, FL 32819
The SEA LIFE Aquarium is located in the heart of International Drive at Orlando's dining and entertainment complex, the I-Drive 360.
 Free parking is available in the multi-story car park located next door to the attraction. SEA LIFE Aquarium Orlando is just to the right of The Wheel at ICON Park.

Save on Tickets with a Go Orlando Pass
Remember, Go City is the best choice for maximum savings and flexibility, which can include SEA LIFE Orlando Aquarium tickets, plus admission to your choice of other top attractions. You'll make great savings on entry to top museums, tours, and activities vs. paying at the gate. Visit multiple attractions for one low price.