Experience the beauty and wonder of the ocean in a totally unique way at SeaWorld Orlando. From animal exhibits and creature performances to exhilarating rides, slides, and other attractions, there's so much to do at SeaWorld that you can spend an entire day here! It's long been a family favorite attraction and should be a must-see on your list.
Tips for Visiting SeaWorld Orlando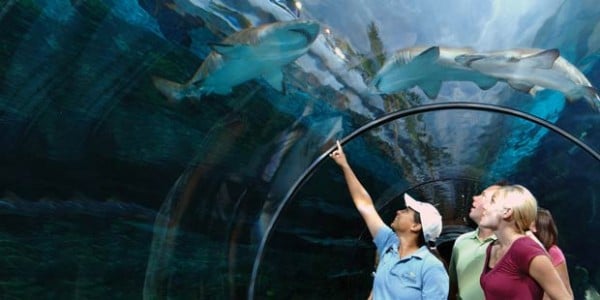 Follow Seaworld Orlando on social media for the latest updates on rides, shows, and other attractions.
Parking is available for around $17.
Download the printable park map and plan your day before you go.
It's also important to check the ride height requirements in advance so no one gets disappointed about rides they can't use.
It takes about 6 hours to fully explore SeaWorld, so plan to spend most of or an entire day here.
If you're a huge animal fan, it might be a good idea to set aside some time (and a little extra money) for an animal encounter!
The Manta Coaster (especially the first few rows) provides a super splashy experience –expect to get totally drenched on this ride.
Central Florida can get incredibly hot and humid in the summer, so be sure to hydrate and wear plenty of sunscreen.
When is the best time to visit SeaWorld Orlando?
SeaWorld Orlando is an extremely popular attraction, so it's only realistic to expect lines whenever you visit. If you want to at least begin your visit with fewer crowds, an early morning start is best.
What to bring to SeaWorld Orlando?
Comfortable shoes or flip flops
A towel or two
A bathing suit
Extra clothes
A waterproof camera
Waterproof sunscreen
A hat
Bottled water or a water bottle.
What is there to do at SeaWorld Orlando?
SeaWorld is an extensive park, filled with tons of diverse exhibits, rides, and shows. Here is a selection of the park components that we think should be at the top of your list.
Antarctica: Empire of the Penguin
This new exhibit takes you down to the world of icy Antarctica along with a friendly little penguin named Puck. Enjoy a family-friendly ride, then explore the penguins' realistic habitat. View the penguins from above or below in this comprehensive exhibit.
Dolphin Cove
Watch the dolphins splash and frolic in this fun exhibit. It's among the largest interactive dolphin pools in the world, and anyone who loves these adorable creatures can't miss it. You can even opt to upgrade to an individual dolphin encounter!
Shark Encounter
The underwater viewing tunnel in this exhibit is one pretty impressive sight. Where else in the world can you find yourself totally underwater in the midst of dozens of terrifying predators?
Manta Aquarium
Peer into ten lush aquariums filled with over 3000 marine species. You'll even see several different species of ray and a massive Pacific octopus! Be sure to check out the 360 aquarium, too, which immerses younger visitors in a vibrant sealife environment.
Waterfront Market Place
This is a relatively new addition to the park and features shopping and dining options for SeaWorld visitors. It's a relaxing place to close out the day or a good chance to take a break around lunchtime. Don't forget your little stuffed Shamu!
Turtle Trek
Turtle Trek is a 3D, 360-degree theatre that shows unforgettable footage about the plight of sea turtles. Follow the life of the sea turtle NYAH, from the moment of birth to the many challenges that follow. Enjoy the stunning realism and beautiful imagery of this multimedia experience.
Pacific Point Preserve
Enjoy the playful antics of sea lions and seals in this exhibit. Get a chance to feed these fascinating creatures as you learn all about their habitats, mannerisms, and way of life. Don't forget to say "hi" to the famed Cha Cha the sea lion while you're there!
Sky Tower
One of the original rides in the park, the 400-foot tall Sky Tower is one charming, retro ride. Take a leisurely ride down the pillar and enjoy stunning views of Orlando. Bring your camera on this one!
The Manta Coaster
Among SeaWorld's signature rides, the Manta Coaster is the only flying coaster of its kind in the world. Dip, dive, soar, and fly – you'll feel like a seabird, flitting across the waves. Enjoy this one-of-a-kind adventure, and then pop down to the Manta Aquarium.
Conservation & Rehabilitation Efforts
SeaWorld is more than just an entertainment destination, it's a leader in conservation and rehabilitation efforts for marine animals from around the world. With more than 50 years of responding to wildlife crises big and small, SeaWorld Orlando has been able to save the lives of thousands of injured or endangered creatures, including sea turtles, manatees, and many marine birds. With a visit to SeaWorld you're not only given the opportunity to learn about these animal rescue efforts, but you're actually contributing to the resources that allow SeaWorld Orlando to successfully rehabilitate so many creatures.
What attractions are near SeaWorld Orlando?
SeaWorld is conveniently located near the famed I-Drive in Orlando, putting it within a quick drive of many other great attractions. Add these to a larger touring itinerary alongside the park!
The adjacent SeaWorld Aquatica waterpark is a summertime favorite.
The kid-friendly WonderWorks Orlando is a must-see for families.
If you're in the mood for a laugh, the funny Cirque Magique Dinner Show is a sure bet.
Looking for even more marine life? SEA LIFE Aquarium is another great aquatic option.
Get above it all with the great views of the The Wheel at ICON Park (formerly ICON Orlando and Coca-Cola Orlando Eye).
Expand your mind at the bizarre and quirky Ripleys Believe it or Not! Odditorium.
Fans of the T.V. show CSI and other forensic procedurals won't want to miss out on CSI: The Experience.
Spend an hour or two at Titanic: The Artifact Exhibition and learn all about the infamous ship.
If the kids want even more splashy fun, head to CoCo Key Water Park.
Where is there to eat near SeaWorld Orlando?
Whether you want to stay and dine in the park itself or venture out for dinner, you have plenty of great dining options to enjoy.
Shark's Underwater Grill is the popular restaurant at SeaWorld – don't forget to reserve a table to ensure your spot.
Looking for something affordable and quick? Try Panera or Buffalo Wild Wings.
If you're aiming for a more upscale dining experience, Fiorenzo Italian Steakhouse is a good choice.
Pub fans will want to check out David's Club Bar & Grill.
Thinking seafood? The Oceanaire Seafood Room is a great high-end option.
Yard House offers an extensive selection of craft beers and delicious and sophisticated pub food.
Families with kids can enjoy a wide variety of chain restaurants from Denny's and IHOP to McDonald's.
Need to Know
Hours
Open daily. Hours of operation vary seasonally, so consult the park's operating calendar for current information.
Address & Directions
7007 SeaWorld Drive Orlando, FL 32821 Driving Directions: Intersection of Interstate 4 and FL 528 (Bee Line Expressway), 10 minutes south of downtown Orlando and 15 minutes from Orlando International Airport. From the North (Downtown Orlando, Universal Studios, Sanford, Deland, Daytona): Take I-4 West to exit 72 (Beachline Expressway/FL-528/Airport). Once on the Beachline, take the International Drive exit.
Save on Admission
So be sure to spend a day at SeaWorld Orlando on your next vacation – you'll have the time of your life. While SeaWorld Orlando is not included in the Go Orlando Card, use your pass to save up to 55% on admission to other top Orlando attractions.