Only those with a machoistic streak would ever consider driving in or around Paris unnecessarily. At their worst, roads can be likened to parking lots, which is ironic given how hard parking can be to find.
As a visitor, you're much better off getting around Paris through the plethora of public transportation options. They're generally inexpensive, efficient, trustworthy and safe. Sounds good, non?
If you're looking to discover the secrets of how Parisians get about by metro, bus, train, tram – and road – then this is the guide for you.
Paris by metro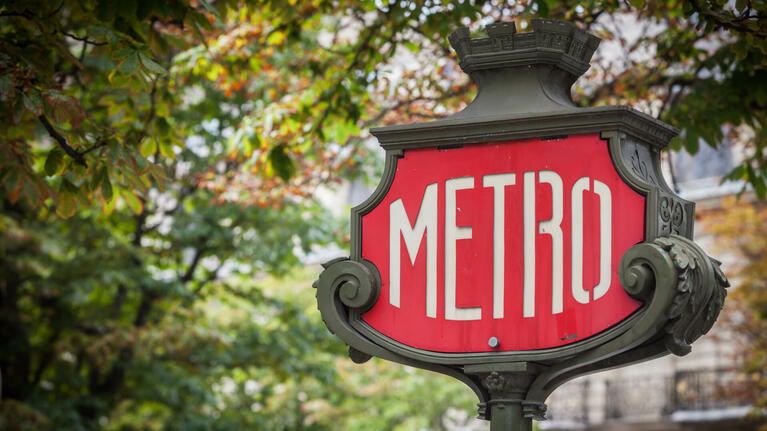 Paris Métro is probably the best way of getting around Paris for those who don't speak French. Individual lines are named for the most part by numbers. The exceptions are lines 3bis and 7bis, which are separate from lines 3 and 7.
Lines can also be differentiated by their rainbow of colors on network maps. The direction of travel is advertised on trains by referencing the line's terminus station.
One of the densest metro networks of any city, it's rare to be very far from the nearest station, whether you're on the rive gauche (left bank) or hilly Montmartre. It's also the second busiest metro system in the world. Over four million trips are taken daily.
For comfort, it's better to avoid the morning and evening rush hours. They are at their peak between 8:30 – 9:30AM and 5:30 – 6:30PM Monday to Friday. Lines run until around 1AM.
Fares are purchased from manned kiosks or ticket machines with English-language options. Tickets are required to pass through the gates to platforms. Though there are generally no gates on exit, you need to keep your ticket until the end of your journey as random ticket inspections are frequent.
The main downside to the Paris Métro is that those with accessibility issues will find it hard to make use of its network of trains. Stations are largely underground and reached via staircases.
Buses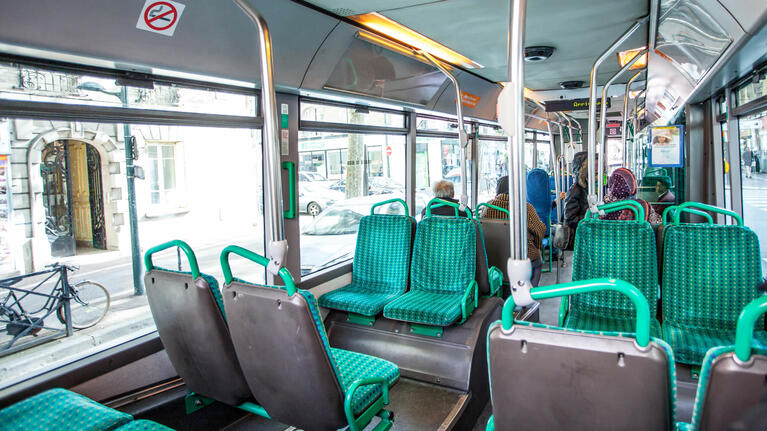 Tickets for Paris buses can be purchased directly from drivers if you've got the correct change. Larger stops have electronic displays indicating which buses are next to arrive. They usually also have a map of the route.
Buses have shorter operating hours than the metro. Most lines operate from 7:30AM until 8:30PM Monday – Saturday. Some operate until around midnight. An increasing number now run on Sundays and public holidays.
Buses won't automatically pull up at every stop – you'll need to raise your arm to alert the driver or press the button for the bell when on board.
You board from the front and depart from the middle doors on standard buses, or from any door on articulated ('bendy') buses. You may need to press the door release button.
On entering, validate your ticket at the small yellow boxes. This will stamp the date and time onto it. Heavy fines are handed out for those who don't – including tourists.
If this all sounds a little complicated for a vacation, there's always Hop-on Hop-off sightseeing buses. They allow you to discover attractions such as Notre Dame Cathedral and the Louvre to your heart's content.
Trains and trams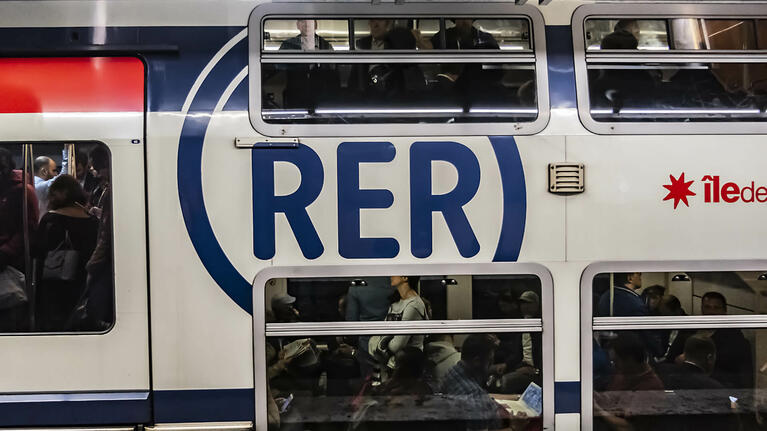 Trains belonging to the RER suburban railway network are of limited interest to visitors looking at getting around Paris since they tend to serve the outer reaches of the city. Departing from mainline train stations, their lines are distinguishable from metro lines through the use of letters of the alphabet rather than numbers.
Useful lines include line A, linking Disneyland Paris in the east with Poissey in the west via the Grande Arche of the La Défense district and the Gare de Lyon. Line C links the rive gauche with the Palace of Versailles. RER trains also connect to Charles de Gaulle and Orly airports.
To check out Paris's impressive railway architecture within the calmer surrounds of an art gallery, head to the Musée d'Orsay, converted in the late 1980s.
Pretty much the same situation exists for the city's tram (streetcar) network. Denoted by lines beginning 'T', it mainly serves areas outside of the city center not reached by the otherwise extensive metro system.
Tickets for public transportation in Paris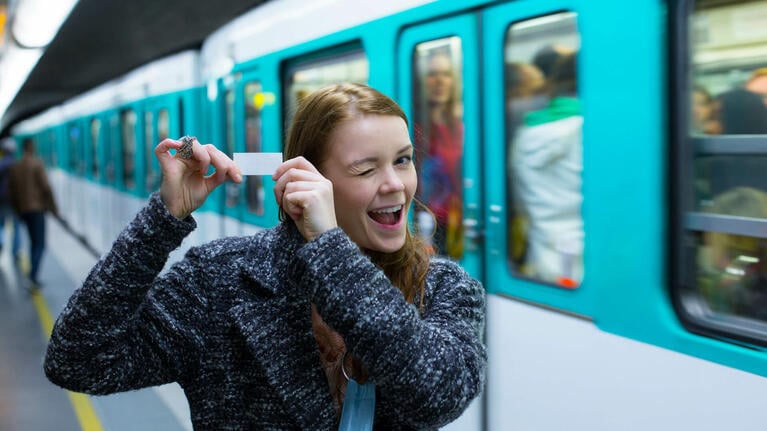 The metro, buses, RER trains and trams all use the same ticketing system. A basic ticket costs around €2 (a little over $2), making it a very economical way of getting around Paris.
Carnet booklets of 10 tickets reduce the cost further. Carte Navigo Découverte smart cards are another way to access the network, although they're a bit of a hassle to set up and load.
Ticketing can be made simpler still with the Paris Visite Pass. Operating like a contactless credit card, it provides unlimited travel on public transport in Paris or Paris plus the Île de France region.
The second option is important for anyone looking to get to and from the airports or the Palace of Versailles. Paris Visite Passes can be purchased for one, two, three or five consecutive days of use.
Taxis and ride hailing apps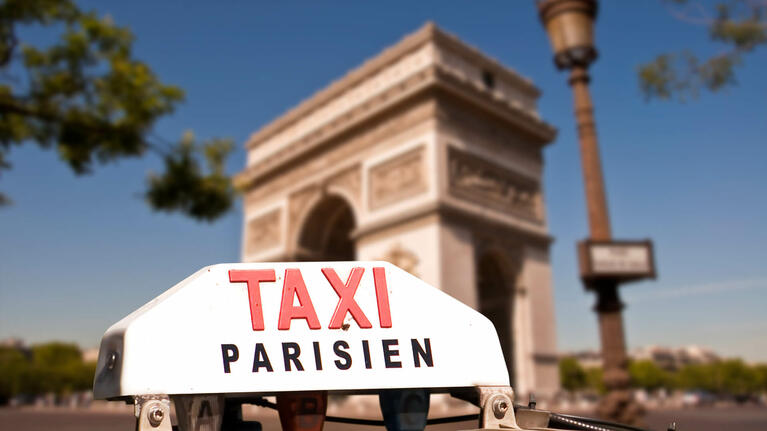 They may be expensive when compared to other ways of getting around Paris, but taxis do have their uses. For one thing, you'll be able to find a taxi at any time of the day or the night, making them particularly handy for early morning flights.
Cabs can be hailed from the curbside or found at any of 500 official taxi stands. Vacant taxis display a green light on their roofs, but cannot pick up a fare within 50 meters of a taxi rank.
We don't recommend calling a radio taxi. Not only do you have the language problem to deal with, but fares start from the second the driver redirects to pick you up.
An additional problem in using taxis in Paris is the heavy traffic. Fares are calculated per kilometer traveled plus an initial charge equivalent to traveling around two kilometers. But sitting in a traffic jam is no one's idea of a fun vacation activity.
Expect to pay in cash – not all vehicles take card payments. Tipping 10% is de rigueur if you want to avoid grumbles.
Uber is another option. Lyft doesn't operate in France at present. But for the minimal savings you'll make versus a traditional taxi – because of Uber's Paris licensing conditions – the only real reason to turn to Uber would be if you can't find a traditional taxi.
Other ways of getting around Paris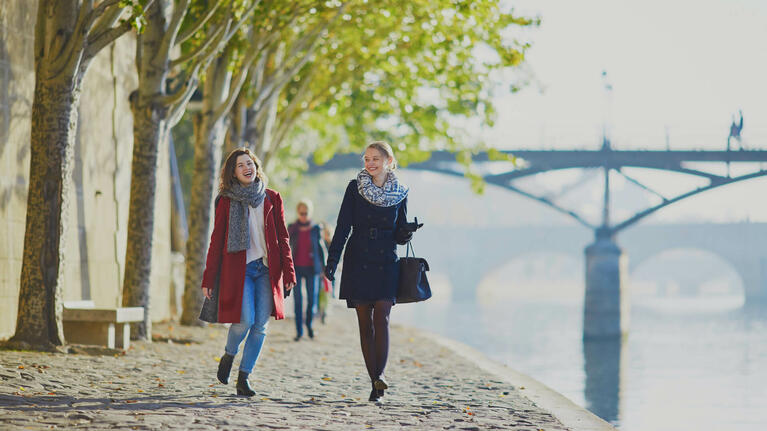 Walking is a great, budget-friendly way of getting around central Paris. The streets are safe during the day, although petty thefts can happen anywhere.
Taking to two wheels is another option thanks to the Vélib' bike rental scheme. Hiring a cycle for an hour will cost just a few euros and allows you to see the City of Light from an entirely new perspective.
The only boat services operating in central Paris are dedicated sighting-seeing cruises.
How to save on attraction admission in Paris
Now you've got getting around Paris sorted, your thoughts will probably turn to the attractions you want to visit. Explore with Go City and you don't need to worry quite so much about the budget for your trip. Our All-Inclusive and Explorer passes include admission to many of the top attractions in Paris at a great saving compared to advertised prices!