Just downriver from the Vatican, Trastevere shares with its ecclesiastical neighbor a distinctly different flavor to the rest of Rome: quieter, less hectic and, well, more Trastevere. Not for this laid back neighborhood the impatient car horns and frantic bustle of via del Corso, the chaotic crowds that plague the Trevi Fountain or the tat-toting tourist traps hawking trashy trinkets. No: the pace of life in Trastevere is far more gentle – well, during the day anyway (its lively nightlife is part of its enduring charm).
Wander this medieval labyrinth of cobbled lanes, piazzas and hidden squares and you'll soon feel a world away from Rome's chaotic center. This in spite of Trastevere being a mere half an hour's walk from bucket-list Rome attractions including the Colosseum, Roman Forum and Spanish Steps. But, trust us, Trastevere is another essential addition to your itinerary of must-sees when visiting the Eternal City. Without further ado then, here's our guide to the best things to do in Trastevere Rome.
Fill Your Instagram Feed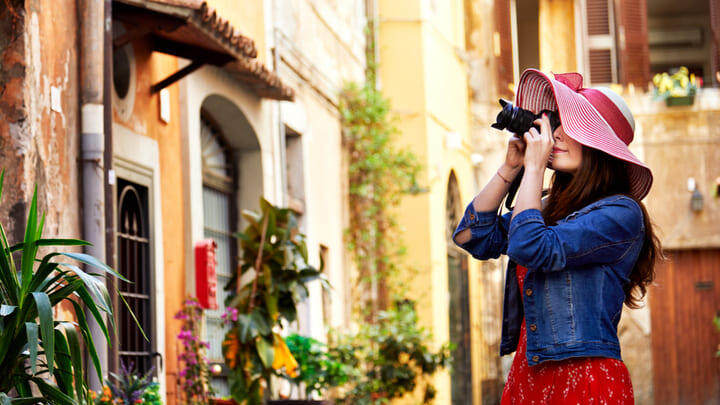 Trastevere is a neighborhood that just begs to be photographed. And it's easy to while away a few hours just strolling its atmospheric alleys, pausing to people-watch over espresso and cannoli in cobbled piazzas, and snapping its achingly photogenic medieval churches, brightly painted window shutters, quirky cast-iron door knockers and that ubiquitous Rome style icon, the strategically positioned Vespa scooter. Washing hangs from balconies across narrow lanes where ocher-colored houses fairly drip with ivy and flower-crammed window boxes pop with bright blooms. Heck, even the graffiti here looks great on Instagram! Get snapping!
Have a Religious Experience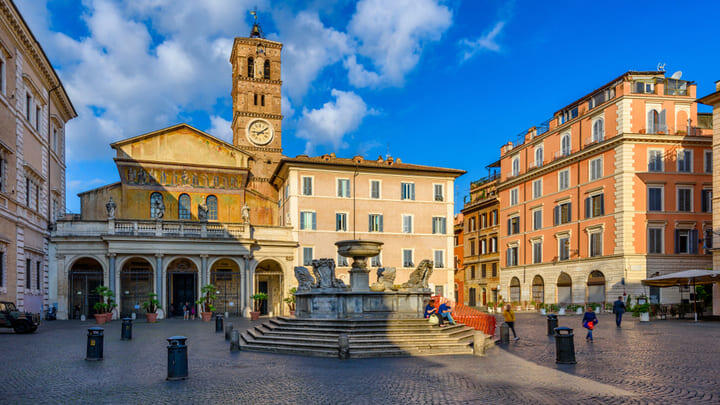 Did you know Rome has close to a thousand churches? Well, you do now. Better still, every single one of them is free to visit: great news for art-lovers and aficionados of fine architecture. And, boy, does Trastevere have some beauties! The Basilica of Santa Maria in Trastevere is one of Rome's oldest, with parts dating back to the 4th Century, and many of its finer features dating from medieval times, among them a striking 12th-century Romanesque bell tower and beautifully preserved religious mosaics by artist Pietro Cavallini. Visit the nearby Church of Santa Cecilia in Trastevere to view Cavallini's huge Last Judgment fresco, considered by many to be his masterwork, and see the Martyrdom of Saint Cecilia, a baroque marble statue by Renaissance sculptor Stefano Maderno.
Climb the Janiculum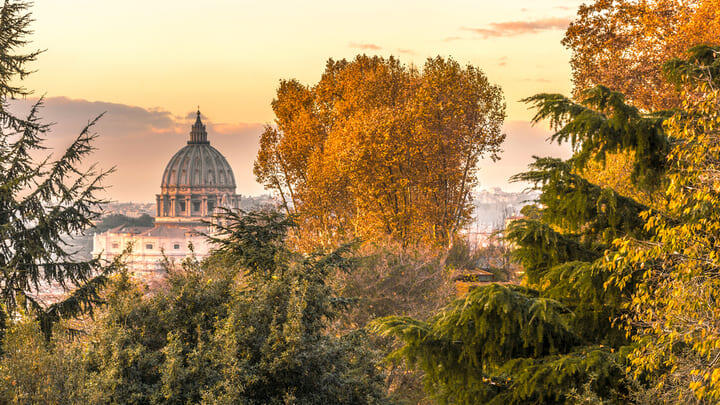 At 88 meters, Janiculum Hill is the second highest in Rome (after the soaring Monte Mario). Pack some piquant Italian salamis, freshly baked focaccia, a wedge of pecorino and that all-important bottle of barolo and reward yourself with a picnic overlooking the city when you reach the summit. It's around a 25-minute walk (or 5 minutes in a cab) from Trastevere to the top. Take in those majestic views of St Peter's and the Eternal City as you lunch, then have a stroll round the various attractions up here. Don't miss the imposing statue of Garibaldi on horseback and the monumental 17th-century fountain with decorative marble carvings of dragons and eagles, the Borghese family emblems. Time your visit to catch the daily cannon fire at noon, a tradition that dates back to 1847.
Have a Gelato on Piazza Trilussa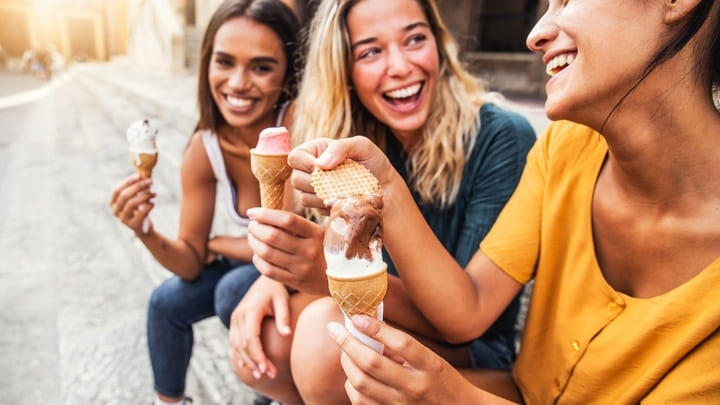 A favorite place for locals to meet and mingle, Piazza Trilussa is a bustling small square that overlooks Ponte Sisto and the Tiber. Grab yourself an authentic gelato from nearby Otaleg! (yep, that's 'gelato' written backwards) where the rainbow of unusual flavors includes kiwi, mango with chocolate and, um, an artichoke sorbet. Slurp slowly from the excellent people-watching vantage point that is the piazza's monumental fountain, before taking a stroll across the medieval bridge.
Visit the Museo di Roma
The Museo di Roma in Trastevere is set inside a converted 17th-century Carmelite convent with a picture-perfect apricot-colored facade. Step inside to discover a treasure trove of art and artifacts relating to the Eternal City. As well as historical scenes lovingly recreated in life-size – one depicting boozy revelry at a local inn being a particular highlight – visitors can expect exhibitions that focus primarily on Roman life in the 18th and 19th centuries, with stories told through the eyes of local artists. Chief among these is 19th-century watercolor maestro Ettore Roesler Franz, whose many works of disappearing urban and suburban views are well represented here, providing a fascinating insight into the rapid development of the city in the late 1800s.
Relax in the Botanical Gardens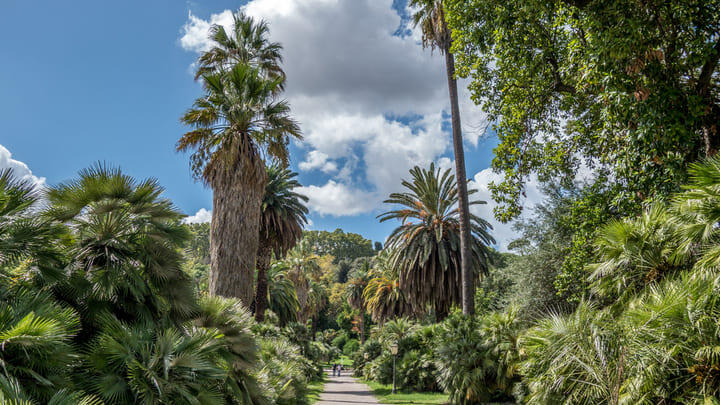 There are more than 3,000 species of plants to explore at the Orto Botanico, set on the slopes of Janiculum Hill overlooking the baroque 17th-century Palazzo Corsini. This peaceful oasis feels a million miles from the bustle of the city – stroll among the bonsai trees and trickling waterfalls in the ultra-zen Japanese Garden and you'll soon see what we mean. There's also a sensory garden, a rose garden, several greenhouses containing tropical plants, and a fine bamboo grove sited next to a section of the city's ancient Aurelian Walls, built way back in the 3rd Century. Hop over to the Palazzo Corsini afterwards to view its collection of artworks by Caravaggio, van Dyck, Rubens and more.
Hunt for Flea Market Treasure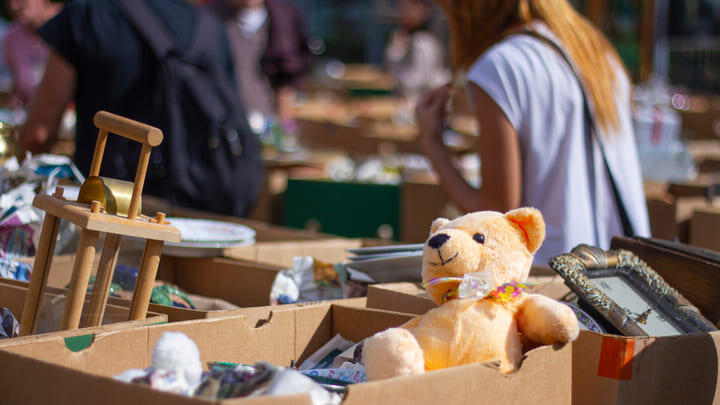 Porta Portese's Sunday flea market is the biggest in Rome, stretching for around a mile from its entrance at the imposing city gate that gives the market its name. Incurable rummagers are in for an absolute treat here, where with the right amount of dedication to the hunt and an expert knack for haggling, you might just walk away with that rare 1994 Judge Dredd comic that's eluded you all these years. But be warned: there's an awful lot of trash here, too. Mountains of it, in fact. So be prepared to kiss a lot of frogs before you find your prince. Above all though, have fun! Pro-tip: take cash with you as stallholders here generally don't accept credit cards.
Enjoy the Fabulous Trastevere Nightlife
Trastevere really comes to life at night, as locals hit the piazzas for pizza, beer and a catch-up. Wood-fired, wafer-thin, ultra-crispy and hot from the oven, the pizza in Rome is – perhaps unsurprisingly – among the best on the planet. Locals swear by Pizzeria ai Marmi, a Trastevere institution with huge marble tables and a smattering of outdoor seating. Choose your toppings and get stuck in, but note that Romans consider pizza a meal for one. Trading slices is fine, but ask for a single pizza between two at your peril! Trastevere also has some great bars serving up fine local craft ales: dodge the ubiquitous Peronis and Morettsi and head to Ma Che Siete Venuti a Fà on Via Benedetta for its ever-changing selection of artisanal ales. Just across the lane, Bir & Fud offers more of the same, with a side order of excellent, Neapolitan-style wood-fired pizza. The best of both worlds. 
Save on things to do in Trastevere Rome 
Save on admission to Rome attractions with Go City. Check out @GoCity on Instagram and Facebook for the latest top tips and attraction info.