Planning to explore San Antonio with your favorite person this Valentine's Day? Good news: San Antonio might just be the most romantic destination in Texas--and Texas packs some serious punch for lovers. Cradled in the one-of-a-kind Texas Hill Country, San Antonio has something for everyone: foodies, adventure-seekers, and those in love with the arts. The hardest part about making Valentine's Day plans here isn't finding amazing things to do, it's narrowing down your many options. So we've put together a few of our favorite romantic options in and around the river city. Our list of things to do in San Antonio for couples includes...
Texas Hill Country & LBJ Ranch Tour
Extreme Escape Live Action Games
The Witte Museum
Tower of the Americas
Go Rio San Antonio River Cruise
1. Texas Hill Country & LBJ Ranch Tour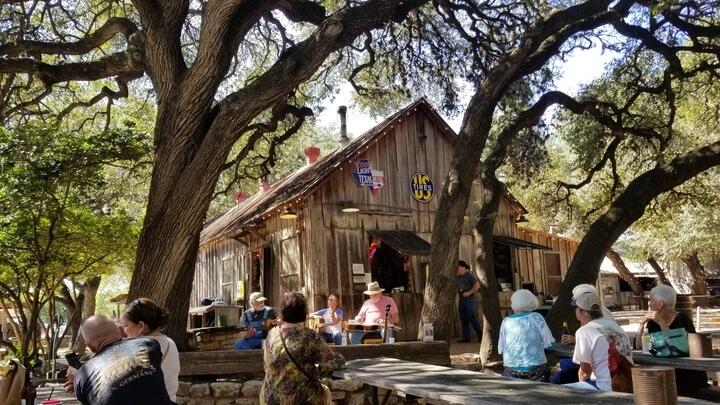 Get a taste for the picturesque Texas Hill Country, explore the ranch where President Lyndon B. Johnson grew up, learn about the rich German heritage that suffuses the area, and maybe even stop in at a quintessentially Texas winery along your way. What could be better? This full-day tour picks you up at your hotel and introduces you to the flavor of the area with a stunning drive along hill country back roads to Johnson City, home to the LBJ ranch. After touring the ranch and its grounds, you'll head to Fredericksburg, a great place to stop for lunch at one of the town's many cozy, idyllic eateries. Then you'll head to the town of Luckenbach, the seat of a surprising amount of musical talent (Willie Nelson, Jerry Jeff Walker, and Hondo Crouch, to name a few) for such a small locale. You'll also have the option to stop at an award-winning winery to sample some of the region's finest before heading back to your hotel. If you're looking for an easy-to-plan way to experience the hill country culture with your significant other, this one's a no-brainer. Getting in: Texas Hill Country & LBJ Ranch Tour tickets are an included attraction choice on the Go San Antonio pass.
2. Extreme Escape Live Action Games
Escape games are quickly gaining traction as a way to bond and build long-lasting memories over the laughter and desperation of escaping from an impressively-curated room before the time runs out. At Extreme Escape Live Action Games in San Antonio, you can choose from four escape themes: Mutiny, The Undead, Master of Illusion, and Trapped Below--and you'll have 60 minutes to break out of a space that's complete with theatrical lighting, sights, sounds, and real-life props that create a uniquely immersive experience. If you and your Valentine are the type who love adventures, this might be right up your alley--the perfect test of wits, stamina, creativity, and teamwork. Follow your escape attempt (or success!) with dinner and a drink, and you'll have a date night memories are made of. Getting in: Extreme Escape Live Action Games tickets are an included attraction choice on the Go San Antonio pass.
3. The Witte Museum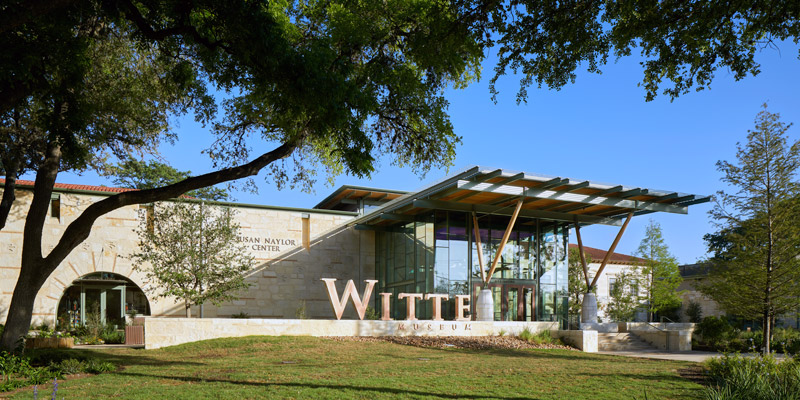 Want a glimpse into the rich cultural roots that lie below South Texas's surface? If so, a stop at the Witte Museum is in order. Even in you're not particularly enthralled with Texas history, the Witte Museum is a lovely place to explore--full of eye-catching architecture, beautifully-crafted exhibits, and immersive displays that give your senses something to feast on. In the Texas Heritage Center, you'll be able to vividly imagine the vaqueros and cattle kings that once ruled the area--a place and time where there were no fences, only big skies, sunsets, and cattle drivers. The Witte is nestled in a gorgeous bend of the San Antonio River, right next to Brackenridge Park, the San Antonio Zoo, and the Japanese Tea Garden. Try visiting in the morning, before it gets busy, then combine it with your favorite lunch pairing--like Nola Brunch & Beignets, perhaps. Getting in: Witte Museum tickets are an included attraction choice on the Go San Antonio pass.
4. Tower of the Americas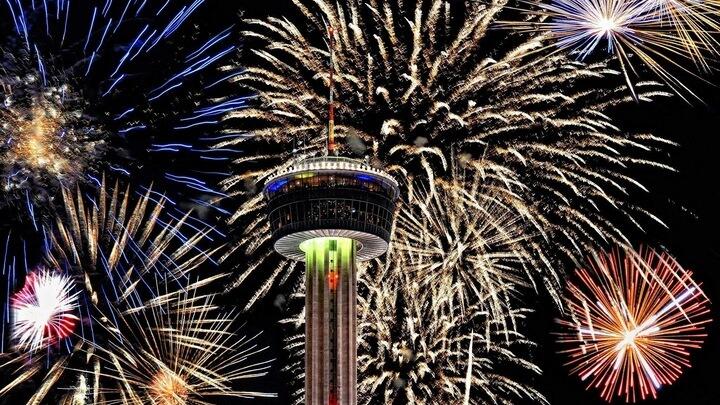 There's nothing like getting high with your favorite person. As in, getting an aerial view of the city you're visiting. And you'll get a view like no other from the observation deck at the top of the Tower of the Americas, the tallest building in San Antonio. Spot the city's top landmarks, take time to explore the larger-than-life photos from San Antonio's past, and learn about the six flags that have flown over Texas in its colorful history. While you're at the tower, go for a 4D Theater Ride over Texas, too--an immersive ride that simulates a helicopter flight to some of Texas's most unique sites, like the NASA shuttle launch site, live street performances, and even a Friday night football game. You'll share lots of laughs and some thoughtful landscape-gazing with your date--always a good way to kick off a Valentine's Day evening. Enjoy dinner at the incomparable Chart House, a high-end seafood and steak eatery at the top of the tower. Getting in: Tower of the Americas tickets are an included attraction choice on the Go San Antonio pass.
5. San Antonio Museum of Art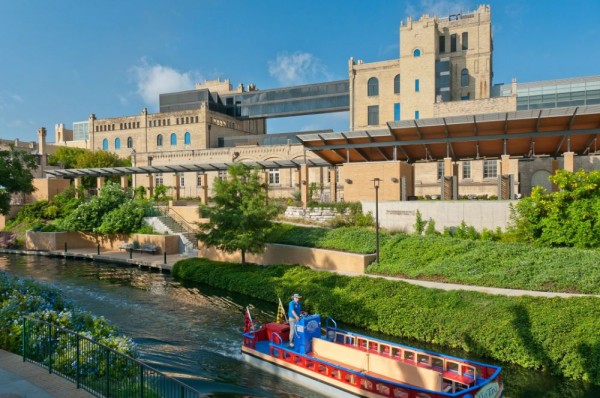 If you and your Valentine love art, this is the place to be on Valentine's Day. The San Antonio Museum of Art is built in an old brewery (it doesn't get much more Texan than that), and today it houses an incredible array of art from collections all over the world. Stroll through collections of Greek, Egyptian, and Roman antiquities, or immerse yourselves in the Asian or Latin American galleries. It's easy to lose track of time and spend hours exploring the beautiful, varied displays in this one-of-a-kind museum space. Everything about the museum is carefully curated and crafted, and you'll find it equal to the nation's top art museums in other major cities. Even the museum grounds offer lovely space to sit down and enjoy your date's company for a while with riverfront views. We recommend lunch at The Luxury afterwards, an upscale, offbeat all-American cafe featuring outdoor dining. Getting in: San Antonio Museum of Art tickets are an included attraction choice on the Go San Antonio pass.
6. Go Rio San Antonio River Cruise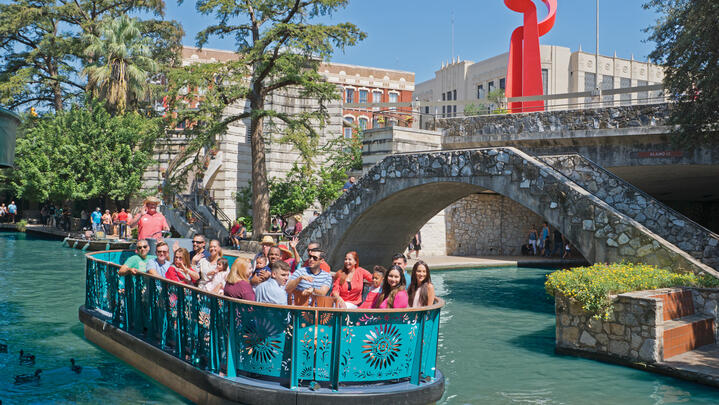 It's the quintessential thing to do in San Antonio--along with spending time on the riverwalk itself. The Go Rio San Antonio River Cruise takes you along the Riverwalk, under ivy-covered footbridges and past some of the most richly history-filled sites in the city. An entertaining, well-informed guide will narrate the way while you sit back and enjoy the picturesque, 30-minute-long ride. A river cruise is a great way to scope out spots you'd like to explore a bit more on foot once the cruise is over--or to choose a spot to hit for drinks and/or dinner with your date afterwards. Las Canarias is always a favorite, a three-story restaurant on the water offering an array of mouthwatering Mexican food. Getting in: Go Rio San Antonio River Cruise tickets are included on the Go San Antonio pass. To pack the most bang for your buck into this Valentine's Day, your best bet is to purchase Go San Antonio pass for you and your Valentine. You'll have the option to combine your favorite exploration options, whether your ideal Valentine's Day schedule involves simulated skydiving and adventure escapes or a riverboat cruise and walk through a breathtaking art gallery. And you'll have the flexibility to make it happen on you (and your Valentine's!) schedule, without paying anything at the gate of each stop along the way. It's hard to beat that when you're planning a day with that one person who makes your heart beat faster. Find out more about how to get your Go San Antonio passtoday!