Autumn is one of our favorite times of year—from crunching leaves and crisp breezes to all the spooky Halloween activities that make October such a great month. And while Halloween is popular throughout the United States, San Diego is a particularly appropriate city to celebrate this frightening holiday in.
San Diego is a city with a long and not always savory history. It's a historical city whose Spanish roots stretch back to the eighteenth century (and first European contact was even earlier). If you're in the market for haunted attractions in San Diego to celebrate this upcoming Halloween season, check out our guide below.
We've put together the top haunted attractions plus ways to save on visiting a few of these Halloween things to do in San Diego, including...
The Haunted Trail of Balboa Park
The Haunted Hotel
Whaley House
Davis-Horton House
and more!
The Haunted Trail of Balboa Park
This mile-long trail through the city's large cultural park is a terrifying experience you'll never forget. Chock full of scares, this haunted trail is organized around some of pop culture's scariest figures and images, from a PURGE-inspired maze at the beginning to the creepy red balloon from
IT
. There's even an appearance of the house from
Stranger Things
. It's an immersive kind of terror, with things like sound and water effects, plus truly heart-pumping scares. Needless to say, it's not recommended for children and kids under 10 are not permitted.
The Haunted Hotel
The Haunted Hotel is also one of the most highly regarded institutions in the country. Plus, it's the longest operating haunted house in the city. The theme at this Mission Valley attraction rotates each year. The 2019 theme being "the Disturbance." Expect to find an eclectic and terrifying bunch of "disturbed" deceased, who have been relocated from their place of rest to this new, horrifying location. Blood, guts, gore, and decay—you'll find dead bodies and zombies aplenty in this haunted house.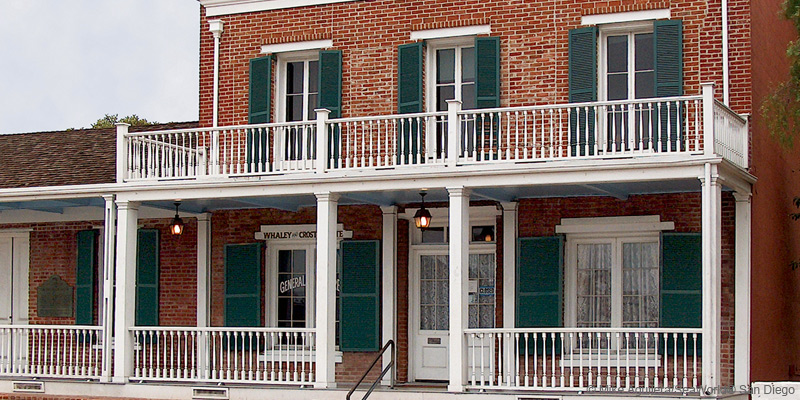 Whaley House 
Said to be the most haunted house in America, the
Whaley House
is a historic home in San Diego which dates from the nineteenth century. It's part of a larger complex which includes many brick buildings and a spooky Victorian garden. However, the house (and its accompanying museum) is the part you'll tour. Today, ghosts of its former inhabitants and guests linger in its halls. They'll have extended evening hours during the Halloween season to allow visitors to enjoy the truly haunted experience.
Davis-Horton House
Another historic home, the Davis-Horton House is the oldest surviving structure in downtown San Diego. This nineteenth-century wooden home has a varied and colorful past. It once served as a private residence to Alonzo Horton, considered to be the founder of modern San Diego. But it was later turned into a hospital. The ghosts of those who died within its walls are said to haunt the
Davis-Horton House
, as well as many other mysterious figures who have been spotted over the years. Take a tour of this spooky historic house to find out more!
Ghosts & Gravestones Tours
Offering exciting tours of the city's more haunted side, the Ghosts & Gravestones Tours of San Diego showcase the San Diego most people don't know about—the dark alleys, a haunted lighthouse, an eerie ferry boat, and much more. You're sure to enjoy your guide's vivid stories about the notorious criminals and legends of San Diego's past. This 1.5-hour walking tour is not for the faint of heart. But it's worth the time to learn about the city's spooky history. 
Save on Haunted Attractions & Other San Diego Things to Do
If you're looking to visit the Whaley House, the Davis-Horton House, and other top San Diego attractions this Halloween season, snag a
Go San Diego pass.
You'll save up to 55% on admission versus buying your tickets individually. Spend your money on your Halloween costume instead!
Share Your Adventure with Us
Tag @GoCity or use the hashtag #GoCityPass in your vacation photos and we'll feature you on our page. Follow the Go City
Instagram
and
Facebook
pages for competitions, special offers, and events and inspiration for your chosen destination, too!