SeaWorld® San Diego features up-close animal encounters, world-renowned shows, and opportunities to interact with animals in a stunningly hands-on environment. Visitors will enjoy and be inspired by seeing and learning about how SeaWorld is a world leader in animal care, conservation, rescue missions, and groundbreaking research. In addition to interactions with all the sea life at SeaWorld, be sure to catch some entertaining shows. And of course, adventure seekers can get their thrills in for the day on SeaWorld's many exciting water and coaster rides. Check out our helpful guide for visiting the SeaWorld® San Diego, packed full of tips for visiting, ways to save on admission, other nearby attractions, and much more.
How to get SeaWorld® San Diego Tickets?
We've got you covered – SeaWorld San Diego Multi-Day Tickets are available with the below money saving options, so you can choose the attraction pass that's right for you: 1. All-Inclusive Pass – All you can do. Includes admission to dozens of attractions. Available on 3, 5, and 7-Day Go San Diego Cards. 2. Build Your Own Pass – Select the attractions you want to visit prior to visiting. See all available passes, attractions & prices – Learn more.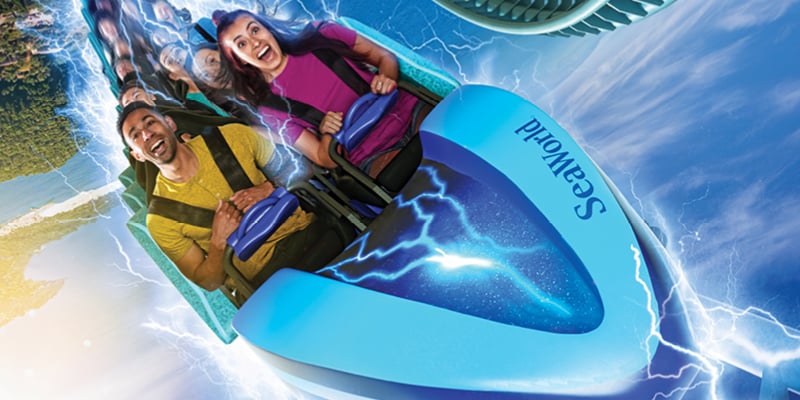 SeaWorld San Diego Tips for Visiting
Prepare to get soaked. Whether on rides or in the Splash Zone at a show, it's hard to avoid getting wet at SeaWorld. This may mean bringing a towel or change of clothes, depending upon your comfort level.
Pack a waterproof camera or cellphone to capture the best moments.
Wear quick dry or water-resistant clothing.
Plan your day around the shows you want to see. The schedule for shows and events changes periodically so be sure to check online and reference your park map to get the most up-to-date information. Shows typically range from 5-30 minutes in duration.
When is the best time to visit SeaWorld San Diego?
Though typically more crowded, the best time to visit SeaWorld San Diego is during peak season (the warmer months) when most attractions, shows, and rides are operating. That said, San Diego is lucky enough to enjoy a temperate climate much of the year so even if you visit in the winter, you'll be able to enjoy walking around outside.
What should I to bring to SeaWorld San Diego?
Sunscreen
Water-resistant clothing and/or a change of clothes
Waterproof camera
Plastic bags to protect your valuables from getting splashed
What to do at SeaWorld San Diego?
Between all of the exciting rides, shows, and exhibits, there's so much to do and see at SeaWorld! Don't be surprised if it takes more than one day to tackle all of the things you're interested in. We put together a list of the must-sees to plan your day around, but there are many more fun things to do and see in addition to this list!

What's new at SeaWorld San Diego?
SeaWorld® San Diego has been one of the world's most popular marine parks for more than 50 years providing guests with experiences that matter through a blend of incredible animal and educational experiences and exciting rides. In 2017, SeaWorld embarked on the most ambitious transformation in the park's history. As part of the largest new attraction premiere in more than 50 years, SeaWorld opened the all-new Ocean Explorer, and launched an exciting new summer nighttime extravaganza called Electric Ocean. SeaWorld continues to evolve the next generation of marine-life experiences, setting the standard for combining immersive and innovative ways to engage with ocean animals with family fun for children and adults. Ocean Explorer will combine multiple aquariums, exciting rides, and digital technologies to engage guests in an experience centered on exploration and adventure inspiring them to protect the oceans. Submarine Quest, the signature ride of Ocean Explorer, will take guests on a global mission of scientific discovery. Embarking on a three-minute experience aboard mini subs, visitors will become researchers on a mission to collect data and learn how they can help animals. This newest, fully immersive attraction is the next chapter in creating experiences that can create both wonder and curiosity for the ocean ecosystem. At the heart of Ocean Explorer will be a series of specially-designed aquariums displaying unique as well as elusive ocean animals. Park visitors will come eye-to-eye with amazing animals like giant octopuses, spider crabs and jellies. As the sun sets this summer, Electric Ocean will light up SeaWorld with an ocean of brilliance and waves of energy that will transform the park into an underwater world of colorful luminescence. This new, nighttime spectacular will immerse guests in a glowing sea of wonder with bioluminescent-like lighting, music and pathway entertainment.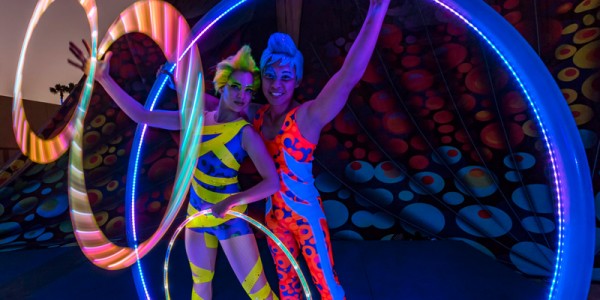 What are the best rides at SeaWorld San Diego?
SeaWorld features lots of fun and exciting rides for all ages. Whether you're a newbie coaster rider or thrill-ride veteran, there's a ride for everyone.
Manta®
"Ride the ray. Feel the rush." This immersive coaster ride, SeaWorld San Diego's first multi-media double-launch coaster, takes visitors deep into the world of rays. On Manta, you'll get a rush as you dive and twist like a ray in the water. Keep in mind that there is a height requirement for this and many other rides, so younger children may not be able to ride. For this ride, you must be 48" tall.
Journey to Atlantis®
This water coaster ride is a fun, thrilling way to take a break from the heat and cool off. Journey to a lost civilization and make a splash as you plunge 60-feet before ending face-to-face with fascinating sea life for an underwater view of cownose rays, spotted eagle rays, southern stingrays, California leopard sharks and more. You'll enjoy a few mild splashes on this ride, but nothing that will get you completely soaked. You must be 42" tall to enjoy this ride.
Shipwreck Rapids™
Join fellow castaways as you whirl, swirl, and splash through rapids and foaming waters on this tube-style, winding river water ride. Plunge through a waterfall into an underground grotto to discover the secrets of this lost island. Because this ride features some exciting white water rapids, definitely expect to get soaked. You must be 42" tall to enjoy this experience.
What are the best shows at SeaWorld San Diego?
The shows at SeaWorld are one of the main attractions at the park. Plan your day around the shows you want to see and be sure to check the schedule online before your trip for the most up-to-date information.
Dolphin Days
Watch highly-skilled bottlenose dolphins and short-finned pilot whales put on an inspiring show with their trainers that celebrates sea life and the world we share with the dolphins!
Sea Lions Tonite
This delightful comedy show highlights the playful side of SeaWorld's resident Sea Lions, and shows just how creative these awesome animals can be. See Clyde and Seamore interact with trainers as they all work to put together a great send-up of the park's rides and attractions.
What are the best exhibits at SeaWorld San Diego?
SeaWorld keeps all of their exhibits fun and entertaining while still being informative so that even the most ocean-averse can't leave the park without a new-found appreciation for all of its fascinating inhabitants.
Turtle Reef™
Experience the turtles' journey first-hand and avoid obstacles as you make your way from the deep blue sea back to the beach on a large video wall. Track a real rescued and returned sea turtle in real-time, get an up-close look at turtles in the underwater tank, and more.
Penguin Encounter®
Watch penguins' playful antics at Penguin Encounter, a 25-degree, snow-filled habitat, and spend some time getting familiar with SeaWorld San Diego's species of penguins, including: emperors, Adélies and gentoos.
Fun fact:
 SeaWorld is the only zoological organization in the Western Hemisphere with an emperor penguin breeding colony.
Explorer's Reef™
Kids of all ages and adults are encouraged to reach into the water and interact with marine life at this exhibit. Featuring both fresh and saltwater touch pools, guests can touch sharks, rays, horseshoe crabs and cleaner fish.
Dolphin Point
Guests can connect with dolphins at various scheduled times throughout the day at Dolphin Point, an open water exhibit that allows guests to come face-to-face with the dolphins. Check your park map for the most up-to-date schedule information.
Insider tip:
 Be sure to stop by and say hello to the California sea otters at Otter Outlook, located near Dolphin Point!
What attractions are near SeaWorld San Diego?
SeaWorld is just north of downtown San Diego and close to lots of fun things to do. To make the most of your time, familiarize yourself with how to get around San Diego and explore the city and visit attractions by neighborhood.
For more theme park action, visit Belmont Park for ocean-side coasters, bumper cars, arcade games, and more. Ride the historic Giant Dipper roller coaster.
Explore the Mission Beach area and enjoy the carnival-like atmosphere. Walk along the water, rent roller blades and ride the boardwalk, poke around the shops, fill up on beach-side fare, and more.
Where to eat near SeaWorld San Diego? What restaurants are near SeaWorld San Diego?
In the park:
Dine with Shamu® for an exclusive and intimate dining experience with the park's family of killer whales. You'll sit poolside and enjoy the park's sustainable, organic and locally-sourced menu. (Advanced reservations recommended; day-of reservations can be made at ticket booths or guest services.)
Outside of the park:
For breakfast with a little Mexican inspiration, head to the Mission Cafe.
JV's Mexican Food is a great place to stop for some California surf and turf with Mexican flair.
Get some classic American flavorful barbecue food at the local favorite, Phil's BBQ.
Head to Devine Pastabilities for inspirational menu items and carb-centric fare.
Save on SeaWorld Admission with a Go San Diego Card
Remember, with a 3, 5, or 7-Day Go San Diego Cards® All-Inclusive Pass you can get free daily tickets to SeaWorld San Diego. With the Go San Diego Card All-Inclusive Pass you can visit multiple San Diego attractions for one low price. Save up to 55% on top museums, tours and activities vs. paying at the gate.