San Diego's motto is "America's Finest City," and we couldn't agree more with that sentiment. The city has numerous world-class attractions, theme parks, museums, water sports, and more. In fact, you're like to discover that even an extended visit isn't enough time to visit them all.
Fortunately, there's a way to narrow down your options. We've put together a curated list of our favorite San Diego attractions according to our destination experts. The top ten things to do in San Diego are:
USS Midway Museum
LEGOLAND® California
Balboa Park & Museums
San Diego Zoo
SeaWorld® San Diego
and more...
1. USS Midway Museum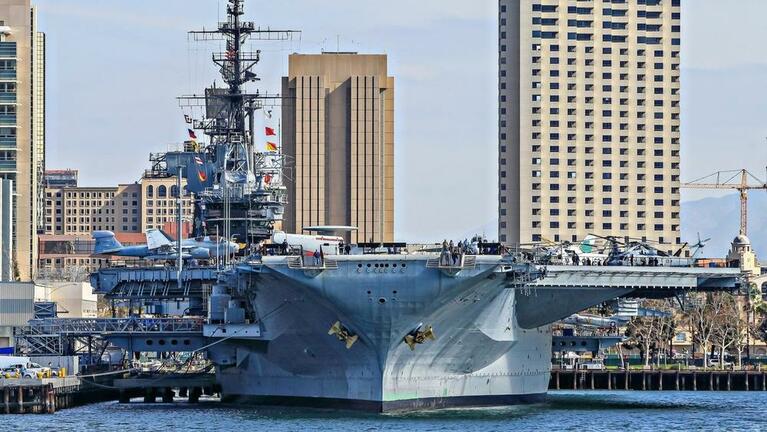 The USS Midway Museum is located on the harbor in downtown San Diego. After this U.S. Navy aircraft carrier was retired, she became a historical museum dedicated to U.S. military history. The museum is brimming with real-life stories that will engage visitors of all ages. That said, it's especially welcoming of their younger visitors. Children are actively encouraged to touch everything, sit in the captain's chair on the bridge, or flip switches in the cockpits in numerous jets.
The docents are retired military members from every recent war from Korea on. A few revered docents fought in WWII, and if you encounter one, you will find they are very eager to pass on their knowledge, especially to visiting youth. The flight deck also provides spectacular views for visitors, so don't forget your camera! From here you can see downtown San Diego, Coronado Island, the San Diego Bay, Point Loma, and Seaport Village.
2. LEGOLAND® California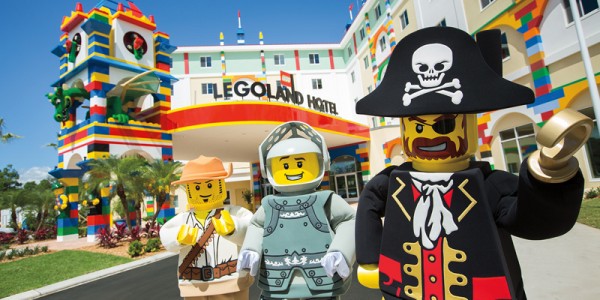 LEGOLAND® California is a top ten San Diego attraction for families with young children. The park has rides, games, and plenty of LEGO® brick stations to delight your little ones. LEGOLAND is also comprised of several themed areas, including Fun Town, Land of Adventure, Castle Hill, LEGO® Friends, Pirate Shores, and Miniland U.S.A.
Miniland is filled with replicas of famous cities and places built completely from LEGO® bricks and is a perennial favorite. For the warmer months, the LEGOLAND Water Park is another top destination that's part of the LEGO family of attractions. A popular section here is the LEGO Legends of CHIMA™ area, complete with the Lion Temple Wave Pool, Crocodile Swamp, and an area where you can build your own rafts out of LEGOs.
The LEGOLAND® hotel also offers oodles of fun, even if your family isn't staying there. The hotel lobby has a café with a castle play area for the kids, plenty of LEGO® and DUPLO bricks, and nightly entertainment for the whole family.
3. Balboa Park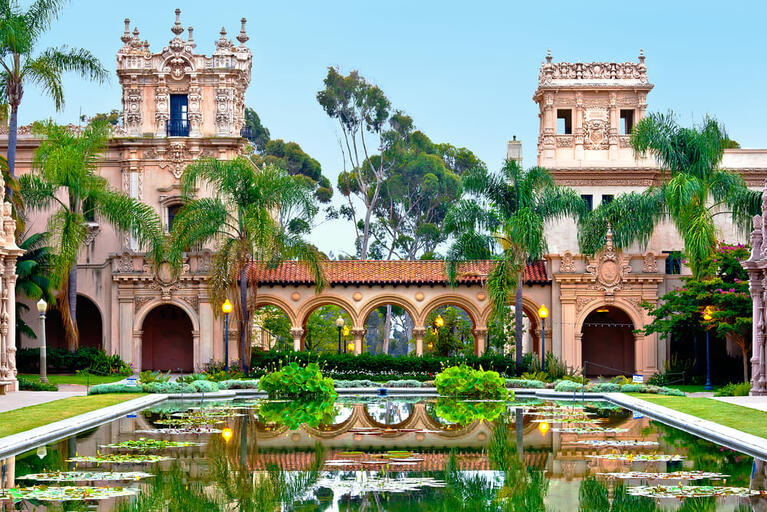 Balboa Park is a stunning 1,200 acre cultural and botanical park located in downtown San Diego. 
The park has dozens of attractions, so you may want to do some research ahead of time and map out which sites you want to see. In Balboa Park, you will find the San Diego Zoo, art museums, natural history museums, gift shops, botanical gardens, theaters and restaurants.
The site was placed in reserve in 1835, which makes it one of the oldest areas in the United States dedicated to recreational use by the public. The park hosted the Panama-California Exposition in 1915-1916 and the California Pacific International Exposition in 1935-1936. Both events left spectacular architectural landmarks, and the park has subsequently been designated a National Historic Landmark and placed on the National Register of Historic Places.
The park is truly an idyllic destination, and to fully explore all the charming attractions, you should plan on two to three days, or spend one day visiting the sites most interesting to your family. Check out our post on Balboa Park attractions and things to do to learn more about Balboa Park tickets, museums, and more.
4. San Diego Zoo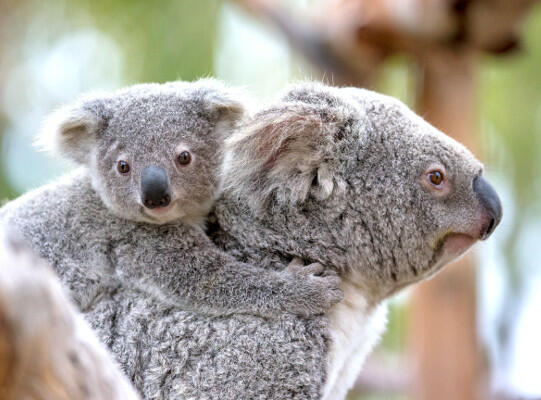 The world-famous San Diego Zoo is located right in Balboa Park. This zoo is home to over 3,700 animals from more than 650 species and subspecies, all of which are on display in very naturalistic enclosures. A perennial favorite of locals, the Zoological Society has over 500,000 members who support the conservation efforts of the Zoo.
The San Diego Zoo has several cultural zones with animals and vegetation from Africa, Australia, Asia, and other regions. You can see lions, tigers, elephants, rhinos, hippos, monkeys, bears, birds, reptiles and just about everything in between. Plan on spending an entire day at the zoo and check out our post for tips for visiting the San Diego Zoo.
5. SeaWorld San Diego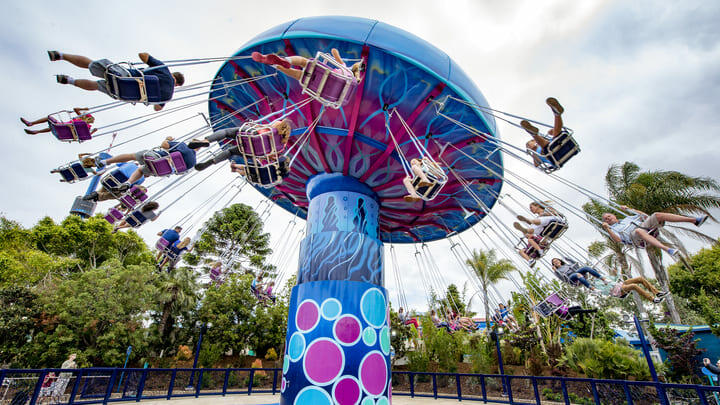 Located on Mission Bay, SeaWorld San Diego is host to the best in family fun. Visitors can explore natural sea life enclosures and aquariums that feature ocean fish, freshwater fish, otters, seals, dolphins, beluga whales, penguins, and more.
Their famous Electric Ocean show is a frequent hit with guests. You'll see the park illuminated as if though with bio-luminescence while it's transformed into an underwater wonderland of light and sound.
Then, of course, there are the signature rides. Top attractions include the Manta coaster, Submarine Quest, Journey to Atlantis, and the exhilarating Tidal Twist. The park also has a separate children's playground with a Sesame Street theme and plenty of activities for energetic kids.
Check out our post for tips for visiting SeaWorld San Diego.
6. San Diego Zoo Safari Park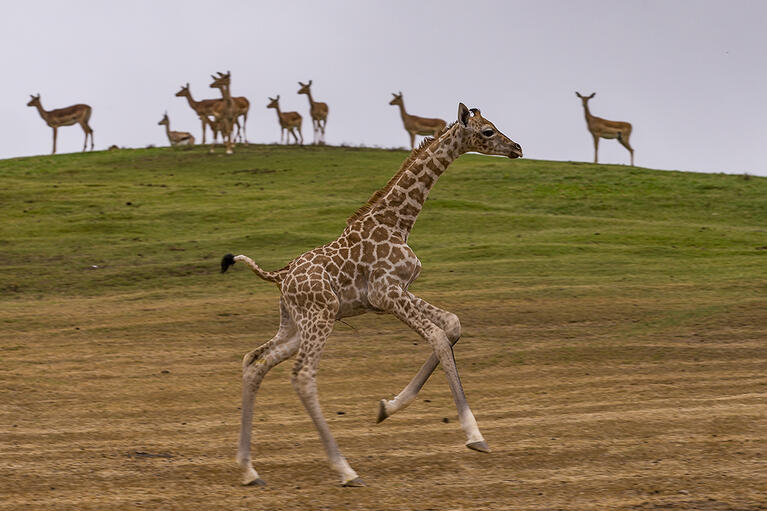 The San Diego Zoo Safari Park is associated with the San Diego Zoo, but it's actually located about a 30-to-40 minute drive north of downtown San Diego.
This 1,800-acre preserve features over 2,600 animals from 300 species, as well as over 3,500 plant species. Rather than small exhibits, animals run free in large enclosures, so you're really seeing them in an environment that is as close to their natural habitat as possible. The exhibits feature animals indigenous to arid environments, including areas of Africa, Europe, Asia, Australia, North America, and South America.
Your family can take the tram that encircles the free-range Africa enclosures to view animals such as rhinos, cranes, buffaloes, giraffes, and antelopes. The preserve is extensive, and there's more than you can do in one visit. Some of the top things to do in San Diego Safari Park include: walking through the lemur enclosures, checking out the gorilla family, watching Shiley the cheetah reach top speed daily on her run, visiting the petting zoo, hiking the botanical gardens, or visiting the tiger exhibit.
The Safari Park also has a selection of special tours that can take you out into the animal enclosures by jeep for up-close photos and campouts in tents called the "Roar and Snore."
Tips for Visiting: 
Arrive early in the day and enjoy the included safari tram ride first thing in the morning, as lines can get long.
Throughout the day, the park features keeper talks, educational demonstrations, and animal shows - check the schedule before your visit.
October is free for kids. Please confirm prior to visiting to ensure that it is still active.
Deciding between San Diego Zoo and Safari Park? Compare San Diego Zoo vs Safari Park information here.
7. San Diego Air and Space Museum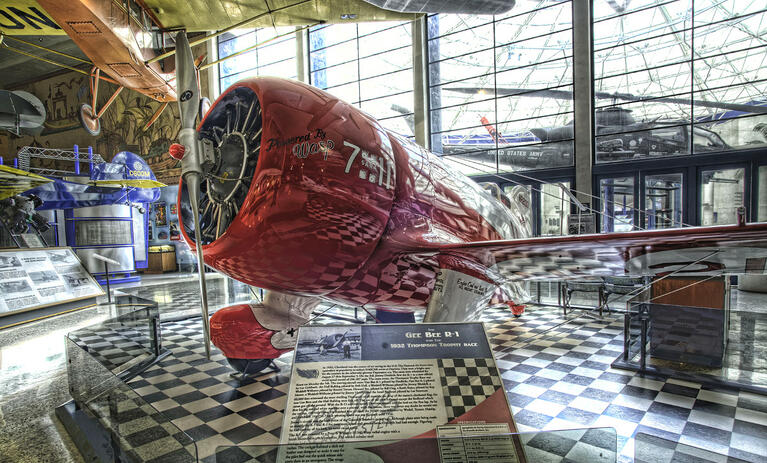 The San Diego Air and Space Museum (SDASM), located in Balboa Park, is dedicated to the history of aviation and space exploration. It's actually the third-largest such museum in the United States.
There are some very famous aircraft (and recreated models of famous aircraft) found here, including a model of the Montgolfier brothers' hot air balloon from 1783. Some genuine, restored aircraft are also on view, like the Spitfire Mk. XVI, the A-4 Skyhawk jet, and the Navy F6F Hellcat.
What's more, you'll see exhibits on World War I and II aircraft, modern jet and space-age aircraft, an accurate replica of Kitty Hawk (The Wright brothers' famous first powered airplane), and the authentic landing module from Apollo 9. There's also an excellent book store and gift shop. The museum even offers many interactive educational exhibits and videos as well as flight simulators. 
8. San Diego Natural History Museum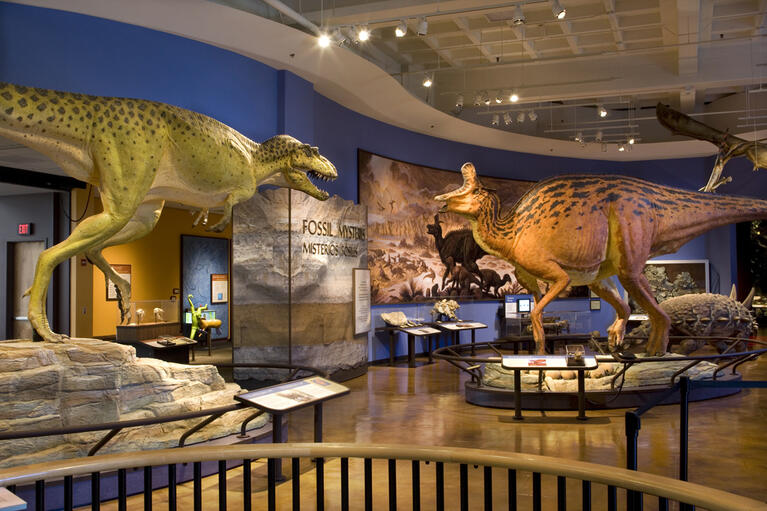 The San Diego Natural History Museum (aka, the NAT) is the third oldest scientific institution in the west and the oldest in Southern California. The NAT is dedicated to exploring and preserving the environment surrounding Southern California and Baja California. In keeping with this mission, the museum has interactive exhibits on ancient indigenous flora and fauna including dinosaurs, woolly mammoths, birds, fish, and botanicals.
In addition, the NAT is a working scientific laboratory with viewing areas for visitors to see the scientists working on fossils and other specimens. Before visiting, check the website for its exhibition calendar. You'll be able to see what kind of new and exciting artifacts, documents, photographs, or specimens are on display.
9. La Jolla Cove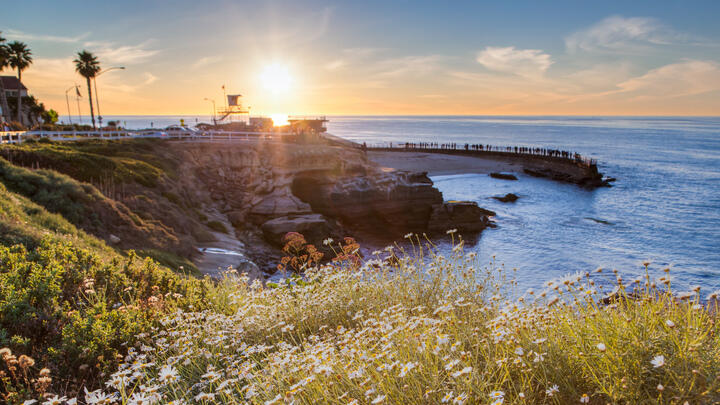 La Jolla is Spanish for "the jewel," which is no surprise to those who know that La Jolla Cove is the jewel of the San Diego coastline. La Jolla Shores Park overlooks the ocean, and the cove is a beloved site for locals who love all sorts of water sports and activities. The cove is a protected marine preserve, so snorkelers easily find stingrays, eels, and other fish within a few feet of the shoreline. 
You can scuba dive or kayak in the cove as well.  Another popular option is to walk along the trail that runs from the Children's Pool -- now home to many sea lions -- to the cove. There you'll find plenty of seals, too, so those with an interest in wildlife photography will definitely want to pay a visit to La Jolla Cove. When you're done with nature, the village of La Jolla has some of the nicest boutiques and restaurants in all of San Diego.
Try out Bike, Kayak, or Stand-Up Paddle Board rentals that are included with the Go San Diego pass.
10. Coronado Island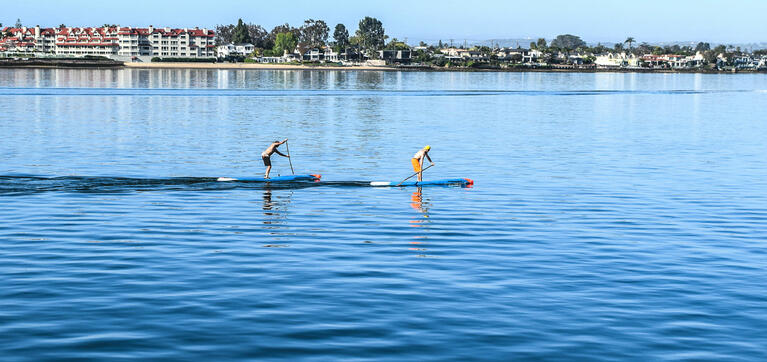 Year after year, Coronado is voted one of the best beaches in the United States.
The island just off the coast of San Diego offers gentle surf, pristine sand, and a delightful village. You can take the Coronado Bay Bridge or the Coronado Ferry to get there, and the island is home to the historic Hotel del Coronado, where Marilyn Monroe and entourage filmed Some Like it Hot.
The Hotel del Coronado is an architectural marvel, and the quaint community offers visitors a sparkling coastline with gentle surf and soft sand. You will most likely see a variety of beach weddings taking place, as locals love to tie the knot on Coronado. The village has old-world mansions, elegant gardens, unique shopping, and top-notch dining options. You can spend the day relaxing on the sand, or you and your family can rent bikes to tour the island's beachfront boardwalk.
Finally, definitely spend time at the iconic Hotel del Coronado. It was built in 1888 and is a designated National Historic Landmark with plenty of legends about royalty, politicians, ghosts, celebrities, and scandals. Some people even believe it provided the inspiration for the Emerald City in the Wizard of Oz.
While you're on the island, try out Coronado Bike, Kayak, or Stand Up Paddle Board rentals that are included with the Go San Diego pass.
Save on Admission to Top Things to Do in San Diego
Many of these must-see attractions are available on the Go San Diego pass. Choose as you go from dozens of popular San Diego attractions and save on combined admission vs. paying at the gate. See all available San Diego passes, attractions & prices – Learn more. Please keep in mind that some of the attractions listed in this post are separately ticketed and may not be currently included with the Go San Diego pass.