The USS Midway Museum includes more than 60 exhibits and 29 beautifully restored jets, helicopters, and other aircrafts. Ranked #1 among all San Diego attractions on TripAdvisor, the USS Midway Museum offers you and the family a chance to thoroughly explore the retired aircraft carrier that served 47 years for the U.S. Navy. This retired aircraft carrier has been converted into a historic museum that gives visitors the opportunity to explore the entire ship that exists today as it did for Check out our helpful guide for visiting San Diego's USS Midway Museum, packed full of ways to save on admission, tips for visiting, places to eat nearby, and much more.
How to get USS Midway Museum discount tickets?
We've got you covered – USS Midway Museum admission is available with the below money saving options, so you can choose the attraction pass that's right for you. 1. All-Inclusive Pass – All you can do. Includes admission to dozens of attractions. 2. Build Your Own Pass – Select the attractions you want to visit prior to visiting. See all available passes, attractions & prices – Learn more.
Tips for Visiting the USS Midway
Arrive early and head directly to the tour of the bridge and flight control. The lines can form quickly and the wait can get somewhat lengthy.
Talk to the docents! They are well educated and experienced about life in the military, especially aboard a naval ship. The volunteers include veterans of World War II who want to share their first-hand knowledge of many critical events in history.
Be prepared to do some walking and stair climbing. The ship is over 1,000 feet long and 258 feet in width. To reach the bridge, you must climb up at least four steep staircases. That means wear comfortable athletic shoes and avoid clothing that's too loose.
Paid parking is available at the museum and nearby. To save money on parking, you can park outside of downtown and take the trolley to the harbor.
Have your camera or phone fully charged. The museum has many stunning and fun photo opportunities as well as exquisite views of downtown, the San Diego bay and Coronado Island.
Pack some snacks and enjoy the seating on the flight deck while watching the sailboats on the bay. Many times visitors can see dolphins and seals in the bay as they relax to take in the view.
Certain activities have a separate fee, so bring some additional money if you wish to try such activities as a flight simulator.
When is the best time to visit USS Midway Museum?
The busiest months for the Midway Museum are July and August. This coincides with the busiest tourist season for San Diego in general. The museum can have up to 5,000 to 6,000 visitors on weekends during the summer, with Fridays being just slightly less busy. Spring and autumn have excellent weather and fewer crowds. The museum opens at 10:00 a.m. and it's best to arrive just before opening to beat the lines and have time to fully explore the ship.
What should I bring to USS Midway Museum?
Sunscreen. Many areas of the ship are outside and in the sun. With the sun reflecting off the bay, a sunburn is a distinct possibility without protection -- even on cloudy days.
Water. You will be doing a lot of walking and working up a thirst.
Comfortable shoes. The exhibits are on many different levels and accessible by steep, narrow staircases.
Extra money for activities and souvenirs.
A camera or phone to take photographs.
What to do at USS Midway Museum?
You can see literally everything here, like the engine room, the brig, enlisted sleeping berths, officer quarters, the flight deck, flight control, the bridge, pilot ready rooms, galleys, navigation, and machine shops. Docents hand out complimentary headsets with recordings that take you through the exhibits on a self-guided audio tour, which encompass historical events as well as real accounts of what life was like on board. In addition to the exhibits, the museum has fun activities such as short films, flight simulators, music videos, climb-aboard cockpits and aircraft, interactive exhibits, and much more. Here are a few of our favorite highlights...
The Hangar Deck & Aircraft Gallery
The Hangar Deck is the first area visitors encounter, and the enormous deck has flight simulators, an ejection seat theater, gift shop, café, and a collection of 29 meticulously-kept aircrafts on display. Explore machines that were integral parts of World War II and Desert Storm. Many of the docents who volunteer on the Midway Museum are retired military members, and they are especially eager to share personal stories, astonishing statistics and fascinating anecdotes about life aboard an aircraft carrier. If you're looking forward to seeing the aircraft, keep an eye out for these highlights:
World War II aircraft like the SDB Dauntless dive bomber and the TBM Avenger.
Aircraft that served in the Korean War including the F9F-P Cougar.
Vietnam-era aircraft like a Huey gunship and a F-4 Phantom.
Aircraft from modern conflicts like Desert Storm, which include an F/A-18 Hornet.
Flight Simulators
Visitors have two different flight simulators to choose from, each of which offers amazing and unique experiences. These simulators are separately ticketed, but only cost a small fee per person. The first is Air Combat 360, where two guests get to pilot this state-of-the-art simulator in an imaginary combat situation. Perform all kinds of aerial acrobatics with your aircraft, and have a blast. The second is Flight Avionics, a 12-seat simulator that thrusts you into the "Screaming Eagle" training exercise. Learn to be the next great F/18 pilot!
The Flight Deck
This open-air level allows for an extremely hands-on experience. Explore the runway where the aircrafts take off from, enjoy beautiful views of San Diego, and even hop in the cockpit for yourself. The docents will be around to give an informational background on all the machinery and even help kids get up close and personal with the equipment.
The Captain's Bridge & Flight Control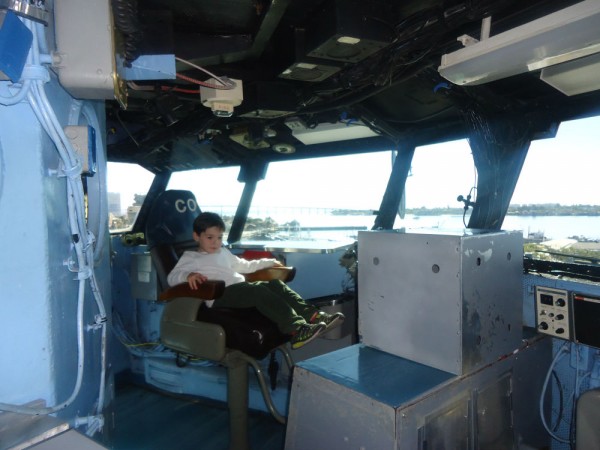 Only 1,600 people a day are admitted to tour the ship's main control center called the Captain's Bridge. Tickets are given out on a first-come, first-serve basis, so if this is something you're interested, definitely get to the museum as early as possible.
The Lower Decks
The lower decks give visitors a close-up glimpse into the daily life of enlisted sailors and officers. You can tour the brig, kitchen, laundry rooms, engine rooms, chapel, ship's store, officer quarters, enlisted bunks, the anchor room, a movie theater, and the post office.
The Battle of Midway Theater
this 90-seat theater aboard the Midway features an inspirational 15-minute multimedia movie, Voices of the Midway, about the Battle of Midway featuring former members of the military who survived the Battle of the Midway. The movie is narrated by a hologram figure of a young sailor telling the story of his experience about the historic battle.
What attractions are near the USS Midway Museum?
The USS Midway Museum stands docked in the San Diego Bay near downtown and is centrally located with respect many other attractions. You can walk to many of them and enjoy a day at the harbor. Here are a few we suggest adding to your itinerary.
Museum of Contemporary Art
The Museum of Contemporary Art is the area's best exploration of the art and expression of our time. The museum houses over 4,000 works from 1950 to present. The MoCA is best-known for shining a light on lesser-known artists that are new to the art scene, emerging, or mid-career artists. Check out collections that study the art of minimalism, pop art, and conceptual art. Getting in: Museum of Contemporary Art tickets are included with Go San Diego Card.
San Diego Harbor Cruises & Whale Watches
Right from the same pier you can take a cruise or Whale Watch and explore San Diego from the bay. Take a one-hour narrated Harbor Cruise that covers 13 different sights and landmarks. Pass the Maritime Museum, Harbor Island, Shelter Islands, droves of sea lions, the North Island Naval Air Station, and more. You can also opt for a Harbor Whale Watch Cruise, which, as the title suggests, promises whale sightings galore. Speed out to sea on the a giant cruise ship and keep your eyes peeled for breaching whales, seals, dolphins and more. Getting in: San Diego Whale Watch tickets and San Diego Harbor Cruise tickets are included with Go San Diego Card.
New Children's Museum
Not too far away you'll find the perfect place to take your adventurous kids. The mission of the New Children's Museum is to stimulate imagination, creativity, and critical thinking in children and families through interactive and hands-on activities and exhibits. They can play around on climbing structures, create their own art, or be captivated by daily performances. Getting in: New Children's Museum tickets are included on Go San Diego Card.
Seaport Village
This village is a collection of boutiques and eateries located just south of the Midway and easily accessible by foot. After a museum visit, it's perfect for a bit of shopping or a quick bite to eat.
Where to eat near the USS Midway Museum? What restaurants are near the USS Midway Museum?
The Fantail Café is located at the USS Midway, offers patio dining with a casual and friendly atmosphere.
The museum has a food court, vending machines and a small refreshment stand. The refreshment stand accepts only cash and offers churros, pretzels, drinks, granola bars and other snacks.
Anthony's Fish Grotto has been serving delicious seafood for over 60 years. The restaurant is located on the harbor and offers diners stunning views of the bay.
The Fish Market is a quick stroll to the south of the Midway Museum and serves seafood and sushi in its two story location on the bay.
Ruth's Chris Steakhouse is across Harbor Drive from the museum, and it serves prime quality steaks and other specialty entrees such as shrimp and lobster.
Save on Tickets with a Go San Diego Card
Remember, the Go San Diego® Card is the best choice for maximum savings and flexibility, which includes USS Midway Museum tickets, plus admission to your choice of other top attractions. Save up to 55% on top museums, tours, and activities vs. paying at the gate. Visit multiple San Diego area attractions for one low price.