Planning your San Francisco vacation? Looking for something different to satisfy your quirky or eccentric side? Look no further than Ripley's Believe it or Not! Odditorium, located in the Marina District, just steps away from Pier 39, Fisherman's Wharf and the Embarcadero. There are many museums in San Francisco, filled with beautiful art and sculpture. But only at Ripley's Believe it or Not! will you see displays of shrunken heads, elaborate carvings made of camel bones, and a wax statue of the man who had a real horn growing out of the back of his head. Yes, Ripley's Believe it or Not! "Odditorium" isn't for those looking for the mundane or the expected. Check out our helpful guide for visiting Ripley's Believe It or Not! San Francisco, packed full of ways to save on admission, tips for visiting, other nearby attractions, and much more.
Looking for Ripley's Believe It or Not! Discount Tickets?
We've got you covered – 
Ripley's Believe it or Not! admission
 is available with the below money saving options, so you can choose the attraction pass that's right for you: 1. 
All-Inclusive Pass
 – All you can do. Includes admission to dozens of attractions. 2. 
Explorer Pass
 – Choose as you go. Includes admission of up to 5 attractions. 3. 
Build Your Own Pass
 – Select the attractions you want to visit prior to visiting. See all available passes, attractions & prices – 
Learn more
.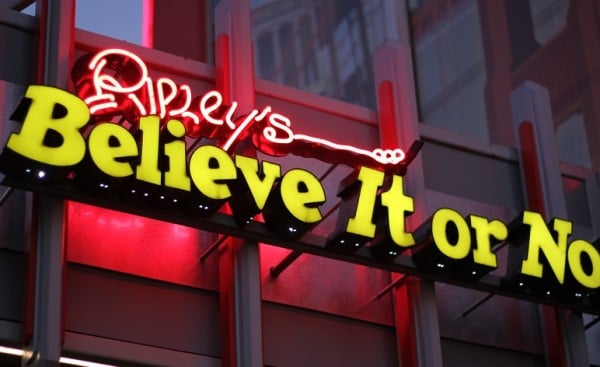 Tips for Visiting Ripley's San Francisco
The museum is safe and appropriate for all ages. With that said, smaller children may find some of the displays and interactive features overwhelming. If your child is particularly sensitive or easily frightened, they may want to sit this one out.
Allow enough time to visit the attraction. While not large, the museum has a lot packed into the space. Take your time, there is so much to see that if you rush through you will miss things!
The museum is open later than some of the other nearby attractions. It's a fun after-dinner activity to wrap up your evening.
Bring your sense of humor and fun! Ripley's Believe it or Not! is the ideal environment to ignite your sense of wonder, curiosity, mischief and silliness.
Maximize your trip by planning activities near Ripley's. There are a multitude of attractions packed into a relatively small, walkable area. One day isn't really enough!
Ripley's is an indoor attraction, making it an ideal activity for rainy, windy or cold days. San Francisco weather is unpredictable year-round. This means that at any time of year it can be sunny, warm and clear, or foggy, rainy and cold. Dressing in layers and bringing a hat and umbrella are always a good idea when visiting San Francisco.
What to Do There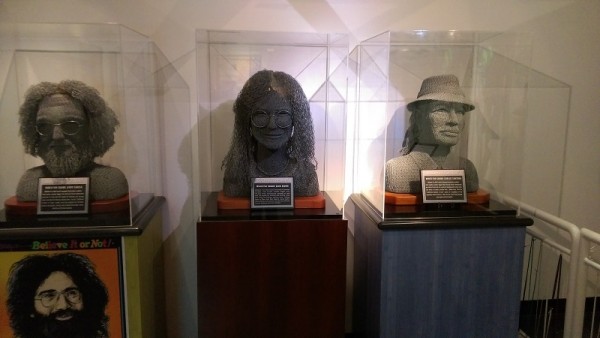 The San Francisco Ripley's Believe it or Not! Odditorium houses a unique collection of the weird and wonderful. As you make your way through the museum, you will discover that it is quite interactive, inviting you to express your own odd side. Although many of the displays have a distinct sideshow flavor, there are many that are more serious, informative and impressive. Ripley's Odditorium in San Francisco houses many unique works of art with a pop-culture edge and a local feel. For example, busts of famous musicians Jerry Garcia (a San Francisco Native), Janis Joplin and Carlos Santana harken back to the San Franciso of the 1960's Summer of Love era, and are made entirely of wire. There are many other sculptures made of found materials, trash, match sticks and other curious finds. If you have a love for art created from recycled or found items, you will enjoy these exhibits. But it's the stories that really make this place special. Robert L. Ripley had a love for people and what made them unique. He scoured the world for artifacts, yes, but he mostly sought out people who had stories to tell. Some of these were stories of outcasts or those who might have been otherwise shunned, but found a home with Ripley. At the San Francisco location, you'll learn about some of these characters and what made them special. You'll learn how a shrunken head was made -- and why. You'll see a mummified foot and learn about the elephant with two trunks.
Nearby Attractions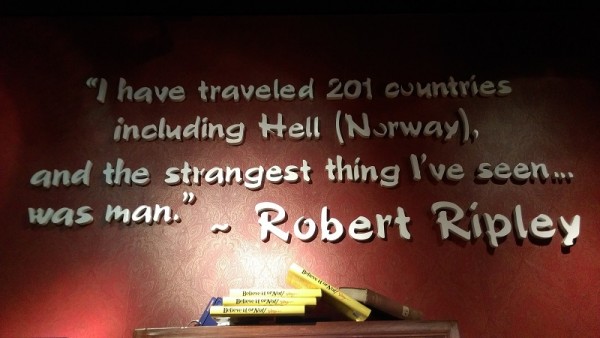 Situated along Jefferson Street, you will find a variety of other fun and funky attractions to easily fill up a day or more of your visit. Here are a few we suggest adding to your itinerary... Right next door is
Madame Toussad's wax museum
, the
San Francisco Dungeon
and is a very short walk from Pier 39. If you are interested in further exploration, across the street you will have the opportunity to board for boat and ferry rides that will take you through the San Francisco Bay. Travel
around Alcatraz Island
, take the Rocket Boat on a high-speed adventure or get an incredible perspective of both the iconic Golden Gate Bridge and the Bay Bridge, as well as a breathtaking view of San Francisco's beautiful skyline.
Places to Eat Nearby
There are a number of dining options for breakfast, lunch and dinner, ranging from casual to formal. A few doors from the museum is the Rainforest Cafe, always a hit with the kids. On the wharf, you will find Alioto's, a classic, family-run seafood restaurant that is a Wharf favorite. Or, dine with a gorgeous bay view at Castagnola's, one of the neighborhood's oldest and most loved restaurants. Here are more of the many cafe's and restaurants near Ripley's Believe it or Not! Odditorium:
Bistro Boudin is a popular restaurant serving tasty dishes, but the Boudin building also houses a cafe, bakery and gift shop. If you are walking around on a chilly, damp San Francisco afternoon, come on in, get warm and order a Peet's coffee. Marvel at the rows of bakery-fresh sourdough bread and breath in the delicious aromas. It's a real treat!
Fisherman's Grotto #9 opened in 1935 and was Fisherman's Wharf's first sit-down restaurant. No trip to San Francisco and the wharf is complete without a visit to the Grotto!
Over at Pier 39, you'll find Bubba Gump & Co., The Hard Rock Cafe, numerous seafood eateries, burger and pizza joints, coffee shops and snack spots. When it comes to dining, you might want to extend your stay a couple more days just so you can enjoy more of San Francisco's delicious, fresh seafood and sourdough bread.
Need to Know
Hours
Sunday–Thurday, 10:00 am–10:00 pm
Friday and Saturday, 10:00 am–11:00 pm
*Hours are subject to change
Directions & Address
175 Jefferson Street San Francisco, CA 94133
Public Transportation:
F-Line to Jefferson and Taylor in Fisherman's Wharf. Or cable car to the Bay & Taylor Street terminus.
Save on Tickets with a Go San Francisco Card
Remember, the 
Go San Francisco® Card
 is the best choice for maximum savings and flexibility, which includes 
Ripley's Believe it or Not San Francisco tickets
, plus admission to your choice of other top attractions. Save up to 55% on top museums, tours, and activities vs. paying at the gate. Visit multiple attractions for one low price.