One of the best ways to share our memories and experiences with friends and loved ones is through the magic of photography. To help you avoid the embarrassment and the sadness of having taken all the wrong shots on your vacation, we've curated a list of the top places to take pictures in San Francisco. As you go along taking these fantastic photographs, don't forget about exploring this beautiful city!
Best Ways to See Famous San Francisco Landmarks
There's plenty of great places to snap the perfect instagram photo of famous San Francisco landmarks during your trip. Here are a few fun ways to help you get around while sightseeing…
Hop On Hop Off San Francisco Tour
Bridge 2 Bridge Cruise
All-Day Bike Rental by Blazing Saddles
Many of the photo opps we listed below are located near some of the top attractions in the San Francisco – so you can combine the best sights with the best things to do. See all available passes, attractions & prices – Learn more.
Best Places to Take Pictures in San Francisco
1. The Golden Gate Bridge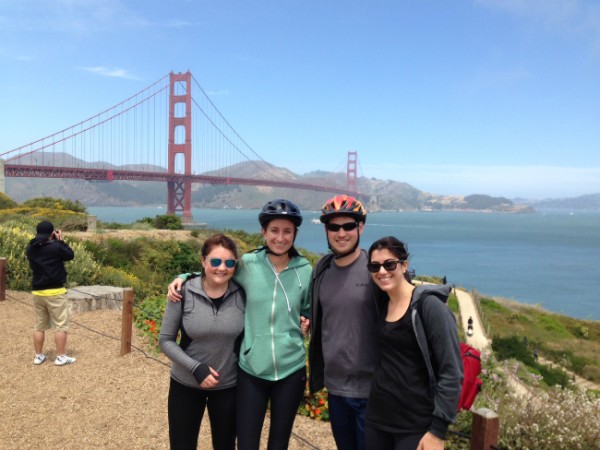 From postcards to the iconic opening credits of "Full House," the Golden Gate Bridge holds a special place in America's conception of San Francisco. Hailed as one of the Wonders of the Modern World, it's truly a spectacular sight and must see San Francisco landmark. Not only one of the most impressive suspension bridges in the world, but it is also unique for the art deco influence and the striking orange hue of its metal. It's probably the one photo you could take that anyone would immediately recognize as San Francisco. The best way to get a shot of the bridge is probably from the vantage of a Golden Gate Bay cruise ship, as it will allow you to get sufficient distance from the bridge to capture its full expanse.
2. Buildings in the Mission District
The Mission District draws its name from its past association with the Alta California religious mission. The neighborhood immediately around the Mission Dolores (still an operating church) is particularly striking from an architectural and cultural standpoint, so that's probably a good place to start. It's also home to the trendy Valencia Street, which used to be known for its punk affiliations in the 70s and is today considered a very artsy neighborhood. The area is incredibly diverse in many ways, so it's ideal for "free-style" photography exploration.
3. Vineyards in Napa Valley
You can't go to Northern California without visiting Napa Valley wine country, even if you have little personal interest in the beverage. As a photographer, amateur or professional, you'll get some of the most stunning shots of your trip among the lush grape vines and gently rolling grounds of these famous vineyards. With an almost Mediterranean climate, this region also boasts plant life that doesn't thrive elsewhere in the Bay Area, giving you an additional opportunity to add to your growing collection of botanical photographs. Plus, a photo of you at a vineyard always makes it seem like you're on a really classy vacation. Take a
Wine Country tour
to get yourself out there without renting a car.
4. Alcatraz Island
Another legendary San Francisco landmark, Alcatraz Island and its eponymous prison are renowned for very… let's say interesting reasons. The site of many thrillers, both fictional and historical, Alcatraz is disarmingly beautiful, a rocky island in the San Francisco Bay with scattered greenery surrounding the aging prison. While you can take ferries directly to the island itself and take snapshots of the spooky interior on a tour, you'll get better overall shots of the island from one of the
Alcatraz cruises
that circles the island but doesn't land. Personally, I don't need to go anywhere near that haunted prison, but have no problem looking at its architecture from afar!
5. The San Francisco Bay
This beautiful shallow body of water defines a great deal of San Francisco culture:  its changing tides and colors reflect the chimerical weather, just as the docks and marinas evolve along with the people of San Fran. While you can take pictures of the Bay from practically anywhere in this famously hilly city, one of the best views – believe it or not – comes from the upper decks of AT&T Park, home of the San Francisco Giants. This newer ballpark was built right on the bluff, designed to showcase the Bay and the setting sun in all of its natural glory. Pick up tickets to a game for the best line of sight to the Bay, or
take a tour
of AT&T Park to grab some photos of the stadium itself.
6. Golden Gate Park
With its rectangular shape and high concentration of plant and wildlife, Golden Gate Park is similar to, although actually larger than, New York's Central Park. It's a beautiful urban oasis year-round, filled with small wonders like windmills, several man-made lakes, a tulip garden, and the Japanese Tea Garden. While there are a number of special sections of the Park, the Conservatory of Flowers – the oldest conservatory in North America – or the San Francisco Botanical Gardens are probably the best photo opportunities for nature-lovers. It's all beautiful, though, and very walkable despite its large size.
7. Haas-Lilienthal House
Built in 1886, the Haas Lilienthal House is one of the most historic buildings in a city famous for Victorian architecture as the only private home to survive the city's modernization virtually unchanged. It's located roughly in the Pacific Heights neighborhood, making it easily accessible from a number of other commonly visited areas. Both the interior and exterior of the building are lovingly preserved examples of upper class life in late nineteenth century San Francisco, so be sure to take a tour if you want to get shots of the lavish rooms inside. If you enjoy your look at
famous historical architecture
, you'll also enjoy a chance to explore the Legion of Honor in Golden Gate Park.
8. San Francisco Opera House
Officially known as the War Memorial Opera House, this stunning structure is an international landmark. Considered technologically ahead of its time after construction in the 1930s, it continues to be a sophisticated and state-of-the-art theatre. With its impressive Doric columns and grand entranceway, it was designed to commemorate those who served in WWI. If you have an interest in the performing arts, you should also pick up some tickets to the ballet while you're in the area – especially since the interior is even more beautiful than the exterior.
9. Lotta's Fountain
Named after local singer Lotta Crabtree and constructed in 1875, this sculptural fountain is dedicated to multiple cultural and historical moments in late 19
th
and early 20
th
century San Francisco. This Market Street icon actually served as a place where people could meet up in the aftermath of the devastating 1906 earthquake to look for loved ones and shelter. It's the oldest surviving monument in the city and has been recently restored to its original condition. It's located just East of Union Square Park, near the YCBA, so it's nestled among a lot of other cute photographic areas.
10. Pier 39
Park working dock, part visitor-friendly area full of San Francisco attractions, Pier 39 is a great one-stop-shop for both activities and photographic subjects. Somewhat like Chicago's Navy Pier, there are plenty of shops, games, and even a famous two-story carousel for families to check out. Your best photographic opportunities will come with the spontaneous street performances scattered across the Pier or the varied ships docked all around the marina. Many cruises depart from Pier 39, too, so it's a good area to be familiar with.
Let's Recap
While this list is by no means exhaustive, it does contain a bunch of our favorite places to take pictures in San Francisco. From the most popular attractions to skyline views and scenic parks, there's something to suit every taste when it comes to San Francisco photo opportunities. Remember, a number of these famous San Francisco landmarks and attractions are available with the Go San Francisco Card, where you can save on combined admission prices vs. paying at the gate.