San Francisco is one of those places that really lends itself to longer stays. You'll never find yourself short of things to do here: the Golden City is packed to the rafters with world-class museums, sprawling parks, top-flight shopping and nightlife and, of course, iconic attractions like Alcatraz and the Golden Gate Bridge. A week in San Francisco really lets you get under the skin of the city and immerse yourself in its intoxicating vibe. Check out our suggested 7-day itinerary below.
Day 1: Downtown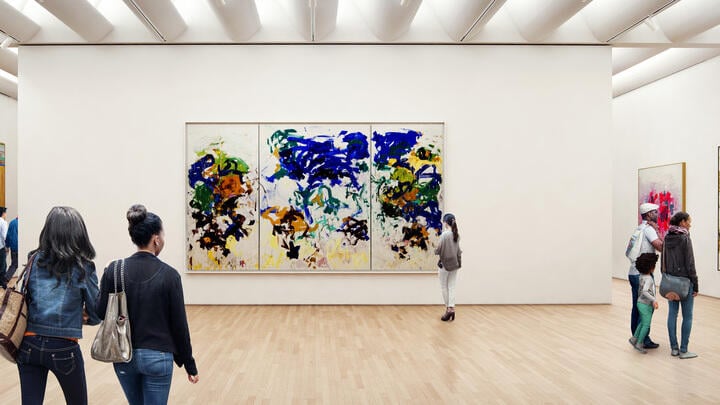 Strolling around San Francisco's financial district is a great way to get your bearings on arrival. It's here that you'll find the San Francisco Museum of Modern Art (SFMOMA), where the 30,000-strong collection of modern and contemporary art, including masterpieces by Warhol, O'Keeffe, Hopper, Richter, Kahlo (and countless others) is one of the world's largest. 
Lunch options abound downtown. Head to the Ferry Building on the Embarcadero with its soaring clock tower and bustling marketplace, where artisan foodie stores hawk delicious freshly baked San Francisco sourdough, aromatic local cheeses and much more. Or try an authentic Chinatown takeaway joint for life-changing shrimp gyoza, crispy sesame balls and fluffy BBQ pork dumplings. The tiny Golden Gate Fortune Cookie Factory on Ross Alley is another essential component of any foray into Chinatown: watch the cookie assembly line team in action before picking up a bag of green-tea-flavored treats to go.
The streets that radiate out from Union Square are a shoppers' paradise. Saks, Macy's, Apple, Louis Vuitton: all the big-hitters are here. Spend the afternoon giving your credit card a workout, then glam up for an evening at the stately War Memorial Opera House for world-class ballet, opera and symphonic performances.
 
Day 2: Golden Gate Park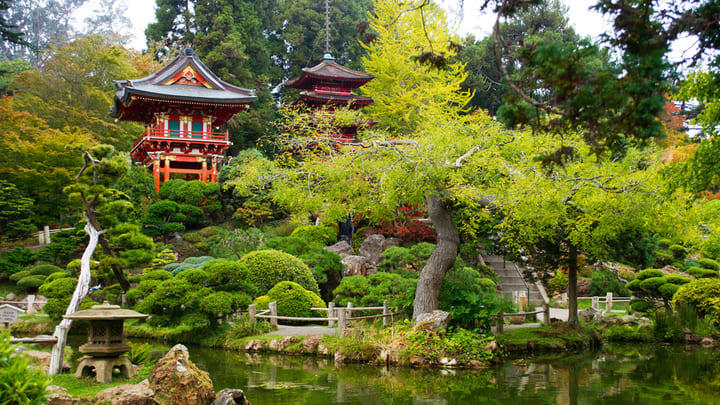 You can easily spend a whole day (and probably more) exploring the many gardens, museums and trails in sprawling Golden Gate Park – there's even an old-fashioned carousel with painted wooden beasts that include an ostrich, a tiger and… a dragon. Find your inner zen among the Japanese Tea Garden's meandering paths, bonsai trees and tranquil koi ponds, get your selfie fix at the picture-perfect Dutch Windmill (particularly photogenic in spring when the tulip garden is in bloom) and snap the bison in their paddock near Hippie Hill.
Golden Gate Park is also home to not one but two of San Francisco's most impressive museums. Visit the de Young, with its burnished copper facade and striking observation tower, to admire fine art from the Americas and beyond. The California Academy of the Sciences is your place for all things living (and dead), boasting a staggering 46 million specimens across its aquarium, rainforest dome and natural history museum. And that's not all: there's a huge planetarium here, too! Look out for the museum's unique roof, topped with seven rolling green hills and over two million plants.
Day 3: Ride the Cable Cars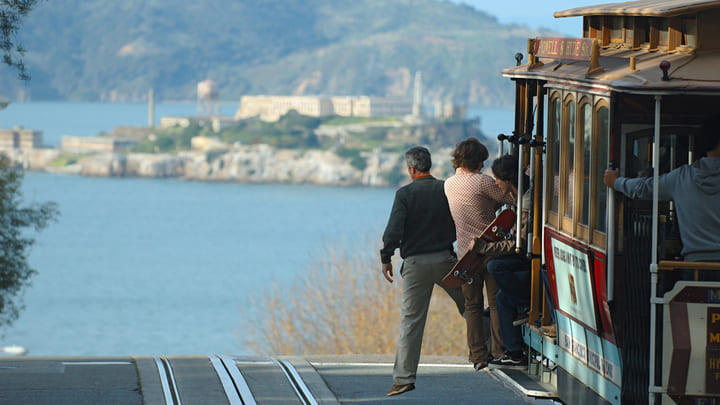 No visit to San Francisco would be complete without a ride on the iconic rolling landmarks that are the MUNI cable cars. Feel the wind in your hair as your painted wooden carriage rollercoasters its way through the city's famously hilly streets. Take the California Street line west from the Embarcadero to ogle luxury hotels and homes of the rich and famous in wealthy Nob Hill, where the Gothic confection that is Grace Cathedral also merits a visit.
Or hop aboard the downtown lines for a ride up to Fisherman's Wharf – we recommend the Powell-Hyde line for the best views of Alcatraz as your carriage crests the hills, plus you'll also get a peek at the hairpin bends of Lombard Street as you wobble past. In the evening, trade the clanging bells and rattling wheels of the cable cars for a sunset cruise out to Alcatraz Island where an atmospheric tour of America's most notorious former prison awaits.
Day 4: Chill in The Mission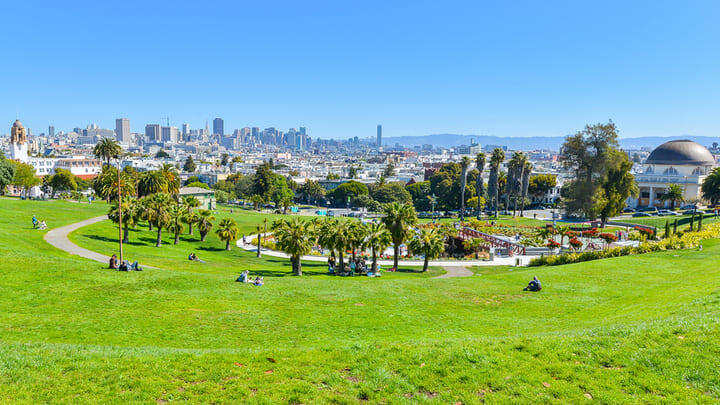 Soak up the hipster vibe of The Mission on a stroll round its buzzy streets. This virtual art gallery of a neighborhood has colorful murals adorning almost every available surface, particularly in and around Clarion and Balmy Alleys. Follow the rich aroma of freshly ground coffee to the roasteries on Valencia Street and grab a cup to go, then browse the wild variety of independent stores along this eclectic strip. Expect vintage thriftstore fashions, pre-loved vinyl records, second-hand books, trendy tattoo parlors and – genuinely – a supply store for wannabe pirates.
Eyepatch and stuffed parrot duly secured, make for the local taquerias. Both Taqueria La Cumbre and Taqueria El Faro claim to have invented the legendary Mission Burrito – an obscenely large steamed flour tortilla that's absolutely crammed with farm-fresh meat, salsa, rice, beans, cheese, sour cream, guacamole and shredded lettuce. We're talking around 2lbs of Mexican goodness here. Take yours up to Dolores Park and eat slowly while enjoying superb views of Downtown and the Bay.
Day 5: North Beach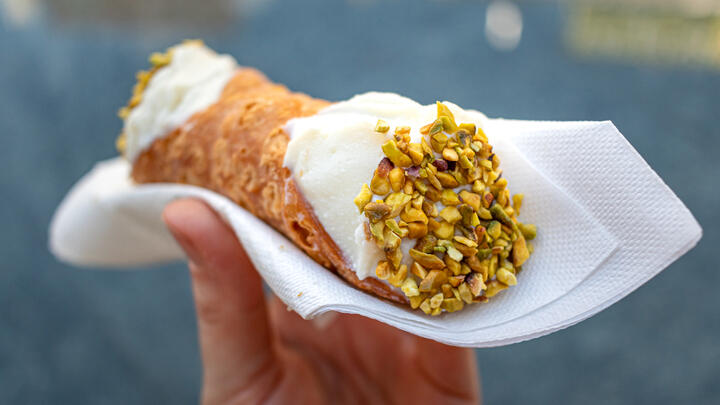 Confusingly, there's no beach in buzzy North Beach. But don't let that put you off: the heady mix of Italian flavors, literary counterculture and scenic strolls more than makes up for it! Grab a drink in the Vesuvio, the retro-tastic bar close to Jack Kerouac Alley, where the author used to hang out with beatnik pals Ginsberg and Cassady in the 1950s. Pick up a copy of On The Road from the legendary City Lights bookstore then its straight to the Italian bakeries by leafy Washington Square for some of the best cannoli in town. Actually, best get a bagful – you're going to need the energy for what's coming next.
Suitably fortified, you're now ready to take up the challenge of the Filbert Street Steps. There are around 500 (mostly wooden) steps from the bottom to the landmark Coit Tower up top. Dedicated climbers reap rich rewards, taking in widescreen Bay views and meeting raucous red-and-green Telegraph Hill parrots along the way. Footsore pilgrims will be pleased to learn that, once inside the 210-feet-high Coit Tower, there's an elevator to take you to the top. Phew.
Day 6: Fisherman's Wharf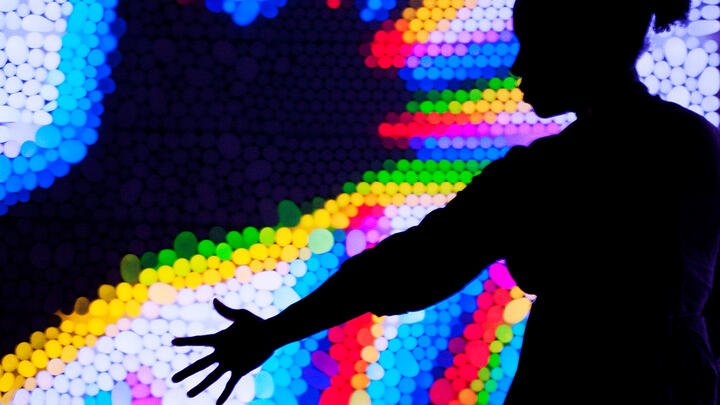 Taking in the whole of San Francisco's northern waterfront, Fisherman's Wharf is the traditional seaside day out writ large, and so much more besides. Here's where you can say hello to sea lions basking in the sun on Pier 39, meet celebs and former presidents (in wax form) at Madame Tussauds, board a WWII submarine and savor zingy fish tacos as you watch the boats shuttle passengers to and from Alcatraz. 
There are arcade games, thrill rides and street performers too, as well as one of San Francisco's very best museums. The Exploratorium on Pier 15 is an art and science extravaganza, with dozens of interactive exhibits designed to educate and entertain. If you've ever wanted to step into a tornado, dance with your own shadow or see San Francisco's skyline modeled from a staggering number of toothpicks, this is the one for you.
Day 7: Golden Gate Bridge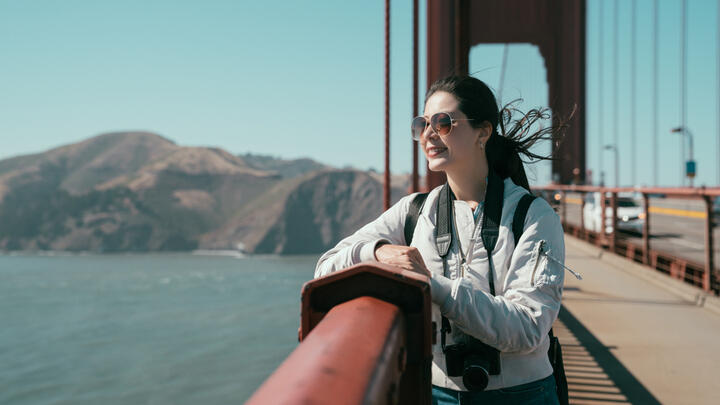 You can't spend a week in San Francisco and not set foot on the Golden Gate Bridge at least once. Sure you've seen those iconic rust-red towers from a thousand different angles over the last seven days. But can you truly say you've been to San Francisco until you've experienced the (often fearsome) Bay winds and taken in the sweeping views from bang in the center of the bridge? No, we say, you cannot. Spend a leisurely day exploring the Presidio – home of the Walt Disney Family Museum, Palace of Fine Arts and more – before walking the entire length of the Golden Gate and rewarding yourself with dinner in downtown Sausalito.
Save on attractions

in San Francisco

 
Save on admission to San Francisco attractions with Go City. Check out @GoCity on Instagram and Facebook for the latest top tips and attraction info.