Shopping - one of the greatest joys in modern civilization. As the glorious age of capitalism crawls to its inevitable end, the only thing left to do is frivolously spend until you own everything. Every single thing. And where better to start than Seoul? This modern metropolis has come a long way in the past century, with towering behemoths of fashion and fun now looming over the streets like players over a Monopoly board. But where is Seoul's best shopping district? And what will you do when you step on its gilt-edged sidewalk? 
Here, we'll give you the low down on not one, not two, but three of Seoul's best shopping neighborhoods. That way, you can decide which is the best district for yourself. On top of that, we won't just talk about shopping; we'll discuss other things to do too. That way, when the trance of cash registers falls away, you'll know exactly where to go to cleanse your body and soul. Prepare to fill your mind with knowledge!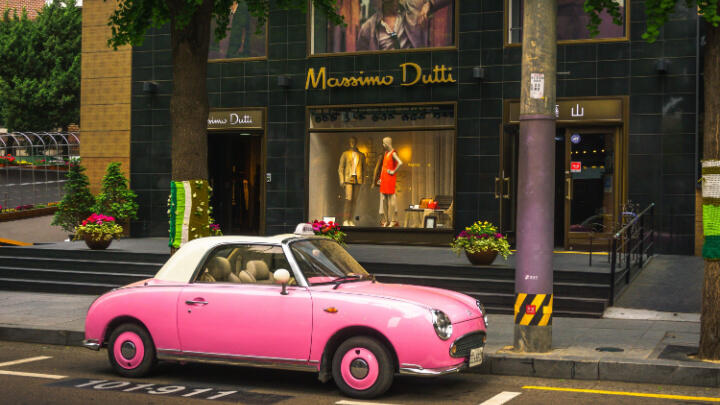 Image courtesy of DerekTeo/Shutterstock
Garosugil
First up, we have Garosugil. Found in the heart of Gangam's Sinsa-dong neighborhood, you'll discover one of the best shopping districts in Seoul. The name Garosugil translates to 'tree-lined street' in English, which will become evident as soon as you arrive.
The area is lined with ginko trees, giving the entire neighborhood a 'Christmas time all-year-round' vibe. And really, what's better than Christmas? The area itself is a delightful mix of traditional hanok-style buildings juxtaposed with modern architecture, which makes it the perfect place to grab some vacation snaps.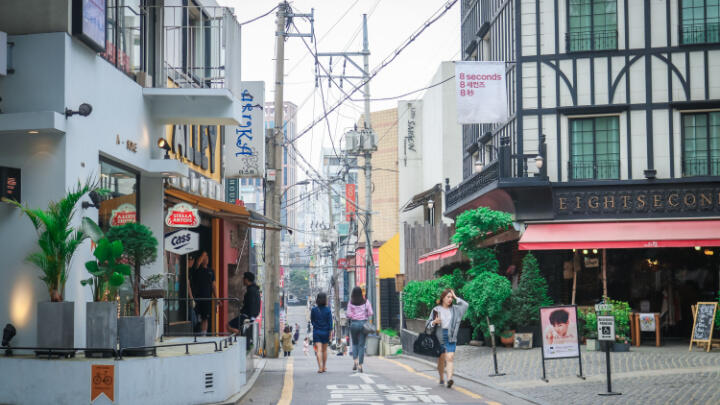 Image courtesy of PangJee_S/Shutterstock
But enough about the aesthetic; what about the shopping? Well, it's a pretty wonderful variety of high-street brands, unique boutiques, and other things. Korean and internationally-recognized brands are represented here, so you'll have plenty of enticing labels on offer. Alongside primo shopping that will drain your bank account quicker than you can say 'sale', you'll also find several shops that specialize in Korean handicrafts and souvenirs, making it the ideal place to pick up some gifts for friends and family back home. 
And once you're all shopped out, what else is there to do around Garosugil? Well, you might need to refuel after all that spending, so why not try one of the local restaurants or cafes? BeansBins Coffee is on the higher end of the financial spectrum but offers wonderful desserts and cakes along with your cup of coffee. For your street food fix, head to Isaac Toast - perfect if you're mid-spree and can't afford to sit and relax. If, however, you need to sit and take a beat, Two Plus Deungsim Nonhyeon 2 is a great place to get your grilled meats and veg on.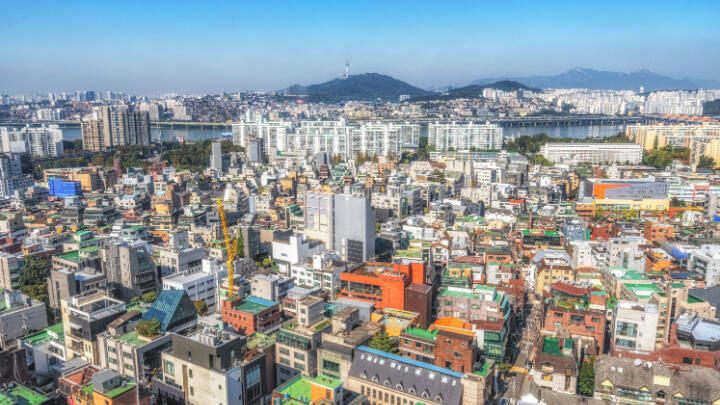 Image courtesy of aaron choi/Shutterstock
Then, when you're both fed and shopped out, what about entertainment? Well, art lovers will dig the impressive art gallery scene, with the likes of Gallery Baton, Hakgojae Gallery, and Gana Art Gallery all hosting works from both established and up-and-coming artists. And, if you fancy a boogie or drink, there are plenty of clubs and bars for you to check out.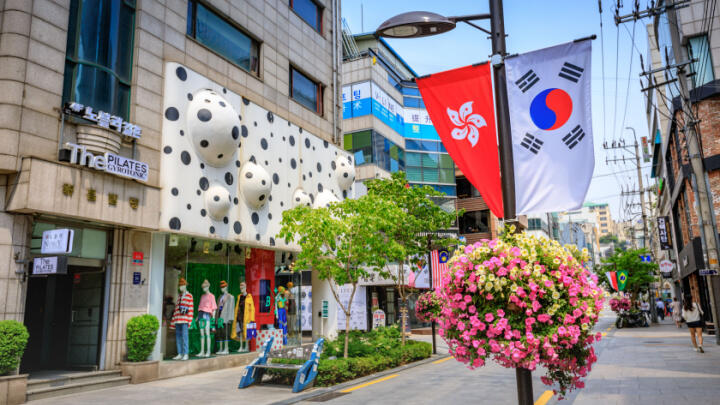 Image courtesy of ARTYOORAN/Shutterstock
Cheongdam Fashion Street
Another of the best shopping districts in Seoul is Cheongdam Fashion Street. With a name like that, you know you'll get some shopping done! Located in the upmarket neighborhood of Cheongdam-dong, it's arguably the trend-setting capital of Korea. As such, it attracts plenty of locals and tourists alike, all looking for the next big thing to adorn their human bodies. 
Gargantuan brands like Chanel, Gucci, Prada, and Louis Vuitton all call Cheongdam Fashion Street home, among many, many more. The whole place is lined with high-street boutiques which offer everything you need. Handbags, clutches, dresses, coats, and shoes are all available and waiting for the swipe of your credit card. Or, if you're looking for local mega-brands ubiquitous throughout Korea, you'll find plenty of those too. If you want to stand out and feel unique, you won't find many of these brands in other parts of the world, so get spending!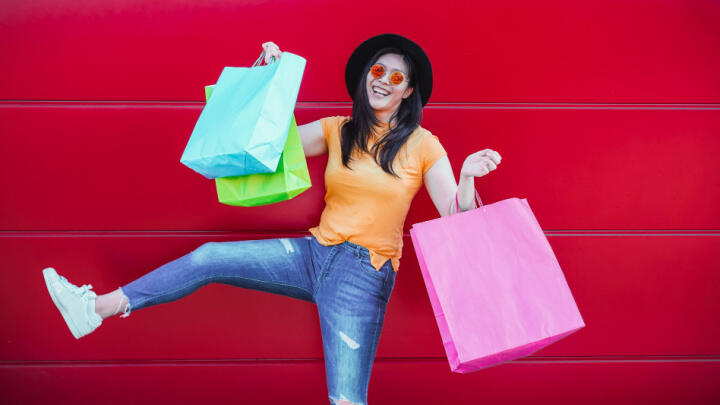 In fact, Cheongdam Fashion Street is so appropriately named because it also hosts regular fashion shows. So, if you see a catwalk randomly in the street, don't worry about it. 
Need to revitalize your skin? You'll find several K-beauty stores on Cheongdam Fashion Street. K-beauty skin care is all the rage these days, so if you haven't hopped on the train yet, maybe it's time to get on board?
Food-wise, there are plenty of places to grab a bite or a drink. Beef lovers will dig TOKYO SIRLOIN, which offers a fusion of Japanese and Korean dishes and plenty of grilled delights to fill your belly. Or, if you're feeling Italian after purchasing so many of the country's brands, check out Pairing Room for delicious food paired with some scintillating Italian wines.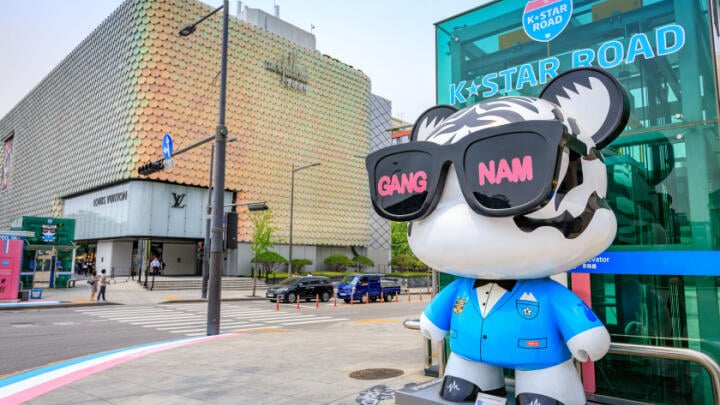 Image courtesy of ARTYOORAN/Shutterstock
Apgujeong Rodeo Street
And finally, let's talk about one of the other best shopping districts in Seoul - Apgujeong Rodeo Street. Buckle up, buckaroos, because we're going to ride this bull into the shopping sunset. Just go with it. 
Found in the chic Gangnam district made famous by that song, find your own Gangnam Style on this street, featuring high-end boutiques, luxury brands, tons to eat and drink, and even shopping malls if you like the verticality. 
Like Cheongdam, you'll find your Diors, Guccis, Pradas, and more practically begging to be browsed, ensuring you'll flex your credit card to its very limit. 
Apgujeong Rodeo Street is also the hub of K-beauty skincare, with many of their flagship stores calling the neighborhood home. The likes of Laneige, Innisfree, and Etude House can all be found there, along with many more.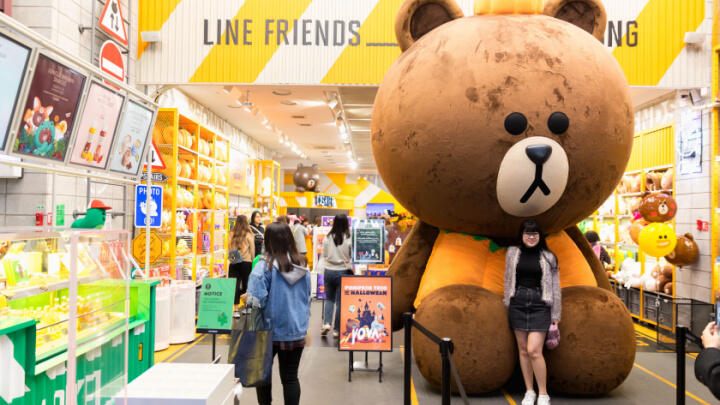 Image courtesy of 2p2play/Shutterstock
You'll also find a wealth of wonderful cafes, restaurants, and bars nearby, with many offering the chance to sit outside and soak in the sun. The famous Line Friends Cafe is found on Apgujeong Rodeo Street, which features cutesy characters that have taken the world by storm. Alongside a plethora of Line Friends merch, you can also pick up brunch, sweet treats, and a hot or cold drink. 
And that's everything you need to know about the best shopping districts in Seoul! Need a break from your spree, or want to know what else to do while in Seoul? Check out Go City! With our All-Inclusive Pass and Explorer Pass, you can see all of Seoul's best bits for one low price!