There's fun on tap on Sentosa, a small but perfectly formed man-made isle off the south coast of Singapore.
In Malay, the word 'Sentosa' translates to 'tranquillity', and while there are plenty of peaceful pockets to be found on this tropical island, there's also tons of stuff to see and do. Pure feel-good territory, it's little wonder the place attracts some 20 million visitors a year.  
One thing's for certain – whether you're here for action or relaxation, or you're visiting for a day or a week, you can be sure your time here will be epic. As for how to spend it? Here's a round-up of some of the highlights…
1. Get to know the island on a guided tour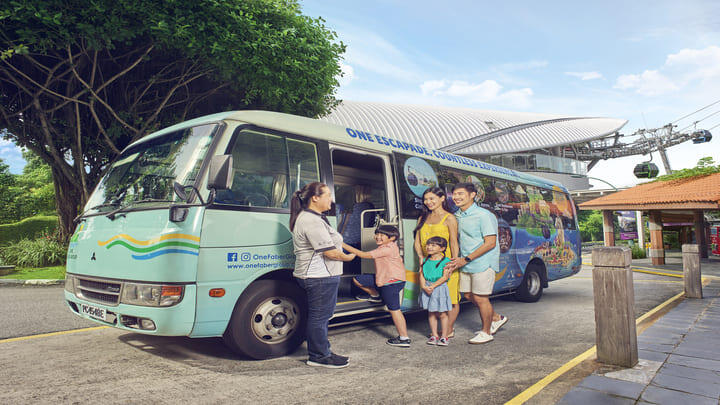 A driving tour is a great way to discover Sentosa – you'll be introduced to the island's best bits from the comfort of an air-conditioned bus, while a knowledgeable guide explains the history of the isle, which was once a British military base. Your guide will also show you the top sights and attractions, talk through interesting local facts and make handy recommendations. Tours last a couple of hours and will help you narrow down what you want to do and when, so it's a good choice for day one of your visit. 
2. Experience the ultimate adrenaline rush at AJ Hackett Sentosa Skypark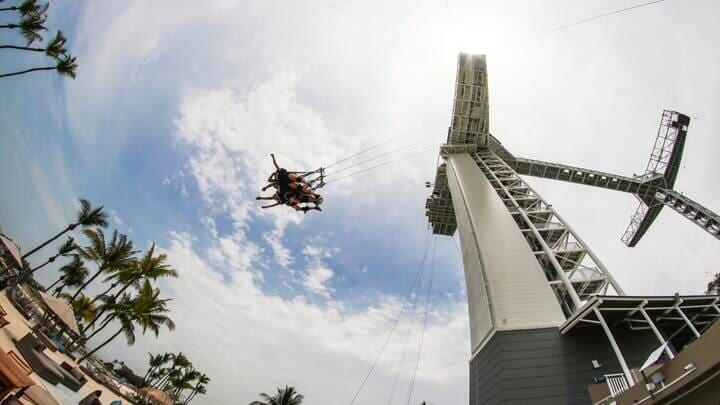 Here for adventure? The AJ Hackett Sentosa Skypark is the place to get your kicks. With a prime location overlooking Siloso Beach, this much-loved attraction serves up a triple whammy of adrenaline in the form of three heart-pumping activities.
First up is the Giant Swing, which catapults you towards the ocean at dizzying speeds of up to 120 miles-per-hour. You can choose to brave it solo or strap in with a couple of friends or family members for support. Close by, there's the bungee jump – Singapore's first – which invites you to dive headfirst off the side of a 50-meter-high tower. Finally, there's the peaceful Skybridge walkway, which offers stellar views of the island and (thanks to transparent sections of the floor) the dreamy shoreline below.
3. Meet your movie heroes at Universal Studios Singapore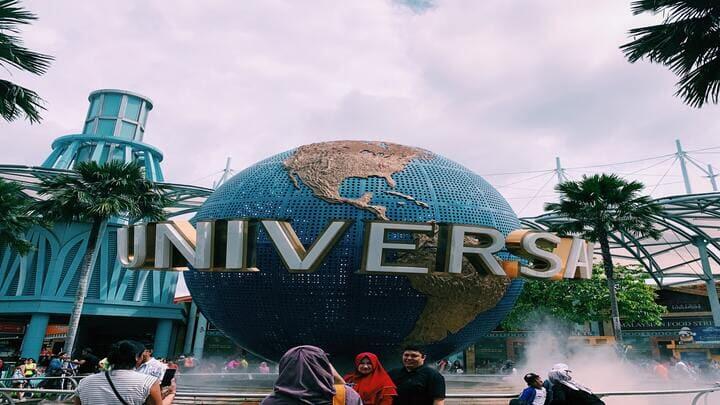 Part of Sentosa's sprawling Resort World, Universal Studios Singapore makes for a brilliant day out for families of all ages. You'll find action-packed rides, laugh-a-minute shows, your favourite characters and themed shops and restaurants, all based on smash-hit Hollywood movies and spread across seven superbly created 'zones' – Hollywood, New York, Ancient Egypt, Sci-Fi City, Far Far Away, The Lost World and Madagascar.
There are more than 24 attractions to enjoy here, but standouts include Battlestar Galactica: Human vs Cylon (the world's tallest battling roller coasters), Transformers: The Ride – a futuristic and super-realistic 3D experience, and Jurassic Park Rapids Adventure, which whisks you away on a wet and wild journey through the age of the dinosaurs.
4. Encounter creatures of the deep at Marine Life Park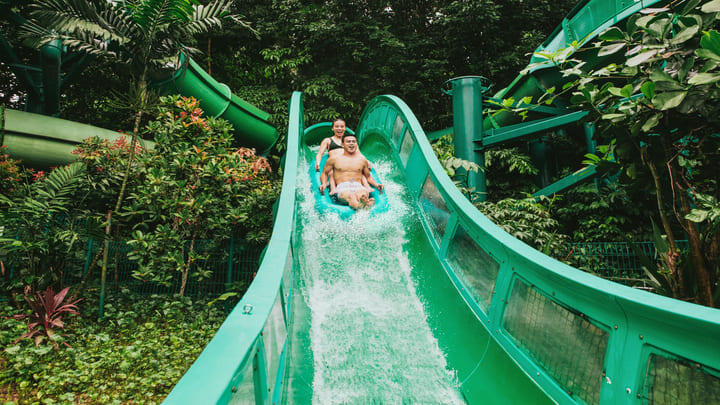 Marine Life Park is where you'll find two of Sentosa's most popular attractions – the S.E.A. Aquarium and Adventure Cove Waterpark.
The former is one of the world's largest aquariums, and home to more than 100,000 underwater creatures across 800 species, in more than 45 aquatic areas.
You'll come right up close to weird and wonderful sea life, including menacing looking sharks and technicolour fish and coral formations. Our favourite feature of all? The Open Ocean Habitat – a colossal tank that'll make you feel as if you're walking right along the seabed.
The Adventure Cove Waterpark, meanwhile, combines water-based thrills with marine life enclosures. Float peacefully down Adventure River, take a sheer drop into darkness on Pipeline Plunge, and snorkel with 20,000 fish at Rainbow Reef. Another big-hitter is Ray Bay, where you can paddle with a friendly family of silky rays.
5. Take time out to unwind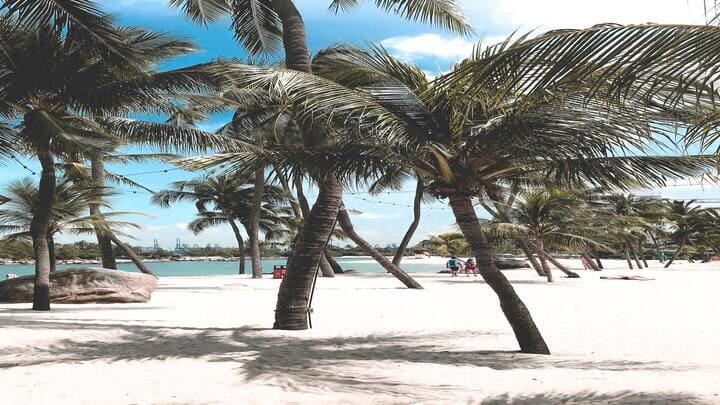 Time for a little R&R? Sentosa has three man-made beaches to its name, all of which unravel along the west coast and are ideal for lounging.
Siloso Beach is the busiest – a vanilla-shaded powdery swathe in the isle's north-west. If you tire of sunbathing, there's an endless list of sports to try here, including kayaking, volleyball and skimboarding, as well as a palm-freckled promenade packed with bars and restaurants.
Further south is Palawan Beach, which is quieter and a hit with families thanks to its long, wide belt of sand. There's a friendly resident mascot to help entertain little ones, too, known as Captain Palawan.
Lastly, there's Tanjong Beach, where you'll find peace and quiet and a cool, boho-style beach club, depending on which end you choose to settle on.
Want to up to ante on the relaxation front? There's an impressive spa scene on Sentosa Island. The isle's luxury hotel resorts are decked out with decadent wellness centres, where you can experience sensation showers, cooling plunge pools, and soothing body treatments.
6. Take the kids to Sentosa 4D AdventureLand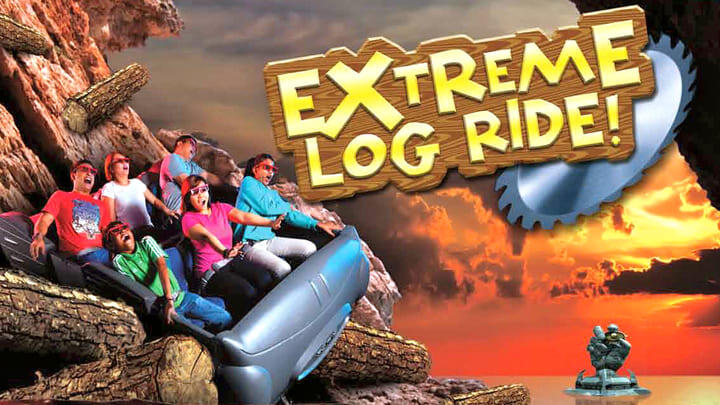 Families give a thumbs-up to Sentosa 4D AdventureLand, an immersive entertainment hub that uses state-of-the-art 4D technology to wow visitors.
There are three attractions to discover here, including the Extreme Log Ride – a high-speed rollercoaster simulator that takes you speeding through the jungle without leaving the theatre – and Desperados, which requires you to saddle up and battle a gang of outlaws in the middle of the Wild West. Journey 2: The Mysterious Island, meanwhile, is a 4D show that lines up incredible special effects.
7. Get back to nature in Sentosa's forests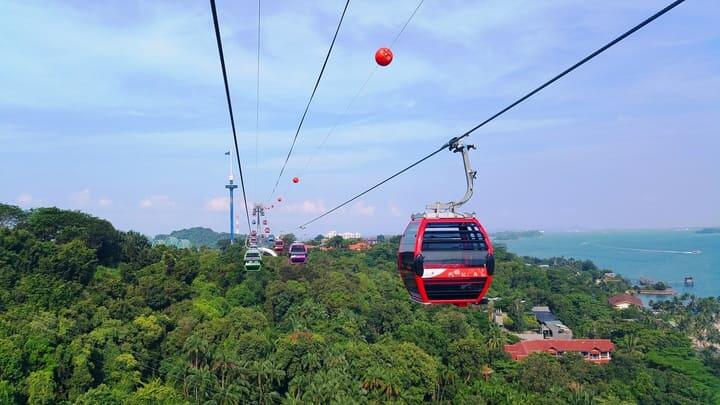 Take a breather from all the action and head deep into the tropical forests that cloak the isle's interior and coast. Whether you're hiking under your own steam, or you've opted for a guided tour with a local expert, you're guaranteed to leave wide-eyed – tropical birds, exotic flowers, lizards, monkeys, and peacocks are just some of the gems you'll clap eyes on in these parts.
Don't fancy all the legwork? Get a bird's-eye look at the rainforest canopy from high up above it instead. Hop on the Sentosa Line – a slick cable car network that runs the length of the island. A round trip takes a little under 15 minutes to complete, and you'll be treated to spectacular views of the island – and the Singapore mainland – along the way.
Make BIG savings on Sentosa Island attractions
Whether you want to experience as many Sentosa attractions as possible, or you've got a few firm favourites in mind to tick off, Go City can help. Our passes could save you up to 55% on top attractions, and everything is given the seal of approval by our travel experts. To find out more about how things work, click here.