It's the same every year. Horned animals, jolly red fellows, and gifts wrapped in paper start appearing on TV. Those songs clog up your favorite radio stations - you know the ones. And you hear the distant scream of your bank account as it prepares to be drained of all its savings. Yes, that's right. It's Christmas. The most wonderful time of the year. 
So if you're considering visiting Singapore this winter, you might want to know what Christmas is like in the city. Well, don't worry; we've got all answers down below, as well as suggestions to amplify your merriment! Read on, and discover Christmas in Singapore. 
Including:
How do they celebrate Christmas in Singapore?
Is Christmas in Singapore good?
Is Christmas a big holiday in Singapore?
Christmas cheer at Gardens of the Bay
Christmas at Universal Studios
and more!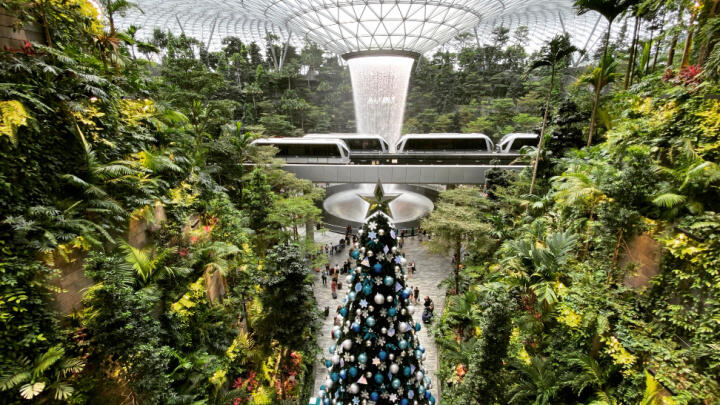 How do they celebrate Christmas in Singapore?
In such a multicultural city, it's no surprise that Christmas is handled in a rather traditional sense. Shopping malls are wrapped in tinsel and fairy lights, Christmas trees spring up from nowhere, and stockings adorn many a shop window. So, really, it's probably just like your home town. Only in Singapore, so the weather's much better!
Is Christmas in Singapore good?
It is! You'll find plenty of Christmas activities to enjoy in and around the city, as well as Christmas shopping savings, markets, and plenty more. But we'll get to that. 
Is Christmas a big holiday in Singapore?
Even though there's a relatively small Christian population in Singapore - around 19% identify as Christians - Christmas is still a big holiday in the city. Much like many of the other religious holidays and festivals celebrated in Singapore, Christmas gets a similar treatment. 
Now that we've got your burning questions out of the way, let's talk about the best things to do over Christmas in Singapore!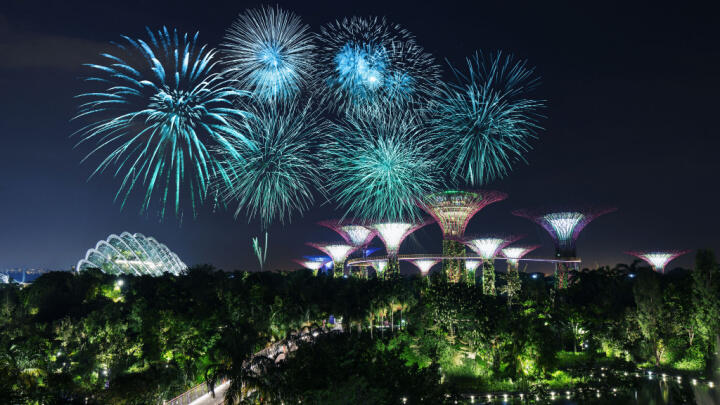 If you're visiting Singapore, you've probably already heard of Gardens of the Bay. Thanks to its beautiful SuperTrees, it's one of the most recognizable green spaces on the planet. With millions of plants, multiple biomes, and even an Avatar movie crossover found within, there's plenty to do and see for every visitor.
But what of Christmas? Well, you've got a few choices. 
First is Christmas Wonderland. Arguably Singapore's biggest Christmas extravaganza, visitors will be treated to the kind of light show one expects at Garden Rhapsody - just extra Christmasy. But that's not all; you can also meet Santa and snap a pic, play carnival games, explore the Mistletoe Alley Christmas market, and even hop on some rides. All-round yuletide fun for one and all, just like Santa always wanted. This one runs throughout December, so if you're visiting Singapore over Christmas, you should be just fine. 
The other is Poinsetta Wishes, a massive display of delightful Andalucian flora that gets a Christmas glow-up every winter. Every year, a different Christmas theme takes over the Flower Dome. Last year it was Nordic-inspired Christmas treats like gingerbread reindeer and a giant hollowed-out apple adorning Santa's sleigh. 2022/23's display hasn't been announced yet, but keep an eye out online to find out. Typically, the Christmas display at the Flower Dome runs from the end of November to the beginning of January.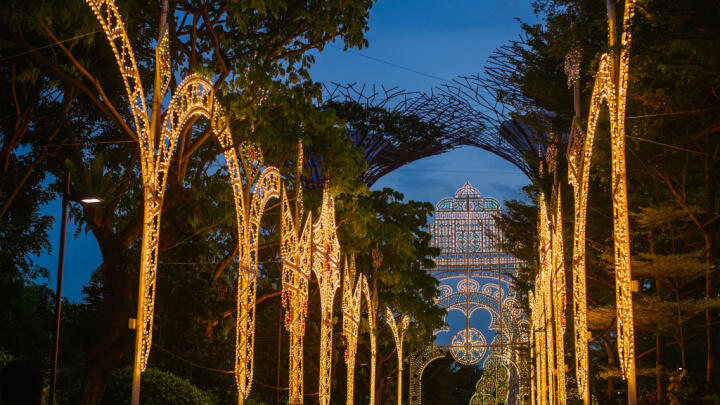 Universal Studios is every cinephile's ideal theme park. With tons of rides dedicated to some of the planet's biggest film franchises, it's fun for kids and bigger kids alike. One moment, visitors will be dodging dinos at the Jurassic Park Rapids Adventure; the next, they'll be riding alongside Optimus Prime as the Transformers battle the Decepticons. 
But over Christmas, it transforms into a winter wonderland. The halls are firmly decked with boughs of holly, carols bellow out around the park courtesy of your favorite universal characters, and you can hop on the Universal Rocking Railway to catch a glimpse of trees inspired by Shrek, Minions, and plenty of others. You can also post a letter to Santa and watch as the Postmaster Elf drops it off at the North Pole Postal Service. And when you're overcome with hunger from all the Christmasy activity, head to the Festive Market to pick up some Christmas twists on Singapore favorites.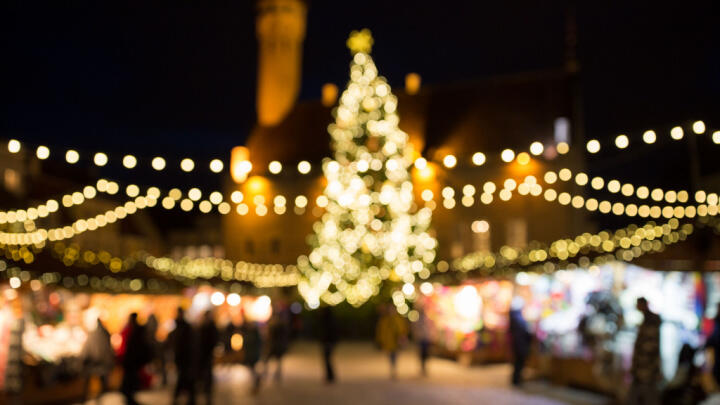 Pick up some cheer at a traditional Christmas market
We've already talked about Gardens by the Bay's Mistletoe Market and Universal's Festive Market. But what other markety delights can you find in Singapore?
Well, there's the Chinatown Christmas Market, which appears at the end of December, from Dec 19-20th, and then again from Dec 26-27. See Chinatown adorned in decorations, and prepare to pick up some great bargains on food, knickknacks, and decorations if you're behind on your Christmas schedule. 
Then there's the Christmas Fair at Crane Club. From Dec 4-5, you can pick up some great gift ideas, all made by local businesses. From clothes to homeware and plenty of chocolate to boot, you'll find something for everyone at this brilliant Christmas spot. 
Or, try I'mable Gift Market, a conscientious Christmas Market that not only offers sustainably-made products, but they're also made by people with disabilities. And no matter what you pick up, you'll know that your purchases help the community and disability services. Does it get much more Christmasy than that? Not in our book.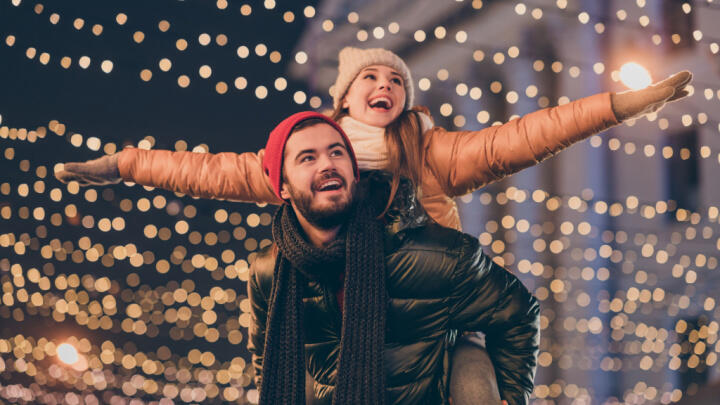 Let loose at a Christmas Village
And finally, we'll end our exploration of Christmas in Singapore with a visit to Changi Festive Village. From November 4 - Jan 2, you'll be able to attend one of Singapore's best-kept winter secrets. Located onsite at Changi Airport, this wonderful village provides with a myriad of activities on offer. 
Hop on a go-kart and race around a circuit, jump into the dino-themed bouncy castle, lay your eyes upon a huge 50+ foot Christmas tree, and top it all off with some Christmas bites. Brilliant. 
And there ends our guide to Christmas in Singapore! Wherever you choose to spend your winter holiday, have a merry Christmas and a happy New Year! If you're wondering what else to get up to on your Singapore vacation, check out Go City. With our Explorer Pass and All-Inclusive Pass, you can pick and choose the best of Singapore for one low price. That way, you can get your fix of Christmas cheer and make the most of the rest of your stay!