Animal lovers will relish the opportunity to visit this immensely popular zoo. Singapore Zoo is designed around the concept of housing animals in naturalistic environments and is home to more than 300 different species. It's also one of the most beloved animal parks in the region and attracts around two million visitors per year.
Come here to encounter a wide array of fauna from across the globe, including everything from Asian elephants and sea lions to reptiles and the world's largest population of captive orangutans. Spanning multiple themed areas, the zoo itself is an expansive animal park that takes hours upon hours to explore fully, so be sure to prepare in advance of your visit.
To help you plan your time at Singapore Zoo, we've put together this helpful guide. It's designed to make the most of your zoo experience and includes tips for visiting, must-see exhibits, and ways to save on admission.
Singapore Zoo Tickets
Looking for discount
Singapore Zoo tickets
? Snag a Go Singapore pass. You'll spend less on admission to the Singapore Zoo and dozens of other popular area attractions. Save up to 52% on combined admission versus paying at the gate. 
What's more, you can choose from two pass options:
All-Inclusive Pass – All you can do for one fixed price. Includes admission to the zoo as well as 30+ attractions.
Explorer Pass – Choose a number of attractions and visit them over a 30-day period. Includes admission to the zoo plus your choice of other attractions.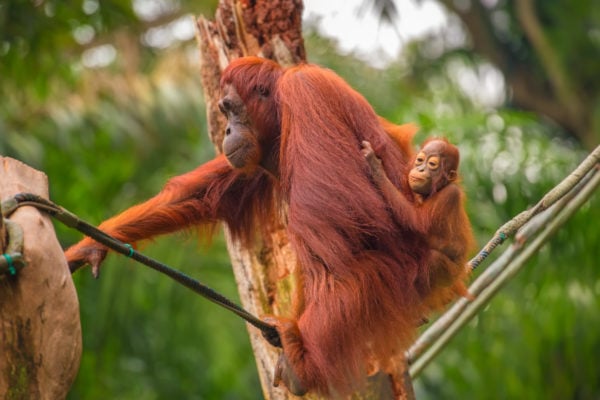 Singapore Zoo Tips for Visiting
Singapore Zoo covers a great deal of terrain—we recommend hopping aboard the tram to get around easier (especially if you are traveling with kids or an individual with impaired mobility).

We definitely recommend consulting the

Singapore Zoo map

prior to your visit. It will help you plan your path through the zoo and highlight what you want to see the most.

Those traveling with little ones who need a bit of help getting them around might want to rent a stroller or wagon.

If you're visiting the zoo with some extra bags or your luggage, you can opt to rent a locker or leave your oversized luggage at the Rental Services counter for a small fee. 

Don't forget the basics: sunscreen, an umbrella, comfortable walking shoes, and bug spray. See our section below for more on what to bring.

Flash photography is prohibited for the sake of the animals—keep this in mind when snapping photos of your favorite critters.

All animal shows are included with park admission! If you'd like to enjoy one of these special events, consult the

show schedule

.  

For those who do intend to take in an animal show, the zoo recommends that you arrive 15 minutes prior to the show start to get the best seats.

Likewise, you have the option to feed certain animals during pre-designated times. Check out the

feeding schedule

for reference.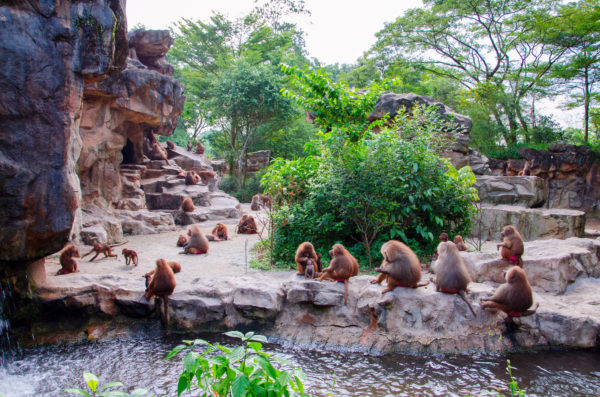 When is the Best Time to Go to Singapore Zoo?
You should plan to spend a full day at the zoo. It's also advisable to go early to avoid the crowds as well as to increase the likelihood of seeing animals at their most active.  
The more time you allow yourself to spend at the zoo, the more feedings and keeper talks you can enjoy. These special experiences take place at scheduled intervals throughout the day; consult the operating calendar before your visit to see what you'll catch during your trip.
What to Bring
Water:

Singapore Zoo is massive, so you'll definitely need to stay hydrated. It's an especially hot climate during the warmer months so extra water is highly recommended.
Sunscreen:

Ditto for sunscreen—you'll be outside in hot weather quite a bit and the last thing you want is a bad sunburn.
Umbrella:

The climate in Singapore can be temperamental, so be prepared for a sudden downpour. A rain poncho wouldn't hurt either.
Camera:

One of the best parts of Singapore Zoo is the many opportunities you'll get to see unique animals up close. Capture these moments with a camera or camera phone so you can remember your experience.
Picnic:

While the zoo offers plenty of dining options, you can save money by bringing your own picnic lunch.

Please remember to eat only in designated picnic areas.
Insect Repellent:

It also gets quite buggy in the zoo, especially with so much natural vegetation devoted to the animal enclosures. Be sure to use bug spray or another form of insect repellent.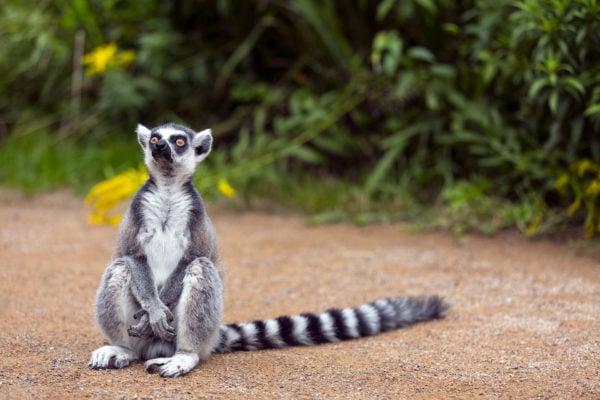 What to Do at the Zoo
Singapore Zoo encompasses a wide array of themed animal exhibits that are designed to mimic the animals' natural habitat. We've highlighted the different zones below and which animals are found within each one.
Australasia
Featuring a selection of marsupials from Australia, Indonesia, and New Guinea, this exhibit host kangaroos, wallabies, pygmy hippos, cassowaries, and more.
Elephants of Asia
This beautiful exhibit is designed to evoke the cultural significance of elephants as well as their natural environment. The human spaces feature Burmese architecture, while the animal spaces include plenty of space for this herd of five female elephants to play.
Fragile Forest
Contained within a vast biodome, this exhibit mimics a tropical rainforest habitat. Your path through the exhibit will evoke a journey through the rainforest as you encounter animals from insects and frogs, to lemurs and sloths. 
Frozen Tundra
This exhibit captures the climate of the Arctic region to make its inhabitants feel right at home. Meet raccoon dogs from Japan and a pair of wolverines - and remember to bundle up as you walk through this area.
Great Rift Valley of Ethiopia
Echoing the ever-changing landscape of this unique part of Ethiopia, this exhibit houses animals that are found throughout its namesake. Catch glimpses of jackals, meerkats, baboons, and the grand ibex. 
Primate Kingdom
The fun part about this exhibit is the fact that each primate gets its own designated "island" area to live and play in. The moats surrounding each island are filled with fish, and the islands are filled with bamboo, wild grass, and palms to keep the monkeys happy.
Rainforest KidzWorld
Perfect for your little ones, this section of the Singapore Zoo is filled with friendly critters. Your kids can learn all about a wide variety of animals and even "make friends" with some of the gentler ones, from rabbits and ferrets to goats and ponies.
There are keeper talks and animal feedings here as well, with opportunities for young visitors to interact with select species. Plus, there's a number of entertainment opportunities for energetic kids including a Wild Animal Carousel and a spray fountain. 
Reptile Garden
Encompassing a number of sub-areas—including RepTopia, Tortoise Shell'ter, and Sungei Buaya—the Reptile Garden is home to these fascinating scaly, slimy, and slithery creatures. RepTopia alone houses more than 60 different species in four distinct geographical zones.
Treetops Trail
Also evocative of a rainforest, this is one of the more immersive exhibits in the zoo. Animals in this zone live together as they would in the wild, with multiple species spread across the different layers of the forest. Be sure to visit the elevated platform to see the critters in the canopy!
Wild Africa
One of the most remarkably diverse continents, Africa is home to some of the most exciting and amazing species in the entire world. This exhibit recreates that biodiversity to great effect, housing all your favorites including zebras, lions, cheetahs, rhinos, painted dogs, and more.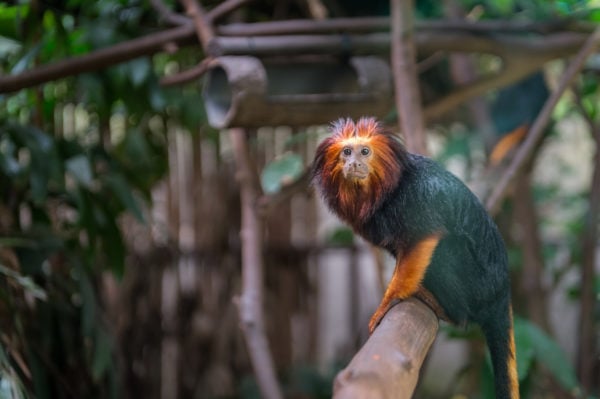 Where to Eat at the Zoo
There are plenty of dining options within the zoo itself, including everything from fast food and ice cream to the Ah Meng Kitchen (which features sumptuous local cuisine). You can also find the Wild Deli (which includes gourmet sandwiches and pizzas) and the Chawang Bistro (selling everything from seafood pasta to hotdogs).
Save on Tickets with a Go Singapore Pass
The
Go Singapore Pass®
is the best choice for saving and flexibility. Get Singapore Zoo tickets, plus admission to several other top area attractions.
You'll save up to 52% on museums, tours, and activities versus paying at the gate!