Singapore has been attracting visitors since Sir Thomas Stamford Bingley Raffles established a trading post on the island in 1816. Two centuries later, Singapore continues to tick all the boxes. What's more, Singapore in August is exceptionally explorable. 
Cultural diversity ensures even hawker centers serve up delicious tasting foods. Orchard Road provides an almost endless shopping extravaganza, while safety is never something you'll have to worry about. 
At the same time, history seeps out of every street corner, even the high-tech Downtown area. In short, Singapore is not just a stopover, but a destination in its own right. Here's everything you need to know about visiting Singapore in August. 
Why August is a good time to visit Singapore
Singapore's weather in August is arguably the best of the year. Although it remains rainy in Singapore in August, rainfall is some of the lowest of any month. Since temperatures average 31°C year-round, and humidity levels around 82%, the other most important factor is sunshine hours. 
Less rain invariably means more sun, and August in Singapore is one of the sunniest of the year. In fact, along with June, July and September, August is considered one of the best times of year to visit Singapore. 
Add to this the festivities around National Day, and you'll experience Singapore at its most celebratory! 
Things to do in Singapore in August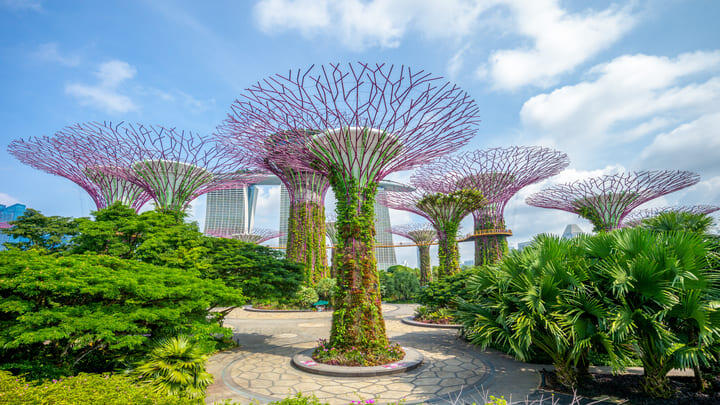 With the weather set fair, a great way to delve into Singapore's delights is with a Historical Singapore Bicycle Tour. Peddling along the city's oldest streets, you'll get your first glimpse of its grandest monuments. Free from the barriers of a vehicle, you'll also absorb the extraordinary ambience of Chinatown and the Museum District. 
Thanks to reliable public transport, such as the MRT metro system, nowhere in Singapore is far away. But if in doubt, Big Bus Singapore has stops right throughout the city on its yellow and red hop-on hop-off routes. 
While in the Museum District, it would be a shame not to visit the National Gallery Singapore. That's because the gallery contains the largest collection of Singaporean and southeast Asian art of any public institution. Highlights include works by Xu Beihong, Georgette Chen, and Liu Kang.  
No trip to this part of Singapore in August is complete without visiting Gardens by the Bay. Known for their 18 'supertree' vertical gardens, Gardens by the Bay actually span over 100 hectares. Give yourself plenty of time to explore, since beyond Supertree Grove there's also the Cloud Forest and Flower Dome greenhouses. The second is the largest in the world, and seeks to replicate a Mediterranean-style climate. 
Beyond Downtown Singapore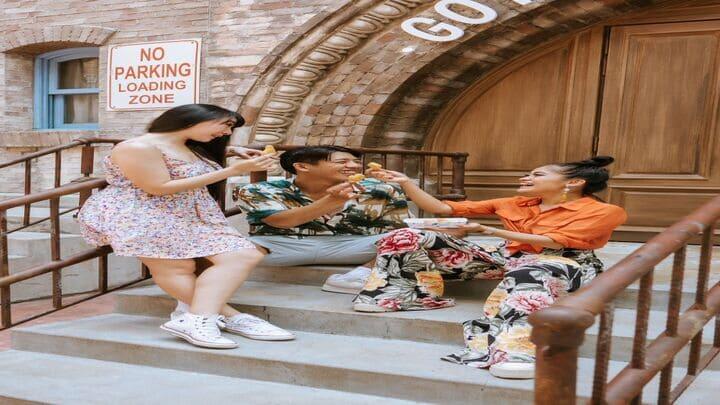 A short distance from the Flower Dome, Singapore Cable Car links two very different Singapore attractions. Head south on the Sentosa Line, and you'll get a bird's eye view of family-friendly beaches (Palawan is one of the best) and the rollercoasters of Universal Studios Singapore. After all, Sentosa is the home of Singapore's theme parks, with several to choose between. 
In the opposite direction, the cable car's Mount Faber Line takes visitors to Singapore in August to the peak of the same name. Having traveled across lush rainforest, you'll have the chance to follow forest paths. Alternatively, simply enjoy a cocktail (or two) at the cool bars at the top with uninterrupted views. 
But for an altogether different take on Singapore, head to Pulau Ubin. Reached via motor-powered bumboats from Changi (itself worth discovering), this tiny island harks back to the time of Raffles. Car-free, the best way to get about is by bike, although it's also small enough to walk around without becoming exhausted. 
Sights include stone quarries readopted by nature, mangroves, coconut plantations, and Singapore's last traditional village (kampong). End your visit with an order of Pulau Ubin's famed chili crab. There are several charmingly ramshackle restaurants just by the boat jetty. 
Food and drink in Singapore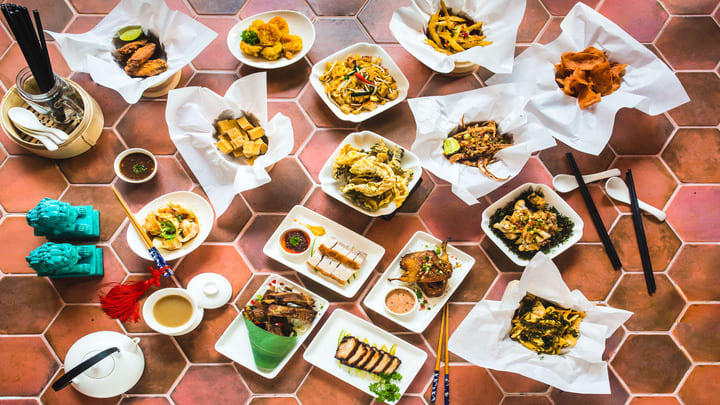 Deciding what to eat will be your biggest problem when visiting Singapore in August. Because of the city's cultural diversity, international favorites aren't hard to find. But it would be a shame to depart Singapore having eaten nothing but burgers and pizza. 
Luckily, good food isn't hard to find. Pretty much every neighborhood will have its own hawker center. So important are they, that they're now listed by UNESCO as part of humanity's Intangible Heritage. 
Although menus can be limited – each stall within a center tends to focus on a couple of dishes – your taste buds will thank you for it. Look out for Singapore noodles, laksa, and murtabak, a type of savory pancake. 
Chinatown is the obvious place to head for authentic Cantonese and Hokkien dishes. Many you'll never have seen back home. And for the flavors of the Indian subcontinent, there's only one place to head – the aroma filled alleys of Little India. 
Unmissable Singapore August events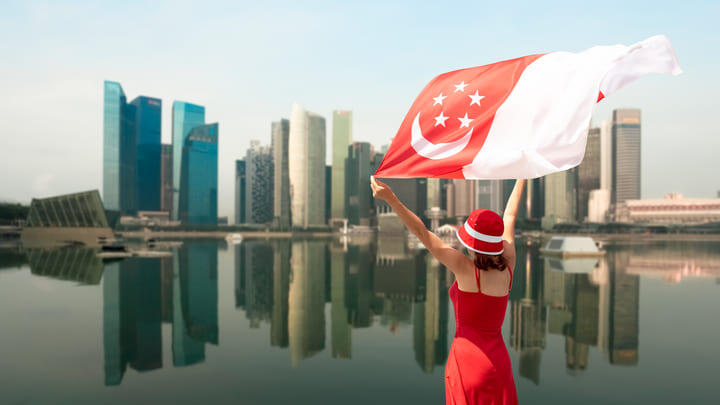 Singapore is a thriving destination for events, and August is no different. While the likes of Paris and Rome are snoozing in a mid-summer daze, Singapore is alive with unique experiences. 
The biggest event in Singapore in August is National Day, a public holiday on August 9. The days in the run-up see the red and white of the Singaporean flag appear right across the island. The day itself comprises a series of activities. These include a large military parade and live performances from top names. It comes to an end with a magnificent firework display. 
Should you miss National Day, Singapore Night Festival in the latter half of August is a good alternative. Running for more than a decade, it sees famous buildings decorated in lights. All manner of surprise live elements mark the city's history and culture. 
Why not visit Singapore in August with Go City? 
Take the plunge, and you'll find Singapore in August a destination that gives back ten-fold. All the same, Singapore does have a reputation for being on the pricey side. The answer? Travel with Go City. 
Our All-Inclusive and Explorer passes give visitors to Singapore incredible savings on admission to attractions big and small. It means you can do even more on your Singapore vacation without worrying about your bank balance.