Singapore has a bit of an unfair reputation when it comes to cost. While it's true that it may be expensive for expats living out there or visitors who want to stay in the top-tier hotels (hello, Marina Bay Sands!), it certainly needn't be the case for your average vacationer. Case in point: you'll find some of the best eating in the city's 100+ legendary hawker centers, where authentic Singaporean, Malay, Chinese, Indian and Indonesian dishes start from a mouthwatering couple of Singapore dollars and rarely top more than six or seven bucks, meaning you needn't ever really splash the cash to give your tastebuds a good time. Read on for our guide to the best food markets in Singapore.
What is a Hawker Center?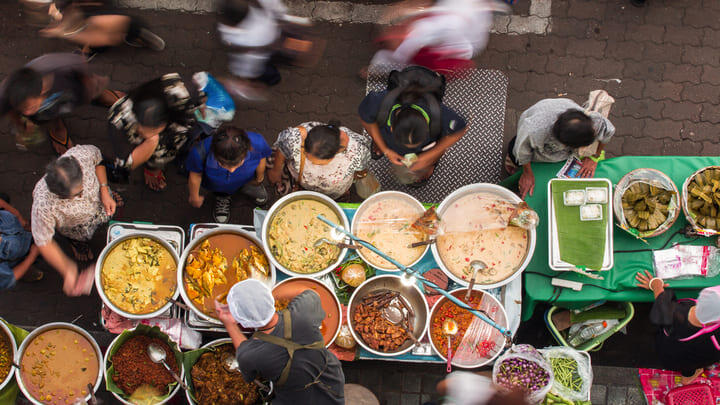 Hawker centers are embedded within Singapore's very DNA. Here's where you'll find decades-old street food stalls that have been handed down through the generations; where locals queue for delicious, affordable meals and catch up on the local gossip over great steaming bowls of noodles, fragrant curries and melt-in-the-mouth grilled meat and fish dishes. 
There are over 100 of these centers – effectively covered, standalone food courts – dotted around the city, each hosting dozens of vibrant eateries. A literal feast for the senses, you can expect to see (and smell) suckling pig roasting on the spit, roast duck displayed tantalizingly in shop windows and plumes of aromatic smoke and steam rising from pots and griddles at every turn. There's something to suit every palate here: sweet and savory, spicy and mild, hot and cold, meaty and meat-free – your only challenge is not to be drawn straight to the first stall you encounter by those utterly intoxicating aromas.
Singapore Hawker Center Hints and Tips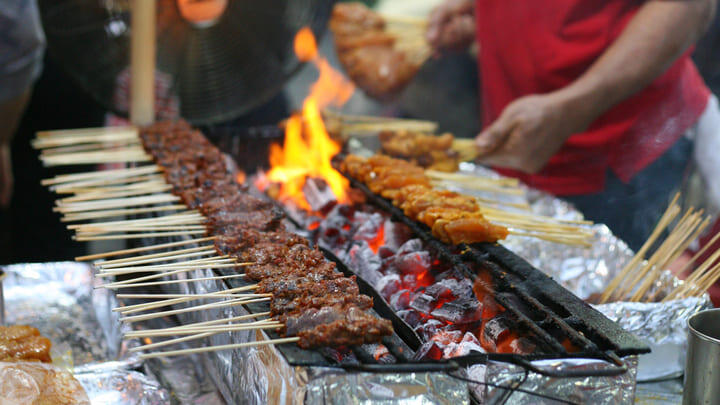 Hawker centers are dedicated standalone premises, usually covered but sometimes open-air and are not to be confused with what Singaporeans call 'food courts'. Food courts are generally found inside shopping malls; they're a little less characterful and a mite more expensive than hawker markets, but nevertheless a solid option if you're out on a shopping spree.

Many hawker stalls operate cash-only policies, so be sure to bring some cash as well as a big appetite.

We recommend first-timers buy several different small dishes from multiple stalls to get a real (excuse the pun) flavor of what's on offer.

If a stall has a queue, that tends to be a sign the food is top-notch and that the wait will be worth it. Don't pass busy stalls by!

Don't be put off if you find hawker centers a little overwhelming – it really is worth persevering to unlock some of the fantastic flavors on offer within. If in doubt, you can always take a tour with a local guide to help you find your bearings.
Singapore Hawker Food – What to Eat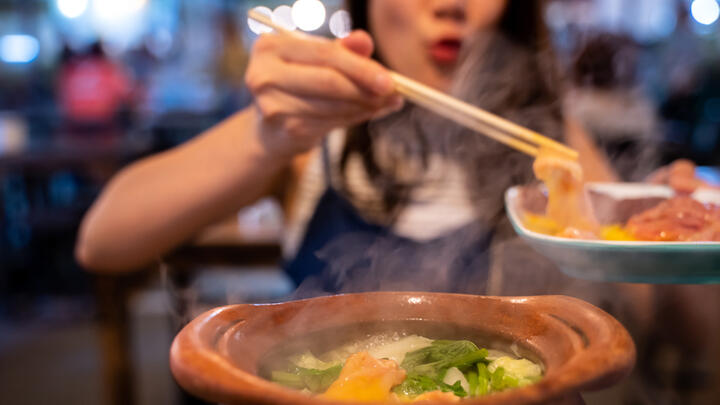 Even the most ravenous of visitors may find it difficult to work their way through all the excellent dishes Singapore's food markets have to offer. But there are a few staples that we'd consider must-eats. Chili crab, for example, is (unofficially) Singapore's national dish. This stir-fried sensation – crab drenched in spicy sweet-and-savory-sauce – is as ubiquitous as it is delicious and you'll find it in any hawker center worth its salt. Then there's sticky skewers of pork and chicken marinated in umami peanut sauce. Again, available everywhere. Other popular favorites include Indian-influence roti canai – a buttery, crumbly melt-in-the-mouth flatbread served with a variety of curry sauces – BBQ pork with rice, pungent fish head curry and chicken with rice. Make like a local and join the morning ritual of spiced teh tarik (tea) or kopi (coffee) sweetened with condensed milk.
Feeling adventurous? Turn up the heat by seeking out some of the nation's most out-there delicacies, among them pufferfish, live octopus and, for the bold gourmand only, fried pigs' fallopian tubes in spicy kung pao sauce. Nom.
Best Hawker Centers in Singapore
And now for the main course, the entrée, the bit you've all been waiting for: our pick of some of the finest food markets in Singapore. Tuck in!
Lau Pa Sat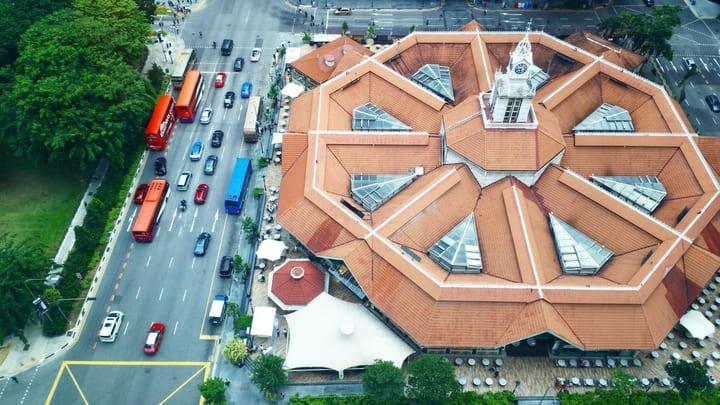 Oozing old-school Singapore charm, the Landmark Lau Pa Sat market is as well known for its distinctive octagonal shape and colonial-style architecture as it is for its satay. Find a spot beneath the soaring wrought-iron Victorian arches and tuck into a huge variety of international cuisines, including Vietnamese, Filipino, Korean and more.
East Coast Lagoon Food Village
Singapore's only beachside hawker center provides the picture-perfect setting for a sweet sugar cane juice, fresh coconut or ice-cold Tiger beer. Hit up Song Kee Fried Oyster at stall 15 for perfectly fluffy omelets packed with local oysters and drizzled with a fiery chili sauce.
Newton Food Centre
Perhaps best known for its appearance in the movie Crazy Rich Asians,  this vibrant market near Newton MRT station boasts over 100 stalls serving up some of the best seafood dishes in town. Order spicy sambal stingray in banana leaf for the win.
Hong Lim Market and Food Centre
Hong Lim is one of the more easily navigable Chinatown hawker centers (more so than the sprawling Chinatown Complex, in any case), so a good option for novices. Authentic Singaporean cuisine abounds here. Try pork braised with Chinese five spice, zingy laksa with crayfish or Teochew porridge served with a variety of meat, fish, veg, eggs and sauces.
Clementi 448 Market and Food Centre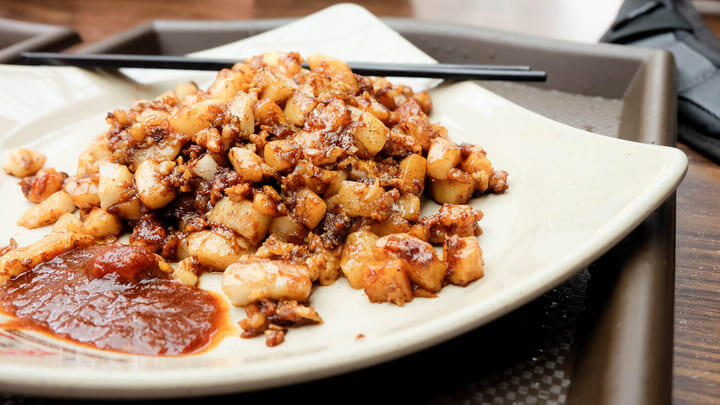 The long queues at Fried Carrot Cake in Clementi 448 are a dead giveaway. This very literally named hawker stall is something of a local legend around these parts, having been around for over half a century. First things first though: this moreish Singaporean classic (pictured above) has no carrot in it and nor is it really a cake, at least not in the Western sense of the term. But don't let that (or the queue) put you off this unmissable piping hot melée of sweet, spicy cubed radish cake, egg, garlic and chili sauce. Delish.
Old Airport Road Food Centre
A little off the beaten track on Singapore's east coast, the Old Airport Road Food Centre is nevertheless well worth the effort for its vast selection of stalls serving up everything from crab to carrot cake, satay to sambal, dumplings to duck. With close to 200 hawkers to choose from, good luck deciding what you're going to eat!
Tekka Centre
This Little India landmark, handily located right next to the MRT station, specializes in Indian food. Head here to make all your dosa dreams come true, and for tandoor grill feasts fit for a maharajah. Tekka Centre is part hawker center, part mall and part wet market, so there are plenty of opportunities for souvenir-hunting and soaking up the old-school Singapore vibes after lunch.
Adam Road Food Centre
This diminutive hawker center is pretty much right next to the Singapore Botanic Garden, a 200-acre oasis of vibrant flora and tropical rainforest. Work up an appetite with a stroll around the shores of Swan Lake and a visit to the National Orchid Garden before heading to Adam Road for a well-earned laksa.
Changi Village Hawker Centre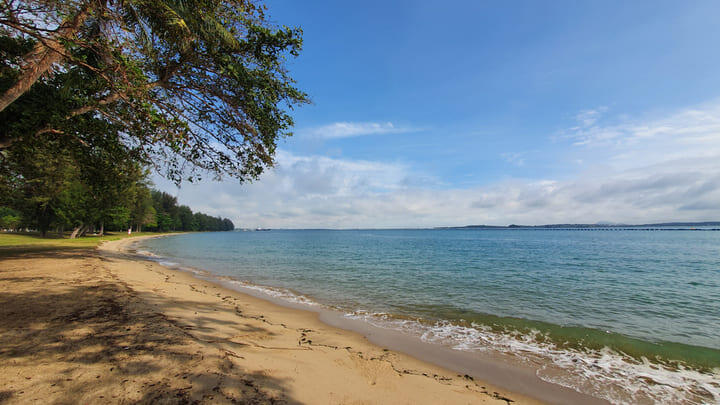 Aromatic nasi lemak, an utterly life-altering dish of rice, coconut milk, chili sauce, crispy anchovies, peanuts and egg, is the one to try here. Located on the island's northeastern tip, Changi might feel slightly out on a limb, but no day tripper could fail to be charmed by this cute coastal village's excellent Malay cuisine, fine sandy beaches and lush palm groves.
Save on attractions

and activities in Singapore
Save on admission to Singapore attractions with Go City. Check out @GoCity on Instagram for the latest top tips and attraction info.