Singapore may be small, but its city center is bursting at the seams with things to do. And though you might be tempted to relax for a few days on a beach or in a luxury hotel, if you have time you simply have to spend at least one day exploring the colorful, maze-like streets of Chinatown, Singapore's largest historic district. It's noisy, colorful and packed full of surprises. Get there on the Red Line of the Big Bus Tour, and check out our recommendations for a day of exploring:
Chinese tea drinking

Museums

Virtual Reality

Religious Sites

Food markets

Outdoor escape room
Chinese Tea Drinking at Tea Chapter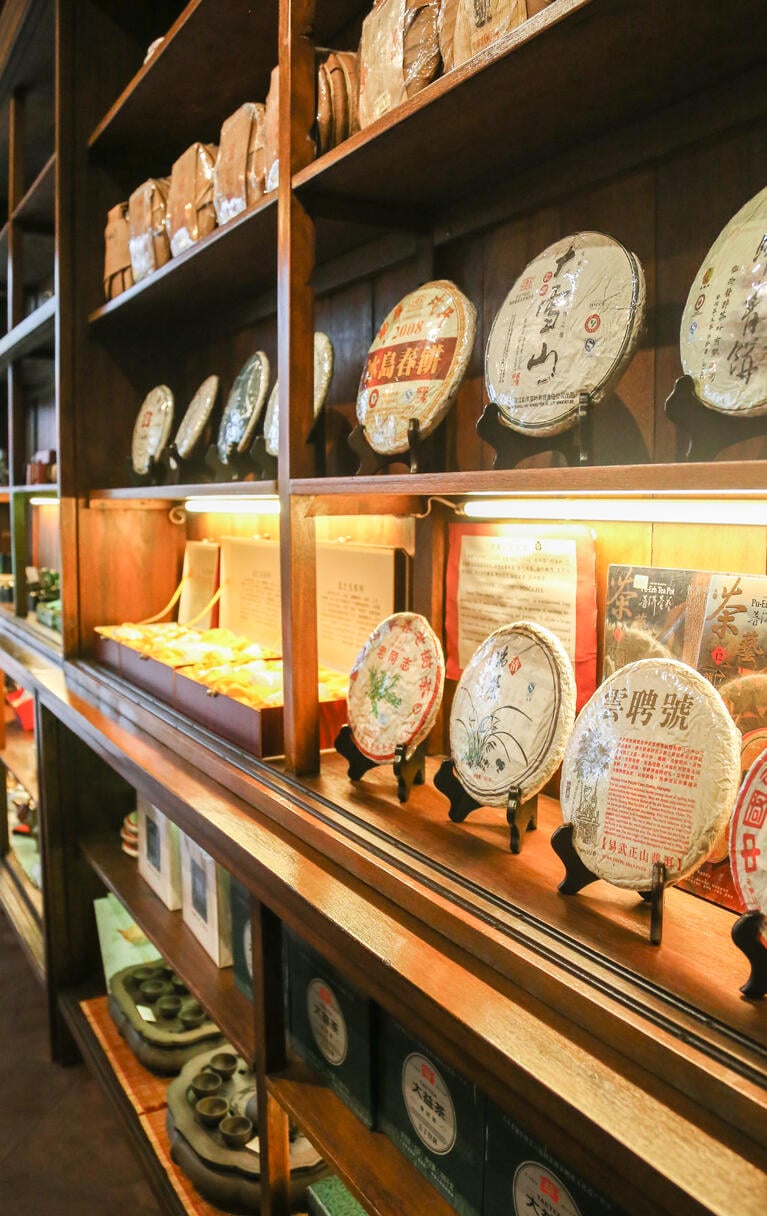 Noise and bustle are all very well, but at some point you may like to make an escape – and that's the perfect time to stop by the Tea Chapter teahouse for a moment of calm. As countless others have done before you, sit, sip and let your mind drift away as you savor the flavors of Tea Chapter's signature Golden Cassia brew. Delight in the sights, sounds, smells and tastes of Singapore's oldest teahouse as you become part of this zen-inducing ancient tradition.
Singapore City Gallery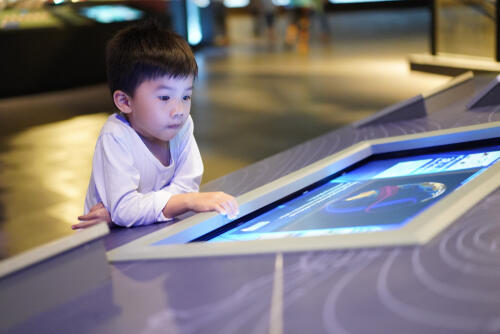 This is a must-stop for anyone who loves their history in high-tech form. It's a museum and gallery dedicated to the architectural heritage of the city, from its beginnings as a small trading port to the modern, multi-layered metropolis it is today. All the exhibits feature audiovisual and interactive elements, such as screen-swipe before and after views of the Singapore skyline. Be sure to check out the full scale model of the city and original architectural models from architects Kenzo Tange and I.M. Pei, who together are responsible for a lot of what you see today in the Marina Bay.
Singapore Musical Box Museum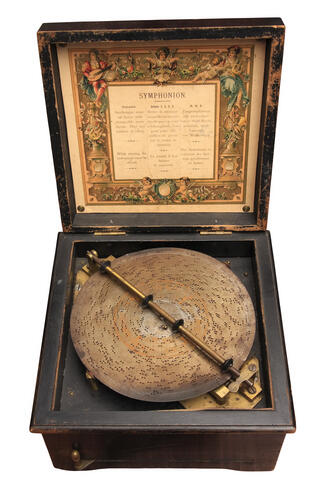 Yes, you read that correctly – Singapore has a musical box museum, dedicated entirely to the history and preservation of auditorial antiques from the 19th and 20th centuries. Tucked away in a pagoda next to the Thian Hock Keng Temple, music and craft lovers will find this a delightful interlude, and the enthusiastic curators are rightly proud of its status as a UNESCO Asia-Pacific Heritage 2001 Award for Culture Heritage Conservation recipient. They're always happy to show guests around the collection, which includes examples from Europe, Asia and the United States. Stop to enjoy a harmonious half hour or so, and then move on with your day.
Virtual Reality Escape Room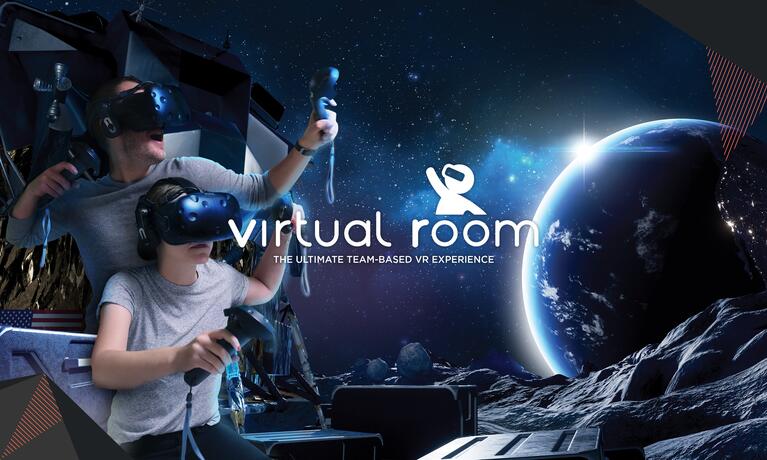 Who says travel has to be all history and sightseeing? Sometimes it's just as much about new experiences – so why not try a virtual reality group challenge? Virtual Room is on the northwestern edge of Chinatown between the Sri Mariamman Temple and New Bridge Road, and the experience lasts about 40-50 minutes. Each player gets their own room but you'll team up for the 3D-HD challenges and puzzles, and choose to play as time travelers or zombies. The scene may be virtual, but the fun is 100% real!
Buddha Tooth Relic Temple and Museum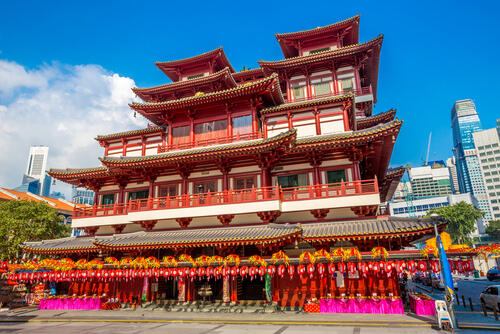 This temple was built in 2007 – very recently by Chinatown's standards – to house the left canine tooth of the buddha and other sacred relics. The design is based on the Buddhist mandala, with a giant stupa in the center shining with 320 kilograms of gold. Visitors are not allowed into the relic chamber, but you can see the tooth from a viewing area. You can also access the attached museum, which contains interesting exhibits on Buddhist art and history, and a charmingly tranquil rooftop garden and pagoda. It's the perfect place for a spot of quiet contemplation.
Sri Mariamman Hindu Temple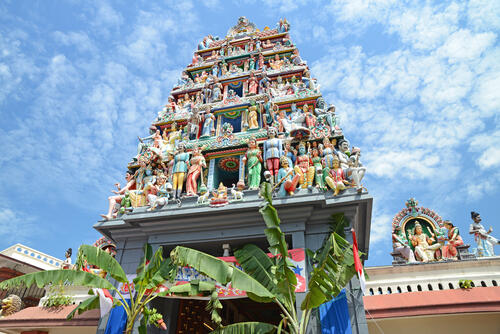 A short walk from the Buddha Tooth Relic Temple is the city's oldest Hindu shrine, dedicated to Sri Mariamman, the goddess of disease and protection. You'll know it when you see it – it's an eye-catchingly upright structure ornately decorated with six tiers of pastel-colored deities. You'll find similar opulence inside, as well as a gentle quiet which is punctuated at intervals by the ringing of bells. It's been on this site since 1827 and after several revamps and renovations was declared a national monument in 1973.
Other religious sites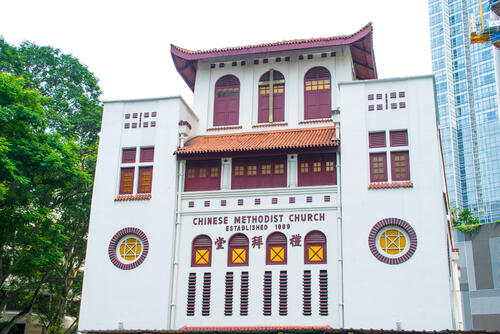 If you're a proper culture vulture, do a circuit of Chinatown's many other shrines and temples and you'll cover most of the world's history – as told by its major religions – in a single day. As well as the Buddhist and Hindu temples you'll find the Thian Hock Keng Hokkien Temple – the oldest Chinese example in Singapore, the Yueh Hai Ching Temple – a small Taoist building decorated with inlaid porcelain and carved dragons, and Nagore Dargah – a Hindu-Muslim center built by Indian Muslim immigrants. There's also the Masjid Jamae and Al-Abrar mosques and a Chinese Methodist church, the latter of which you'll recognize from its art deco styling and distinctive Chinese roof.
Food markets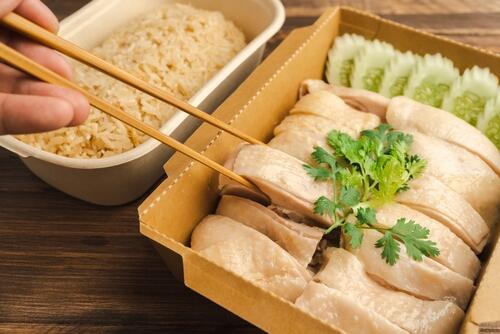 You're bound to work up an appetite with all that pilgrimaging, so let's hope you're in the mood for laksa and noodles! There are plenty of food stalls to go around in Chinatown, and some of the best can be found in the Chinatown Street Market near the Buddha Tooth Relic Temple. You'll also find clothes, homewares, gadgets and souvenirs – waving lucky cats included – so you can get a head start on your gift shopping. If you're just after the food, head to the Maxwell Food Center, where you'll find plenty of regional food stalls including Tian Tian Hainanese Chicken Rice, the first of its kind to be awarded a Michelin Star.
Outdoor Escape Room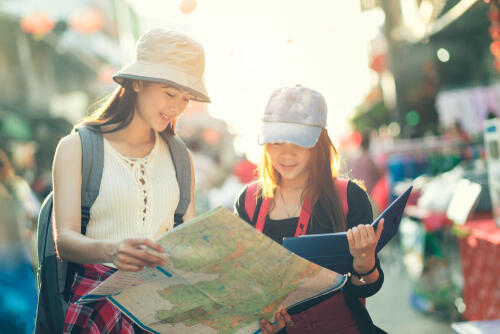 If you find yourself going around in circles, have a family to entertain or are just in the mood for a little adventure, try a Puzzle Hunt outdoor escape room experience. It's a fun and immersive 'choose your own adventure' style game that will lead you around Chinatown searching for clues and solving puzzles. You'll learn plenty about the history of Chinatown as you go, have loads of time to stop for food or happy snaps, and you'll win a prize at the end. It's a unique and entertaining challenge and will cost you nothing with Go City.
See it all with Go City
There's a surprise around every corner in Singapore's Chinatown. Make sure you don't miss a thing with a Go City Explorer or All-Inclusive Pass, which will save you time and money!