Washington DC isn't often thought of as a culinary destination, but it should be. We asked a local foodie to help us narrow down our choices for top spots for foodies to get their grub on, and this is what they came up with:
Lavagna
For high quality Italian fare made from the freshest ingredients, head to Lavagna. This award-winning spot features a menu packed with innovative dishes made from locally sourced ingredients from farmlands in Virginia, Maryland, and Pennsylvania. Be sure to sample one of their pasta dishes and ask about the fresh catch of the day!
Location:
539 8th Street SE Washington DC 20023
Astro Doughnuts & Fried Chicken
For a promising sweet fix that offers more of a "local favorite" experience than the touristy Georgetown Cupcakes, head to Astro Doughnuts.
Location:
1308 G St. NW Washington, DC 20004
PUPATELLA
For hands-down, the BEST pizza outside of Italy, in our expert pizza critiquing opinions, head to PUPATELLA for oven-fired pizza perfection. Located in Arlington, VA, this pizza place serves up classics and seasonal items such as "the fig and pig" pizza (pictured above).
Location:
5104 Wilson Blvd. Arlington, VA 22205
sweetgreen
Health nuts will love the fresh, creative menu at sweetgreens, a salad bar chain dedicated to sustainability in all aspects of their business including food sourcing, packaging, design, waste management, and energy consumption.
Location:
Check their website
for multiple locations throughout the DC area.
Komi
Great date night spot! For a celebratory night, or a vacation treat, check out the Mediterranean tasting menu at Komi. Foodies flock to this spot, run by Chef Johnny Monis, for the promise of an impeccable menu and flawless dining experience. The set menu starts with a series of small dishes for sharing and then serves up pasta, fish, meat, and family-style entrees and desserts. Reservations required and taken up to one month in advance. The largest group this establishment can accommodate is 4. Location:  1509 17th St.  NW Washington DC 20036
Thai X-ing
Head to Thai X-ing (pronounced "Thai Crossing") for a pre-fixed menu featuring 5-7 courses of traditional home-style Thai recipes prepared by chef/ owner Taw Vigsittaboot from recipes passed down in his family. The small, cozy atmosphere purposefully provides an intimate dining experience to make visitors feel at home.
Reservations recommended
at least one week in advance.
Locations:
515 Florida Ave. NW(no alcohol) Washington DC 20001
and
2020 9th St. NW (bar or bring your own wine ($5 corking fee))
Le Pan Quotidien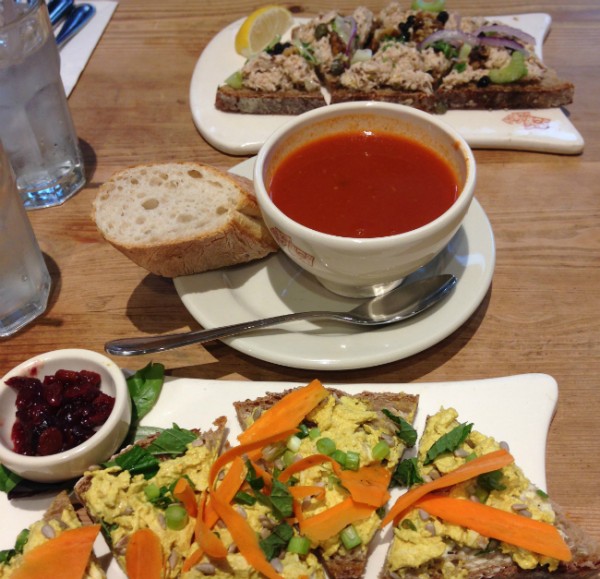 On our last trip to DC, this fast-casual-yet-upscale spot was our go-to when we were in need of a quick yet healthy bite and a strong cup of cappuccino. (It rained the whole time, we still made the most of it.) It was literally our dose of daily bread.
Grilled Cheese DC (GCDC)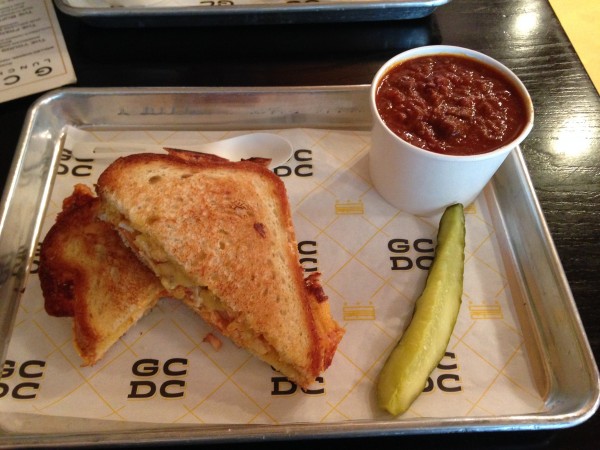 Tempted by the promise of gooey, cheesy sandwiches and entertained by the name 'GCDC', we wandered into this grilled cheese mecca on our way to the National Geographic Museum and were not disappointed. Staff was friendly, sandwiches were no-fuss cheese perfection, and the location is convenient for sightseeing along the national mall. Insider tip: get the buffalo chicken grilled cheese and chili soup. (this counts as an 'insider tip', right?)
Rose's Luxury
Celebrating a special event or visiting DC with someone special? Rose's Luxury, located right in Capitol Hill, features an intimate dining environment and some of DC best dinner fare. Voted DC's "Best New Restaurant in 2014", you won't be the only one who wants to check it out but they don't take reservations. Make sure to get there before they open to wait in line to make a reservation. Full disclosure: the wait can be up to 2 hours before you even put your name in, but it's sooooo worth it.
Ben's Chili Bowl
A DC staple since 1958, Ben's Chili Bowl is a DC visitor must. Head here for a quintessential American diner atmosphere and a mean bowl of fresh homemade chili.
Toki Underground
Ramen. Dumplings. And drinks. Need we say more? Head to Toki Underground for an Asian Fusion dining experience at its best. If there's a wait, just plan to hang out downstairs at The Pug for a few beers while you wait for a table.
Insider tip:
 walk-ins are welcome, but see if you can score one of their '
limited reservations
' spots in advance.
Justin's Cafe
Looking for somewhere to grab some wings and beers for the game? Head to Justin's, located just one block from the Washington Nationals Ballpark, for a classic, sports bar experience and delicious fare. Choose from typical bar food staples like wings and burgers or try one of their amazing flavor combos on an American-Neopolitan style pizza.
ShopHouse Southeast Asian Kitchen
This Southeast Asian fast-casual spot fuses the culture and flavors of Thailand, Vietnam, Malaysia, and Singapore with a focus on fresh, responsibly sourced ingredients while borrowing the service style and model of Chipotle (which, not coincidentally, happens to own and operate ShopHouse).
Have any favorite DC dining destinations we missed?
Let us know in the comments below!