Our nation's capital is a fabulous place to visit. It's tremendously walkable and has easy-to-use public transportation, but it can also be a bit confusing to first-time visitors looking to make the most of their time in the District. To help out travelers to D.C., we've put together a quick guide to major neighborhood in Washington DC and areas of interest for visitors. Our experts have highlighted the major sites and top attractions in each neighborhood, too, to help you plan that perfect vacation itinerary.
The National Mall
Both the geographic and cultural heart of the city, the National Mall is filled with world-class museum after world-class museum (many of them free!), scads of historic monuments, and even a historical carousel. You can spend days in this neighborhood alone. Below are a few suggestions, but check out our
post on things to do in the National Mall
for more.
Things to Do on the National Mall
Learn about our nation's heritage at the delightful National Museum of American History, home to the original Star Spangled Banner.
Indulge your childhood love of flight and space with a trip to the National Air and Space Museum.
Take your picture by the Lincoln Memorial and the iconic Reflecting Pool.
See some of the most important works of art from around the globe and across history at the National Gallery of Art.
Visit the brand new National Museum of African American History and Culture - tip: admission to this museum is free, but getting tickets is difficult plan head!
Head a bit south to L'Enfant Plaza to rent a bike and pedal around the Mall at your leisure.
Take a walk through our Nation's media history at the Newseum - one of the most popular museums in Washington DC.
Capitol Hill
Just like it sounds, Capitol Hill is home to the immediately recognizable United States Capitol Building and a score of other political and cultural buildings. You'll probably run into a Congressperson or two in this neighborhood!
Things to Do in Capitol Hill
Take a guided tour of the Capitol Building to see where the behind-the-scenes work of American government happens.
Undertake your next great research project at the unparalleled Library of Congress.
Stop by to see the special exhibits or take in a play at the Folger Shakespeare Library.
Bring your camera or phone to the United States Botanic Garden to snap perfect photos of rare and exotic plants.
Hop on (or off!) a comprehensive bus tour of the city for the best sightseeing overview.
Penn Quarter/Chinatown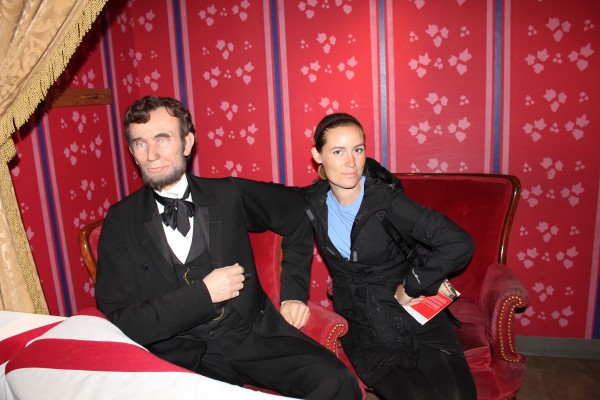 Penn Quarter is a smallish neighborhood located just north of the National Mall is filled with great restaurants, historic sites and buildings, and a number of fun museums and attractions. It links to Chinatown just to the north, where you'll find the usual suspects in terms of Asian cuisine, plus plenty of stores and the Verizon Center.
Things to Do in Penn Quarter / Chinatown
Scan everything from the current front pages to newspapers from generations long past at the Newseum.
Visit the National Archives to see the original copies of the Declaration of Independence, the Constitution, and the Bill of Rights.
Enjoy an amazing performance of early modern or contemporary theater at the Shakespeare Theatre Company.
"Meet" your favorite celebrities and politicians at Madame Tussauds DC - their US Presidents exhibit is totally unique to their DC location, you can see what every single president looks like IRL (sort of); from George Washington to Donald Trump.
Pop in for a meal at the classic Hard Rock Café.
Attend a Washington Capitals or Washington Wizards game at the Verizon Center (aka "The Phone Booth").
Georgetown 
Comprised of several distinct parts, including the university, a residential neighborhood, and one of the city's most popular shopping and dining districts, Georgetown is about as eclectic as they come. For more ideas, check out our post on things to do in Georgetown DC.
Things to Do in Georgetown
Hop on a sightseeing cruise for a chance to see the District via the water, with unique perspectives and a cool breeze.
Rent a canoe, kayak, or stand up paddleboard for extra waterfront fun.
Shop 'til you drop at the many boutiques and major label stores along M Street.
Pop into Georgetown Cupcake for a sweet treat from the chain's flagship location.
Tour the gardens at the beautiful Dumbarton Oaks Museum.
Participate in a walking tour to uncover hidden gems and historic spots in this heritage-rich neighborhood.
Dupont Circle 
This trendy neighborhood is a pricey place to live, but a delightful place to visit and explore. Filled with art galleries, boutique shops, fusion restaurants, and more, you can craft a perfect afternoon here.
Things to Do in Dupont Circle
Explore the prestigious Phillips Collection, one of the best art galleries in the city (and that's saying something!).
Talk a walking tour of the Embassies along Massachusetts Avenue for a survey of the various architectural styles that dot the area.
Snap photos of the marble Dupont Circle Fountain, and sit on the nearby benches for a quick break from all that walking.
Enjoy a bite at one of the many top restaurants in this neighborhood, from national chains to local favorites.
Upper Northwest 
This wide swath of territory encompasses a number of other neighborhoods, including Woodley Park, Cleveland Park, Tenleytown, and more. It's primarily residential, but there are a few significant landmarks and attractions, too.
Things to Do in Upper Northwest 
Visit the world-famous giant pandas at the Smithsonian National Zoo – for free!
See the gorgeous architecture of the National Cathedral.
Hike, bike, or picnic at Rock Creek Park – one of the city's most significant greenspaces.
Stop by the renowned Politics & Prose Bookstore for the latest bestseller, a thought-provoking new work of scholarship, or an inspiring author talk.
U Street/Columbia Heights
Historic regions with a great deal cultural heritage, these neighborhoods have been slowly gentrifying over the last few decades. U Street, a little bit off the beaten path, offers everything from small ethnic food joints to high-end design stores. Columbia Heights is easily accessible via Metro and boasts a ton of stores and restaurants.
 Things to Do in U Street/Columbia Heights
If you're looking for the District's best chili, look no further than Ben's Chili Bowl.
For those redecorating their homes, U Street has a great row of original furniture stores with unique, luxury and budget-friendly designs.
Visit the African American Civil War Memorial and Museum to learn more about a vital part of our cultural heritage.
For literary buffs and aspiring writers, Busboys and Poets is another must-visit.
Northern Virginia/Maryland
Because the District itself is so compact, a number of top attractions in the region are actually technically in NoVA or Maryland. Take the Metro to reach these attractions with a bit of travel time but low stress.
Things to Do in Northern Virginia/Maryland
Spend an afternoon at the beautiful National Harbor with opportunities to shop, dine, and play. Be sure to take a ride on the Capital Wheel!
There are more boating/kayaking options available from the National Harbor as well.
If you've got a car, a must-visit attraction is George Washington's Mount Vernon, the first president's home, and garden complex.
Another great shopping option for those on a budget is the Pentagon City mall.
Save on Attraction Admission in Washington DC Neighborhoods
If you're exploring this many different parts of Washington DC, you're bound to want to visit a few of the attractions mentioned in this post. Consider picking up a Go Washington DC Card Explorer Pass to suit your traveling needs. Whether you're in town for only a day or two, or even a whole week, you'll find the perfect pass for you. Save up to 47% versus paying at the gate!