If you're looking to satisfy your winter wanderlust in a city known the world over for its cultural and historical value, then a trip to Amsterdam in January could be just the ticket. So long as you can brave the European winter chill, January offers the perfect opportunity to experience the capital of Dutch delights during one of its quietest and therefore most genuine periods.
Visiting Amsterdam in January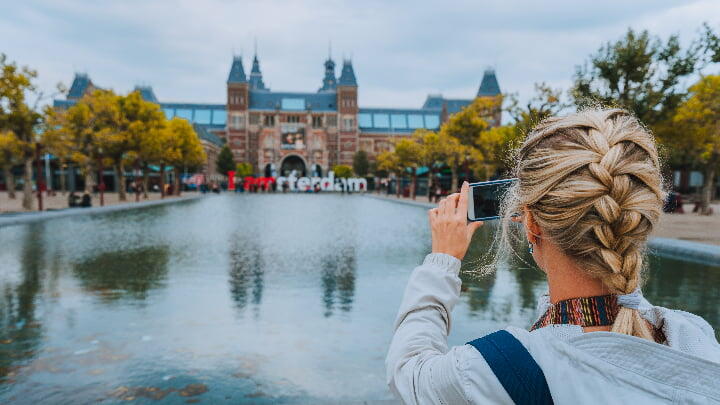 Average Temperature: 33 - 39°F • Average Rainfall: 8 days/month • Average Sunshine: 2 hours/day
January serves as somewhat of a renewal of Amsterdam's low-season. With most of the festive celebrations of December now long wrapped up, the beginning of the new year sees tourism rates enter a seasonal lull which will last into the coming months.
While the Dutch capital is still alive and kicking in this period, you'll have the chance to experience it during one of its most quiet periods. While the city never truly sleeps due to its multifaceted appeal, you're likely to find yourself fighting much less with crowds at popular attractions. If that wasn't enough, visiting in this period will also likely give you the benefit of off-season accommodation rates and airfare.
With winter now in full swing, you can expect January to be a month to wrap up well for. Alongside average temperatures flirting just above freezing, you're also likely to experience at least one day of rain per week. Warm, waterproof clothing is therefore a must, particularly if you plan on exploring the city's iconic open squares and winter festivities.
Things to do in January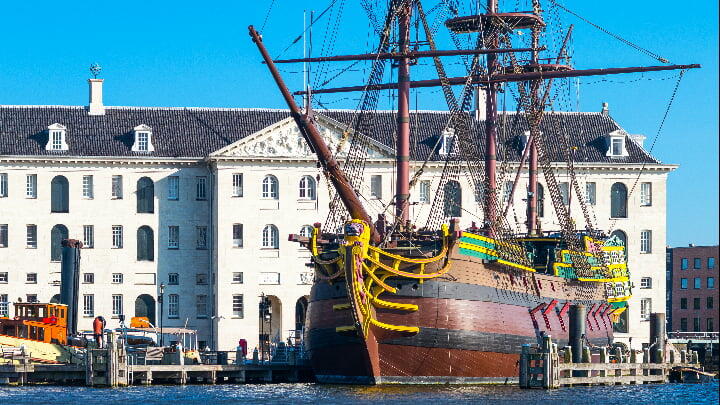 Given the average weather of Amsterdam in January, you'd be forgiven for wanting to forego exploring's famous canals and architecture in place of more indoor activities. If you're looking to stay toasty, then January could be a fantastic time to fit in more of the city's renowned cultural and historical hubs.
Having been home to many celebrated artists both past and present, Amsterdam is unsurprisingly filled to the brim with some of Europe's best art galleries. Leading the charge is the Rijksmuseum, home to the Netherlands' largest collection of artworks and historical artifacts. Among this collection are over 20 pieces by Rembrandt, including the prized 'Night Watch', and four by Vermeer, such as 'The Milkmaid' and 'Woman Reading a Letter'.
Second only to the Rijksmuseum is the Van Gogh Museum, home to the world's most complete collection of the late post-Impressionist painter's works. Just down the road is also the MOCO Museum, standing as a celebration of such popular contemporary artists as Damien Hirst and Jeff Koons.
For your fill of Dutch history, you'll want to make your way to the likes of the Amsterdam Museum and the Maritime Museum, each offering key insights into the respective histories of Amsterdam as a whole and the nautical pursuits of the Netherlands. Also popular is the Anne Frank House, where a biographical museum now stands in memory of the Jewish wartime diarist.
If you happen to be visiting Amsterdam in early January, you'll see the tail end of the Ice*Amsterdam festival. Hard to miss due to its huge presence on the busy Museumplein, this winter celebration comprises a central ice-skating rink complemented by market stalls, food stands and winter bars where you can warm up with a hearty cup of hot chocolate milk.
Events in January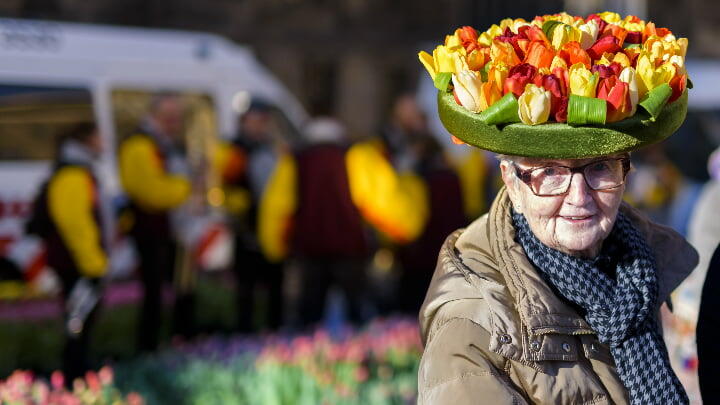 New Year's Day
If you're visiting Amsterdam over New Year's Eve and find yourself still buzzing from a night of celebration, then you can join thousands of locals and visitors alike for the New Year Swim. On January 1, many flock to take a simultaneous dip in the North Sea as a symbolic way of washing off the previous year and starting the new one afresh.
And fresh is the operative word here because the North Sea will be cold. This isn't a tradition for the faint of heart, but it's a must-do if you really want an authentic Dutch New Year experience. After a brief dip in the sea, you can join your fellow revelers on the beach and continue the festivities with high spirits and a hot cup of pea soup to warm your chilled bones.
As you might expect, New Year's Day is a public holiday in the Netherlands, meaning many stores and services will be closed for the day. This makes it a perfect time to rest after a night of festivity. Just make sure to grab any provisions and hangover cures ahead of time!
Amsterdam Light Festival
Running alongside the holiday season, the Amsterdam Light Festival illuminates the Dutch capital with impressive light displays by designers, artists and architects from around the world. Taking place throughout December and January, the festival typically showcases around 30 unique art installations, bringing an even more magical touch to an already festive city.
One of the most popular activities of the Light Festival is to take a canal cruise in the evening. These boat tours offer a chance for visitors and locals alike to see the city from a different perspective, offering unique insights into the history of prominent neighborhoods while also exploring the artworks lining the banks of the canals. 
National Tulip Day
The third Saturday in January marks the official start of tulip season in the Netherlands with National Tulip Day. On this day, Amsterdam's Dam Square makes way for a garden of around 200,000 tulips, grown carefully over the preceding months in controlled, indoor environments. Thousands of visitors flock to this garden each January to pick their own free bunch of tulips, and many florists from this point forward will begin promoting the new tulip season.
IMPRO Amsterdam
For roughly a week in late January, a handful of Amsterdam's key theatres become host to the IMPRO festival. Celebrating all facets of improvisational theatre, the festival attracts high caliber players from around the world to come together in a series of shows held throughout the week. The festival's extensive program of events also includes open workshops for visitors of all backgrounds and capabilities to try their hand at improv.