Shopping - one of life's joys to some, a bane to others; there's no doubt that shopping is one of the pastimes of all time. So, if you're heading to Bangkok and want to go bargain hunting, you're in luck.
Below, we've aggregated the very finest shopping opportunities in the city, so you can head out with a knowledge-filled brain and make the most of your trip. Thankfully, no matter which Bangkok district you're in, you'll find plenty of shopping opportunities! Yay!
Including:
ICON Siam
Terminal 21
Chatuchak Weekend Market
Talad Rot Fai Train Market
Khao San Road
and more!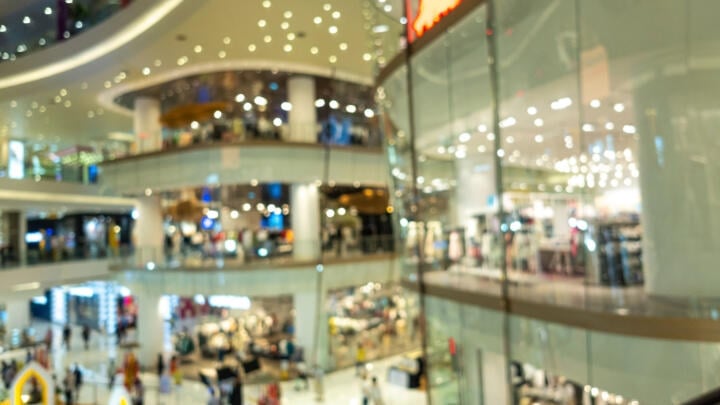 Known locally as the 'Mother of All Malls', ICON Siam is a behemoth of a building. Standing tall over the Chao Phraya River, it's one of the youngest malls on this list.
Featuring too many stores to mention, where you'll be free to buy designer gear, clothes, electronics, beauty products, and much more, it practically beckons your credit card to slip, slide, and hemorrhage your bank account. 
You'll also find an enviable food hall full of delicious Thai bites and even live events like music, dance performances, and even martial arts taking place there. You could practically spend the day there and barely notice. Who needs a shopping district in Bangkok when you've got all this goodness under one roof?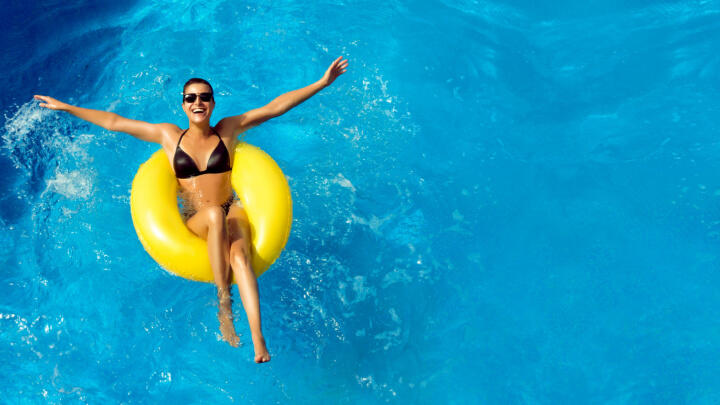 At first glance, Mall BangKapi may just be another awesome mall in Bangkok. But look beneath the surface, or more importantly, on the roof, and you'll find something incredibly unique. 
Sure, you could simply head inside and pick up myriad shoes, dresses, shorts, bags, and everything else you could want. You could just do that. But if you don't look up, you'll miss what makes Mall BangKapi so unique. 
See, sat atop the mall is a waterpark. We're not talking about a slide or two and a pool; we're talking about a fully kitted out, bonafide water park. It's called Fantasia Lagoon, and it will blow your socks off. Or, well, at least soak them.
Featuring tons of rides, slides, and even places to relax, it's the perfect remedy for a day of shopping on your feet. Bet you didn't think you'd discover a water park on a list of Bangkok's shopping districts!
Another unique mall on this list is Terminal 21. If the name reminds you of an airport, you're not far off. 
See, Terminal 21's unique selling point is its floors. Each level of the mall is named after a city on Earth and features stores famous in those cities/countries. London, San Fran, Paris, and Tokyo are just some of the many floors you'll get to explore. 
So, if you have a hankering for Japanese merch, or want to pick up some Parisian labels, you know where to go.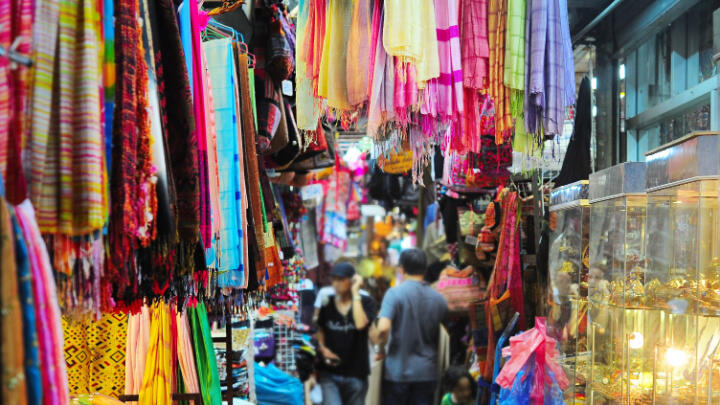 Let's switch gears for a moment. Malls obviously offer plenty, but what they don't offer is the oddball stuff - handcrafted jewelry, knickknacks, old tech, and other weird and wonderful things just don't do well in a mall where they have to pay astronomical rent.
Enter Chatuchak Weekend Market, Bangkok's biggest market and the kind of place that'll put any shopping district to shame. Definitely put a few hours aside to make the most of this market because it's so big you'll likely get lost. 
We reckon you can find nearly anything here, so keep an eye out for bargains, don't be afraid to haggle, and make sure you stop off for some tasty street food to keep you fueled for your shopping spree.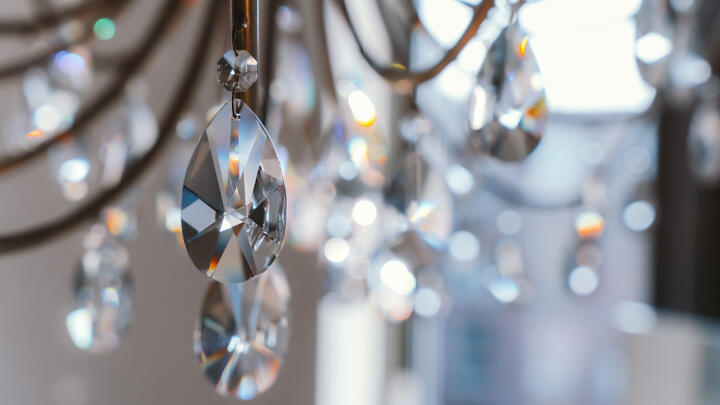 Do you fancy only the finest things in life? Is your wardrobe worth more than your life? If so, and you have the bank account to back it up, head to EmQuartier. Easily Bangkok's poshest and most opulent shopping district, it's a mall that puts others to shame. 
Every boutique, top-level brand you can imagine has a shop in EmQuartier. Your Jimmy Choos, Louis Vuittons, and Guccis all call it home, and that barely scratches the surface. You'll find brands you've never even heard of before, replete with eye-bulging price tags.
However, if you've got the cash to match your tastes, why not go there and live it up?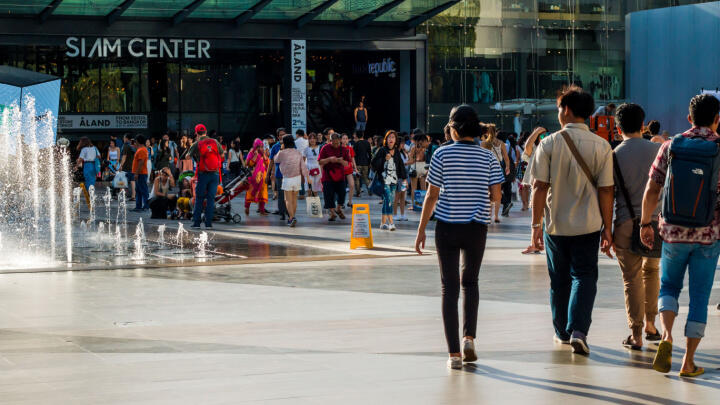 If size is important to you, then Siam Paragon has got it. Arguably the biggest mall in Bangkok, it makes your average shopping district look like an ant by comparison. A tiny ant!
Expect to find every mainstream store that's popular in Thailand and abroad within its giant walls. But that's not even the half of it. There is a movie theater on-site featuring fifteen of the biggest screen in Asia. Not just Thailand, but the entire continent of Asia. So, if you fancy a break from breaking the bank, why not catch a flick on a massive screen?
Foodies will also dig the Gourmet Market, which should more than satisfy your every craving.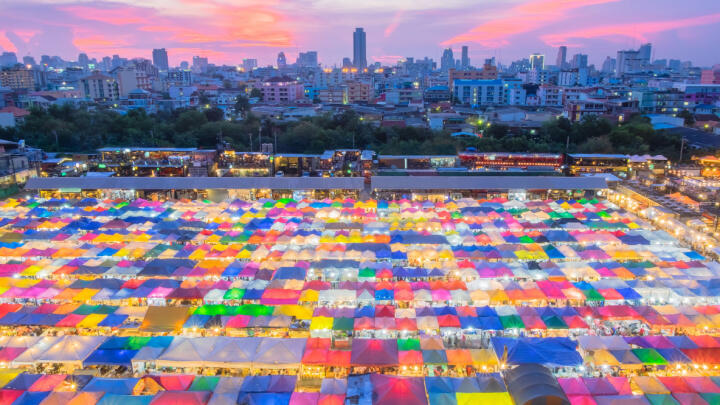 Not to be confused with Maeklong Railway Market, which notoriously forces buyers and sellers to dodge live trains, Talad Rot Fai Train Market is one for all your night owls out there. Though it's relatively far from the center of Bangkok, you won't find its enticing mix of market stalls and makeshift bars in any other shopping district!
Featuring more than two thousand stalls selling all manner of oddities, keen eyes will surely find some weird and wonderful souvenirs as they stroll about. And, thanks to the market's evening opening times, many revelers attend the local bar stalls for a cocktail or twelve.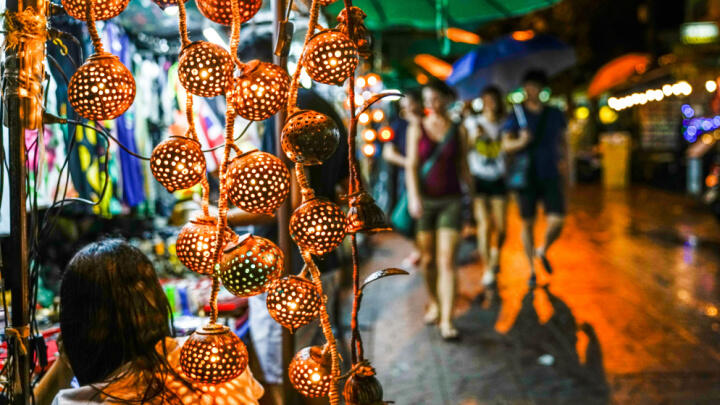 We'll end our exploration of Bangkok's shopping district scene with Khao San Road. Most famous for being the epicenter of the famous Songkran water festival, in the off-season, it becomes a market of its own. 
You'll be rubbing shoulders with plenty of tourists, as it's also home to the largest gathering of hostels and cheap accommodation in the country. But who knows, maybe you'll make some travel buddies while perusing the deals on offer?
And what deals might they be? Well, cheap CDs, DVDs, books, and souvenir fodder make up the bulk of what's on offer, but you're likely to find other things there, too, if you browse enough. Also, given the high amount of tourist footfall, you'll find tons of restaurants and bars to try out. 
And that's everything you need to know about every shopping district in Bangkok! Need something to take your mind off spending? Check out Go City! With our All-Inclusive Pass and Explorer Pass, you can see all of Bangkok's best bits for one low price. That way, the rest of your budget can go to paying off your credit card!