If you're planning a vacation in Barcelona, you may already have a pretty good idea of what to expect. Delicious food, warm temperatures, and heaps of wonderful Mediterranean architecture bring millions to the city every year. But where are the best places to stay in Barcelona? Well, we've committed to key research just for you. So read on, and find out where is the best place for you to stay in Barcelona!
Including:
Plaza de Catalunya
Barri Gotic
El Raval
El Born
Eixample
and more!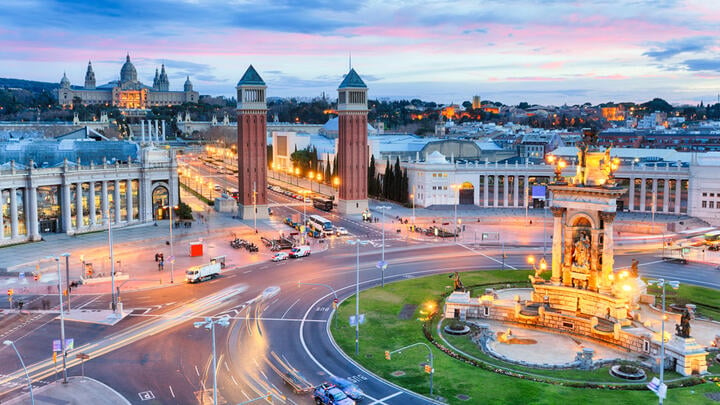 Plaza de Catalunya
If you want to be in the thick of the Catalan capital, then look for a place in Plaza de Catalunya. Right in the center of Barcelona, it gives you a great jumping-off point to travel from as you explore. 
You'll be surrounded by high street shops, markets, coffee houses, places to eat, and things to do, so really, it's the perfect place to set up a basecamp if you've never visited Barcelona before. 
La Boqueria, one of Barcelona's best and oldest markets, is a short walk away, so if you're staying in an Airbnb and you need fresh food, it should be your first port of call every morning. And museums like MACBA, or Museu d'Art Contemporani de Barcelona, are right around the corner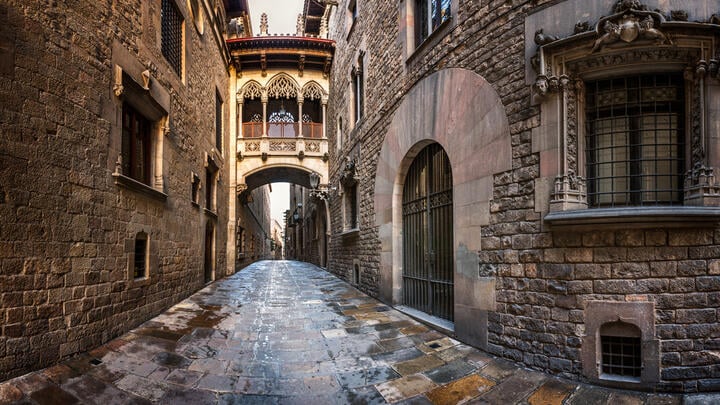 Gothic Quarter
Looking for something a little older with a touch more atmosphere? Barcelona's Gothic Quarter is, predictably, one of the oldest parts of the city. Wandering its streets, you'll see untouched architecture that dates back to the Middle Ages. It's a more old-school, slapdash approach to city planning you won't find in many other tourist cities. 
You'll find plenty of markets here, as well as local restaurants and family-owned stores. A far cry from Plaza de Catalunya's high-street affair, but you'll find things in the Gothic Quarter you won't find anywhere else on Earth.
As far as things to do, Güell Palace, one of Gaudi's earliest buildings, is right nearby. So go look at it, take pictures aplenty, and bask in its brilliance.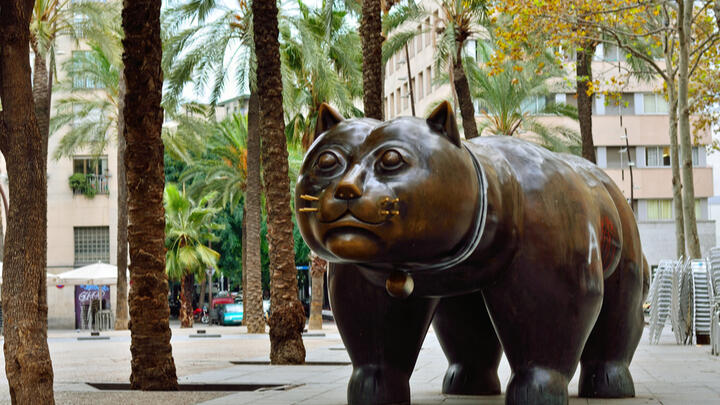 El Raval
The city's multicultural heart, El Raval is one of the most fun districts in the city. Brimming with bars, clubs, and live music, if you want the full Catalonian experience, not many places do it better. 
Fresh food lovers or general deal-seekers should go check out Mercat de Sant Antoni for all their bartering needs. And, if the language barrier isn't an issue, there are also a slew of theaters putting on myriad shows for you to enjoy. Photo-lovers also owe it to themselves to snap a pic of the famous El Gat de Botero, an enormous bronze cat statue by revered artist Fernando Botero.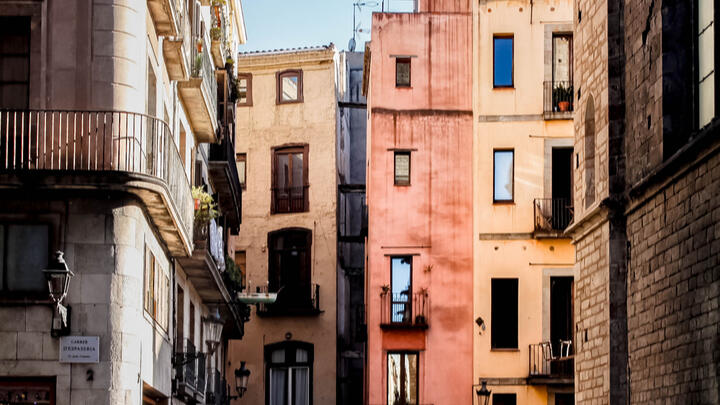 El Born
What was once home to the ruling classes of old Barcelona has now blossomed into a lively neighborhood while still keeping much of the architectural splendor of the past. 
Alongside all the history, you'll find local shops and restaurants that'll open their doors to you. As for entertainment, you're a bit spoiled for choice here. Besides the numerous local art galleries, you can also visit the likes of the Picasso Museum and see some of the world-famous painter's works, or go for something more modern thanks to the Moco Museum, which showcases eye-opening modern art from Banksy and other genre heavyweights.  
If you want a taste of local life with a few extra frills, El Born has got you covered.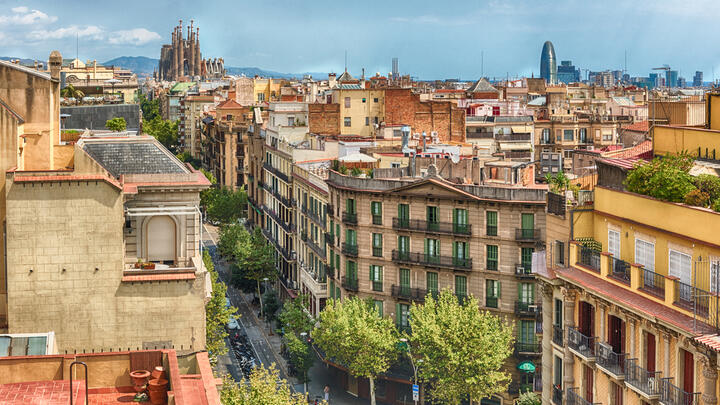 Eixample
Right off of Plaza de Catalunya, you'll find Eixample, one of Barcelona's more bustling neighborhoods. One of the city's biggest districts, you'll find plenty of touristy delights within its formidable borders. 
While it contains more restaurants, bars, and cafes than you'll visit in a lifetime, its crowning jewels are perhaps two of Gaudi's most famous works, Casa Battló and La Sagrada Familia. The mind-blowing buildings are two of the city's biggest tourist attractions, so prepare to queue if you do visit. 
Besides all that, you'll find the city's biggest flea market, called Mercat Els Encants, where you can pick up pretty much anything. And you'll be a short walk from La Ciutadella Park. If you fancy it, take a Segway tour of the park to see the sights in a more unusual fashion!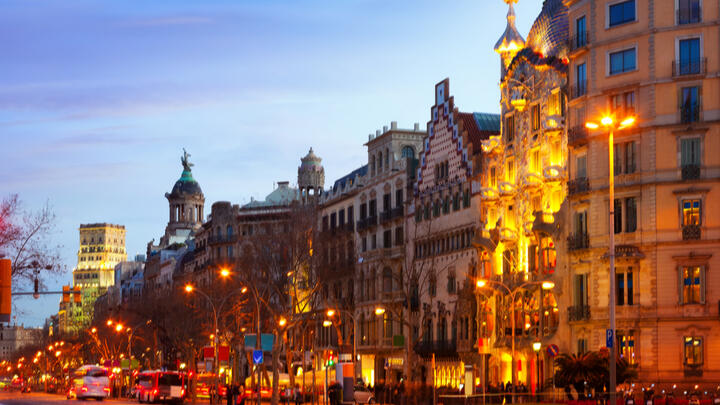 Passeig de Gracia
One of the fancier parts of the city, Passeig de Gracia is Barcelona's very own mini-Manhattan. Grand old mansions, opulent shopping, and designer-draped denizens are all on display. 
If you wish to mimic the class of the locals, you'll have plenty of opportunities to, thanks to the myriad designer stores and luxury labels on offer. And, for the culture vultures, check out the Placa de Catalunya, a beautiful central square full of sculptures, and another of Gaudi's famed works, La Pedera.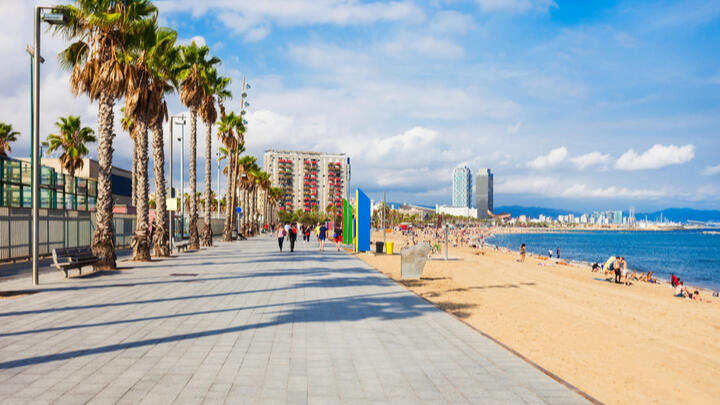 La Barceloneta
Want a little sand and sea with your stay? Why not pitch your tent around La Barceloneta, the city's seaside district? 
Of course, the highlight of the neighborhood is undoubtedly Barceloneta Beach. It's the city's most popular beach for a reason, thanks to its proximity to the city center, a load of seaside bars and restaurants selling fresh fish, and the many watersports people can take part in. 
In fact, other than the Museu d'Historia de Catalunya, where you can learn all about the city's rich and long history, nearly everything else is beach or ocean-related. However, given how close the city's amenities are, it's still more than worthwhile to stay there and simply travel into the heart of Barcelona when you want to see and do touristy things. After all, nothing quite beats a sea view in the morning!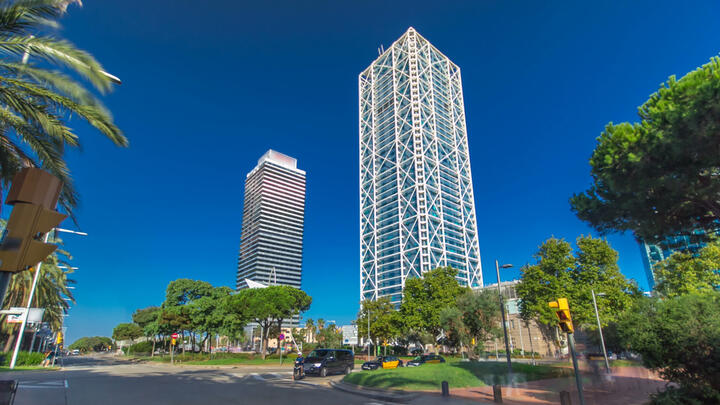 La Vila Olímpica
And finally, we end our recommendations for where to stay in Barcelona with a more modern site. La Vila Olímpica was once the Olympic Village during the 1992 Barcelona Games, but has since evolved into its very own neighborhood, with bars, restaurants, and beaches ripe for a vacation destination!
A stone's throw from the Barceloneta seaside, while many consider it to be part of that neighborhood, it's developed something of its own identity in the decades since the Olympics. 
With its goldilocks placement between the beach and the city center, it could be the perfect place to set up your basecamp! And you'll hardly say no to the amenities on your doorstep either!
And those are our recommendations of where to stay in Barcelona!