5 Days in Barcelona
Itineraries aren't for everyone. We get that, you get that. But, if you're spending 5 days in Barcelona, you might be overwhelmed with choice paralysis. Simply put, there's an awful lot to see and do - how do you fit it all in? This is how. So, unburden your petrified limbs and read on. These are our recommendations for how to spend your 5 days in Barcelona!
Day 1
Kick-off your Barcelona adventure with an authentic bang by visiting the older parts of the city. It's a great place to do some fresh food shopping if you're cooking for yourself, and there's plenty to see besides the markets.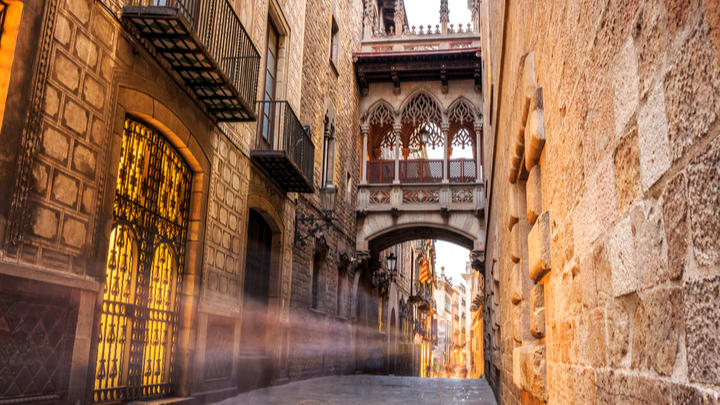 The Gothic Quarter is one of the most beautiful parts of the city, dripping with Medieval architecture and Mediterranean atmosphere. First, stop off for some breakfast if you haven't eaten already. There are plenty of brilliant local cafes in the area, so let your nose guide you to the most alluring aroma.
Then, make sure to visit Barcelona Cathedral. If you get there before 12 pm, entry is free, so make the most of your morning and squeeze some pennies while you're at it!
Then, an absolute must-visit is Boqueria Market. Here, you can pick up mounds of fresh produce for all your culinary needs, or simply sample some freshly made tapas.
If you want a deep dive into this historical area, you could join a walking tour of the area, learn all about it, and find out which local haunts your guide recommends.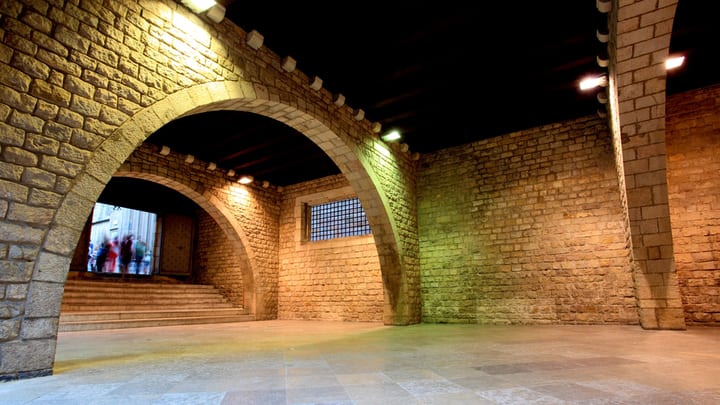 Then, end the afternoon with a trip to the famed Picasso Museum, where you can explore the life, times, and works of the painter.
Then, either retire for the day or, if you want a little nightlife fun, stay in the area as the Gothic Quarter has some great hidden bars and pubs for you to discover!
Day 2
It's day 2 of your 5 days in Barcelona! No vacation to the Catalan capital worth its salt can miss the great Gaudí's work. The famed architect left his stamp all over Barcelona, and today's the day you see it all. Most of his buildings are in Gracia, so that's our next destination.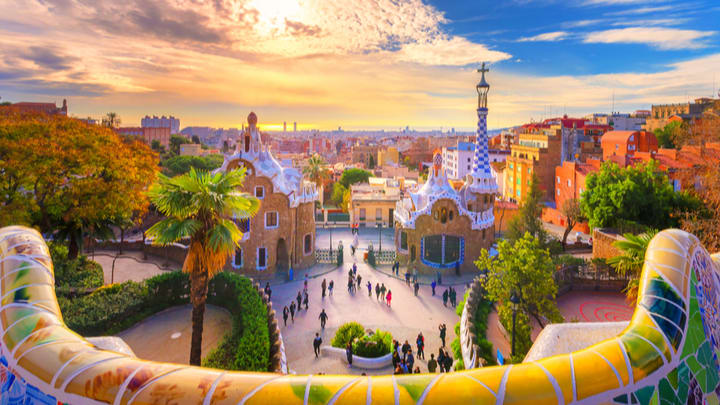 Fancy breakfast in the park? Why not picnic at Park Güell? Designed by none other than Gaudí, it's one of the city's best green spaces. Then, when you're refueled, take a tour of the park and see all his masterworks up close.
One down, plenty to go. Next, head to Gaudí's Sagrada Familia. Arguably one of Barcelona's most iconic landmarks, it's a feast for the eyes. Inside, it's like being transported to another world, with undulating facades and mesmerizing stain glass worthy of more than a few pictures.
Have a late lunch at one of the many delightful restaurants in Gracia, and then move on to the magnificent Casa Battló. Look around, get your snaps, and then end the day at La Pedrera.
There, you did it! All of Gaudí's greatest hits in a single day! Pat yourself on the back and get some sleep; we're traveling out of town tomorrow.
Day 3
You're at the midway point now, but you've still got plenty to do. So, wake up early, prepare your own breakfast or get something from the hotel's breakfast bar. Today, you're heading to Montserrat, a beautiful mountain range just outside the city.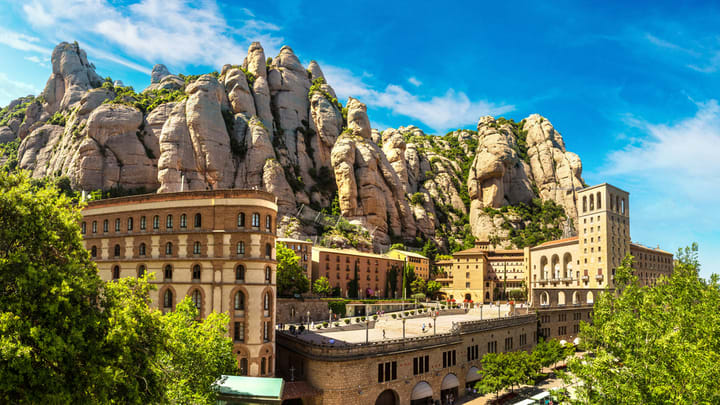 You could drive or take the train, but if you want to avoid the hassle, book a bus tour from the city center and let someone else take care of the journey! They'll drive you all the way there, giving you ample opportunity to take photos while in the comfort of an air-conditioned vehicle.
Once you get there, you can spend your day exploring. Besides the fantastic views, an absolute must-visit is the Benedictine monastery. Called the Santa Maria de Montserrat, it's one of the holiest places in Catalonia, attracting many believers from far and wide. You're free to tour the site and admire the 1000-year-old architecture.
Then, stop by the local museum to learn about the mountain's history and see timeless artifacts with your own two eyes.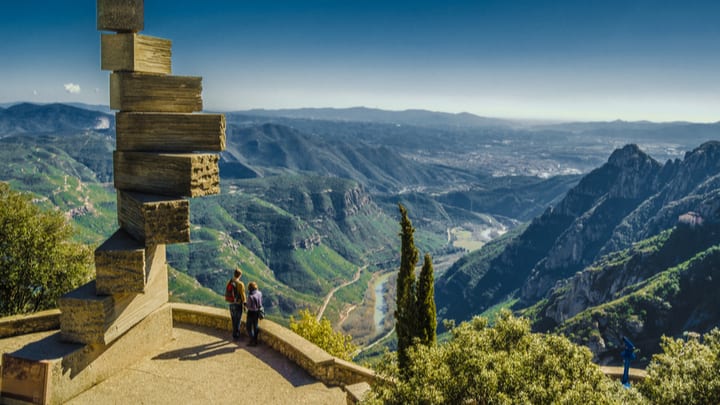 Stop for lunch at Mirador Restaurant, then head to the Stairway to Heaven, a religious sculpture that's worthy of more than a few photos. There are other sights here, like the Santa Cova Chapel and Sant Miquel's Cross, but by this point, you might be all mountained out. If so, make sure you take the cable car down to the bottom of the mountain and make your way home.
Day 4
Wake up and prep for another day of outdoor fun, this time in the city itself. Get fed, then head to Ciutadella Park. There's lots to see here, so take to take your pick!
If you need some exotic animals in your life, wander over to Barcelona Zoo and see them up close. There are 2000 of the cute critters, so you may be some time.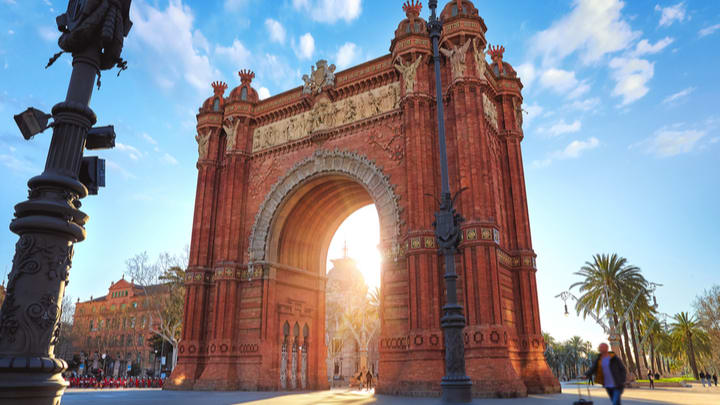 Then, get your camera ready to snap the famous Cascada fountain, and be sure to stop off at Spain's very own Arc de Triomf.
Or, if you want to get a little wild, hop on a Segway and take a tour of the park's highlights. Even newbies can get involved thanks to a short lesson in handling and operation from your guide. Then, zoom off and learn all about the park's history.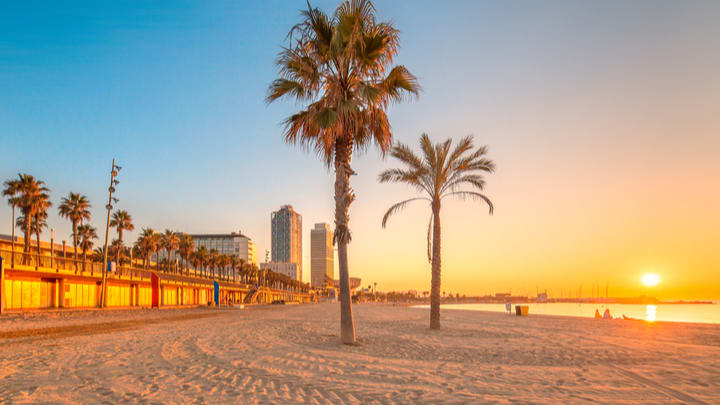 Then when the park is fully explored, head to Barceloneta Beach and soak up some rays. You can spend the rest of the day here if you desire, thanks to the myriad bars, restaurants, and watersports on offer. Then, when the sun has set, head home, get some rest, and prepare for your final day.
Day 5
For your final day, head to El Poble-Sec and prepare to ascend a mountain. Kind of. Get some food in, and head out. We're spending your final day in Montjuïc Park.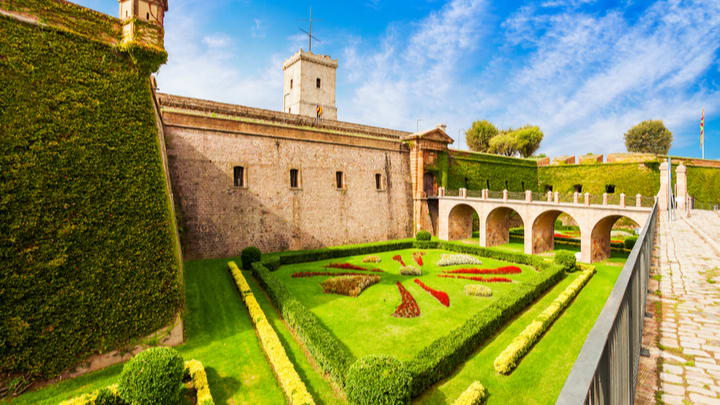 The park itself is magnificent, but the real showstopper is Montjuïc Mountain. If you don't fancy a walk, hop in a cable car and admire some of the best views in the city as you ascend. Then, when you're done, explore Montjuïc Castle - an old military facility - and the surrounding gardens for some great picture opportunities.
Then, head back down the cable car and grab some lunch at one of the nearby restaurants.
Next, learn more about Barcelona and Catalonia's history at the Museu d'Historia de Catalunya. You'll find tons of artifacts that date back to pre-humanity times all the way to the present.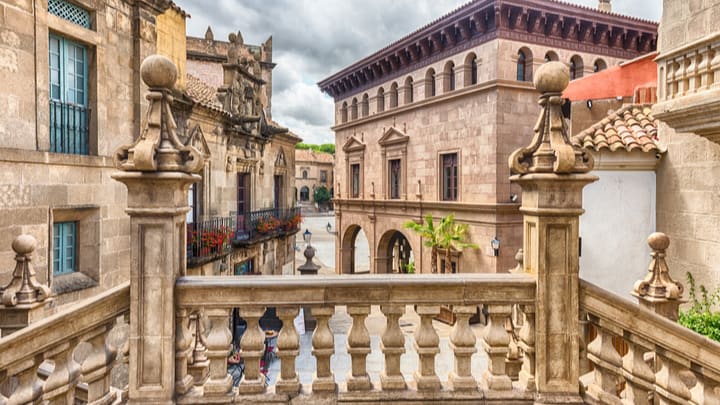 And finally, end your visit at Poble Espanyol, an awe-inspiring look into snapshots of the city's past thanks to faithful recreations of neighborhoods, markets, and streets from throughout time.
And that's your 5 days in Barcelona done!