So, you're vacationing in Boston. Good choice! It's a city packed with history, entertainment, and things to discover. However, if you're looking for a more curated experience, or are simply bad at planning your time, never fear. We've come up with the perfect 5-day itinerary to ensure you see the most of Boston in 5 days. So, without further ado, let's get on with it!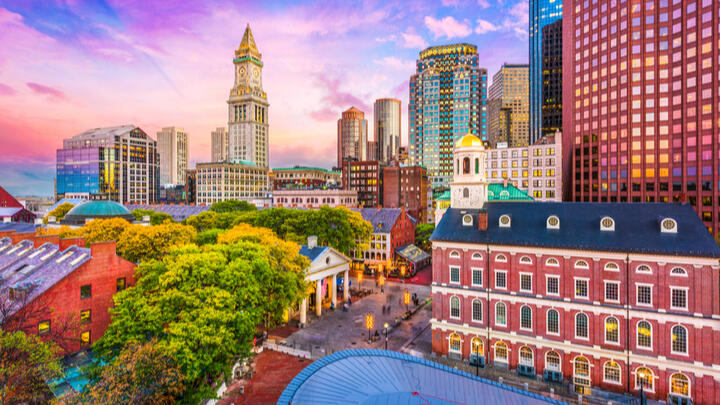 Day 1 - Going Downtown
No matter where you choose to set up your home base, your first port of call when exploring the city should be Downtown. There, you'll find a lot of the historical attractions Boston has to offer, as well as its best green spaces and more multicultural offerings. 
You'll find the Freedom Trail there, arguably one of Boston's most famous landmarks. Take a guided tour, and explore over 200 years of Boston's history as you trace the red brick path that was so important before and during the War of Independence. With a handy guide in tow, you'll learn so much about the history of the Freedom Trail. You'll also pass many other Boston landmarks like the Common, Massachusetts State House, and the Boston Massacre Site.  
Another must-visit Downtown spot is the New England Aquarium! Perfect for kids and big kids alike, you can go nose-to-nose with seals, wave hello to the penguins, and much more! There are a number of great exhibitions on throughout the year, like the Amazon Rainforest exhibit, where you'll meet and greet tons of exotic creatures that call the forest home. 
Sports-lovers should check out Fenway Park, the home of the Boston Red Sox. You can either take a tour of the facility and learn more about the team's history, or get tickets to a game.
You'll also find Chinatown, where you'll have some great photo ops, thanks to the China Trade Gate, and a wealth of food and drink options if you like a bit of Chinese cuisine.
And art lovers among you simply have to visit the Museum of Fine Arts, Boston. Containing over 500,000 works of art, from paintings to ancient sculptures, it's a great way to soak up some culture on your first day in Boston!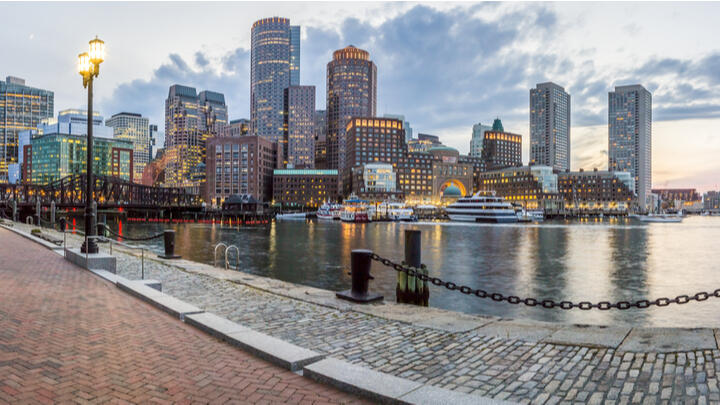 Day 2 - Going Back
On day two of your vacation, we recommend heading to Back Bay. There's some stuff to do here, but rather than front-load your vacation with things to do, you might want to space it out, so your legs and brain get a rest. Back Bay is one of Boston's most affluent areas. As such, it has a superb selection of restaurants and bars, among other things.
Trinity Church combines handpainted design with grandiose architecture similar to a European Cathedral. It's truly an awe-inspiring sight, one we recommend everyone check out at least once. 
Book-lovers will love the Boston Public Library, with its labyrinthine corridors of books, books, and more books. You can even get a free tour of the building, if you ask politely. 
Then, when it's time to eat, Back Bay has a couple of top restaurants we recommend. Uni offers high-end Japanese cuisine in a classy, contemporary setting. With authentic izakaya dishes, it's a great spot to get some grub. Or, to fulfill all your steak-ly desires, Grill 23 is an award-winning choice. It's rowdier than the likes of Uni, so bear that in mind when booking a table.
And why not round out day 2 with a drink? For all your sports bar needs, The Pour House has 17 screens of sporting bliss on display, as well as a healthy helping of beers on tap. Or, for a classier tipple, head to the Lenox Hotel's City Bar, where the likes of Babe Ruth have knocked back delightful cocktails in the past.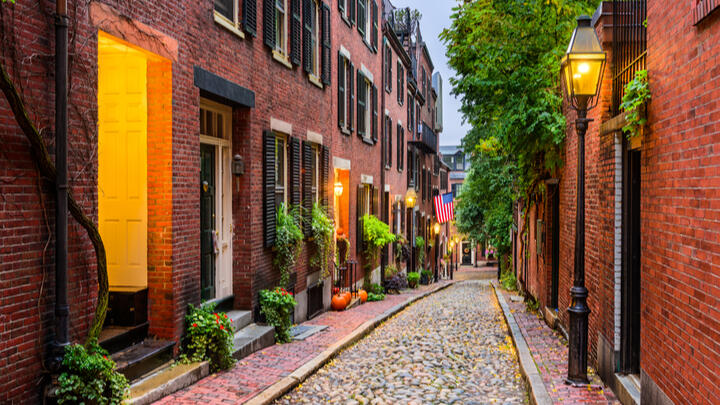 Day 3 - A Beacon of Hope
On the third of your 5 days in Boston, we're all about nature as we head to Beacon Hill. This beautiful district is home to the city's best green areas, as well as some stunning eateries and great nights out. So let's talk about them. 
Grab breakfast at the Beacon Hill Bistro and then head to Boston Common, the country's oldest public park. There, you'll find 50 acres of green bliss, and some sights too, like Brewer Fountain Plaza. You could even take a picnic for the afternoon, if the weather's nice. 
Then, for even more green goodness, stroll over to Boston Public Garden, which adjoins the Common. There, you can take a ride on the iconic Swan Boats that appear in many films and TV shows, go snap a photo of the George Washington Statue, or simply wander around the lake. 
Looking for a keepsake to memorialize your vacation, or need to buy some presents for loved ones back home? Beacon Hill's Black Ink has many strange gifts on offer, from shot glasses to dinosaurs, weird baby toys to cat-themed chopsticks.
And then, with dinner time quickly approaching, here are your dining recommendations. No.9 Park is a classy, nouveau-Italian joint with a pricey menu and a smart dress code. But, if you can afford it, you'll be welcomed into a world of sublime tastes and an exhaustive wine list. Or, if you're looking for something a little more casual, give Grotto a go. They've got the traditional Italian affair like pasta dishes, alongside steaks and much more that'll keep you satisfied right into the following breakfast.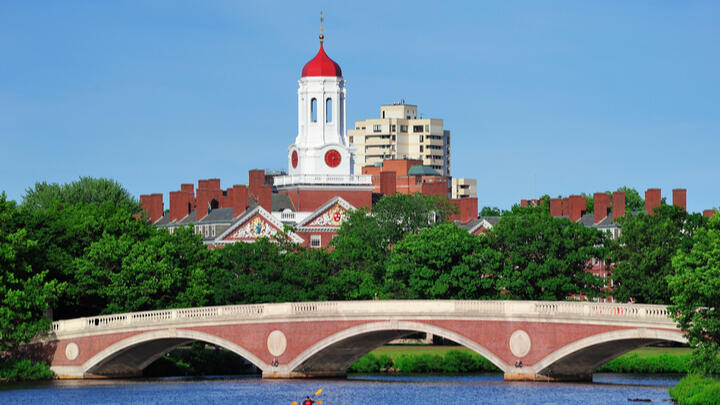 Day 4 - Across the Sea
We're crossing the Charles River now, and leaving Boston for the day! Cambridge might not be considered part of Boston, but it's super close and has a load of fun things to do! All aboard!
Across the water lies two of the world's most prestigious centers of learning, MIT and Harvard University. In the latter, you'll find the Harvard Museum of Natural History, which contains more than 12,000 artifacts from millions of years in the past to today. It's a fascinating trip for those of you curious about the evolution of life on Earth, and one we heartily recommend. 
You'll also find the Harvard Art Museums on the college's campus, which features thousands of works from the Middle Ages right through to the present day. 
After all that intense culture consumption, you might be needing a break. Thankfully, Cambridge Common is right by the University, where you can go, take a load off, and relax under the sun (or clouds, if it's one of those days). 
If you're feeling famished before your ride back to town, Alden & Harlow is a great, subterranean eatery that serves up delicious New American dishes paired with refreshing cocktails. Or, if you want to mingle with the students, Grendel's Den is a no-nonsense pub that does decent pub bites, cheap beers, and has a big patio to spread out on if the weather's good. 
Day 5 - Mopping up
And, on the final day of your 5 days in Boston, it's time for the best of the rest. 
You could head to North End and Waterfront for some delicious Italian food, visit the Boston Tea Party Museum and the Paul Revere House for your daily dose of history, or just stare out at the fantastic views of Massachusetts Bay. 
If you're feeling arty, wander down to South End and explore the artistic community that calls it home. The Boston Center for the Arts is always a hub for creativity, with different galleries, shows, and performances in residence each week. Or, check out the Griffin Museum of Photography, which showcases works from established shot-takers, as well as rising stars in the photography world. SoWa Open Market is a great place to pick up knickknacks before you head home, or a piece of art you think will make your abode sparkle. 
Failing that, North End has some great entertainment, such as belly-aching laughs at Improv Asylum, or grabbing a slice at Boston's original Pizzeria (according to them), Regina Pizzeria. End the night with a trip to a speakeasy cum modern bar at Stanza dei Sigari, where you can order from the extensive cocktail menu, or go off-menu and see what they can come up with!
Save on admission in Boston
Sounds expensive? 5 days in Boston doesn't have to be! Go City lets you enter many of Boston's top attractions and landmarks with incredible savings versus advertised prices. It means you can do more without worrying about your bank balance!