The explosion of craft beer in the US arguably has its roots in Boston. One of the first craft breweries was founded in 1984 under the name Boston Brewing Company. Their first and ultimately most successful brand would be Samuel Adams beer. It was named after the legendary Founding Father who was himself a brewer. Usually shorted to Sam Adams, this flagship craft beer brand took Boston by storm and eventually spread throughout the entire country. Today, you can find plenty of craft beer breweries in the Boston metro area, with many more up and coming elsewhere in Massachusetts. For those of you looking to enjoy a bit of craft beer tourism in Boston, we've compiled our guide to the best breweries in Boston including...
Sam Adams
Harpoon Brewery
Night Shift Brewing
Cambridge Brewing Co.
Somerville Brewing Company
Trillium Brewing Company
Lamplighter Brewing
Aeronaut Brewing
Top Breweries in Boston
Sam Adams / 30 Germania St., Boston
This is the brewery that started it all, and it remains a perennial favorite. With styles as eclectic as their signature Boston Lager, summer seasonal Cherry Wheat beer, and beloved Oktoberfest beer, Sam Adams produces an array of styles to satisfy any thirst. You can tour their brewery for free, too, if you're looking to learn more about the art of craft beer. 
Harpoon Brewery / 306 Northern Ave., Boston
Harpoon is another big name in Boston, with a shiny beer hall in the Fort Point area to attest to its enduring popularity. They craft some classic ales alongside innovative seasonal beers, including their immensely popular Boston Irish Stout. They also host a number of special events at the brewery throughout the year, including a St. Patrick's Day party that attracts locals in droves.
Night Shift Brewing / 1 Lovejoy Wharf, Suite 101, Boston
Although the brewing facilities are technically located in Everett, Night Shift has also opened a gleaming new facility on Lovejoy Wharf. They're mostly known for their series of IPAs and DIPAs, which fans rush out to buy upon release, although they also produce a tasty series of Weisse beers and special seasonals like Imperial Stouts. 
Trillium Brewing Company / 369 Congress St., Boston
A relative newcomer on the Boston beer scene, Trillium offers a bevy of delicious IPAs (including a few in the much-imitated NEIPA genre), pale ales, and stouts. They frequently host pop-up beer gardens during the summer and also boast a three-story brewery and restaurant in Fort Point. 
Lamplighter Brewing / 284 Broadway, Cambridge
This tiny venue is nestled in Cambridge in an otherwise mostly residential neighborhood, but it's worth the trek (and the inevitable long wait to get in). They create some of the most sought-after beer in the city, including whimsically-named brews like Atari's Lantern (a boozy quad) and Black Pearl (an oyster stout). Because of their unique layout, you can even watch the brewers at work while you sip.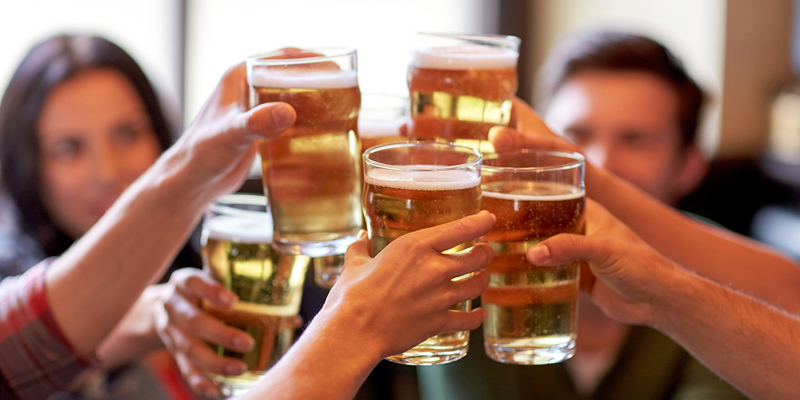 Cambridge Brewing Co. / 1 Kendall Square, Cambridge
Another Cambridge-based beer maker, Cambridge Brewing Co. crafts a wide variety of beers year-round to appeal to diverse tastes. You'll find everything from pale ales and IPAs to an elderflower Saison and a mango sour ale, depending upon the season. CBC's Kendall Square location is also a restaurant, so you can sip with snacks (or a meal).
Aeronaut Brewing / 14 Tyler St., Somerville
This taproom offers a great combination of tasty beers and live music, making it a popular entertainment destination on the weekends. They also host a number of frequent special events. Their beer, however, is the star. Aeronaut produces everything from fruit pale ales to hazy NEIPAs. 
Somerville Brewing Company / 15 Ward St., Somerville
The brewery responsible for the popular line of Slumbrew beers, Somerville Brewing is a great destination just a few miles outside of downtown Boston. You can enjoy their iconic flagship beers (including the light and delicious Happy Sol) alongside several creative seasonal offerings. They also serve some really good pizza at their taproom.
Best Beer Bars in Boston
Of course, we can't always spend all of our time in taprooms. To fully appreciate the expanse of the Boston brewing scene, you'll need to check out a beer bar or three. There you can enjoy brews from joints that are further outside of Boston, like Wachusett Brewing (in Westminster, MA), Mystic Brewery (in Chelsea, MA), and Jack's Abby (in Framingham, MA).
Bukowski Tavern / 50 Dalton St., Boston
With locations in Back Bay and in Inman, this perennially-popular bar is edgy and fun, with top craft choices alongside their own irreverent food menu. They have excellent bottle and draught lists, so you're bound to run something that moves you.
Lord Hobo / 92 Hampshire St., Cambridge
Located in Cambridge, Lord Hobo has been a go-to spot for craft beer from all across the country and around the world. They offer dozens of taps, several pages of craft bottles, and even brew a small selection of their own beers. Plus, their food menu is pretty delicious, with great menu options that complement the drinking experience. 
Meadhall / 4 Cambridge Center, 90 Broadway, Cambridge
Boasting nearly 100 distinct taps at their massive bar, Meadhall serves up much more than their namesake alcohol. While you can find several varieties of mead on offer, they have a much great selection of craft brews from all around the world. Keep an eye out for their beer-themed artwork, too! 
Stoddard's Fine Food & Ale / 48 Temple Pl., Boston
This historic downtown location features an array of craft brews in a setting that feels very posh and elevated. The selection is more modest than some of the others on this list, but it's also very well curated. Their food menu is also pretty enviable, with a killer burger just perfect with that evening beer or two. 
Share Your Adventure with Us
Tag @GoCity or use the hashtag #GoCityPass in your vacation photos and we'll feature you on our page. Follow the Go City Instagram and Facebook pages for competitions, special offers, and events and inspiration for your chosen destination, too!