Planning a vacation to Boston? Boston is simply buzzing with history and culture that the whole family can enjoy. If you're looking for things to do in Boston with kids, check out this list of our favorite kid-friendly activities, including…
Boston Children's Museum
New England Aquarium
LEGOLAND® Discovery Center
Boston Duck Tour
Museum of Science
Franklin Park Zoo
Boston Red Sox Game & Tour of Fenway Park
Bike Rentals by Urban AdvenTours
and more...
Consider adding a few of these kid friendly attractions to your vacation itinerary.
Save on Admission to Kid Friendly Attractions
Many of these great kid friendly attractions are available on the Go Boston® Card. Choose as you go from dozens of top Boston attractions and save up to 55% off combined admission vs paying at the gate. Or, build your own pass and save up to 20% off. See all available passes, attractions & prices - Learn more.
Boston Children's Museum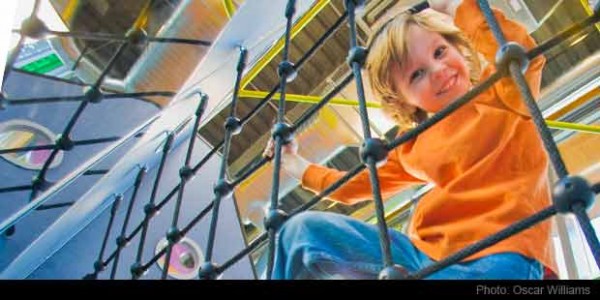 Designed specifically for children, this museum is truly a treasure for families with kids. The Boston Children's Museum emphasizes "hands-on engagement and learning through experience," which you'll witness through 96+ fun exhibits. You'll be able to make art projects with your kids in the Art Studio, explore an authentic house from Kyoto, Japan at Japanese House, and watch as your child rides a real Bobcat in "Construction Zone"! Plus, they'll learn about the value of exercise and balance at the New Balance Foundation Climb, a three-story climbing puzzle that's safe and fun. This museum is a must for any family with young children, and it really offers a fun time for everyone. It's also located in a very trendy and developing area, with plenty of other attractions and restaurants to take the kids to afterwards (including a fun and funky art museum with a fabulous gift shop). Getting In: Boston Children's Museum tickets are included with the Go Boston Card.
New England Aquarium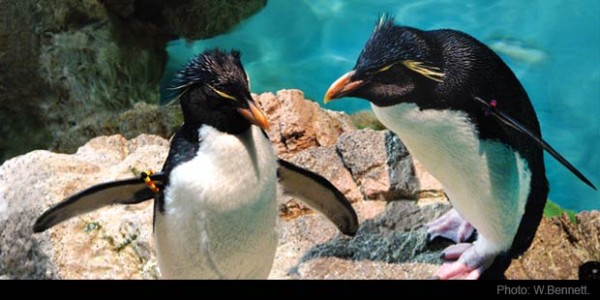 The New England Aquarium is one of Boston's premier attractions and a great place for kids to explore for an afternoon. It features a giant, four-story ocean tank and a new "touch tank" where you can pet stingrays as they swim by. Lots of exhibits are designed especially for children, like "Penguin Power!" where kids learn about the penguins' natural habitat and how to protect it. With 70 international exhibits hosting diverse habitats, you'll feel like you're in the tropics while still looking out on the magnificent Boston Harbor. The New England Aquarium also has a unique gift shop to visit and several dining options in close proximity. Getting In: New England Aquarium tickets are included with the Go Boston Card.
LEGOLAND® Discovery Center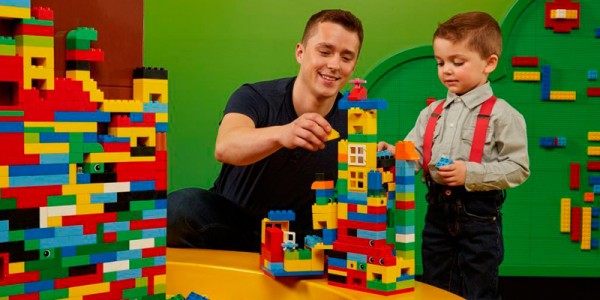 A must-see for LEGO® fans ages 3-10. It's a delightful addition to the round-up of things to do with kids in Boston! Kids can work on their LEGO engineering skills, take their turn on interactive rides, climb around a soft play area, and explore MINILAND®, where visitors can see famous buildings of Boston and Somerville made entirely of LEGO bricks. Kids will also enjoy the LEGO Fire Academy Soft Play Area, where they can romp around and work off some excess energy. Don't forget to visit the LEGO Friends area, or hop into a LEGO Factory Tour. Tip: Bring a LEGO Minifigure and trade it in for a new and different one for your collection with any staff member. Getting In: LEGOLAND Discovery Center Boston tickets are included with the Go Boston Card.
Boston Duck Tour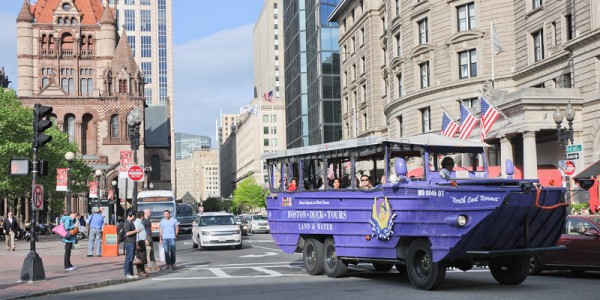 This part-land, part-water adventure is one of Boston's most famous tours. After all, you can't miss the colorful boat-shaped vehicles filled with quacking passengers! Boston Duck Tours are entertaining for the whole family as they combine a super fun ride with a unique look at Boston's history and distinct geography. The highlight of the tour? Your quirky and knowledgeable guide will lead you right through Boston and into the Charles River. This 80-minute trip promises lots of laughs for everyone and a look at all of Boston's top sights. Getting In: Boston Duck Tour tickets are available as a premium attraction option with 3-, 5-, and 7-Day Go Boston Cards.
Museum of Science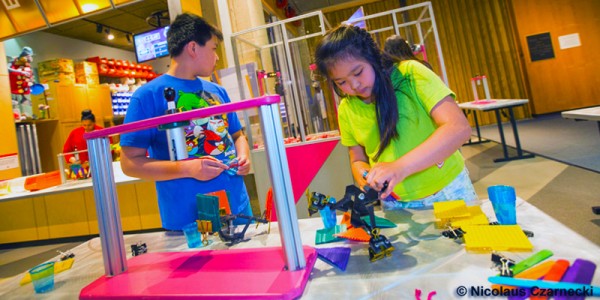 The Boston Museum of Science is a world-renowned science museum that has things to do for everyone. Over 700 interactive exhibits feature hands-on activities for visitors of any age. Permanent exhibits include "To the Moon," highlighting full-size models of the Apollo and Mercury Space Capsules, and "Colossal Fossil: Triceratops Cliff" where you'll see one of only 4 nearly-complete Triceratops on display in the world. For those with young children, Discovery Center provides in-depth scientific exploration through fun kids games and activities. Don't leave without catching a show inside New England's only IMAX Dome theater or watching the stars up close on a state-of-the-art projector at the Hayden Planetarium. Their newest permanent installation, "The Hall of Human Life," is also a must for any curious kid or adult. There, you'll see exhibits and displays that explore all aspects of the human body. Getting In: Museum of Science tickets are included with the Go Boston Card.
Franklin Park Zoo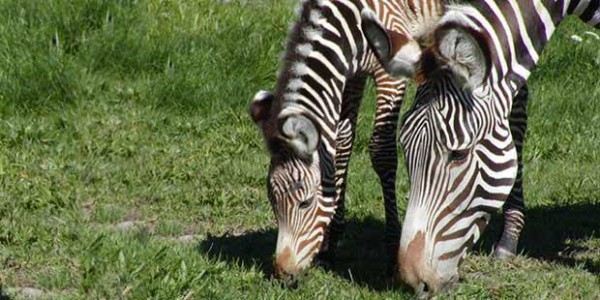 Boston's urban zoo is a favorite among locals and visitors alike. This 72-acre expanse is located in the heart of the beautiful, historic Franklin Park and is home to hundreds of charming creatures from around the world. Featured exhibits include the "Kalahari Kingdom," "Serengeti Crossing," "Tiger Tales," and many more. When in season, "Butterfly Landing" is particularly popular with kids, as it immerses you in the world of these brightly-colored beauties. Little ones will especially love the Children's Zoo, home to some of the cutest and most impressive creatures in the entire zoo, from darling little ducks and playful red pandas to the majestic Amur Leopard. Getting In: Franklin Park Zoo tickets are included with the Go Boston Card.
Swan Boats of Boston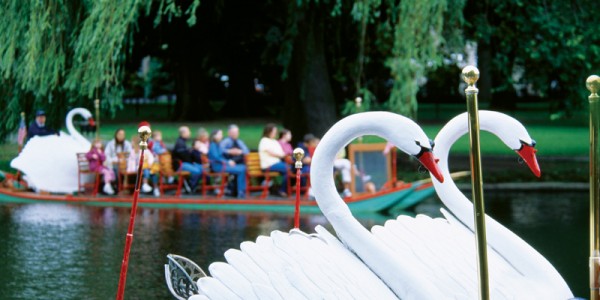 There's nothing more Boston than these charming boats. You'll see these singular craft populate the waters in the Boston Public Gardens during the spring and summer months, paddled by happy kids and adults alike. Invented in the 1780s by local innovator Robert Paget, the swan boats have become a Boston legend and are today the only vessels of their kind. A ride on these charming boats is a very Bostonian and kid friendly way to spend a pleasant hour. To make your afternoon complete, you can stroll the beautiful Gardens and the nearby Boston Common after your ride. The Gardens and Boston Common together are the most popular greenspaces in the city, and also offer plenty of opportunities for picnicking, playing a game of frisbee or soccer, or even just letting the kids run around to blow off some steam. Getting In: Boston Swan Boat ride tickets are included with the Go Boston Card.
Fenway Park Tour
Sports fans won't want to miss a chance to explore this iconic baseball stadium – one of the oldest remaining historic stadiums in the entire country. Insider tours will take visitors to walk through areas rarely seen by fans, like the dugout, the press box, and onto the field itself. You'll even get a chance to touch the famed Green Monster! It's a fun interactive tour that the kids will love. Your knowledgeable tour guides will regale you with tales of the most famous players and places of Fenway Park, from Duffy's Cliff and Pesky's Pole to the Triangle and the Lone Red Seat. If you'd prefer to treat the family to an actual baseball game, check the schedule and use your premium attraction option for some Red Sox tickets. You'll have a blast cheering on the home team, and the kids will love eating their fill of Fenway Franks and cotton candy. Getting In: Fenway Park Tour tickets are included with the Go Boston Card. And, select Boston Red Sox tickets are available as a premium attraction option with 3-, 5-, and 7-Day Go Boston Cards (in season and when available).
Bike Rentals by Urban AdvenTours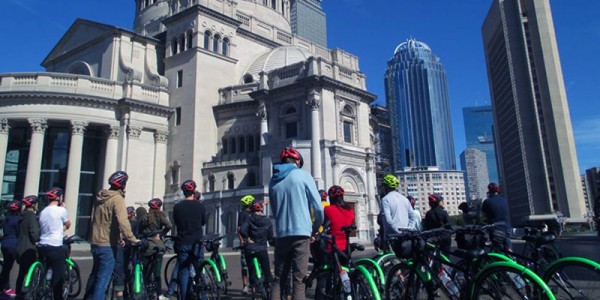 Got some active kids? Burn off some energy through exploring Boston by bike! Boston's unique layout makes it easy to hit up a lot of the top architectural and historical highlights with minimal travel time, making it even easier to navigate by bike. You'll get some of the best views of the Boston Harbor, the Zakim Bridge, and the Boston skyline by biking along the Charles River paths or along the Greenway. Your complimentary map will help you plot out a course to take you wherever you want to go. Boston is a very bike-friendly city with many dedicated bike lanes, so you can feel safe riding even on busier streets. Getting In: Boston bike rentals are included with the Go Boston Card.
Mary Baker Eddy Library & Mapparium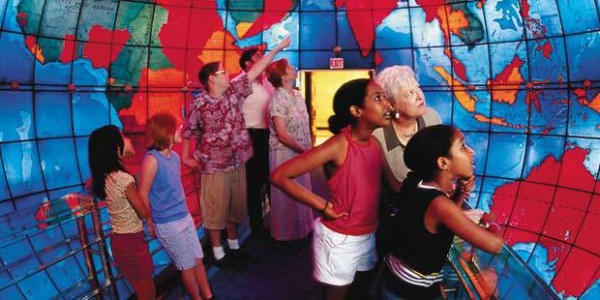 Walk through the world-famous, three-story, painted glass globe at the Mary Baker Eddy Library & Mapparium through a 30-foot glass bridge. You'll learn all about the extraordinary life and achievements of Mary Baker Eddy and even get to view a rare 1611 edition of the King James Bible, among other fascinating exhibits, including the Quest Gallery and The Hall of Ideas. While most of the exhibits are probably more interesting to middle grade and older children, little ones will be in awe of the beautiful stained glass Mapparium. Getting In: Mary Baker Eddy Library & Mapparium tickets are included with the Go Boston Card.
Six Flags New England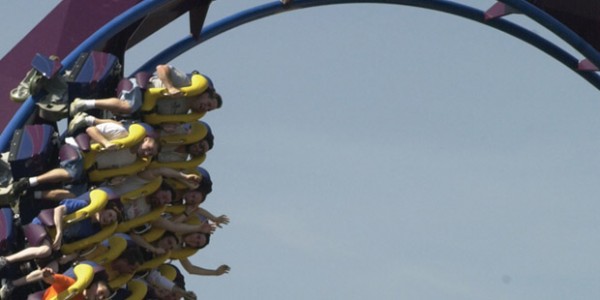 Although it's actually located a decent drive from Boston proper, this popular theme park is an excellent place to spend a warm summer afternoon. With plenty of things to do with kids, including over 100 rides, shows, and attractions, there's plenty to keep the entire family busy. Plus, you'll also have access to Hurricane Harbor, New England's largest waterpark. Favorite exhibits and rides in both parks include Wicked Cyclone, the New England SkyScreamer, Looney Tunes Movie Town, and Hook's Lagoon. If you happen to be visiting in the fall, be sure to check out their spooky Halloween festivities, the ever-popular Fright Fest (best appropriate for older children). Getting In: Six Flags New England tickets are included with the Go Boston Card.
Plimoth Plantation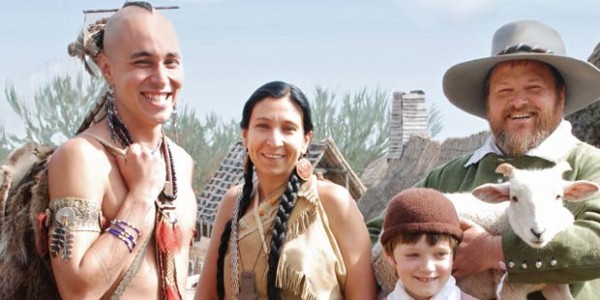 This recreated seventeenth-century village is a hit among visitors of all ages. Engage in a totally immersive experience where professional re-enactors bring historical Massachusetts to life. A 130-acre expanse of land overlooking Cape Cod Bay, it's breathtakingly beautiful as well as historically valuable. Don't forget the educational aspects! Kids will learn all about the challenges faced by these early English settlers and their relationship with the local Wampanoag tribe through interactive demonstrations and guided tours. Visitors should also explore the popular Mayflower II exhibit, a carefully recreated version of the original iconic ship that you can actually climb aboard. Definitely bring a camera to this one! Families who enjoy Plimoth Plantation and are willing to travel a bit further afield may also wish to check out Old Sturbridge Village, where you can step back into early nineteenth-century New England and explore what life was like for typical inhabitants of this historically-accurate settlement. Getting In: Plimoth Plantation tickets and Old Sturbridge Village tickets are included with the Go Boston Card.
Freedom Trail Walking Tour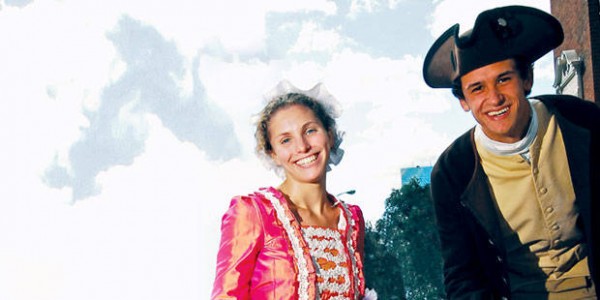 If it's your first time to Boston, or you've never learned much about of Boston's history, a tour of the Freedom Trail is truly a must-do activity. The legendary red brick line leads you through the city's most important historical sites of the American Revolution. On the official Freedom Trail tours, guides in character as famous patriots like James Otis or Abigail Adams lead you around 16 sites while sharing lively anecdotes of historic people, places, and events. If you don't think your kids can handle the whole trail, feel free to pick and choose the sites you want to see. The red brick line serves as a marker for the trail all over the city. Getting In: It's free to walk the Freedom Trail; your Go Boston Card provides guided Freedom Trail Walking Tour tickets.
MIT Museum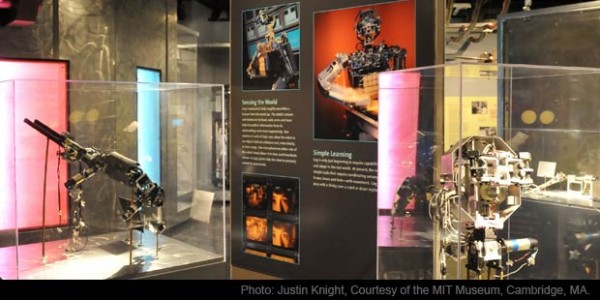 This Cambridge science museum is just perfect for kids. With interactive exhibits and engaging demonstrations specifically geared towards younger visitors, it's a great way to introduce your kids to both basic and elevated scientific concepts. Hosted and curated by MIT, this museum has the freedom to draw upon that prestigious institution's historic collections of artifacts and technology. Popular exhibits and areas include a retrospective of the history of science and technology, the largest collection of holographs in the world, a collection focusing on architecture and design, and an archive of nautical tech that dates as far back as the 16th century! Be sure to pay a visit to their signature exhibit – "Robots and Beyond: Exploring Artificial Intelligence at MIT." Getting In: MIT Museum tickets are included with the Go Boston Card.
New England Aquarium Whale Watch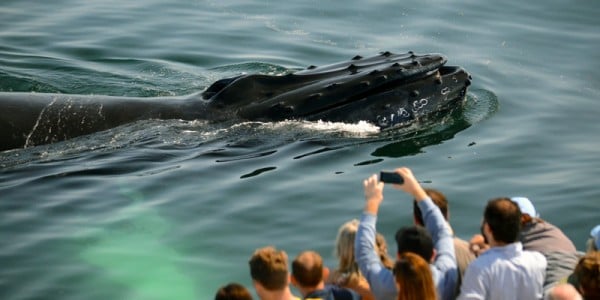 If your kids loved their time at the New England Aquarium but still want to see more fascinating sea life, then a whale watch is the perfect option. You'll take a ride out to Stellwagen Bank Marine Sanctuary, a feeding ground for whales and other sea creatures. The narration on the way out makes for a fun experience, and the kids will probably just enjoy the ocean voyage all the same. Once you arrive, you're sure to see a variety of marine life, like dolphins, sea birds, and several different species of whales (in different seasons). Children of all ages will marvel at these majestic creatures! Getting In: New England Aquarium Whale Watch tickets are available as a premium attraction option with 3-, 5-, and 7-Day Go Boston Cards.
Let's Recap
There you have it. Our list of some of the top things to do in Boston with kids during your vacation. World-class museums, countless historic monuments from the American Revolution era, and unique tours make this charming New England city a very popular vacation destination. Remember, many of these great ideas are included on the Go Boston Card, where you can save up to 55% on combined admission vs paying at the gate. Consider adding a few of these kid friendly options to your upcoming itinerary. Enjoy!