The long winter may be coming to an end, but there's still a chill in the windy city. March in Chicago can be cold, but boy, can it be fun. Don't believe us? How dare you. We will not stand by this insolence. Let us show you why you are wrong. Read on, and discover just why Chicago in March can be a magical time to visit the city!
Featuring:
St Patrick's Day
Museums
The aquarium 
Ice skating
Art galleries
and more!
Chicago in March: What to Expect
May is when temperatures will start to climb. Generally, you'll find tops of around 45°F, or 7°C, and dips of around 28°F, or -2°C. So, it's going to be cold. Pack some big warm coats, hats, and boots. This is compounded by rainfall and some snow too. So, maybe make sure that warm jacket is waterproof too!
Chicago in March: What to Do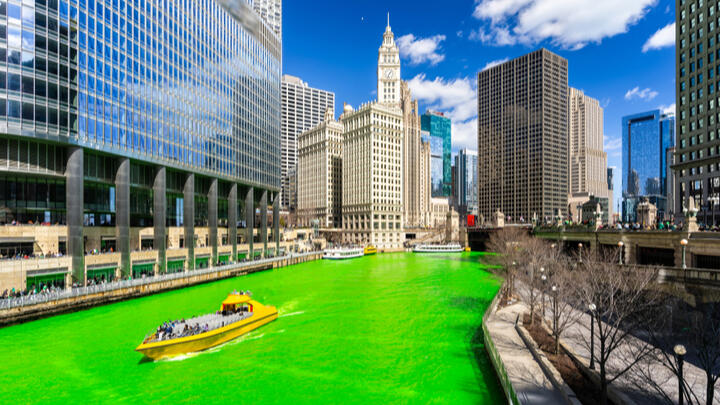 St Patrick's Day
Let's kick things off with the luck of the Irish. Of course, we're talking about St Patrick's Day! One of the many times when people get together, eat, drink, and be merry. While it falls on the 17th of the month, Chicago dedicates around a fortnight to the St Paddy's celebrations. It starts with the Chicago River turning green, because of course it does. 
And, between the bars and restaurants flying the green flag, the festivities culminate with the Downtown St Patrick's Day Parade and the South Side Parade, where everyone shares the love and the laughs. St Paddy's is a busy time of year in Chicago, so expect crowds all over the shop. However, if you can get past all that, you're in for a grand old time!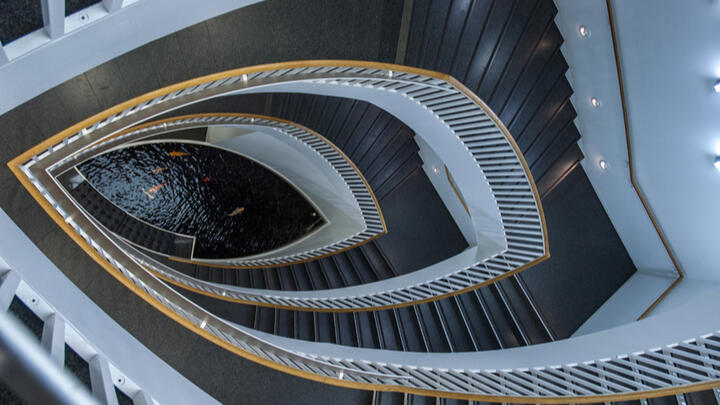 Museums
As the weather can be unkind this time of year, why not step inside and warm yourself with the fire of history and learning? Chicago has plenty of fantastic museums you should visit. The Field Museum has the world's most famous Tyrannosaurus Rex housed within. Dare you face the beast? It also contains plenty of historical artifacts from Ancient Egypt and China, so go see what all the fuss is about! 
Or, swap history for science at the Museum of Science and Industry. It's the US' largest science museum, and you'll find a huge amount of fun and intrigue inside. Control a tornado, see your heartbeat on a giant 3D-modeled heart, and explore the history of scientific breakthroughs and discoveries. 
If, however, you want to learn more about the city itself, head on over to the Chicago History Museum! Learn about Chicago's history on the national and international stage, read about the Great Fire that tore through the city in the 19th century, and all about one of the country's best presidents, Abraham Lincoln. All that and much more awaits you, so go there and enjoy the learning.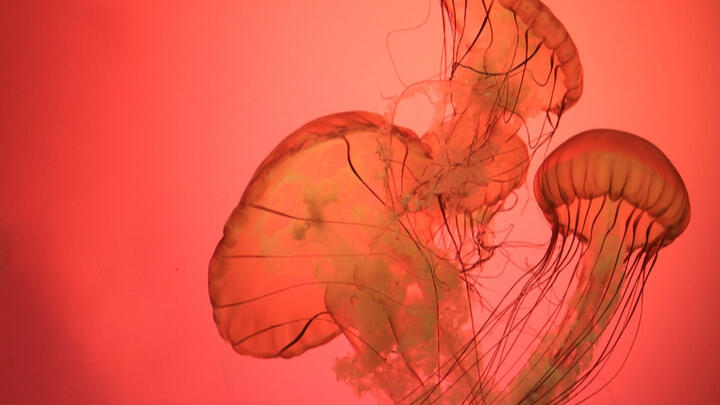 Another indoor adventure worth experiencing is at the Shedd Aquarium. 
Through its doors, you'll find another world of underwater wonder. Come face to face with exciting creatures like sharks, stingrays, and fish you've never seen before. 
At the Waters of the World exhibition, you'll discover the diverse ecosystems that call the ocean home throughout the world. 
Plunge into the Caribbean Reef, and meet the sea turtles, sharks, and eels that call it home. 
In Amazon Rising, you'll learn about the species that live in the river, and how seasonal climate shifts affect their lives. 
And, for the little ones, the Polar Play Zone lets kids live out their polar fantasies by zipping up a penguin suit and living a day in the life of their favorite birds!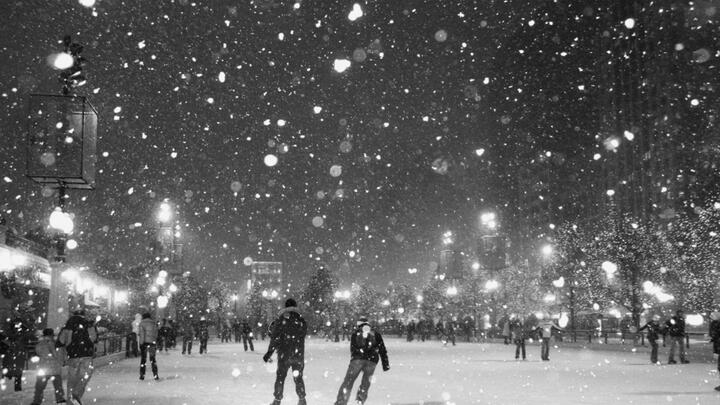 Ice skating
As winter makes way for spring, the city's waters inevitably begin to thaw. However, if temperatures don't pick up too much, it's the perfect time to check out Chicago's excellent ice skating! Makeshift rinks pop up all over the city, so take your pick. There's the Maggie Daley Park skating ribbon, a huge ribbon-shaped course that gives you plenty of space to stretch your skates, pirouette, or frantically try and stay upright as your weak legs struggle to find balance. 
Alternatively, the McCormick Tribune Ice Rink is a more popular choice, as it's closer to the city's action. It's right by Cloud Gate, locally known as The Bean. If you don't know it by name, you've probably seen it. It's a giant, metallic, bean-shaped sculpture that's been featured in many films and TV shows. Why not capture the perfect snap of The Bean, as you fall down right in front of it? 
It is worth noting that you should check ahead before you visit any outdoor icerink in Chicago, as warmer temperatures may shut them down early.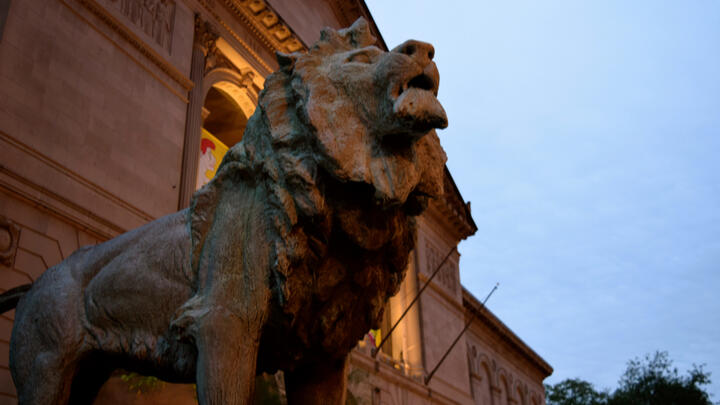 See some art
If skating sounds too cold, or bold, for you, retreat to the warmth and safety inside, and get some culture in you. Chicago is a city full of art, so go see it. At the Art Institute of Chicago, you'll find one of the world's most renowned museums. Featuring inspiring works from the past and present, you're sure to find something amazing inside. While they have a number of mainstay exhibitions, they also have a seasonal rotation of awe-inspiring exhibits, so be sure to check what's on before venturing forth.
Alternatively, check out the Museum of Contemporary Art. Out with the old and in with the new is the mantra here. See works from the 20th century all the way to today, with over 2,500 pieces on display. Much like many modern art institutions, you'll find a mix of media here, from film to canvas and sculpture too. And, this museum also doubles as a performing arts venue, with a massive amphitheater featuring acts from across the globe! When you've had enough art for one day, or you want to give your legs a rest, go grab a bite to eat at the museum's onsite restaurant, Marisol.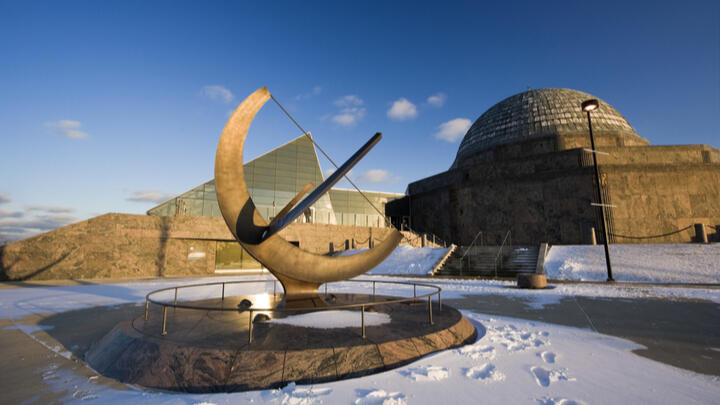 And finally, for the scientifically-minded and cosmos-curious, we end today's list with the perfect answer to Chicago's cold March. The Adler Planetarium helps visitors travel time and space itself, as they learn about the big black we see in the night sky. Through interactive exhibits, you'll explore the greatest hits of our galaxy, all 91 billion light-years of it, and get hands-on with replica space technology used today. 
Chicago's Night Sky is a massive exhibit that showcases how we as humans have related to the night sky throughout history. 
The Universe: A Walk Through Space and Time gives you insight into the beginning of everything, and how galaxies have changed throughout the history of the universe. 
And for the little ones, there's Planet Explorers, which gives them the chance to understand space in fun and unique ways. 
And that's what you need to know about Chicago in March!