Planning a vacation to Chicago? Our local experts put together a helpful Chicago neighborhoods guide so you can make the most of your time in the Windy City. We highlighted a handful of the top attractions and places to see in all of Chicago's best neighborhoods!
The North Side/Lincoln Park
North of downtown, Chicago's North Side and Lincoln Park area is home to lots of top Chicago attractions, shopping, dining, expansive green spaces, and more.
Things to Do in the North Side/ Lincoln Park
Explore Wrigleyville and cheer for the home team while catching a Cub's game at the beloved stadium or at one of the many sports bars nearby.
Lincoln Park is a popular (and pricey) residential area and home to famous landmarks, including Steppenwolf Theatre, Chicago History Museum, and the Peggy Notebaert Nature Museum
Explore Old Town, an affluent and hip historic neighborhood with Victorian-era buildings, charming streets, family owned restaurants and more.
The park itself is a great place to explore - it's a third larger than NYC's Central Park and is full of things to do! Visit the Lincoln Park Zoo (free!), check out the Conservatory, the Cultural Center or enjoy one of the many playing fields and golf courses.
Have any LEGO® fans in the family? Be sure to check out LEGOLAND® Discovery Center, a large indoor space filled with exhibits, construction demos, interactive areas, and more.
Getting in: Chicago History Museum tickets, Lincoln Park Zoo Ride tickets and LEGOLAND® Discovery Center tickets are all included on the Go Chicago Card.
West Side/Central
Chicago's West Side/ Central area consists of lots of fun neighborhoods to explore.

Things to Do in Chicago's West Side
Architecture and American Literature buffs will want to head to Oak Park where you'll find the largest collection of Frank Lloyd Wright's residential home designs (including his own) and Ernest Hemingway's childhood home and museum.
Chicago's largest zoo, the Brookfield Zoo, offers year-round fun with diverse animal exhibits, a large nature park, and more. See all your favorite furry friends, from spider monkeys to giraffes to bottlenose dolphins.
Go on a taste tour of Chicago's Little Italy where Chicago's immigrant past is preserved and Italian culture reigns. From pizza and pasta to specialty treats like Italian ice and Polish sausage, the food scene in Little Italy is not to be missed.
Getting in: Ernest Hemingway Birthplace Home Tour tickets, Frank Lloyd Wright Home & Studio Tour tickets, and Brookfield Zoo tickets are included on the Go Chicago Card.
Downtown/ The Loop/ Magnificent Mile
Chicago's large downtown area is made up of many neighborhoods, including Gold Coast, River North, Streeterville, Navy Pier, Magnificent Mile, The Loop, South Loop, and Museum Campus.

Gold Coast
Check out the Gold Coast, an affluent neighborhood just north of Downtown for high-end shopping, upscale dining, diverse Chicago architecture, the Chicago History Museum, the popular nightlife scene on Rush Street, and more.
Take a stroll down Astor Street and appreciate the 19th-century style homes and apartment complexes. The gorgeous buildings still remain as a testament to the fashionable style of their original residents.
Calling all foodies - the dining options in Gold Coast are second to none! From upscale barbeque joints to classic Italian family-style spots, you're bound to find the perfect meal(s)!
Enjoy a walk on Rush Street during the day for top of the line shopping, then circle back at night for the best nightlife in the city.
Speaking of food, if you haven't already tried a deep dish pie yet, make a stop at Lou Malnati's of Gold Coast ASAP! Once you've tried Lou's, turn the rest of your trip into a Deep Dish pizza scavenger hunt - we've got all the best Deep Dish Pizza spots ready for you!
River North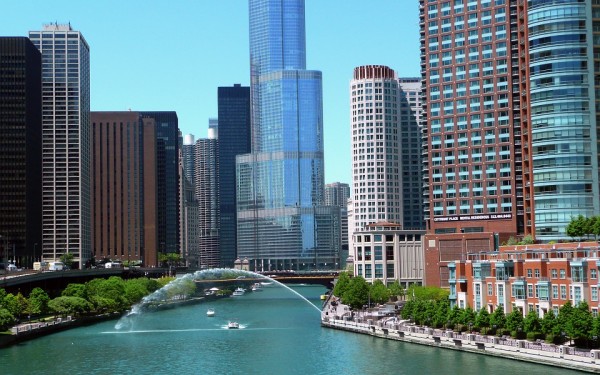 The commercial district just west of the Magnificent Mile is known as River North and is an area of the city with dormant factories and warehouses turned art studios and work spaces for Chicago's creative types.
This trendy arts-focused neighborhood is a top destination for visitors looking for fine dining, upscale drinks, clubs, art-centered shopping, and more.
Merchandise Mart is the perfect place to spend the day perusing showrooms full of cutting edge furniture, art and designs.
Similar to Gold Coast, there are plenty of top-rated restaurants along the river to enjoy!
Navy Pier
Navy Pier in Streeterville is a hub of activity with unbeatable lakefront views, boardwalk style fun, souvenir shops, post card-worthy views, and more. Below are a few ideas of top Navy Pier attractions and things to do nearby.

Things to Do in Navy Pier
Take a ride on some memorable amusement rides located right on the pier.
Pick up a bike rental and explore Chicago's 26 miles of scenic, fun, and safe lakefront trails.
Families will enjoy the entertaining and education exhibits and activities at the Chicago Children's Museum.
Theater buffs can see excellent productions of classic shows at the award-winning Shakespeare Theater for some thespian fun.
Grab a drink and some classic Chicago eats at the outdoor Landshark Beer Garden, featuring free live music on Wednesdays in the summer and one of the best views of the Navy Pier's twice weekly summer fireworks.
One of the coolest parts of Chicago is the gorgeous river that splits the city in half - and there's no better way to see the beauty on both sides than aboard a cruise. Enjoy learning more about the history and architectural advancements of the Windy City as you cruise along the river.
Getting in: Navy Pier Centennial Wheel and Rides tickets, Chicago Children's Museum tickets, Bike & Roll: 4 Hour Bike Rental tickets, Shoreline Architecture River Cruise tickets and Shoreline Classic Lake Tour tickets are all included on Go Chicago Card.
Magnificent Mile
The Magnificent Mile district is the area immediately surrounding North Michigan Avenue and a popular destination for visitors with many of the city's hotels, shops, restaurants, bars, attractions, and more.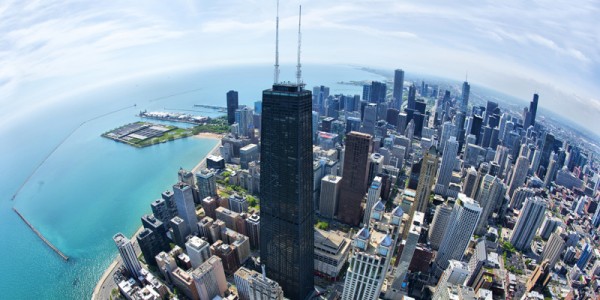 Things to Do Near the Magnificent Mile
Head to the Museum of Contemporary Art to see cutting-edge art from both ascendant artists and contemporary icons. As one of the world's largest institutions for contemporary art, it's a can't-miss for any art lover.
For 360 degree views of Chicago, head to 360 Chicago (formerly John Hancock Observatory), for a ride in the world's fastest elevator to the 94th floor of this Chicago must-see.
Measure up and compare your skills to some of Chicago's finest athletes at the Chicago Sports Museum.
Want to tour the entire city but don't know where to stop? You can hitch a ride on the Hop On Hop Off Big Bus right on Magnificent Mile! You'll learn more about Chi-town as you go, and you can hop off at any of these famous stops: Adler Planetarium, SkyDeck Chicago, Millenium Park, Chicago's Museum Campus and more.
Getting in: Hop On Hop Off Big Bus Chicago tickets, 360 Chicago tickets, and Museum of Contemporary Art tickets are all included on Go Chicago Card.
The Loop
The Loop, Chicago's official downtown, is home to many of the city's premier attractions and things to do. When people refer to "The Loop", they're talking about the city's downtown area, bordered by the Chicago River to the north and west, by Michigan Avenue to the east, and Roosevelt Avenue to the South. The Loop area is surrounded by a loop of elevated trains. Here are some fun suggestions for things to do near Millennium Park and The Loop in Chicago.

Things to Do in The Loop
Learn about the iconic Willis Tower and get in some spectacular views from the observatory deck at Skydeck Chicago, and its famous all-glass balcony "The Ledge". You can even see four different states: Illinois, Michigan, Indiana and Wisconsin.
Fans of the arts will enjoy a tour of the legendary Chicago Theatre. This theater has hosted stars like Dolly Parton, Dean Martin and Frank Sinatra and has put on productions that have gone on to win Tony Awards!
Of course if you're in the area you can't skip a visit to the Art Institute of Chicago. TripAdvisor has consistently ranked it as one of the top museums in the world and for good reason - its home to an impressive collection of photography, artifacts, paintings, and sculptures of all different styles!
Getting in: SkyDeck Chicago tickets, Chicago Theatre Tour tickets and Art Institute of Chicago tickets are all included on Go Chicago Card.
Museum Campus/ South Loop
Part of Chicago's large Grant Park, Museum Campus is a 57 acre park along the Michigan Lake waterfront and home to three of the city's most popular museums. Head over to our things to do at the Museum Campus list for more info on other nearby attractions

Things to Do in Museum Campus/ South Loop
The Field Museum, one of the most prominent natural history museums in the country, features state-of-the-art exhibits, interactive galleries, and impressive displays of natural wonders from around the world.
No trip to Chicago is complete without exploring the impressive array of aquatic life from all over the globe at Chicago's most visited attraction, the world famous Shedd Aquarium. Shedd is home to over 32,000 fascinating marine animals and state of the art exhibits.
Do a little exploring beyond Chicago at America's first planetarium, the Adler Planetarium, and experience all things space come to life.
Just south of the planetarium, nature lovers will enjoy exploring Northerly Island, a 91-acre peninsula dedicated to nature with walking paths, play areas, views of Chicago's skyline, and some of the best fishing in the city.
Getting in: The Field Museum tickets, Shedd Aquarium tickets and Adler Planetarium tickets are all included on Go Chicago Card.
South Side
Chicago's South Side is an integral part of the city and home to the University of Chicago.

Things to Do in South Side
Check out the largest science museum in the western hemisphere, the Museum of Science and Industry. Housed in the only remaining building from the famous 1893 World's Fair, this museum has something for everyone to enjoy.
Frank Lloyd Wright fans will want to take a trip to the Robie House, one of his architectural masterpieces and an exemplary display of an American Prairie Style home.
Lorado Taft Midway Studios, owned by the University of Chicago, was the art studio of Lorado Taft, one of the early 20th century's most influential sculptors.
Getting in: Museum of Science and Industry tickets and Robie House tickets are included on Go Chicago Card.
Let's Recap
There's our run down on some of the best things to see and do in all of Chicago's neighborhoods. From observation decks, gardens, and museums to cruises and parks, there's something for everyone to enjoy. Whether you're traveling with friends or family, everyone is sure to have a blast. Consider visiting some of these attractions on your next trip to Chicago, we know you'll come to love this city. Don't forget to pick up a Go Chicago Card and save up to 45% on combined admission prices. Happy travels!