Planning a vacation to Chicago? Chicago offers a myriad of things to do that are fun for the whole family. From world-renowned museums to beautiful urban parks, there are plenty of family-friendly sights for you and your children to enjoy. Chicago also boasts many free year-round activities, including concerts from local and internationally acclaimed musicians, art exhibits, theater performances, and film screenings. If you're looking for things to do in Chicago with kids, check out this list of our favorite kid-friendly activities, including…
Shedd Aquarium
The Field Museum
Chicago Children's Museum
Museum of Science and Industry
LEGOLAND® Discovery Center
Brookfield Zoo
Lincoln Park Zoo & Rides
Navy Pier Centennial Wheel and Rides
JourneyMaker at The Art Institute of Chicago
and more..
Save on Admission to Kid Friendly Attractions
Many of these great kid friendly attractions are available on the Go Chicago® Card. Choose as you go from dozens of top Chicago attractions and save up to 55% off combined admission vs paying at the gate. Or, build your own pass and save up to 25% off. See all available passes, attractions & prices – Learn more.
Shedd Aquarium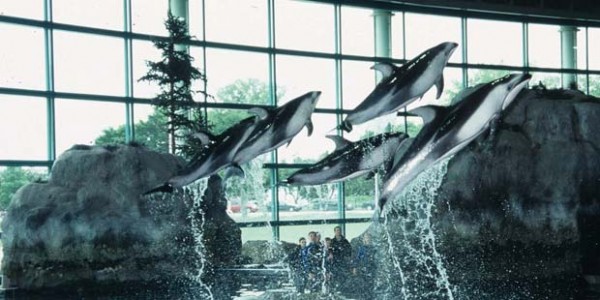 Shedd Aquarium is known for being one of the best things to do in Chicago with kids. It's packed with kid-friendly exhibits and explores topics they'll find both fascinating and educational. For example, you'll get a diver's-eye view of the underwater world's most interesting creatures at the World's Aquarium. The floor-to-ceiling exhibit windows put you eye-to-eye with beluga whales, moon jellies, parrotfish, sharks, and even the giant octopus. Other popular exhibit areas include Caribbean Reef and the Polar Play Zone, which both highlight important marine habitats and provide tons of interactive fun. Shedd Aquarium's 8 unique exhibits will give your children the opportunity to be explorers for the day. Getting In: Shedd Aquarium tickets are included with the Go Chicago Card.
The Field Museum
Come meet SUE, the world's largest T-Rex, at this famous museum of science and anthropology. At this larger-than-life exhibit and many others, you and your family will travel back in time and all around the world. NEW for 2018 -- SUE is being transferred to her own "throne room" to give her a dedicated space, and to make room for a brand new critter, even bigger than a T-Rex! In addition to these educational and astounding displays, the younger kids will enjoy "interpretative stations" that host hands-on activities like writing in ancient Egyptian hieroglyphs. You'll also find exhibits to appeal to older children as well, like the Cyrus Tang Hall of China, which details millennia of Chinese history or the Evolving Planet exhibit, which explores 4 billion years of the history of Planet Earth. With the Go Chicago Card, you also get admission to one special exhibit. Be sure to scope out their selection of visiting exhibitions to see what tickles your fancy! Getting In: Field Museum tickets are included with the Go Chicago Card.
Adler Planetarium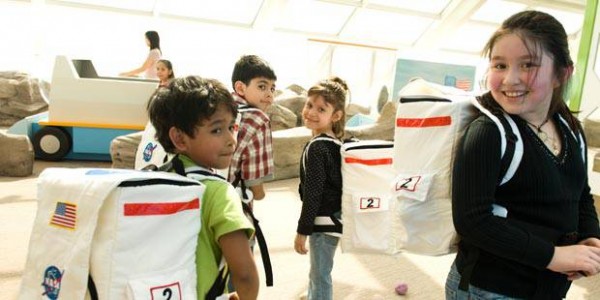 Experience outer space without leaving Chicago at America's first planetarium. Let your child become a space voyager at "Planet Explorers," the most immersive, hands-on exhibition the museum has ever offered. Be sure to also check out "Planet Nine," their newest and most exciting sky show, which follows the quest for a new ninth planet. Catch a stellar space show in one of the museum's three full-size theaters. And don't let the fun stop when you leave; walk out onto the Adler's north or south terraces to view the breathtaking Chicago skyline. This is a great place for photos, too -- you'll love having pictures of the kids with Lake Michigan or the Chicago skyline in the background. Getting In: Adler Planetarium tickets are included with the Go Chicago Card.
Chicago Children's Museum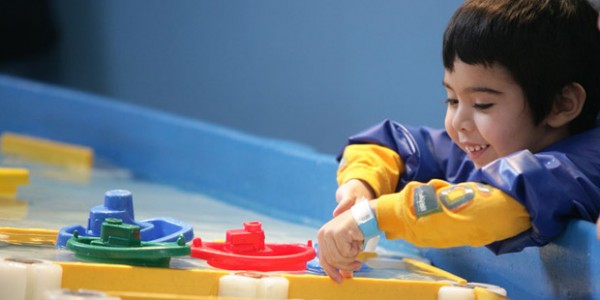 Amid dozens of restaurants and shops, the Navy Pierce Family Pavilion houses the Chicago Children's Museum (CCM). The CCM is a first-rate museum where play and learning come together for families with children through the age of 10. An especially popular exhibit is "Dinosaur Expedition," where little ones can explore a real fossil pit where where the remains of a massive Suchomimus was found (a large, fish-eating dinosaur). The Tinkering Lab is ideal for creative kids, giving them space to invent and create anything they please with a variety of age-appropriate tools and materials. While you're in the area, check out the Navy Pier IMAX Theater to view re-mastered Hollywood hits on a 60-foot screen. Just beyond the pavilion, explore the famous Crystal Gardens, an enormous indoor botanical park that hosts over 70 full-size palm trees. Getting In: Chicago Children's Museum tickets are included with the Go Chicago Card.
360 CHICAGO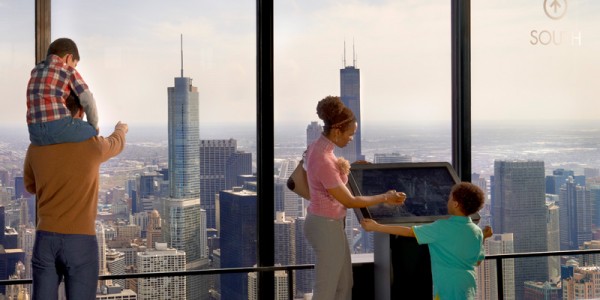 360 CHICAGO  is the popular observation deck on the 94th floor of the iconic John Hancock Tower located on Michigan Avenue. You'll get excellent views of Lake Michigan, Navy Pier (keep an eye out for the Ferris wheel), the city skyline and its surrounding suburbs, and more. There are also many interactive and engaging exhibits that trace the history of Chicago. Have adventurous kids? Consider purchasing a ticket to experience Tilt! You'll be able to look out over the Magnificent Mile below as the floor, wall, and ceiling move downwards to a 30-degree angle--not for the faint of heart! Getting In: 360 CHICAGO tickets are included with the Go Chicago Card.
LEGOLAND® Discovery Center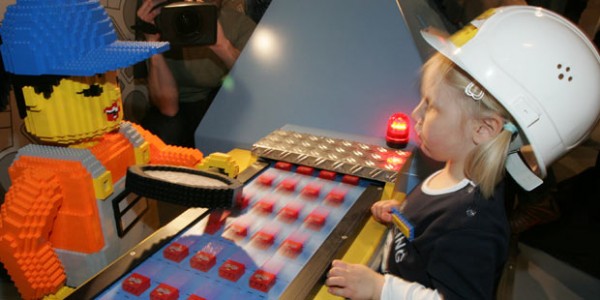 Who doesn't love LEGO®? There are plenty of things to do with kids here. Take the whole family to explore this totally immersive indoor LEGO wonderland, populated by exciting and interactive exhibits that really bring your children's favorite toys to life. Some of the most popular attractions at LEGOLAND include the 4-D cinema experience, the Kingdom Quest Laser Ride, and construction demonstrations by the Master Model Builder. Little ones will especially enjoy MINILAND, the interactive LEGO world built just for them! This attraction is specifically geared towards younger children, although older kids and teens will still love the opportunity to play around with their favorite blocks. Getting In: LEGOLAND Discovery Center tickets are included with the Go Chicago Card.
Brookfield Zoo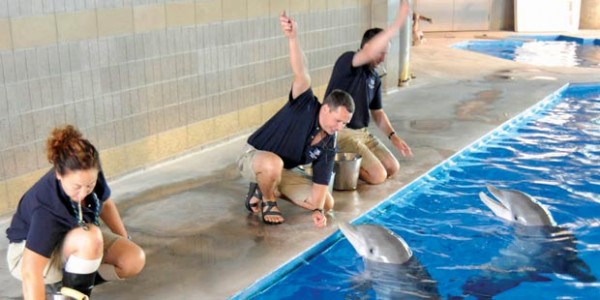 Spend a day at Chicagoland's largest zoo and meet some of the world's most charming and fascinating creatures. This 216-acre nature parks is filled with a wide variety of animals, plants, and even an animal-themed carousel – so your kids will find plenty to enjoy. Don't forget to take a ride on the Motor Safari tram, explore the "Great Bear Wilderness," and pop into the "Butterflies!" exhibit. Little ones will particularly enjoy the Family Play Zoo, where they can explore and play to their heart's content. They can play at being zoo keepers, dress up like a playful lemur, and even exercise their creativity with some animal-themed crafts. Getting In: Brookfield Zoo tickets is included with the Go Chicago Card.
Lincoln Park Zoo & Rides
This smaller urban zoo is nestled in the heart of one of Chicago's most popular parks, and its accessibility makes it a popular attraction for local families. Popular creatures at the Lincoln Park Zoo include the darling Red Pandas at the Kovler Lion House, the playful snow monkeys, the young snow leopard Taza, and many more. They also offer fun attractions that kids will especially enjoy, including the marvelous Endangered Species Carousel, lovingly painted and crafted, and the Lionel Train Adventure, which all the little ones will love. Getting In: Lincoln Park Zoo admission is free; your Go Chicago Card provides tickets to the Endangered Species Carousel and the Lionel Train Adventure.
Navy Pier Centennial Wheel and Rides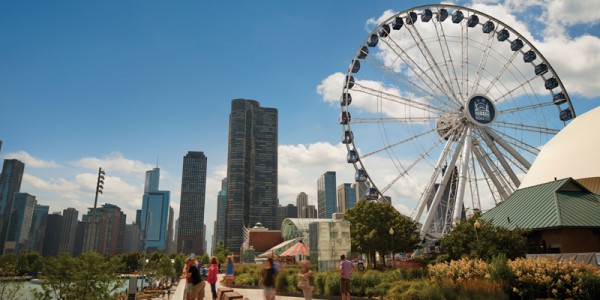 Navy Pier and its surrounding attractions are full of fun activities for kids and adults alike (see above for some more details on all the stuff you can enjoy while there). Take a stroll around the pier, sample some classic boardwalk eats, and take a spin on the iconic Ferris wheel for unbeatable views of the city. Use your Go Chicago Card All-Inclusive Pass to get a 4-Ride pass for Navy Pier attractions, including the ever-popular Centennial Wheel. Getting In: Navy Pier Centennial Wheel & Ride tickets are included with the Go Chicago Card.
Bike and Roll Chicago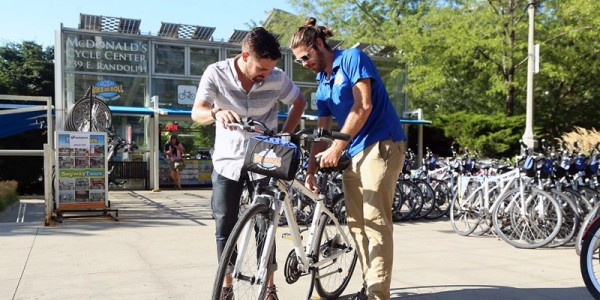 Looking for things to do in Chicago with kids that don't stop? Burn off some excess energy and explore the city by bike. Chicago is a very bike-friendly city with 26 miles of easy, lakefront trails. You can use your rental as transportation to and from attractions you plan to visit, just ride north to Lincoln Park (home of the zoo and Chicago History Museum) or south to Grant Park and the Museum Campus. Bikes are also a good way to keep your kids active and to get the whole family some exercise. Getting In: Chicago bike rentals from Navy Pier are included with the Go Chicago Card.
Museum of Science and Industry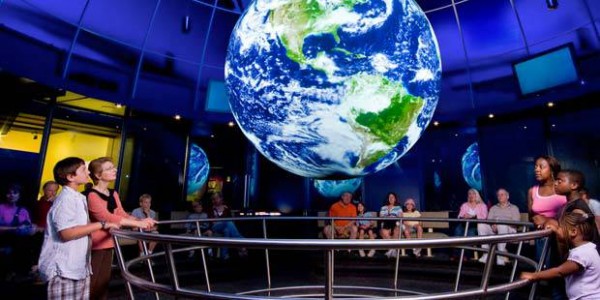 Kids will love exploring the largest science museum in the Western hemisphere. Filled with exciting interactive exhibits, fun hands-on activities, and enlightening films, this museum is an educational haven for kids of all ages. Highlights of the museum include a replicated 40 foot tornado, a real German submarine dating from WWII, a 727 aircraft, a fully-functional eco-friendly home, and much more! It's the ideal attraction for the curious. Plus, this museum was recently named among the top 25 Museums in the U.S. by a TripAdvisor poll, so you know you'll want to check it out! Getting In: Museum of Science and Industry admission are included with the Go Chicago Card.
The Art Institute of Chicago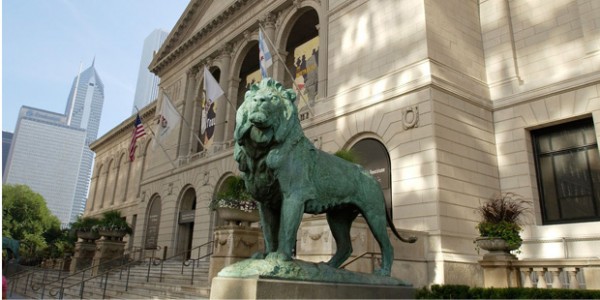 No trip to Chicago is complete without a stop at the Art Institute, celebrated worldwide as a leading museum for high-quality art. With the huge variety of exhibits the Institute offers, there's bound to be something everyone in the family will enjoy. Be sure to try out JourneyMaker - a fun tool that allows your family to create your very own tour of the museum. Choose one of eight storylines—like Superheroes, Time Travelers, or Strange and Wild Creatures—and then select works from the museum's collection within that story. After you've made your selections, print out your personalized Journey Guide, which includes information, activities, and wayfinding directions. Then head into the museum for an art-filled adventure! There's also a convenient mobile app that you and your older children may find useful and entertaining. Getting In: Art Institute of Chicago tickets are included with the Go Chicago Card.
Tall Ship Windy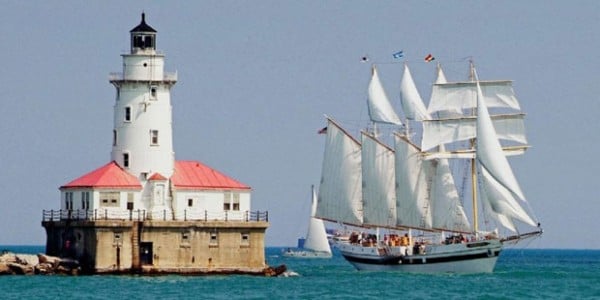 Grab the family and jump on board Navy Pier's 148-foot, four-masted traditional schooner for a sailing adventure to remember. Whether you're a first time sailor or more experienced on the open water, this unique view of Chicago is one you won't want to miss. Your boat-loving children will never forget this memorable experience. Marvel at unparalleled views of the Chicago skyline while learning about the history and practice of sailing from the Windy's knowledgeable and creative crew. After some instruction, practice hoisting the sails yourself. Don't forget the camera! Getting In: Tall Ship Windy tickets are included with the Go Chicago Card.
Millennium Park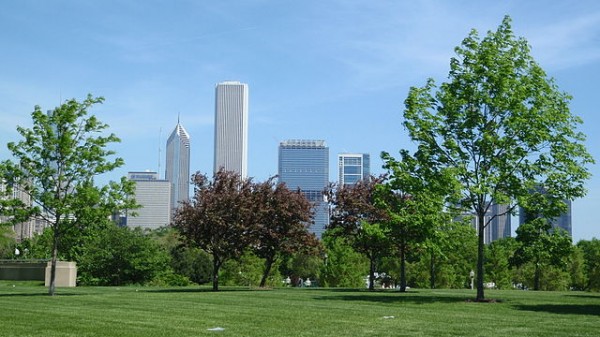 Take a stroll around this impeccably designed urban greenspace and be sure to note some of the park's design highlights and top attractions. The Pritzker Pavilion is where you'll find free or low-priced concerts in the warmer months. The kid-friendly Lurie Garden is the perfect place for them to explore nature -- especially native Midwest flora. They'll love playing near the Crown Fountain come summer time, and the famous Cloud Gate Sculpture (also known as "the Bean") is the perfect place for silly photos. Getting In: Admission to Millennium Park is free.
Let's Recap
There you have it. Our list of some of the top things to do in Chicago with kids during your vacation. Remember, many of these great ideas are included on the Go Chicago Card, where you can save up to 55% on combined admission vs paying at the gate. Consider adding a few of these kid friendly options to your upcoming itinerary. Enjoy!