Swap the snow for the sands and the insulated jackets for the T-shirts, it's Christmas in Dubai! The festive season is embraced by the emirate not for its religious importance – since only 14% of residents are Christian – but for its cultural significance.
With 200 nationalities living, working and visiting Dubai at Christmas, there's a vast miscellany of events to put you in the festive mood, from ballet performances to Christmas markets – and all with the sort of weather you probably won't be getting back home until late spring or early summer.
Keen to discover what Dubai is like at Christmas? Take a look at our favorite ideas!
Getting into the Christmas spirit
Christmas begins to take hold in Dubai from around the second week of December and continues well into January. Interestingly, the big day itself isn't a public holiday, so you'll see plenty of people heading to work as usual.
This doesn't stop anyone getting into the Christmas spirit. If you're staying at one of the grander hotels that dot the cityscape, Christmas will probably kick off with an all singing and all dancing tree lighting ceremony.
Christmas trees at many of the best-known names in accommodation soar from their lobbies up multiple stories, dazzling even the most hardened individuals. Catch the unveiling itself and you'll be treated to some of Dubai's finest voices, alongside complementary bites to eat and glasses of something special.
Failing this, the shopping malls also spare little expense in providing their December visitors with fitting decoration. Head to the Dubai Mall, and as well as checking out the residents of Dubai Aquarium and Underwater Zoo, you can also admire the world's largest bauble, weighing more than a ton!
Explore the Christmas markets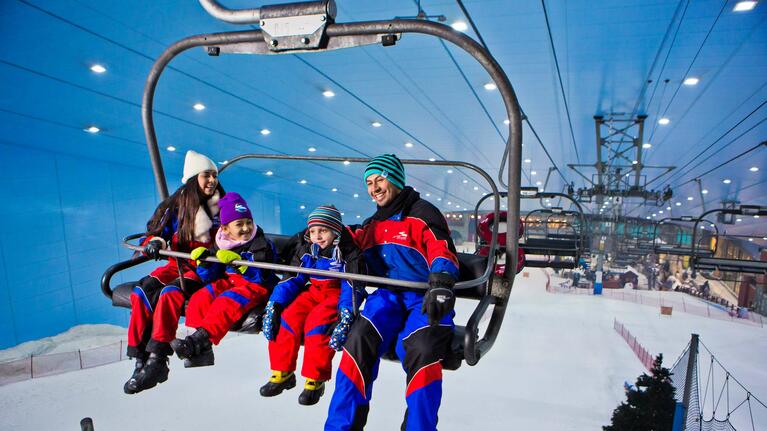 As you might expect from one of the world's best shopping destinations, Dubai has plenty of opportunity to splash the cash on unique gifts and keepsakes with a Christmas market never far away.
On the southern side of the Palm Jumeirah, Dubai Harbor – the outer extent of Dubai Marina – is packed full of seasonal treats. Not only are there the stalls that make it a marketplace, but also a snow zone and ice rink.
For further wintry wonderlands, head to Ski Dubai. Besides pitting yourself against the world's largest indoor ski park, Santa stands by waiting to give out goodie bags to the kids whilst more sedate visitors can sit back and enjoy a Christmas movie at the snow cinema.
Elsewhere, Fort Island's Souk Madinat Jumeirah combines the traditional feel of an Arabian marketplace with a little extra Christmas sparkle. The food and drink options are particularly top-notch here, but there's also plenty to keep the kids entertained as you soak up the ambience.
Book tickets for a show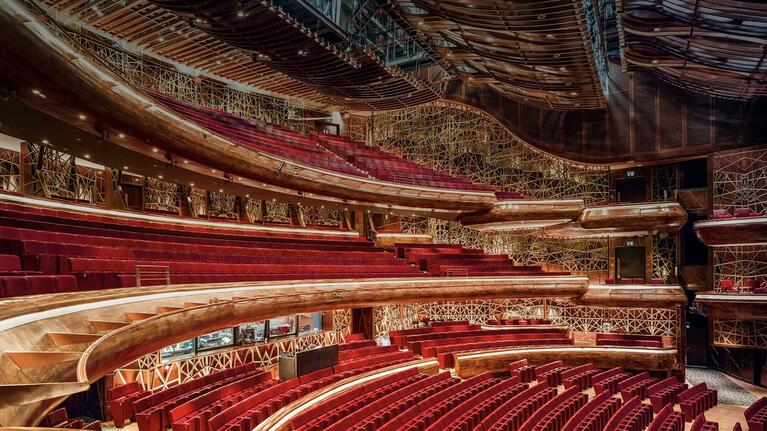 With the Christmas weather in Dubai dominated by temperatures of around 25°C, even if the sun does disappear behind a cloud you'll have little reason to head indoors. However, you may well want to, given the range of shows.
For a traditional Christmas treat visit Dubai Opera. Sometimes overshadowed by its proximity to the observation decks of the Burj Khalifa, it is all the same a concert venue hosting the best comedians, music and performances of the moment. Come December, look out for tickets to the Nutcracker – a ballet set on Christmas Eve – and other seasonal favorites. Or satisfy your nosiness with a behind the scenes tour of the venue instead.
The Theatre in the Mall of the Emirates also does all it can to welcome in the spirit of Christmas, putting on live performances of family-favorites such as Snow White and the Seven Dwarfs. One of the newest destinations in Dubai, the QE2 floating hotel and venue has another stellar schedule of modern Christmas tunes and even traditional British pantomimes.
Eat, drink and be merry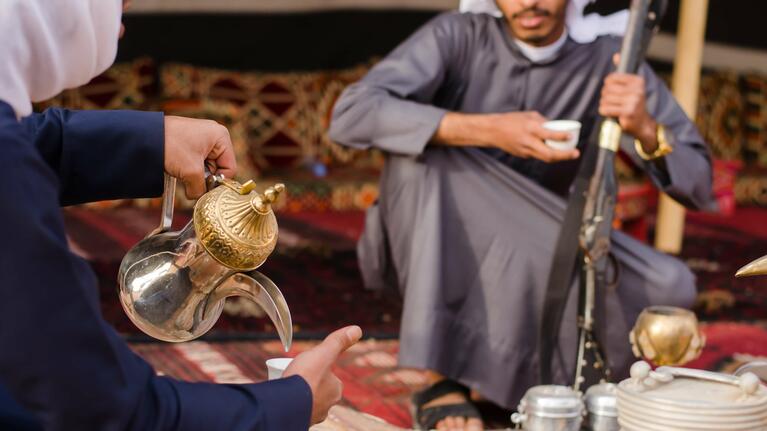 Since the three wise men came from the east, it's entirely possible their journey contained a stop at the small coastal settlement that Dubai would have been at the birth of Christ. You can get a feel for life in the desert with a safari and BBQ dinner, combining authentic cuisine and hospitality including belly dancing with more contemporary desert adventures. These include sand boarding after topping the dunes by 4WD.
But for a full regional culinary experience turn to the Al Hallab restaurant, whose chefs lean on hundreds of years of cookery and recipes to bring you mezze, meat platters and sweet dishes packed full of flavor.
If it's a turkey dinner and all the trimmings you're after, Dubai won't disappoint either. There are plenty of restaurants open on December 25 and the surrounding days, with specially prepared seasonal menus listing no end of picks that will take you right back to your childhood.
Take advantage of Dubai's coastal location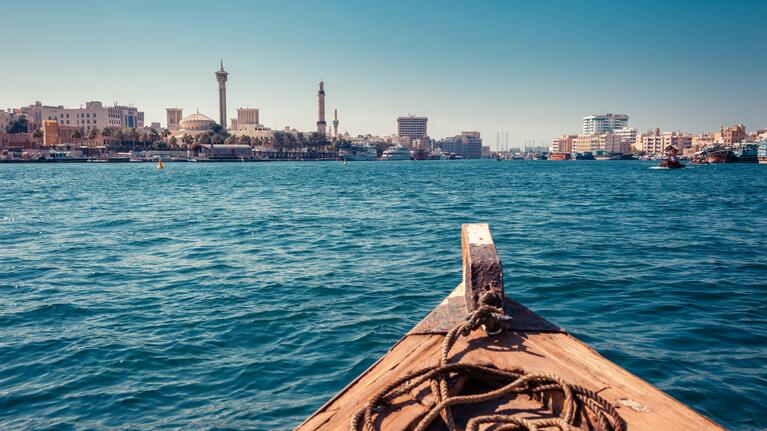 Anyone used to the frigid water temperatures of North America and Europe at Christmas might first baulk at seeing people in Dubai lounging on its beachfronts just as Santa is heading off on his epic present-giving extravaganza.
But the fact is, with sea temperatures equal to those on land in the middle twenties Celsius, there are limited excuses for failing to switch to your swimwear. Drifting along the historic heart of Dubai on a traditional dhow made by craftspeople by hand is just as easy, and a great way to discover the areas of Bur Dubai and Deira, both of which relied on sea trade for centuries for their growth and wealth.
An alternative way to take in the area is with a sunset kayak tour, putting you in control of your own vessel whatever your experience and skill level.
Visit Dubai at Christmas and save!
There's no doubting Christmas is a good time to visit Dubai. The climate is amenable to getting out and about whether you aim to discover Dubai Creek or the dunes of the desert, whilst the festive offerings come thick and fast. Christmas markets, nights at the theater and food, glorious food are all part of what makes Christmas in Dubai special.
But if you needed one more reason, that's going to be Go City. Travel to Dubai with one of our passes and you'll discover the magic of huge reductions on attraction admission to many of Dubai's best things to see and do at Christmas.