Planning your vacation in Dubai this year? August could be the perfect month for you. There's always an answer to the intense heat, so check out our guide to Dubai in August and see if it floats your boat!
Including:
Dubai weather in August
Ski Dubai
JBR Beach
Aquaventure Waterpark
BBQ in the desert 
and more!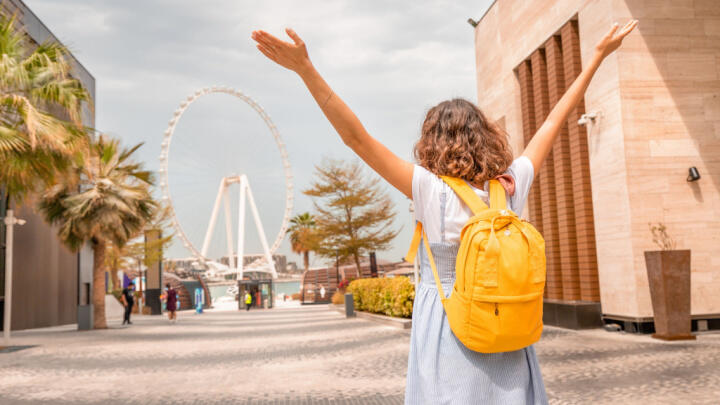 Dubai in August: What to Expect
Dubai is notoriously sweltering all year round, and August is one of the hottest years you can visit the desert oasis. So hot, in fact, that on average, you can expect highs of 105°F or more and lows of around 87°F. That means you need to be prepared for some intense sun, and be prepared to escape to the comfort of air-conditioning at a moment's notice. 
Those that are none too fond of 105° weather may look to go at the beginning or end of the year when temperatures are much more manageable. However, if you snort at the thought of cowering away during peak summer, bear these things in mind. Keep bottles of drinking water on you at all times. Even on the beach, you'll find refilling stations to top yourself up. Staying hydrated in the heat is a must. Secondly, pack extra light clothing and a metric ton of sunscreen to protect your skin. Reapply that bad boy every hour or two if you're in direct sunlight in the afternoon; that's when the sun's fiercest. 
Either way, we'll cover attractions both inside and out, should you want to break up your sweltering vacation with some cooler action. 
Dubai in August: What to Do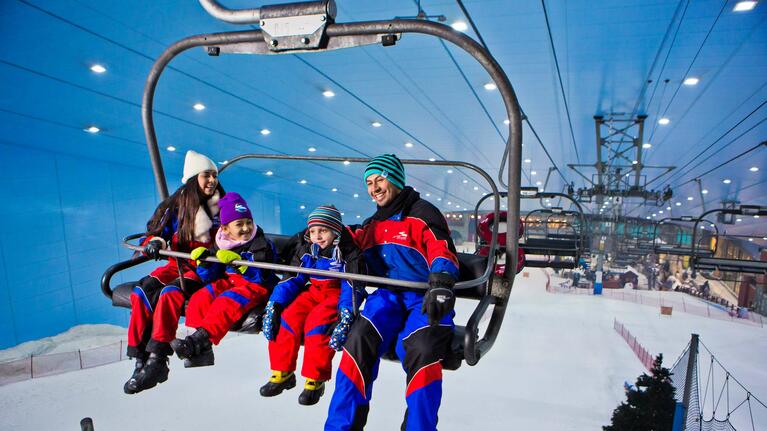 If all that summer heat gets too much for you, why not cool off on the slopes? No, we're not talking about packing your bags and heading somewhere cooler. Thanks to Ski Dubai, you can have the perfect slope experience right in the city.
Ski Dubai is the world's largest indoor ski center. Really, you need to see it for yourself to understand just how big it is. Featuring multiple ski slopes where you can ski, board, or sled, it even has a ski lift to take you up to the very top. Fun for the whole family; even newbies can get to grips with the fine art of snow travel, thanks to the trainers on-site. 
All the gear's provided for you, including skis, boards, jackets, and everything else you need to pretend you're in the Alps for a few hours. And hey, they even have penguins too. Don't believe us? Go and see for yourself. You might not see yourself skiing in Dubai in August, but trust us, it's the perfect way to escape the blistering heat.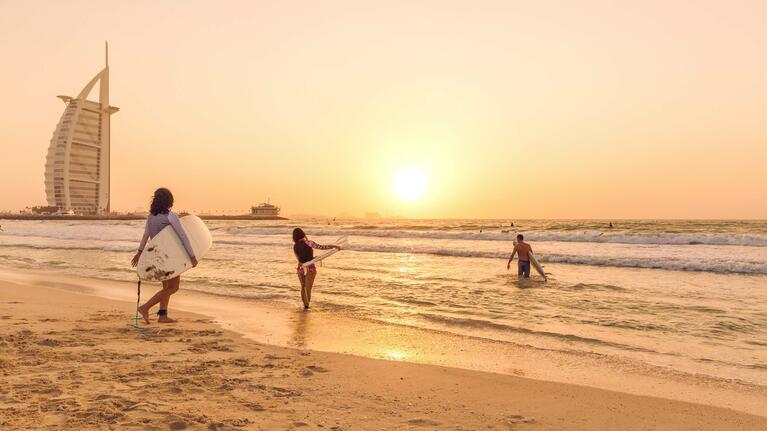 Beachlife
While heading to the beach when temperatures exceed 100 degrees might not seem like a good idea, you do have options. After all, beaches stick around after the sun goes down. So, why not venture out after dark and get lounging on Dubai's stunning sandy spaces?
Jumeirah Beach Residence - or JBR, is one of the city's biggest and best beaches. And while you can't swim there after dark, you can certainly lounge on its pristine beachfront through the night. 
Umm Suqeim Beach, on the other hand, does allow you to swim in its calm seas until the clock strikes midnight. Thanks to its Smart Power lighting system, lifeguards can keep an eye on swimmers when the sun goes down. But you can't expect them to work through the night. Hence, you'll need to vacate the cooling waters at 12AM.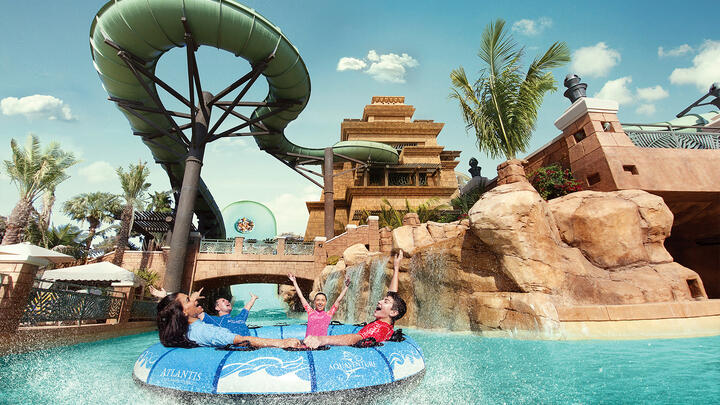 Just because it's super hot doesn't mean you want to miss out on all the UV all the time. And as they say, water isn't just for drinking. So, go out with a splash - outside, we mean - and head to the exciting slides and rides at Aquaventure Waterpark at Atlantis The Palm!
You'll be beckoned by rides like the plummeting Leap of Faith, which drops you into a massive tube surrounded by sharks and rays. That one's only for the brave out there. Or, if heights aren't your things, test your mettle at The Rapids, which puts you on a raft battling choppy waters for a mile. 
If you go in peak afternoon summer hours, apply and reapply sunscreen after a few slides. Slides do a good job of wiping off your carefully-applied protection, and the last thing you want is a blistery back after a blisteringly good time!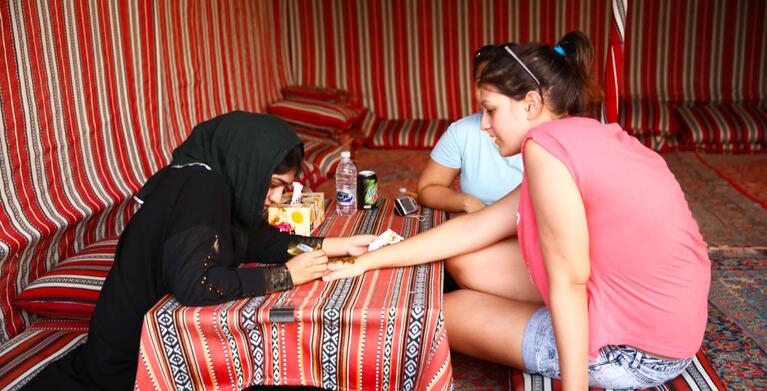 Heading back to the warm hands and cool embrace of the night, another one of Dubai's draws is the magnificent sandy dunes surrounding the city. Dubai was built from nothing within them, so why not explore them for yourself with a brilliant desert safari and BBQ dinner? 
You'll be chaperoned from your hotel in a plush, air-conditioned 4x4 and head into the desert proper. Make sure you snap pictures of the beautiful surrounding as the sun goes down. Then, you'll reach the BBQ camp and be treated to a mouth-watering menu of BBQ meat, grilled veg, and other local delicacies. 
Once you're full, the entertainment kicks off. Watch authentic belly dancing, smoke up a shisha storm, ride a camel, and even get a henna tattoo. Not bad, and all of that without one drop of harmful UV in sight. If you need a break from the sun, try this tour when you visit Dubai in August.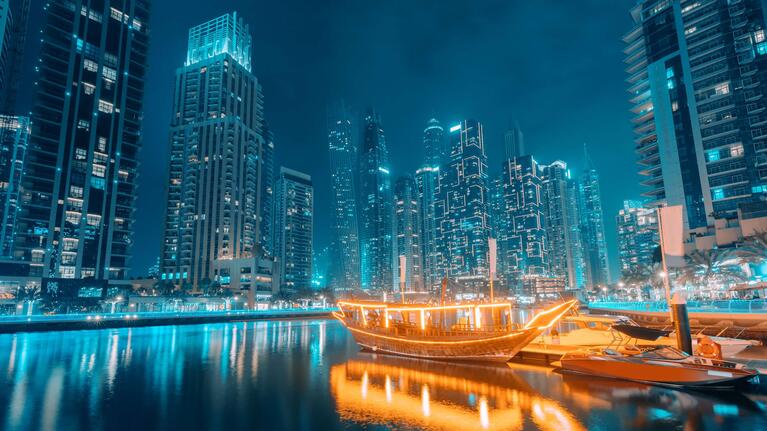 And finally, you wouldn't want to leave Dubai without seeing some of its most recognizable landmarks, would you? Of course not, which is why you should take a Dubai Magical Night Tour and see them all in one fell swoop. 
Be sure to snap pictures of the grand Burj Khalifa (the tallest building in the world), Dubai Mall, the Burj Al Arab, Dubai Harbour, and more. Then you can leave guilt-free, knowing you saw these amazing creations and didn't spend all your time inside!
And that's our guide to Dubai in August! Looking for a wide variety of attractions to make your trip to Dubai the best ever? Try Go City. With our All-Inclusive Pass or Explorer Pass, you can see all of Dubai's best bits when and how you want.