If you're planning a trip to the Emirates, you probably already know that things can get pricey quickly. So the best way to make the most of your budget when visiting a place like Abu Dhabi is to mix in some great free things to do along with your top attraction choices. In search of a few free or really inexpensive things to do on your Middle Eastern vacation? Check out our list of the top free things to do in Abu Dhabi, including:
The Corniche
Heritage Village
Sheikh Zayed Grand Mosque
Emirates Palace
Camel Racing
Al Ain Oasis
Inner Space Meditation Centre
Art Galleries
And more!
Should you be hoping to work a few of these free things into a broader itinerary, you'll also be looking to save money on your ticketed attractions. In that case…
Save on Admission to Ticketed Attractions
Pick up a Go Dubai® Card to help save on top attractions in Abu Dhabi and Dubai. You'll get easy access to the best tours, cruises, activities, and more, all for up to 55% off of combined admission prices. See all Dubai passes, prices, and attractions. Snag one for your Emirates trip and you'll be an even savvier explorer.
The Corniche
One of the most popular and beautiful natural spaces in Abu Dhabi is the Corniche. It's a broad space along the waterfront comprised of bike paths, parks, fountains, and beaches. Come here to enjoy fascinating people-watching, or some nice weather. Just be sure to wear sunscreen and other protective gear if you'll be outside for a while. It's also right near the Marina Mall, which is another fun free place to explore (if you can confine yourself to window-shopping, that is!)
Heritage Village
A wonderful cultural attraction for those interested in the history of the Emirates, Heritage Village showcases early Arabic culture, cuisine, and natural history. Come here to explore small museums, exhibits, demonstrations, and more. You'll see what life was like for early Bedouins and enjoy the contrast with the grandeur and modernism of Abu Dhabi. They also offer plenty of souvenir shopping options if you're looking for authentic gifts or mementos.
Sheikh Zayed Grand Mosque
Undoubtedly the grandest mosque in Abu Dhabi, this stunning architectural marvel is worth a visit just for the exterior photographs. It's a marvelous combination of modern engineering and traditional mosque architecture and design, so you'll truly find yourself in awe of its beauty and unique structure. You can snap photos outside, or visit within for free (not during prayer time) as long as you abide by customs of dress and behavior. If you'd like to see the mosque and other architectural wonders, it may be worth your time to enjoy a
bus tour of Abu Dhabi
.
Emirates Palace
While this is technically a hotel and not a palace (although those are around, to be sure), it's worth your time just to stroll around inside. You don't need to splash down the cash to stay here to enjoy the grand architecture in the lobby (be sure to look up at the dome!) and restaurants. If you want to enjoy a taste of the high life for less, consider popping into one of their award-winning restaurants for a single drink.
Camel Racing
Yes, it's a thing, and yes, it's awesome. You may have only seen these lovably strange creatures amble along, but did you know they can really run? Head to someplace like Al Wathba Camel Race Track (just east of Abu Dhabi) to see free camel races on weekend mornings. They can reach impressive speeds on this specially-designed tracks, and it's bound to be one of the most unique memories of your trip. Be sure to arrive early to get a good spot! And, if you really enjoyed your camel experience, consider taking a
camel trekking tour
through the desert near Abu Dhabi.
Al Ain Oasis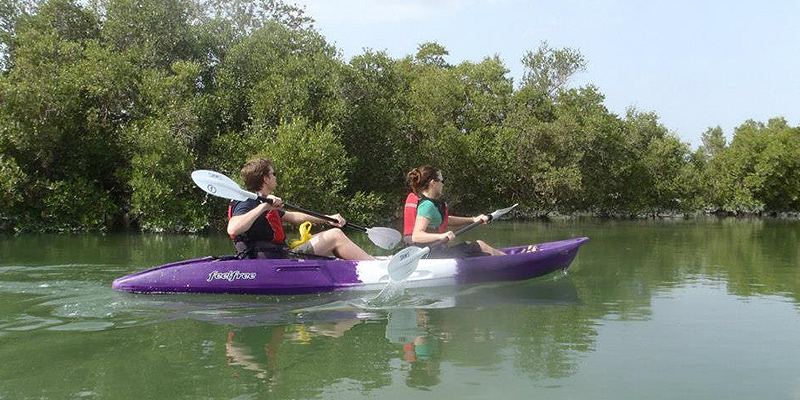 This is the UAE's first UNESCO World Heritage Site, so you know it's more than worth its cost of exactly zero. Come to the Garden City to soak up the serenity and natural beauty of nearly 150,000 date palms. Take a break from the hustle and bustle of modern Abu Dhabi life. It's also a smart place for those botanical Instagram photos! If you truly love exploring natural spaces, then you'll definitely also want to take a tour of the Eastern Mangrove Lagoon National Park – perhaps via kayak?
Inner Space Meditation Centre
Another locale that's perfect for taking a pause from contemporary life, the Inner Space Meditation Centre is a hidden gem in Abu Dhabi. Enjoy entirely free workshops, courses, lectures, and more, all focused on how to live a more mindful and peaceful life. Given the seemingly ever-increasing price of yoga classes, et al in the US, a free place to connect with yourself seems like a total win.
Art Galleries
There are plenty of great art options in Abu Dhabi for the creative folks. The Etihad Modern Art Gallery is a unique offering with its focus on contemporary Arabic artists, so you'll see a lot of up-and-coming talent and developing work. Another top art museum is the Louvre Abu Dhabi, a stellar art museum which partners with its namesake in France (among other French institutions) to put on temporary exhibitions of great European paintings, sculpture, and more. The Louvre Abu Dhabi is also part of the larger artistic area of Saadiyat Island, which, while still under development, is planned to be a massive cultural project to celebrate Emirati heritage and culture.
Local Souks
While you certainly can't get much for free at a local market, or souk, you can haggle for prices on everything from fresh produce to souvenirs and beyond. A good local one along the Corniche is the one where the road meets Mina Zayed Port. You'll find fresh fruit and veggies for sale by local vendors, and get a true taste of the regional agriculture. There's also a different one in the same area that sells pottery, copper pots, and other kitchen items -- good for souvenirs.
Remember How to Tour Abu Dhabi For Cheap
 Visit some or many of these top free attractions in Abu Dhabi to keep your wallet happy. If you want to continue the trend of smart traveling, then you may also want to consider picking up a Go Dubai® Card. You can save up to 55% on combined admission prices to top places in Abu Dhabi and Dubai, and have the trip of a lifetime.