Traveling solo to Dubai? Looking for some alone time when traveling with family and friends? You're not the only one to seek out things to do alone in Dubai. Thankfully, there's a great range of options out there if you know where to look. Here's our guide to the fun things you can do alone in Dubai.
Experience the pizzazz of downtown Dubai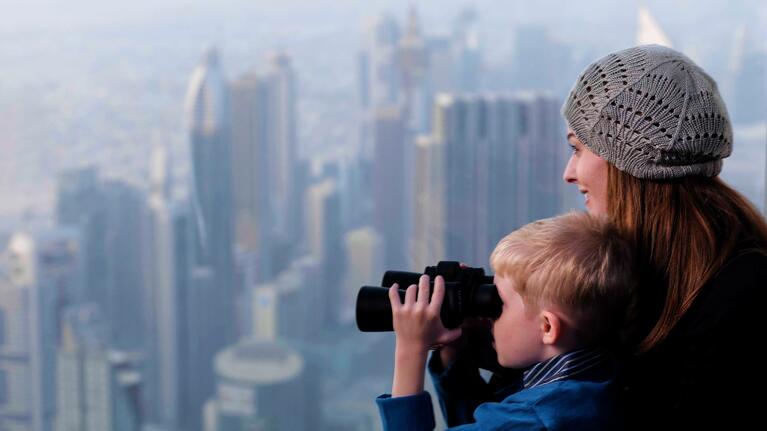 With so many record breaking structures on the cards in downtown Dubai, this portion of the city deserves more than a quick glimpse from a metro train window as it wizzes past. Safe – like all of central Dubai – to explore even without travel companions, it's an area that glitters by day and glows by night.
Its biggest attraction is the Burj Khalifa. Rising to a height of almost half a kilometer, the tallest building in the world is even more impressive in real life than in images of it, especially when seen from the dancing jets of Dubai Fountain. The only way to get a sense of just how tall it is would be to head to the At The Top observation decks on the 124th and 125th floors. They boast panoramic views from the Persian Gulf to the desert – and beyond.
Slip through one of the entrances of the neighboring Dubai Mall and as well as a decent day's shopping – visit each one of its 1200 retail stores for 5 minutes and you'll need to have almost two weeks spare – you've got the opportunity to clip on a pair of skis or lock into a snowboard at Ski Dubai. Beginners are just as welcome to its slopes, rides and penguin encounters as those who've had years on the world's pistes.
Get lost in the deserts of Dubai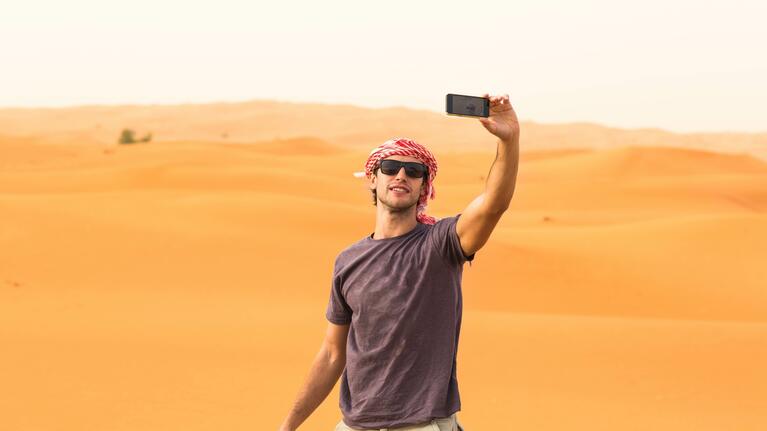 If the views from the Burj Khalifa – and maybe your time at Ski Dubai too – leave you yearning for time in the desert, the good news is that you can go to Dubai's desert alone, although we'd certainly recommend using a trustworthy tour operator if hiring a car sounds too much like hard work.
A morning safari allows those on solo trips to Dubai to take in the dunes on the outskirts of its built up areas by 4WD before turning your attention to the traditional means of traversing its sands with a ride on a camel. You'll also get the chance to give sandboarding a go before returning to the bright lights of central Dubai.
Alternatively, you could opt to spend the sunset in the desert with a safari and BBQ dinner, watching how the shadows shift and colors change as the sun sinks beneath the horizon. But the fun doesn't stop there, with a meal at a Bedouin camp incorporating henna painting, shisha pipes and belly dancing.
Hit the beach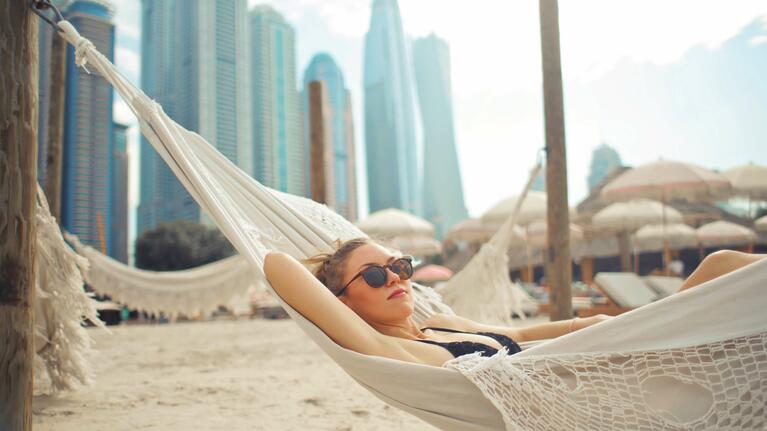 In other destinations visiting the beach on your own can feel out of place. However, Dubai's beaches are such that you'll have no fears of this kind here. Some, including Marina Beach, even have lockers to shut up your stuff should you be worried about leaving it unattended as you hit the waves for a swim or a turn on a jet ski.
Hotel pool terraces are another good option if your main aim is to relax with some sun followed by a quick dip, although you'll then miss the chance of taking a dhow sightseeing tour of Dubai Marina. In addition to providing ample photographic opportunities of this area of Dubai's waterfront, including views towards the Ain Dubai observation wheel, you'll discover a little of its history with the onboard commentary.
But to really relax, look no further than Dubai's spas. Even the toughest of muscle knots will be smoothed out beneath the expert hands of their masseurs and masseuses. And what with the presence of wellness centers containing saunas, steam rooms and hot tubs you'll soon forget your flying solo. The list of spas to choose between is almost endless, so you're sure to find one that matches your exact needs.
Make a day of it in Abu Dhabi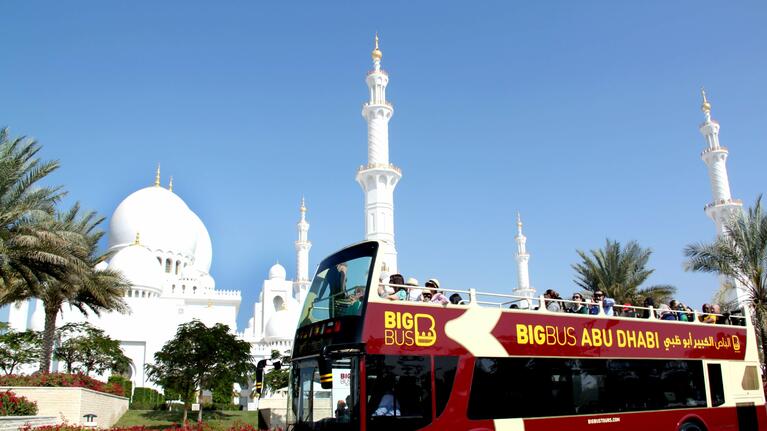 Just a couple of hours from the hotels of downtown Dubai, Abu Dhabi is the capital of the United Arab Emirates. Sharing a friendly rivalry with Dubai, the state's biggest city, solo travelers should consider making a stop here too, although it won't lead to any more stamps in your passport.
If you're coming just for the day, the Hop-On Hop-Off Big Bus tour takes all the stress out of sightseeing. Its two routes – red and green – link up top attractions including the Sheikh Zayed Grand Mosque, whose prayer hall has enough space for over 40,000 devotees. Other stops include one at the Abu Dhabi branch of the Louvre, with works spanning the centuries from 1000 year old works of Islamic art to the modern abstract paintings of Piet Mondrian.
Nor do the delights stop there, with the Qasr Al Watan or Palace of the Nation providing a home for both the President of the United Arab Emirates and exhibitions celebrating the history of the country.
Take a stroll around Al Fahidi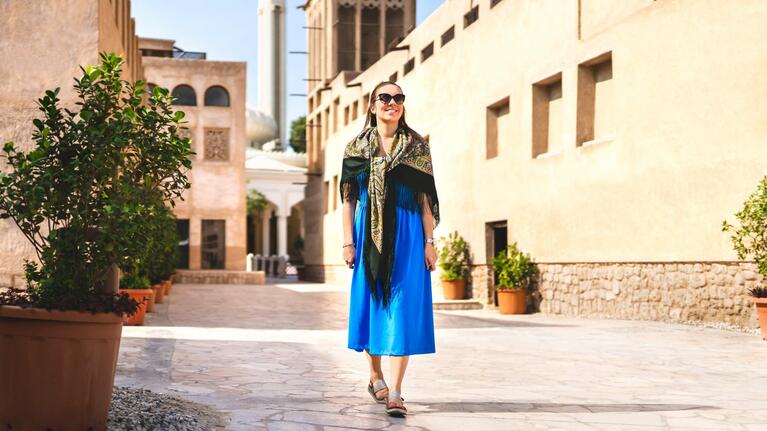 One of the oldest parts of Dubai, the Al Fahidi neighborhood has an atmosphere that's perfect for a solitary stroll. Its shady alleys give a good impression of what Dubai must have been like before the construction of attractions such as the Burj Khalifa.
Its coral stone and gypsum buildings date back to the late 1800s, and now comprise a selection of heritage museums, tea houses and contemporary art galleries. If you're concerned about getting lost between the high walls of its buildings, stick to the waterfront on Dubai Creek, where many of its most historic structures stand.
You'll also find yourself just a block or two away from Dubai's only Hindu temple and Dubai Museum. Located within Al Fahidi Fort, it has a wide ranging collection, including prehistoric pottery shards and full-sized dhows.
Traveling solo in Dubai doesn't have to be a no-go
There are a huge number of reasons why you might find yourself going solo. Take the opportunity to head out and you'll discover there are also a huge number of things to do alone in Dubai.
Whilst a partner in crime is entirely optional, you won't want to forget your phone. That way, you can travel with Go City and save incredible sums on admission prices to many of Dubai's top attractions!